Lea Festival celebrates Ibero-American literature in Greece
The 14th edition of the LEA (Literature in Athens) Festival as every year celebrates the best in Ibero-American literature bringing together writers, publishers and readers in a ten day festival across the country. Held at different venues from June 14 to 24 in Athens and from June 17 and 18 in Lefkada, the opening ceremony will take place on June 14, 2022 at the Acropolis Museum.
The LEA Festival is one of the most prominent literary events in the city of Athens since 2008 and, since 2012, it is also held on the islands of Lefkada and Crete. It is also the only cultural festival in Greece with an Ibero-American literary theme. LEA, spearheaded by the dynamic Adriana Martinez, is organized annually by the non-profit organization LEA Festival Intercultural Development, the Cervantes Institute of Athens and the Abanico School of Ibero-American Languages and Cultures, with the participation of the Embassies of Argentina, Brazil, Chile, Colombia, Cuba, Spain, Mexico, Panama, Peru, Portugal, Uruguay and Venezuela, and the Honorary Consulate of Colombia. As is the case every year, writers from the Ibero-American world (Latin America, Spain and Portugal) are invited to participate and interact with their counterparts from Greece in the various programmed activities. Specifically, in this year's edition, the LEA Festival offers a rich and varied program: lectures, workshops, book presentations, master lectures, tributes, musical and theatrical performances, etc., whose theme will revolve around the sea as a common reference point of Ibero-American cultures.  The LEA Festival welcomes both established authors and new writers and gives them the opportunity to make their work known in Greek and Latin American territory and to make contact with their new audience. More than 40 guests from 12 different countries participated in the more than 50 activities that took place during the XVIII LEA Festival and more than 15,000 views from more than 20,000 users in Greece, the Iberian Peninsula and Latin America were registered.
When: Athens 14 – 24 June 2022, Lefkada 17- 20 June 2022
Where: Different venues. See the full programme here: https://lea-festival.com/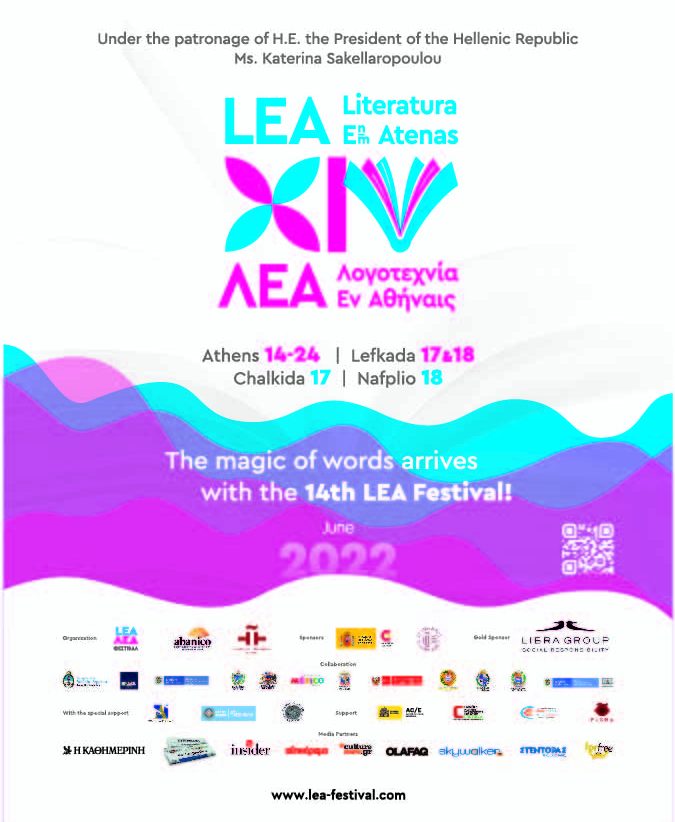 ---