Its Never Game Over
A shrine for avid gamers and competitive types with a taste for the old, the Athens Pinball Museum hopes to bring back the nostalgia and recharge the Athenian public's love of this pastime. Panos Bitharkas speaks to Sudha Nair-Iliades on why he believes pinballs are here to stay.
It all started when Chrysanthe offered her husband Panos Bitharkas a Dracula pinball on his name day – August 15, 2017. A year later that gift morphed into the Athens Pinball Museum, hosting 107 pinball machines from 1957 to 2007!
It was reliving that sensation of being in a pinball arcade that prompted Bitharkas to devote his energy to creating the museum. He exudes enthusiastically, "I wanted these beloved machines, that were such an intrinsic part of my generation, to be accessible to all. Something about the feel of the spring-loaded plunger in our sweaty palms and the sounds of the table's guts was so powerful, that I felt I had to share it with other gamers out there."
For someone who until then was engaged in the renewable energy sector, that meant scouring warehouses, abandoned garages and cellars for pinball machines and renewing them with new fittings – bigger speakers, larger digital screens displaying fancy graphics, as well as technological innovations such as Bluetooth integration.
All the pinballs were sourced in Greece, so there is real local history attached to these machines. "Sourcing the machines was like entering a time capsule", notes Bitharkas.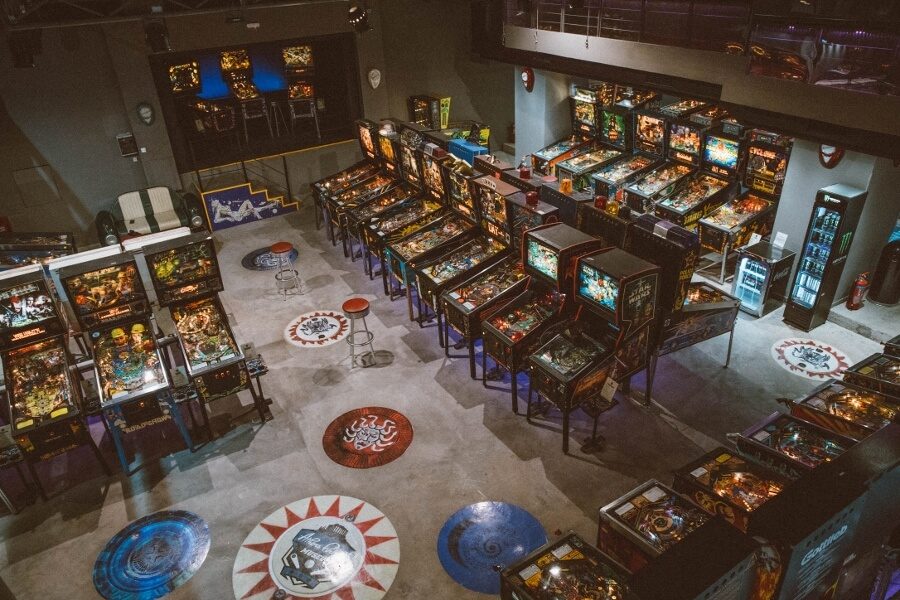 And that's what it feels like as you step into the Athens Pinball Museum. The first piece you see is the engraved showcase of the mysterious princess-goddess Panthera on a collectible retro-pinball from the '80s (one of the fifty-six remaining in the world).
Pinball machines may seem like something from history, destined for pop culture museums and tall tales. But in fact, pinball is making a comeback, and it's not just for afterschool hangouts anymore.
A pinball museum might seem like an unlikely place for a quick post-war history lesson but it really shines a light on the cultural, social and political phenomena of the time, while celebrating the past and future of this unique recreational pastime.
Pinball was influenced by the culture of each period but also shaped it – both in terms of topicality and technology. These beloved machines chronicled films, music, pop culture, sci-fi quests and space travel in a fun, interactive way and captured the zeitgeist of its time. At the Athens Pinball Museum, gamers can go on a ride with the first space monkey relive old Indiana Jones classics, revisit The Who's pinball-themed rock opera turned film Tommy and experience the timeless appeal of Star Wars and the Addams family.
The Athens Pinball Museum is part pinball parlour, part museum and part event venue. In other words, it's a place where you can play, compete, or just hang out around the game of pinball. Bitharkas hopes to organise tournaments to draw pinball enthusiasts from all corners of the country and introduce membership cards for children. Plans are also afoot to create a customised pinball on Ancient Greece.
The pinball machines here don't operate with coins. You pay a one-time fee of 10 euros and can play all day long. "I wanted to untie the pinball from the concept of gambling and keep the game story clean."
So what draws people to play these seemingly antiquated games, especially when mobile phones offer free ones just a button-push away?  "The need to seek out a more tangible, mechanical pastime. It's an entertainment device that can't be replicated. While video games are fun, you don't get that same tactile action that you experience with a pinball machine. It's a way to relive your childhood for our generation," Bitharkas says, "but younger people are also getting into it as are the really old."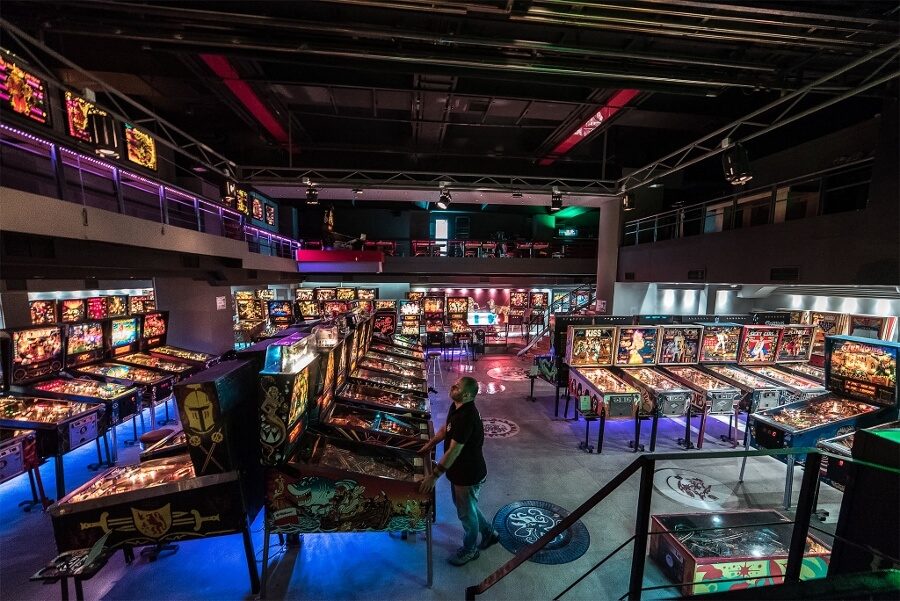 Since its opening in September 2018, the oldest player at the museum so far has been a 93-year old. Reflecting on the success the museum has had in the two months since its opening, Bitharkas observes, "Maybe it's the lights that flash and bells that ring when you rack up points, or the music that invites players to the games. Or maybe it's the memories of friends made and fun had around pinball machines in years gone by, or the promise of meeting new friends and competitors that appeals to generations of fans."
Clearly, pinball is proving to be as timeless as rock-and-roll; even teenagers are seeing the appeal of the ancestors to video arcades. There's something for everyone. In fact, it's a great venue to host birthday parties for young teens – there's also a gift shop and a café-snack bar at the museum.
When you hear the word pinball, it is no longer just the dusty old machine in the corner of the basement; a renaissance is underway, with a fun element of sport thrown in for good measure.
Athens Pinball Museum, Dionisiou Aeropagitou & Makri 2 (next to the Acropolis Museum and Acropolis Metro station)
Working hours: Open 7 days a week from 9am to 11 pm including Sundays!!
The Most Popular Pinball of All The Time
For Bitharkas, The Addams Family Gold pinball remains his favourite in the whole collection.  "We found the Addams Family Gold pinball, in Crete in a dire condition, retrieved from an abandoned tavern with stickers glued all over it."
Based on the 1991 movie starring Raul Julia and Anjelica Huston as the married couple at the center of a strange family, The Addams Family pinball game has a quirky aesthetic that closely aligns with the spooky vibe of the film. It still stands today as the best-selling pinball game of all time, with more than 20,000 units sold. The game featured plenty of next-gen features, such as a moving mechanical hand (Thing) that picked up balls, an enormous number of scoring modes and new dialogue recorded by the film's stars specifically for the game. But the real reason for its success was that it had great game play. With well-placed ramps and shots leading into each other naturally, The Addams Family nailed the simple things, and virtually every game since has taken design cues from it.
---