The Insider Guide to Cultural Events this September
Summer coming to an end is all the more reason to take a break from a hard week's work and indulge in Greece's artistic highlights. This month brings you a lineup of innovative exhibits, enchanting performances and thought-inspiring forums for Athens' most curious arts aficionados.
Musical Maestro Zoe Tiganouria Performs with the Athens Symphony Orchestra
WHAT: Born and raised on the island of Samothrace, Zoe Tiganouria's musical repertoire is by no means meager. Bringing back the traditional vibrato of the Greek accordion, this composer combines jazz, folk, Latin and tango styles as a solo performer. Tiganouria will visit Athens to perform alongside the Symphony Orchestra of the Municipality of Athens before commencing her European and American tours in 2019. You don't want to miss her September 9 performance! Catch her before she returns to Los Angeles to compose the soundtrack for the film "Tango Shalom."
WHEN: September 9
WHERE: Theatro "Epi Kolono"
Bryan Ferry Live at the Odeon of Herod Atticus and Theatro Dassous
WHAT: Former Roxy Music front man Bryan Ferry, who has been likened to the masterful David Bowie, will visit Athens and Thessaloniki for two days only during his musical journey through Europe! Known for his elegant sound, Ferry has been making music for more than three decades, entrancing American and international audiences alike. Now a solo artist, Ferry brings drama to the stage during each performance with his romantic lyrics and refined style. Want more? Ferry will perform his hits at the historical Odeon of Herod Atticus (September 11) and intimate Forest Theater (September 13) in Thessaloniki. There is no better backdrop for an evening of entrancing music.
WHEN: September 11 and 13
WHERE: Odeon of Herodes Atticus and Theatro Dassous
Areopagitou Dionisiou, Athina 105 55
Forest of Seich Sou, Thessaloniki
Konstantin Kakanias at Rebecca Camhi Gallery
WHAT: Rebecca Camhi Gallery will honor contemporary artist Konstantin Kakanias with his sixth solo exhibition. Konstantin Kakanias' illustrations have appeared in publications such as The New York Times and the Los Angeles Times, and galleries across Europe and the United States have showcased his work. Rebecca Camhi Gallery will host the next solo exhibition for the artist, who is known for his illustration, Mrs. Tependris, an eccentric character on a journey of self-discovery. Kakanias will attend the opening.
WHEN: Until September 15
WHERE: Rebecca Camhi Gallery
47th Book Festival in Zappeion
WHAT: Book lovers, unite! In occasion of Athens' christening as the World Book Capital of 2018, the Association of Book Publishers announces the 47th Book Festival in Zappeion. This year, the festival honors sung poetry, a wide, popularly European genre that combines literature and music. The two-week-long program includes screenings, lectures, concerts and performances —plus, enjoy views of the architecturally inspiring Zappeion Exhibition Hall alongside the National Garden of Athens in the heart of the city!
WHEN: August 31 – September 16
WHERE: Zappeion, Athens
Alvin Ailey American Dance Theater
WHAT: The internationally renowned and acclaimed Alvin Ailey American Dance Theater docks in Greece for its 10th visit to the country. Treat yourself to the company's rhythmic blend of jazz and modern dance in a program that includes star dancer Jamar Roberts' international debut, the electrifying masterpiece "Revelations" and much, much more. With performances every day for five days, you can choose from two programs. For the full programs, visit https://www.viva.gr/tickets/dance/megaro-mousikis-athinon/alvin-ailey-american-dance-theater-en/.
WHEN: September 11-15
WHERE: Megaron, Athens Concert Hall
Leof. Vasilissis Sofias, Athina 115 21
For tickets, visit www.viva.gr, Tel. +30 211.800.5141
Finghin Collins Performs in Athens and Corfu
WHAT: Irish piano maven Finghin Collins brings the timbre of Ireland to the Greek shores this September at the Parnassos Literary Society's Main Hall in Athens and on the historical island of Corfu. Collins, who, after winning the Clara Haskil International Piano Competition, made a name for himself on the international stage, will perform specially commissioned works by Irish composers as well as renowned artists Chopin and Schubert. Collins will showcase the brilliant musicality that has landed him at the Chicago Symphony, London Philharmonic, Royal Philharmonic and l'Orchestre de la Suisse Romande, and will be joined in Corfu by 17-year-old Greek flutist Daniel Damaskinos, who made his professional debut in 2016. Both concerts are free of charge; advance registration is necessary for the Athens concert by emaililng AthensEmbassyRSVP@dfa.ie before Wednesday, September 12.
WHEN: September 13, 16
WHERE: Parnassos Literary Society's Main Hall in Athens and Ionian Academy
Democracy and Books Weekend at Costa Navarino
WHAT: There is no better place to honor democracy and literature than Greece, the birthplace of democracy and the World Book Capital of 2018. Costa Navarino and The New York Times Athens Democracy Forum will celebrate the relationship between democracy and books in an extravagant weekend of speeches, cocktail receptions and gala dinners. The authentic cultural experience will include speakers Mark Thompson, president and CEO of The New York Times Company; Pascal Bruckner, professor and writer; Alexandra Pringle, group editor in chief at Bloomsbury; and Stanley Johnson, former member of the European Parliament. Costa Navarino will provide luxurious accommodations at The Romanos and The Westin Resort. Visit https://www.costanavarino.com/democracy-books-weekend/ to book your spot.
WHEN: September 14-16
WHERE: Costa Navarino
The Romanos: Costa Navarino, 240 01, +30 272.309.7000
The Westin Resort: Costa Navarino, Pilos 240 01, +30 272.309.5000
Athens State Orchestra's "Classics 4 All"
WHAT: The Athens State Orchestra is ready to prove that anyone and everyone can enjoy the classics at "Classics 4 All," part of Stavros Niarchos' outdoor concert series. Internationally-acclaimed, Austria-based conductor Thomas Clamor  will lead you on a musical journey through popular melodies that infuse classical sounds with modern storylines, including excerpts from "West Side Story," "Carmen" and "Boléro." Whether you have an ear for the classics or call yourself a music-obsessed millennial, "Classics 4 All" will certainly live up to its name.
WHEN: September 15
WHERE: Stavros Niarchos Park
Leof. Andrea Siggrou 364, Kallithea 176 74, Tel. +30 216.809.1000
Zorba Ballet at the Panathenaic Stadium
WHAT: Relive one of Greece's greatest artistic achievements with the Sofia Opera Ballet, the Orchestra of the National Opera and the Mixed Chorus' rendition of Zorba, by Mikis Theodorakis and Lorca Massine. The iconic Panathenaic Stadium will be the backdrop of the choreographically intricate and musically delightful performance appropriate for all ages and all nationalities! The international classic, which has moved audiences across the world to sway and bop to familiar melodies, will take place for one night only. So hurry and book your tickets!
WHEN: September 15
WHERE: Kallimarmaro – Vasileos Konstantinou Avenue
Leof. Vasileos Konstantinou, Athina 116 35
For tickets, visit www.viva.gr.
"Beading, Felting, Weaving, Drawing" at the FokiaNou Art Space
WHAT: Artistic innovators Sofia Archangelou and Aikaterini Koutroubi will debut FokiaNou's first exhibit of the season with a craft-inspired installation using beads, wool, felt, jewelry and other mediums. FokiaNou's intimate, apartment space will move you to enjoy Koutroubi's jewelry collection, which blends painting, weaving and intricate embroidery, and Archangelou's felting, painting and drawing creations. Take a step into the artists' worlds at two workshops, "Thread and Color," led by Koutroubi on September 15 and "Felting," with Archangelou on September 29.
WHEN: September 14-29
WHERE: FokiaNou Art Space
A Tribute to Leonard Cohen
WHAT: A magical night devoted to Leonard Cohen to be a memorable highlight of the Megaron's marvelous summer line-up of outdoor performances in their Concert Hall Gardens. The energetic Sugahspank trio will showcase the great poet and musician who, throughout his full life, was both a teacher and a student, and who touched many across the world with his meaningful music. The tribute concert has been scheduled on the day that Leonard Cohen would have turned 84.
WHEN: September 21
WHERE: Megaron Concert Hall Gardens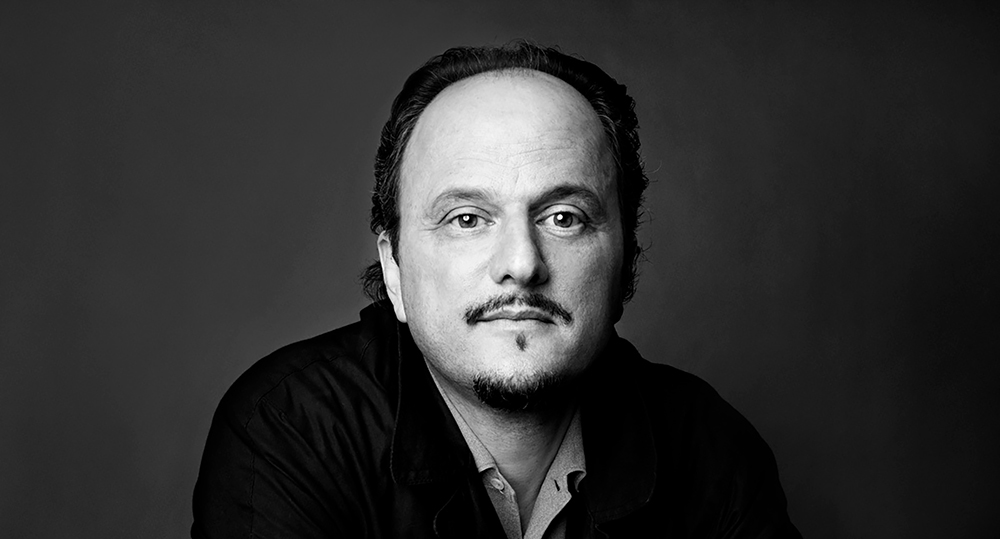 WHAT: Internationally known Pulitzer Laureate Jeffrey Eugenides will talk with author Kallia Papadaki and journalist and book critic Mikela Chartoulari in collaboration with the Athens 2018 World Book Capital Festival. Eugenides brings his unique experience as an American writer of Greek and Irish descent and will discuss these influences on his critically acclaimed works as well as the larger issue of how identity manifests itself in contemporary Western society, in particular his hometown of Detroit. The Stavros Niarchos Foundation and the United States Embassy sponsor this talented novelist, best known for his bestselling books 'Middlesex', 'The Marriage Plot', and 'The Virgin Suicides'.
WHEN: September 27
WHERE: Stavros Niarchos Foundation Cultural Center
Animasyros International Animation Festival
WHAT: Directorial debuts, innovative filmmaking and global competition – the 11th edition of the Animasyros Animation Festival is ready to make its mark on the island of Syros. Escape the heat with a visit to the island, where filmmakers from Greece, the United Kingdom, France, Poland, Belgium, the U.S. and more come together to showcase masterful animations. Between February and June, judges whittled down an astounding 2,547 international submissions to the best of the best, in both competitive and noncompetitive categories, and including adult, student and children's submissions. You don't want to miss this celebration of creativity and culture. For more information about the programme, visit programme@animasyros.gr.
WHEN: September 26 – 30
WHERE: Syros
Andreas Lolis Showcases "Prosaic Origins"
WHAT: Andreas Lolis, sculptor virtuoso, is a master of transformation. An unorthodox artist, he turns even the most mundane, abandoned objects into impressive statues. Lolis' exhibit "Prosaic Origins," curated by Nayia Yiakoumaki, will feature sculptures fashioned from cardboard boxes, ladders and planks of wood as part of NEON's CITY PROJECT 2018. The historic British School at Athens, known for its classical architecture, will host and complement the exhibit, which draws on the western idealization of classical Greek heritage.
WHEN: September 12 – November 14
WHERE: British School at Athens
Souidias 52, Athina 106 76, Tel. +30 213.018.7700
Joan Leigh Fermor: More than a Muse
WHAT: A compelling exhibition at the Benaki Museum pieces together a powerful portrait of Joan Leigh Fermor, long overshadowed by her singularly talented husband Paddy, as a talented professional photographer. The exhibition curates vivid vignettes from the places and people Joan loved. United by art, Joan and Paddy Leigh Fermor found love in Greece. As they traveled across the country, Joan Leigh Fermor photographed the people and places she discovered before settling with her husband in a Peloponnesian home, in Kardamyli where Bruce Chatwin wrote The Songlines, which was later entrusted to the Benaki Museum. The exhibition, "Joan Leigh Fermor: Artist and Lover", takes visitors on a photographic journey through the lives of the Fermors and offers a rare insight into the life of a brilliant, brainy beauty, whose reputation as a photographer, tabloid topic, society darling and sexual adventures matched her husband's own reputation every step of the way.
WHEN: Until October 21
WHERE: Benaki Museum
George Condo at the Museum of Cycladic Art
WHAT: Encounter the fractured portraits and aggressive imagery that has made George Condo one of the most vital figurative sculptors in America at his first major solo exhibition in Greece. The showcase will include paintings, sculptures and drawings spanning his 40-year career, with a catalogue to be published on to mark the occasion. In the 19080s, Condo – who has described his work as "psychological Cubism" – was instrumental in reviving figuration in American art, together with Jean-Michel Basquiat and Keith Haring, and Jeff Koons. Condo's work is in the permanent collections of (among others): The Metropolitan Museum of Art, New York; The Museum of Modern Art, New York; The Solomon R. Guggenheim Museum, New York; Citigroup Art Advisory Service Collection, New York; The Broad Collection, Los Angeles; Tate Gallery, London; Centre Georges Pompidou, Paris; Deste Foundation for Contemporary Arts, Athens; Moderna Museet, Stockholm; Stedelijk Museum, Amsterdam.
WHEN: June 8 – October 14
WHERE: Museum of Cycladic Art
Neofitou Douka 4, Tel. +30 210.722.8321
Paul Chan in Athens
WHAT: The New Yorker once described him as a "deep-thinking American making art out of shadows." Now, Athens audiences can experience head on the cerebral creations of Paul Chan that combine fashion with psychics when he presents a body of new and recent works – Odysseus and the Bathers – at the Museum of Cycladic Art from July 5. Chan's arresting and visionary art usually concerns itself with liberating moving images from the confines of frames and this latest exhibition, too, will be comprised of kinetic sculptural works that fall under the umbrella of his "breathers" and "bathers" inventions. Each figure is composed of a fabric "body" designed by Chan and attached to specially modified fans. Chan then manipulates how the figures move by composing the internal architecture of the bodies to create different kinds of motion in three dimensions.
WHEN: July 5 – October 14
WHERE: The Museum of Cycladic Art
Neophytou Douka, Tel. +30.210.722.8321-3, www.cycladic.gr
Costas Varotsos: The Sculpture Poet
WHAT: See the cutting edge steel and glass creations of the globally-hailed sculptor, Costas Varotsos, best known for his Athenian landmark 'The Runner'. Curated by Takis Mavrotas, "Costas Varotsos: The Sculpture Poet" showcases new work by the acclaimed artist whose emblematic pieces have now taken root all over Europe and America.
Entrance fee: €7, €4 (for students, for students from 12 to 18 years, for people over 65), free (for unemployed, for students up to 12 years old).
WHEN: Until October 21
WHERE:  B&M Theocharakis Foundation
Vasilissis Sofias & Merlin 1, Tel. 210.361.1206, www.thf.gr
Hadrian's Legacy
WHAT: "Hadrian and Athens: Conversing with an Ideal World" is an illuminating exhibition about the famous Roman ruler's immense enduring legacy in Greece, and how Hadrian the Emperor contributed to forging many of the cornerstones of Western culture. The display features 40 exhibits from the National Archeological Museum's collections and marks 1,900 years since the beginning of Hadrian's Principate in AD 117.
Admission is €4.
WHEN: Until November
WHERE: National Archeological Museum
"In Paper's Night: Known and Unknown Drawings" by Nikos Houliaras
WHAT: The Benaki Museum pays tribute to artist Nikos Houliaras, whose oeuvre have rendered onlookers speechless for years. His drawings, which at first seem abstract, burst with soul and read like a personal diary. The exhibit will take you through a journey of memories, landscapes, and nighttime images, compiled from a recent discovery of Houliaras' unreleased drawings, dating back to his time as a student at the Athens School of Fine Arts.
WHEN: September 19 – November 24
WHERE: The Ghika Gallery
Yiannis Moralis at the Benaki Museum
WHAT: Known as one of the greatest Greek artists of the 20th century, Yiannis Moralis was a wunderkind painter who focused his work on the female body. His paintings wove geometrical figures with a simple colour palette to portray women. With support of Moralis' family, the Benaki Museum will showcase his work for more than three months.
WHEN: September 20 – January 5
WHERE: Benaki Museum
---