Impressions of Greece
Born during the Spanish Civil War, author Miriam Frank was five years old when she boarded the famous Serpia Pinto in 1941, unaware that she and her mother Kate were escaping the round-ups, separations and extermination camps of Nazi Germany. By the age of 12, Miriam had fled two wars and lived in three continents and now divides her time between London and Greece. Here, she writes eloquently for Insider about the mark that Greece has left on her, after her early encounters, leading her to find sanctuary on the serene island of Serifos.
After a lifetime of moves across countries, oceans and continents that began in my early childhood in war-torn Europe, I vividly remember my first view of Greece. I was twenty-six, and had returned to Europe in search of my roots after my growing-up years in Mexico and medical studies in New Zealand.
The ancient Greeks and their history, which formed the cradle of European civilisation with their introduction of democracy and the value of the individual, had always attracted me, even from the opposite end of the earth, and my expectations were richly rewarded. When I first arrived in Athens, I was overawed by the mighty, marble columns of the Parthenon that alternated with light and air, and the captivating human grace and beauty of the caryatids that looked down from their perch on the Acropolis. I felt transported through time as I wandered through the hillside remains of Agamemnon's fortress in Mycenae, and surveyed the great amphitheatre in Epidaurus. In Delphi, the cool fresh mountain forests, oracular shrines and temples were all bathed in a magical effusion of honeyed light. And in a small coastal village in the Peloponnese, an old woman all covered in black invited me, clad in my bikini, into her humble home for a Greek coffee and a most basic exchange about each other's lives through gestures and much laughing. As different as our backgrounds, languages, customs and lives were, we readily connected with common insights and a mutual understanding. The past and present seemed to come together with the warmth and generosity and the sense of trust I experienced from the Greek people I came across, everywhere I went, true to their old tradition of "welcoming the foreigner". After my many years of homeless wandering, I felt fully "at home" here.
I visited the island of Hydra: a profusion of pretty white houses up the steep narrow streets interspersed with bougainvillea, vines, jasmine and other flowering creepers. Mykonos was a symphony of whites: arches, steps, paths, ledges and domes, all whitewashed to a snow-like chalkiness, the many layers of lime rounding off their edges giving them an organic look. In the changing lights and shadows I began to discover tinges of violet, pink, cerulean, lime-green and other shades in the whites all around me. Then, a dazzling white against a brilliant cobalt sea. The beach out of town, past a barren landscape of olive trees and lacy white dovecotes, each a different pattern from the next, was a long stretch of golden sand with a simple taverna, which served delicious fish soup. I joined evenings of Greek dancing in the port town, graceful, repetitive footwork, hands held high, around a circle, to the captivating, windy music, which lets one know that the Orient starts here.
On St George's Day, the local people sat at an interminably long trestle table covered with food and drink that stretched from inside the church to far beyond it out in the open air, and they squeezed tighter together on the bench to make room for me, inviting me to join them in their celebrations in the interior of the island. They talked and laughed and enjoyed the feast and shared everything without fuss or ceremony, undeterred by a stranger in their midst and the absence of a common language. The exuberance of life, human warmth and inclusivity here, drew me close to them and to the country. There was a sense of déjà-vu about my encounter with Greece, a deep feeling of harmony and ease with my surroundings and the people, which fitted with their fundamental contribution to civilisation.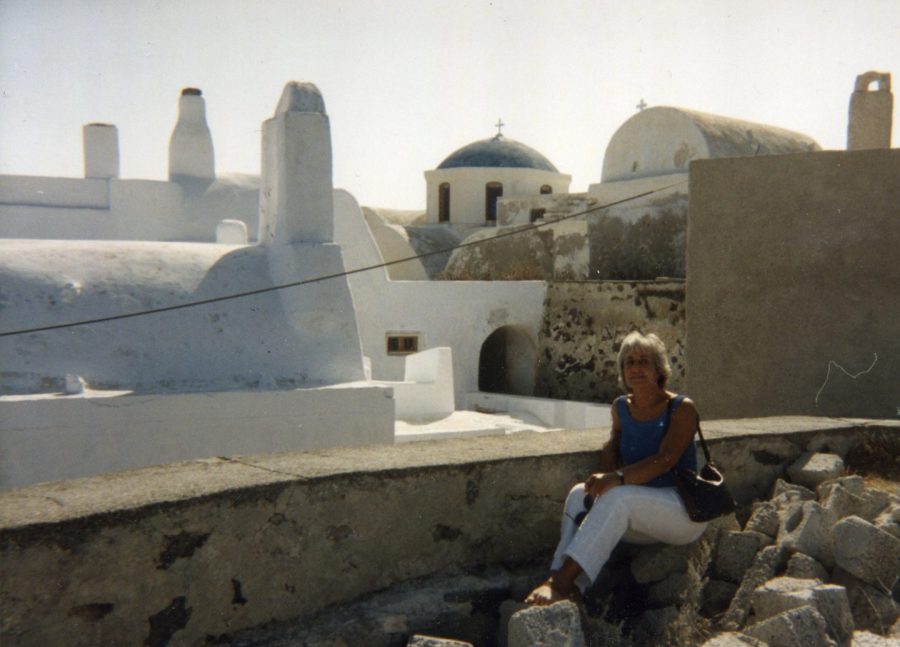 I settled in London where I worked in a teaching hospital and married an artist and started a family. But Greece remained in my heart and, when the time came, I returned in search of my white house on a Cycladic island. I found it in the stark, wild beauty of Serifos.
Many years had passed, and Greece had gone through difficult times. With the intractable conflicts in the neighbouring Middle East and the resulting spillover of desperate refugees, on top of Greece's increasingly difficult economic situation, it faces colossal challenges. Yet, even through this, there is a sense of its historic tradition of our common humanity.
In Serifos I have made life-long friendships, and – when I am not swimming in its sparkling blue waters or exploring every corner of the island – I spend my time reading and learning more about the history of this part of the world which blends East with West, and writing about my own life across the years and this wondrous and complicated world, with so much beauty and so much that is terrible, both at the same time. And Greece, in the midst of it, with its strong sense for the humane.
---
Miriam Frank's autobiography, "My Innocent Absence: Tales from a Nomadic Life" is available in English by Arcadia Books and in Greek by Kapon Editions.
---