Hydra: Sketches of the Mind
John Zervos, a lifelong Hydra-phile, recalls an extraordinary place that has played muse to everyone from Bridget Bardot to Presidential hopefuls. As a living archivist, he explains why there'll never be another island like it.
The island of Hydra in the Saronic gulf is unique in its architecture, significant in its role in modern Greek history, a home for artists, a Paradise for lovers, a playground of people who have learned to say ' yes' to donkeys, to climbing endless steps and blending with an island village that has remained intact despite its international fame.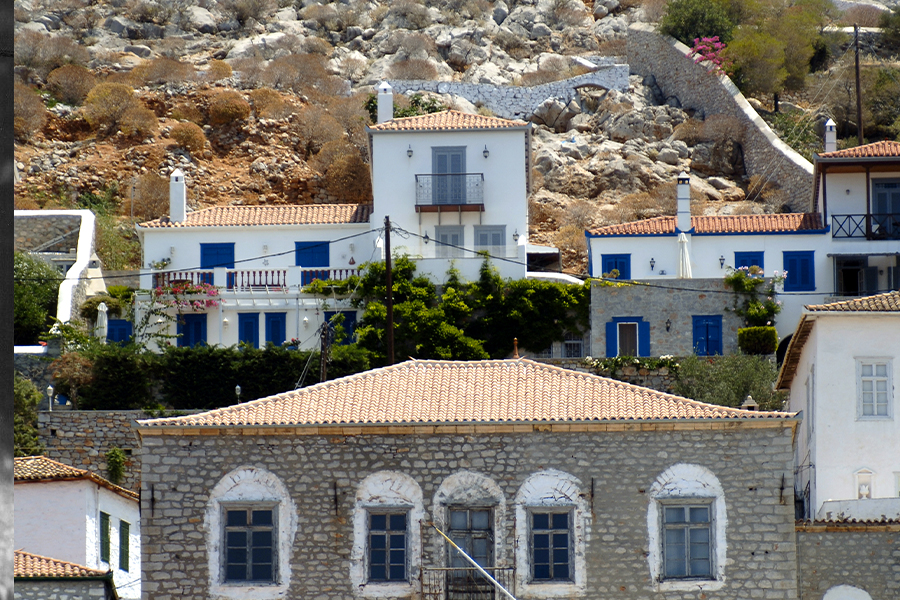 It is the island of films like Phaedra and Boy on a Dolphin, of Sophia Loren, dancing and daring in the port. An island of windmills, historic houses, cubist white buildings, linked by whitewashed steps and alleys that blend together despite their geometric uniqueness. Smartly dressed Cadets attend a stone-built naval school in the port just beside a beautiful museum. There are no cars, no large hotels, little touristic infrastructure and a charm and beauty unlike any other.
There had been an effort to set up a hotel complex outside the port, built by Patronicolas, who was married to Onassis's sister.  He named it Mira Mare, but it lacked charm, was too far a walk from the hotel to the port, and remained isolated and alone in its cove.
My grandmother, Maria, came from Hydra, so I naturally felt drawn to go there. On my first visit in 1962, I met a barefoot American in the port called John O'Cain, who had been expelled from Yale for stealing books from the library and then convinced the university president to reinstate him, telling him that Yale needed him more than he needed Yale. He spoke fluent Arabic and Greek, and was familiar with the history of Hydra's significant role in the War of Independence between 1821 and 1830.
We used to sit in the port with other friends watching the endless array of Kaikia, fishing boats and other vessels coming and going in the cannon protected port. One evening, with another friend, New Yorker Marta Chelhesky, we dragged John to the town water pump and washed his feet. Later that day, I met a Danish lady called Bodil who invited us to her house. This involved a long walk up the narrow whitewashed stone path to the top of the village.
The view was stunning, the sunset magical. I used to take the same path years later on my visits to a friend, George Lialios, originally from Patras, who had bought a huge stone 18c mansion, replete with ballroom, a grand fireplace and ghosts. George lived there from the early 60's until the late 90's, when he moved to Kifissia so his young daughters could attend school. He was the most gentle and soft-spoken person I had ever encountered.  He had studied music in Vienna and his father was a famous composer, whose family home was a huge neo-classical mansion on Syntagma Square. It is still there today, now owned by Public, a book and computer retail company.
George introduced me to his neighbour, the Canadian singer Leonard Cohen, whose voice captivated the world and focused interest on Hydra. He stayed for many years and still owns the house, although he spent little time on the island in his later years. Many interesting characters had bought houses in the early ' 60's, when properties were still cheap. Hatzikyriakos-Ghikas, a renowned Greek painter who had a beautiful house at the top of the village, became friends with authors Henry Miller, Lawrence Durrell and others in the late 1930s and invited them to the island along with poet diplomat George Seferis. Miller loved the island. In his book The Colossus of Maroussi, he wrote:
"Hydra is a very special rock, entered as a pause in the musical score of creation by an expert calligrapher. It is one of those divine pauses  which permit the musician, when he resumes the melody, to go forth in a totally new direction. At this point one may as well throw the compass away. To move towards creation does one need a compass? Having touched this rock I lost all sense of earthly direction."
Unfortunately, Ghikas's beautiful house burned down and he never returned.
One of George's friends, Alexis Bolens, a Swiss national originally from Alexandria, had come to the Hydra with Brigitte Bardot and her then-boyfriend, Gunter Sachs. Their plan was to buy large areas of the island's beachfront and have Bardot announce that Hydra was the place-to-be, thereby stimulating demand and eventual profit for their investment. But Bardot quarrelled with Sachs and left the island and the properties to Alexis who spent the next 30 years trying to sell them. He was witty and charming and held great dinners at his lovely house above the port, regaling us with stories of his life as a mercenary in Katanga and a lemon farmer in South Africa. We used to play poker together with the charming Pandias Scaramangas, a Greek banker/ businessman, Philip Dopoulos, an American from Boston, who was the Associated Press rep in Greece, and others like Alexis Mardas, the urbane first manager of the Beatles, and businessman Alekos Kyrtsis. Alexi Bolens, whose father owned the Bon Rivage hotel in Alexandria before it was nationalized, lived in Geneva and attracted his Swiss friends to the island.
One friend, Henri Bordier, walked around in his Mickey Mouse T-shirt, attending to his house and garden. He felt that Hydra was the perfect antidote to his work as president of Swissair, and the owner of Bank Bordier, which had been in his family since 1832. I once asked him what interest he paid on deposits, and he replied, 'we just take people's money, we do not give them money'.
Another Geneva resident, Maury Cohen, and his wife, painter Henriette Martens, were part of the Swiss contingent. They had a cluster of houses on a hilltop close to the port with a panoramic view of the Peloponnese. Maury was a successful businessman and Henriette, a perceptive painter of Hydra scenes.
So many artists, known and unknown, both Greeks and foreigners, were drawn to Hydra. Jane Motley,Marcella Maltais, Jane Porter, Piers Kemp, Terry Oldfield, Adam Shapiro, Anthony Kingsmill, Angelika Lialios, Richard Vick, Guy Allain, just to name a few.
In addition to Hatzikyriakos-Ghikas, other Greek artists like Panagiotis Tetsis, George Mavroidis, and Kostas Vizantios, worked extensively on the island.  In 1960  film director Mihalis Cakoyannis, filmed The Girl in Black, an international success that made Hydra famous. The port was the meeting place, with Katsikas cafe being the focal point.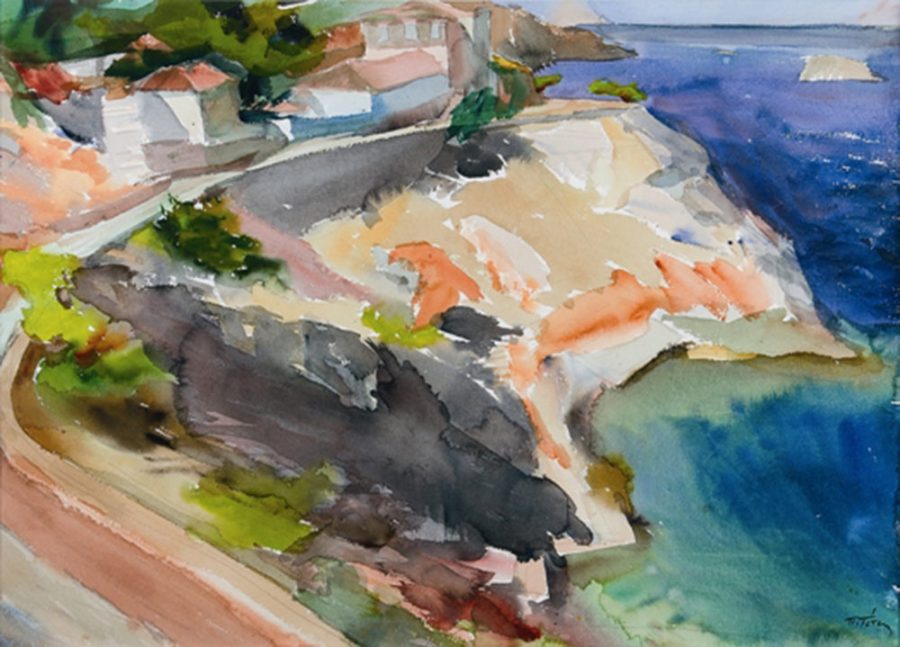 Sitting there still today one can watch the ebb and flow of friends and visitors walking along the horseshoe-shaped port. At one end was where the boats arrived with clusters of donkeys and little shops. The walk brought one to the favourite beach at the side of the port, which had a natural cave.
The daily boat from Piraeus, the Neraida, with captain Latsis, who later became one of the richest Greek ship-owners, used to deftly slink into the small port. There were no hydrofoils or catamarans back then, only a daily cruise ship doing a three island visit in the summer months which stayed for an hour while the mostly Japanese tourists who photographed the donkeys waiting patiently in the port.
An Englishman, Bill Cunliffe, opened a bar, called Bill's Bar, that becomes the best meeting place on the island. His beautiful Greek wife, Lena, ran a language school where she taught English.
I remember going to their wedding in a chapel on a tiny island off Vlihos beach. A short walk from the port, passing the beautiful stone building of the Athens School of Fine Arts and a cluster of windmills, one came to a smaller port called Kaminia, with a lovely taverna on the seafront. It was also accessible by water taxi. One could go further along the path, to another small village called Vlichos, also with tavernas and a popular beach.  My friend, Corrine Seeds, has a villa there with an attached theatre, and in the summer she puts on ancient Greek plays with American actors. She walks around in local Hydriot costume and is regarded as 'eccentric' by the locals.
In 1978, I had also put on a play in Hydra, in the Miranda hotel.  It was Stratis Carras's The Strong Men, directed by Arthur Beer, an American residing in Spetses.
Richard Branson had bought a house and some land in Kaminia for his daughter many years before. He wanted to make it into a small boutique hotel, but was not given a permit by the local council, who feared it would attract 'undesirable' tourists, whatever that meant.
There were many artists and writers who kept and keep houses on Hydra, including Brice Marden from New York, the poet Roger Green from England, who described himself as 'a nomad who wears the world like a loose garment and goes where the weather suits his clothes". An American poet, Ann Rivers, published a poetry magazine called S.H.Y. for a few years.  George Slater, an American poet known to one and all as 'one-eyed George' was a fixture at the port.
Kevin Magrath, a Harvard poet and writer, commented:
"Many of the young poets, painters, and musicians lived freely in the ruins of the fallen and once-pillaged merchant houses: frugal, exoteric, and profoundly romantic. There was a strong and vigorous ethos of vision and invention, a kind of ingenuity that was curiously generous and non-judgemental."
"Hydra did not receive domestic electricity or running water until the latter decades of the twentieth century and even now there are no motor vehicles on the isle. All transport is conducted by ponies, mules and donkeys. This pristine and naïf quality of life honed and pared the days and minutes of those foreigners as they lived among the Hydriot—and originally Albanian—township. "Less was certainly and doubtlessly more, plus it was cheaper."
Many scenes from novels were set on Hydra, written by novelists such as John Le Carré and Jeannette Winterson, as well as Margarita Karapanou, who wrote the book 'The Sleep Walker'.
I used to return to Hydra giving talks to incoming Fulbright scholars doing their Greek 'orientation'.
Now the hydrofoils arrive every hour, and numerous restaurants like the chic Bratsera, housed in a former sponge factory, have opened, catering to clients from the many yachts and motor vessels that squeeze into the tiny port.
Hydra has a beauty beyond its port. Walking over the island, through the old threshing circles, the pine forests, the wild fig-trees, the sound of goat's bells and cicadas, amid the grey stone, one has a sense of timeless history and an awareness of the stillness of the moment that lasts forever.
---