How to make Taramosalata and Lentil Soup like a pro
Christina Vlahoulis, private chef and culinary expert, is spending quality quarantine time in her Athens kitchen, whipping up a storm of savoury and sweet delights. She's sharing some of her recent Greek dishes with Athens Insider, hoping to bring out the budding chef in us all.
TARAMOSALATA – FISH ROE DIP
(Serves 4)

INGREDIENTS:
250gr wheat rusks, crushed

120gr (3 tsp) tarama (fish roe paste)

1 medium onion, coarsely chopped

1 lemon, freshly squeezed

3/4 cup sunflower oil

1/4 cup water
INSTRUCTIONS:
Put the crushed wheat rusks in a bowl and sprinkle with 1/4 cup of water. Let them sit for 3 minutes, then squeeze out the excess water and set aside.

 

In a food processor add the chopped onion, squeezed lemon juice, fish roe, dampened wheat rusks and sunflower oil and blend well until you have a smooth consistency. If too thick in consistency, add a little water to dilute the mixture.

Cover and store in the fridge until ready to serve.

Serve with fresh bread or/and vegetable crudités.
LENTIL SOUP (serves 4)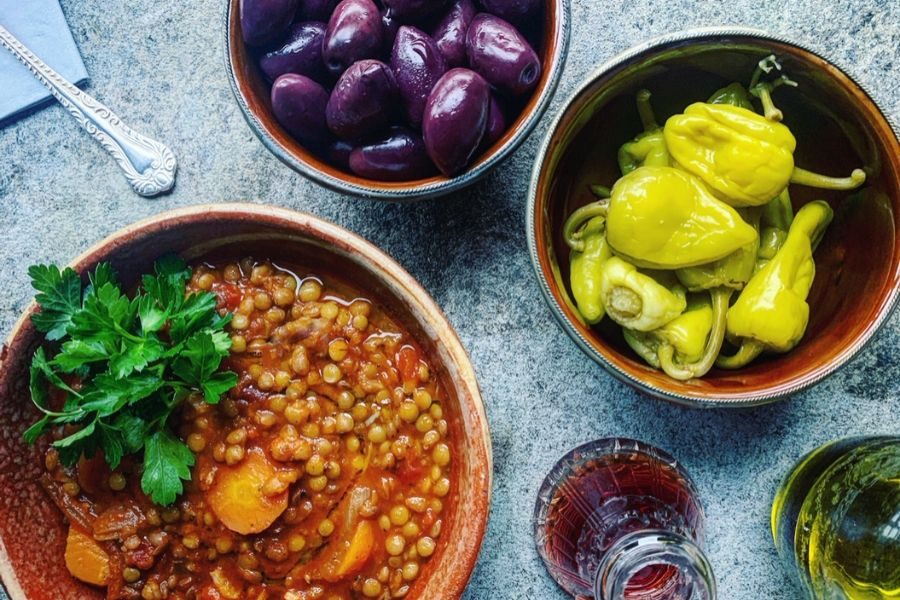 INGREDIENTS:
1 packet lentils, washed
2 medium onions, chopped
3 garlic cloves, minced
2 carrots, cut into slices
4 tbsp olive oil
1 can chopped tomatoes or 3 fresh chopped tomatoes
1 cube vegetable stock
1 tbsp oregano
Salt
Pepper
2-3 tbsp red wine vinegar to serve (optional)
INSTRUCTIONS:
In a medium saucepan add the olive oil and heat on medium/high heat. Once hot, turn the heat to medium and add the onions, cook until soft and translucent.
Then add in the garlic and cook for 1 minute, until fragrant. Add the carrots and stir everything together.
Then add the vegetable stock cube crumbled and stir everything for 1 more minute.
Now add the lentils, stir and add the chopped tomatoes, oregano, salt and pepper. Stir and add water (about 3-4 cups) to cover lentils. You will need to top up the lentils with a little more water about half way though the 45-50 minute cooking time.
Turn the heat to medium low and simmer until lentils are soft and a bit thick. Turn the heat off and allow lentil soup to sit for 10-15 minutes before serving.
Add some red wine vinegar to taste.
Enjoy!
---