Greek filoxenia
It might not belong to an international chain, but their properties have oodles of charm to make it one of the most desirable places to stay in Athens. The family-run 4-star Hotel Herodion and its sister 3-star Philippos Hotel, located at the footsteps of the Acropolis not only exude discreet elegance, they have been consistently rated by their guests as being one of the friendliest hotels they have stayed at. While international guests have long succumbed to its pleasures, its time Athenians discovered it too.
For sisters, Katia and Nasi Tsimidopoulos, proprietors of the hotels, it is a validation of their unflinching faith in hospitality karma. "Filoxenia, this is our culture and that is what we invest in. In the hospitality industry, you get back what you give."
Their foray into the tourism sector began when their father chose a location for a hotel just 289 metres away from the country's most iconic landmark, the Acropolis. The rooftop at the Herodion offers not just spectacular views of the Filopappou Hill and of the Parthenon majestically perched above the city, one can even see the statues housed in the Acropolis Museum with the naked eye!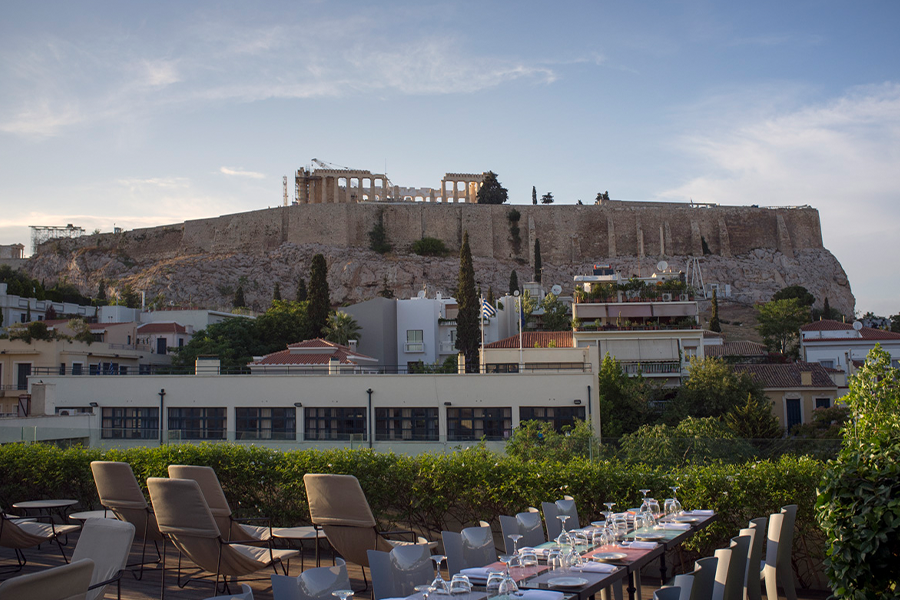 For the Tsimidopoulos family, tourism is inextricably intertwined with culture and they have consistently endeavoured to present as many facets of it to their guests. The Herodion itself, designed by architect Theodora Sartzetaki is a pure representative of the post war style of architecture. The clarity, functionality of the original design, and the '60s character of the hotel was also respected by architects who designed and executed its renovation.
The interiors reflect the exquisite tastes of the Tsimidopoulos sisters with contemporary works of Greek artists showcased to maximum effect, giving one the feeling of walking into a beautiful home, rather than an antiseptic hotel. The attention to detail comes through in the freshly cut flowers, the placement of linen table mats and in the meticulous arrangement of pastries in the crystal dome cake stands.
Banking on an abundant natural resource, Greek sunshine, and converting it into a winning formula, sunlight filters through the skydome into the Herodion's Atrium restaurant, to give it an ethereal quality. "The glorious Athenian sun pours in through the windows, the ceilings of the restaurant and the outdoor terraces", says Nasi Mavrantonis-Tsimidopoulos, "because we love the warmth it bathes us in and that is yet another aspect of Greece we'd like to share with our clients"
If the cuisine and the conservatory-like ambience of the restaurant in the lobby isn't seductive enough, the summer bar/restaurant Point A boasts not just the view but also an array of alluring cocktails and palate-tickling appetisers.
"This has been a pet-project for the past two years," says Katia Kalafatis-Tsimidopoulos. "George Skarmoutsos helped us develop the identity of our roof-top destination and what is gratifying is that most first-timers come for the view, then stay on for the cocktails, end up having dinner and then come back to relive the experience all over again."
While the visual treats abound, for Nasi, another aspect of Greek culture she'd like share with her guests is Greek gastronomy. "This is yet another aspect of our culture. Our chefs Manolis Mavriyannakis and Marios Pirpiridis are constantly reworking traditional Greek recipes to give them a contemporary twist, teasing and teaching the guest along the way to discover Greece's culinary traditions."
The one thing that comes through is that the sisters mention their staff by name, crediting them with the hotel's successes. "But how can we not mention each one of them," they both say spontaneously, "because they are at the core of what we try to achieve."And what would that be? "We want our clients to have a unique experience; to remember us, not as yet another hotel in an interesting city but as a small family hotel that made them feel part of our culture."
---