Greece: All it can Be!
Greece, apparently, has it all. It now also has a clear vision and consistent strategy to maximise Greece's tourism potential. A group of eminent Athenians get together over dinner at the elegant Tudor Hall restaurant to discuss a collective, sustainable vision for Greek tourism.
In Numbers
28 million Number of tourists in 2016
8 Average number of sites visited by millennials
3 Number of Greek booking sites among the top 10 in the world
Top 5 Greek tourism ministry's objective for Greece as a destination in Europe
300 million Ad spend by Booking.com in 2016
70% Customers who show commitment to sustainable values
Participants: Mr. Giorgos Tziallas, General Secretary for Tourism Policy and Development, Mr. Marthinus van Schalkwyk, Ambassador of South Africa (Former Minister of Tourism of South Africa), Mr. Michael Braad, Ambassador of Denmark, Ms. Maya Tsoclis, Traveler & Film-maker, Parliamentarian in the Working Committee on Tourism, Ms. Theresa Cissell, Country Manager, Qatar Airways, Mr. George Vilos, Executive Director of Commercial & Business Development at Fraport Greece, Ms. Marina Papatsoni, Marketing & Business Development Director, TEMES SA, Managing Director at Greka Icons, Ms. Jacoline Vinke, Travel writer, founder of Small Hotels in Greece and Greece planner for Trufflepig Travel, Ms. Barbara Avdis, Chairman, Historic Hotels of Europe, Mr. Tim Ananiadis, General Manager & Managing Director, Hotel Grande Bretagne & King George, Ms. Maria Theofanopoulou, President & CEO, GTP DANAE Travel & Media Group. Moderated by Ms. Sudha Nair-Iliades, Publisher, Insider Publications.
Trends
What are the key global trends in tourism to watch out for in 2017?
Ambassador Van Schalkwyk: With regards to world trends, what we clearly see is a new wave of 'isolationism' that the tourism industry can't escape. It started with the US, my own country South Africa has announced stricter visa regulations, as has Australia, and Emirates has just announced that it will cut flights to the US. I believe isolationist policies will be an industry challenge in the short-term at least. Over the longer term they will be offset by new technology, e-visas.
The other trend for 2017 – 'destination degradation' – is a huge debate world-wide as our most visited sites' assets are becoming degraded. The other trend is clearly disruption – terrorism, health scares, Zika, other threats that might have a major impact – and we cannot always predict them but one should always be prepared to deal with them.
With regards to Greece, if you really want to grow a destination you need diversification. I'm always surprised that I don't see a fantastic conference facility here because conference tourism is something that can really grow a destination like this.
Theresa Cissell: At Qatar Airways, we have seen an influx of millennial travelers from Australasia, who are very cost-conscious. Also through our continuous focus on premium travelers from Arabian Gulf countries and Far East, we see a growing mix of passengers seeking luxury experiences in 5 star hotels, visiting high quality restaurants, popular beaches and major attractions during their stay. Another growing trend is adventure tourism, they are interested in sea sports, photography and nature trails.
Jacoline Vinke: I do see a trend for better services, especially in the case of Greece. When I became active in this sector in 2000, the services were very basic and I see positive improvementsevery year – in very simple things, like ferry schedules that are now made available well in advance. I also see a trend ofincreasing involvement of local people, local guides, airbnb is also a local service.
Tim Ananiadis: Another trend is that luxury hotels such as the GB are investing in airbnb apartments too. We have around 20 apartments in the neighbourhood. It is a very intelligent way of extending your rooms. It used to be that airbnb guests just wanted a basic room minus the facilities. Turns out that they now want the services too. So the cost of running an airbnb is a lot more than it used to be 5 years ago, and a good opportunity for hotels such as ours to step in.
Mr Tziallas, you are in this amazing position of actually creating policies and defining strategies, what are three priority areas you are focusing on?
George Tziallas: Obviously it's a privilege to work for an industry that has helped sustain jobs even during the economic crisis. So the top three priorities are: to extend the tourist season, to make Greece a year-round tourist destination and to open new markets – that means direct flights for new markets like India, China, US, Iran. We have started doing that with the Middle Eastern countries and it has been quite a success. Another priority is to have synergies between other economic sectors such as the food and manufacturing sectors and with all the other relevant ministries overseeing visas, the environment, culture, and new investment strategies for tourism development.
Maya Tsocli: The problem has been vision. Ms. Papatsoni works for one of the most visionary projects ever in tourism in Greece (Costa Navarino) and this is what we've missed from all the Ministries of Tourism. It's always been a headcount of arrivals rather than putting any thought into what kind of tourism we want. It was a good idea when the Ministry of Culture and the Ministry of Tourism were one, but unfortunately, that changes with every new Government!
However, a positive force is the amount of small entrepreneurship throughout Greece. At the recent tourism awards, we could see the difference in the attitude and mentality born out of the crisis – there were so many small businesses popping up all around Greece. We were also lucky politically these last two years, because our neighbours had problems and we attracted more tourists as a safe, stable destination.
Millennials
What should Greece be doing differently to cater to millennial travelers?
Barbara Avdis: Millennial tourists are re-shaping the tourism industry. They have a different way of selecting, booking, traveling and experiencing a destination. The main characteristic of the millennial tourists is that they enjoy the travel experience before even travelling and this makes our job more challenging.
Our business philosophy at Yades Heritage Hotels is to offer an authentic Experience inspired by the History and the Cultural characteristics of our country. Our aim is to transmit is the idea of Greek culture through tourism. We cannot talk about tourism if we cannot talk about culture since the first reason a tourist chooses a destination is because of its culture. Everything else falls into place after. It's become fashionable to talk about millennials and their needs – but for me, the real challenge for Greece is to mesh the needs of mature luxury travelers from the US and Europe with the affluent, new travelers from Asia and the Middle East.
An interesting characteristic of the Millenials that can be inspiring for the next phase of Greek Tourism is that the millennials have been brought up with the idea that they want to leave an impact in what they are doing. And that involves doing something with the local economy.
Passenger Experience
Your airports are the first contact for anyone arriving in Greece and the last farewell point. How do you hope to make this a welcoming experience to return to?
George Vilos: As you may already know, Fraport Greece officially commenced operations at the 14 Greek Airports as of April 11th 2017 while, from October onwards the company will be kicking-off a 4-year investment plan of one hundred million euros for the upgrade, renovation and in most of the cases expansion of the airport premises. Our prime objective is the modernization and expansion of the airports, the 14 gateways to our country that welcome millions of visitors every year from all over the world. In particular, with vehicles the operational excellence of the airports, as well as the customer-centric philosophy and management practice, we aim to operate 14 competitive airports, similar to the best international ones that will further enhance our country's attractiveness as a tourist destination, offering a seamless and upgraded travelling experience of high quality standards. As an example, taking into account the best practices worldwide, we will substantially enhance the commercial offer at the airports,  contributing to the enhancement of the travel experience. Last but not least, through the development and operation of modern and safe airports, we aim to attract new airlines and routes,  as well as to increase the incoming tourist flows, contributing this way to the extension of the tourist season and the upgrade and diversification of the tourist product.
Sustainability
Why should Greece focus on sustainable tourism and add a touch of Green to the Blue?
Ambassador Braad: For Greece, it's important to focus on sustainable tourism and to develop local products with strong narratives. In Denmark we noticed that the places that had the strongest narratives were more attractive to tourists. There has to be a clear and strong vision of parlaying those stories into one consistent narrative. Greece is uniquely situated to take advantage of this.
Coming from the outside and looking at Greece as a tourist destination you see that there has been a lack of direction. Greece offers so many opportunities – and its biggest assets are its people, its unique beauty and temperate climate. Most Danish tourists are repeat visitors so there is an incredible degree of loyalty. Plus Greece has its unique brand of special hospitality, generosity and wonderful products. So Greece has all this going for it but it needs to make decisions on what its strategy should be, the kind of tourism it wants to attract, and how to go about it without losing what is so special about Greece. Geographical diversification is also essential as there is still so much of Greece that is unknown.
Maria Theophanopoulou: First we need to define what is sustainable tourism; tourism that respects both the locals and travelers while taking into account its economic, social and environmental impacts. When you try to involve the local community in everything that has to do with the essence of tourism, you realize what's missing is the communication of the vision. Sometimes when you are high up in the leadership you have the vision but if you don't go and communicate that to the local communities, the strategies rarely get implemented. Huge amounts of money have been spent by Greek tourism organizations on strategies and reports that end up on shelves for exactly this reason.
Marina Papatsoni: Sustainability is not a trend any more. It's a requirement. 70% of the guests demand their hotel to be responsible towards the environment and society. Also guests are suspicious due to green –washed approaches and false claims. They check you out in detail. Following sustainable practices derives from the philosophy of the company and its not about what you claim in your brochure but what the guest sees and feels – where you buy your products from, how you promote local culture, how you protect the eco –systems that surround you, what people working in the hotel say about you and your sustainable policies.
Jacoline Vinke: This is where the Government can step in to enable the local community. Instead of obstructing entrepreneurship with too many rules, we need to simplify procedures. For simple things like running a cooking class, there are so many permits that need to be obtained that a lot of aspiring entrepreneurs end up doing it illegally and the Government loses out on tax revenue.
Marina Papatsoni: Creating synergies is key. Unifying a whole region from local restaurants to farmers under a common vision and working together to achieve it, is our bigger accomplishment. The experience of the traveler is the key driver of growth as its sharable. In old times we were sharing experiences with friends and family. The millennials share instantly  on real time on social media anything that they think is worthwhile. The experience they share does not define only what they do but who they are. Story telling is the key. To give you an example, guests don't want to hear the theory of ancient Greek philosophy but they are excited to participate in a philosophical discussion under the olive trees about modern issues – of Plato's proposition, a thousand years ago, of how it is possible to have incorruptible politicians!
Promoting Greece Through People and Products
Why should Greece cultivate Ambassadors through art, wine & gastronomy?
Ambassador Van Schalkwyk: It is inevitable that if you want to market a country, it will have to be at two levels. At the level of Government, it will be about targets, arrivals, spend and connectivity. For the local communities, it has to be about what is expected of them and understanding the benefits for them in the long run. In terms of marketing the country, using people as ambassadors is vital. Not just well-known Greeks but people who'd like to be associated with Greece. Money can't buy the ambassadors who are willing to promote a destination absolutely for free.
Maya Tsocli: From my personal experience on Tinos, the creation of a product, beer, totally transformed the quality and the kind of tourism that Tinos attracts today. The brewery generated significant interest and a lot of press and tourism stood to gain. Creative wonderful products promote culture.
Managing Greece's Image
What lessons have we learnt on managing Greece's image?
Tim Ananidis: Whether it is the crisis, services, infrastructure or safety, Greece's image is not we think it is. Our challenge is not the quality of products we offer, but the image tourists have of us. We need to invest in improving our image.
Marina Papatsoni: Its key to have a dedicated team and strategy, that does not change with every government, that works to attract  international media coverage, airlines for more direct flights to Greece, film shootings etc.
Ambassador Van Schalkwyk: In South Africa,  when we created a destination marketing organisation which was funded by the Government but where the whole board was from the private sector, we made  a quantum leap in terms of revenue, spend and arrivals. Governments should leave marketing to the private sector. And that should be the base model for a country to market itself.
Theresa Cissell: It is important to evaluate what interests tourists, it can teach us quite a bit on what needs to be improved or developed. Greece is a popular shopping destination for luxury brands, however, it's not actively promoted. The travelers are luxury experience seekers, if promoted correctly by combining it with many other top notch services offered by Greece, it can become very popular.
George Vilos: We firmly believe in synergies with all people involved into our country's tourism product and promotion, as only this way we can achieve optimisation of the available resources in the field of Destination Marketing, ensuring at the same time consistency in the delivered messages. As Fraport Greece, we have already started to work closely with the local authorities aiming at promoting effectively all the 14 destinations that we serve."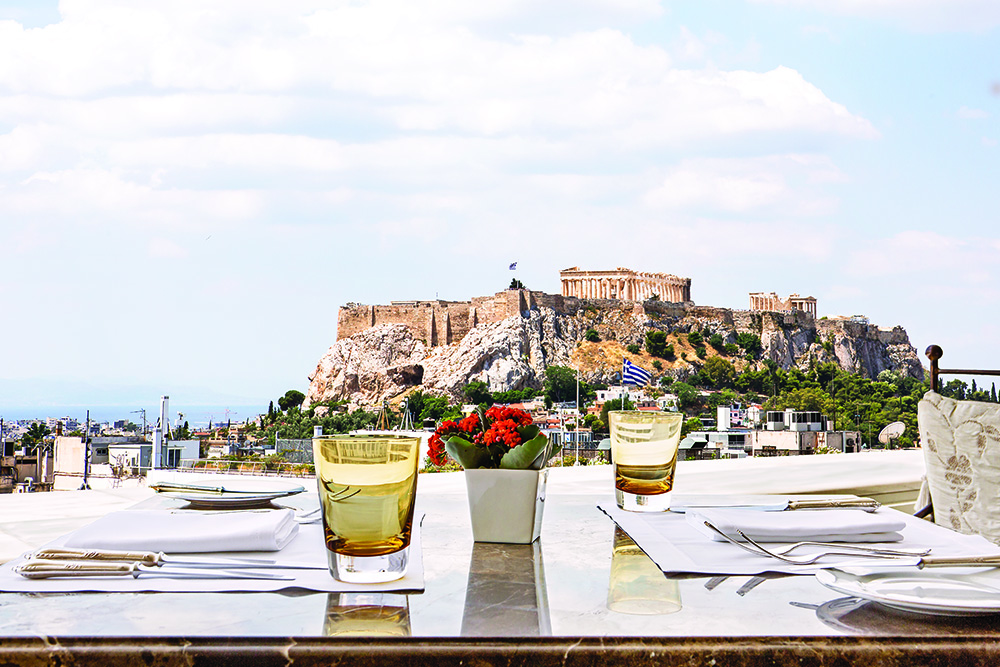 Concluding Remarks
Barbara Avdis: I would say, what Greek tourism really needs is clear vision and consistent strategy.
George Tziallas: Minister Elena Kountoura has set the vision for our ministry. It is for Greece to be among the top 5 choices for visitors to Europe and to be a 365-days-a-year destination. We want to attract tourism from new markets, to engage them in new adventure activities and to introduce them to our unique gastronomy.
---