Experience Park: A destination for the curious Athenian
With aquatic music choreographies and aviation heritage hunts, the newly-minted Experience Park at Hellenikon wears all its wintry finery to lure you into its sprawling space. Move to the rhythms of synchronized light installations, walk along its long promenade or cycle around its 50km circuit. This is truly a timely Christmas gift for Athenians from Lamda (Development) to take our minds off Omikron.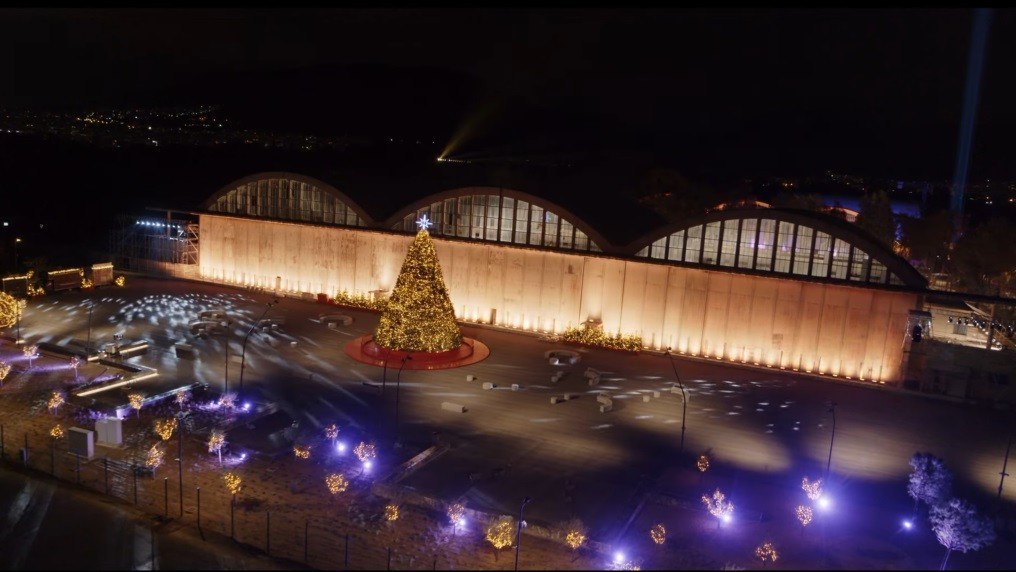 What you can experience at the Experience Park, Hellinikon.
The festive season just got a lot richer in Athens with the Experience Park opening its doors to visitors from December 20 to January 9.
Get dazzled by the light installations
For most Athenians, the sight of the abandoned old airport seemed doomed to stay that way. Get ready to be swept off your feet with two exceptional light installations, that hold the promise of to expect in the future. "The Stalactite," synchronised to music, by artists Christopher Bauder and Boris Divider with particularly bright patterns and "Helios," an impressive light installation designed by the Algorithm team, which creates a landscape full of light, movement, and rhythm.
Walk, cycle and get an avant-gout of a new healthy habitat
Walk or cycle along the 2.6km Promenade — a broad pedestrian thoroughfare stretching from the beach to the fringes of Vouliagmenis Avenue. There are secluded corners for impromptu yoga sessions, fitness equipment all along the route to test your workout chops.
Indulge in festive flavours
A 17-metre-tall Christmas tree dominates the Park, consisting of 180 real trees. Open daily from 5pm to 10 pm, visitors can also indulge in flavours from famous Greek chef Akis Petretzikis, Elias Skoulas, Lukumades, OPSOPHY as well as from Esteban and Falafeladiko.
Opening Hours: During the holidays, from December 20, 2021, to January 9, 2022, the opening hours are Monday to Sunday (including public holidays) from 5 pm to 10 pm.
Admission to "Experience Park" is free for all guests; and is accessible from the Vouliagmenis Avenue,  close to the Hellinikon Metro station. Free parking is also provided at the Park for all visitors.
https://experiencepark.theellinikon.com.gr/en/see-do/
---