Eleni Kefalopoulou: Monks, Wine, and the Holy Mountain
Some say each glass of wine is unique. In its history, consistency, and the nuances of taste and smell, nothing can or will ever be quite the same. Eleni Kefalopoulou shares this singularity with her literary subject, as well as the setting in which she writes about the ancient and globally popular beverage. Her book, "Mount Athos Wine: The History of Wine Making in the Holy Mountain" is the only book ever to have been written about the history of viticulture and wine making in Mount Athos, or the "Holy Mountain". This mountainous peninsula in northeastern Greece has been home to twenty monasteries and closed off to women since antiquity. This made Kefalopoulou's aim of researching and describing the unique nature of the wine production there, a practice that has been ongoing for over a thousand years, all the more difficult.
This array of challenges did nothing to deter Kefalopoulou's writing, and with the help of film-director-photographer Aris Fotiadis she created a magical, fascinating, and yes, unique, book. "Mount Athos Wine" is a journey made of of photos, anecdotes, and the history of how monasteries, wine, and the Holy Mountain itself evolved together over centuries to create a distinctive atmosphere and viticulture. Konstantinos Lazarakis, member of the Board of Directors of the Institute of Masters of Wine, writes that "If there's one place on earth where wine is self-evidently woven into the culture, the spirit and the soul, then it's the Holy Mountain. You might say that merely the fact that the Holy Mountain has embraced wine as it has demonstrates the complex nature, the multi-dimensional significance of wine." He lauded Kefalopoulou's work as something that should have been created years ago.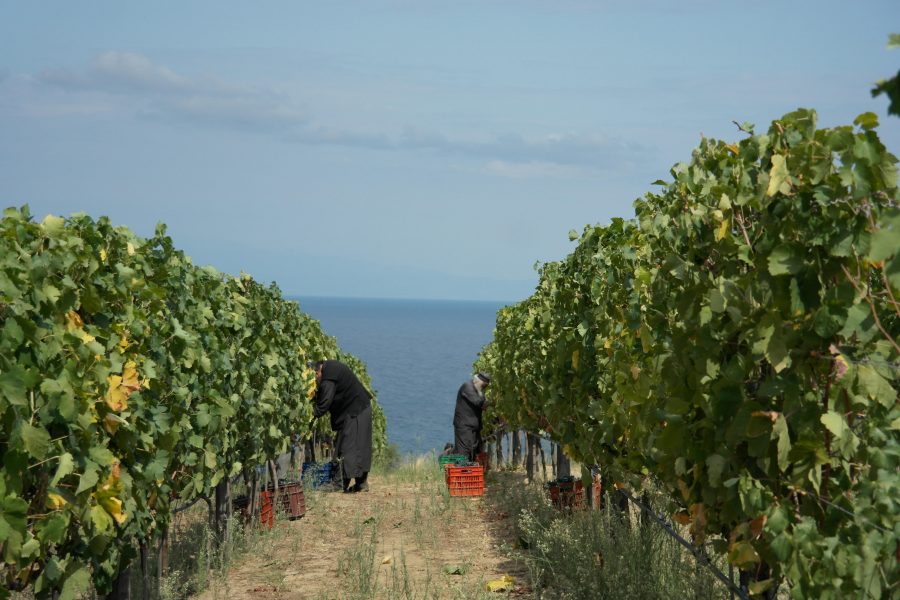 The link between viticulture and the monasteries that created it is tangible in the book; not only do the monks rely on wine for commercial reasons, it is also a necessity in their diet and lifestyle, for example, the Holy Communion. The four years of research and, one can assume, wine drinking, have resulted in a book at once complex and knowledgeable in its descriptions of wine making and yet completely readable. Eleni Kefalopoulou writes with grace and affection toward the wine and of her memories of the monks of her childhood. Her work is extraordinary in its content and its creation by a woman barred from the mountain itself, yet with a personal history intertwined with it.
---