Deeper Travel: 5 Holidays in Greece that will change you!
It's not enough anymore to simply switch on our out of office reply and slip away to re-charge our batteries on a simple sun 'n sea holiday. Now, it's all about innovative itineraries to help us to learn, grow and change. And perhaps, come back a different (read better) person. Amanda Dardanis suggests 5 transformative holiday experiences in Greece that will have you rolling in the deep and totally on-trend.
Artful Retreats, Crete
Here's your chance to explore your untapped creativity and perform an MOT on the state of your inner-self on a guided art holiday encounter while staying in a luxurious hilltop villa in a tranquil pocket of Crete. Artful Retreats, founded by Penelope Orphanoudaki five years ago, is a creative wellness concept based on the documented healing effects of the art-making process. Inspired from art therapy principles (used since the 1960s, initially to treat disabled children and soldiers returning from traumatic service), the bedrock of Penelope's retreats is personal growth in a social creative environment. The aim is to help guests freely express their creativity and learn about themselves through self-reflection and group interaction. Forget all your notions of a hippy artists' commune though: your lodging are Bleverde, a beautiful contemporary stone house with panoramic pool terrace offering undulating views to inspire your inner artist and a strong focus on great local gastronomy. No previous art experience is required. Only the willingness to embark on a journey of self-discovery. Your daily routine will be enriched with yoga classes and by drawing inspiration from local artists who you'll visit at their studios.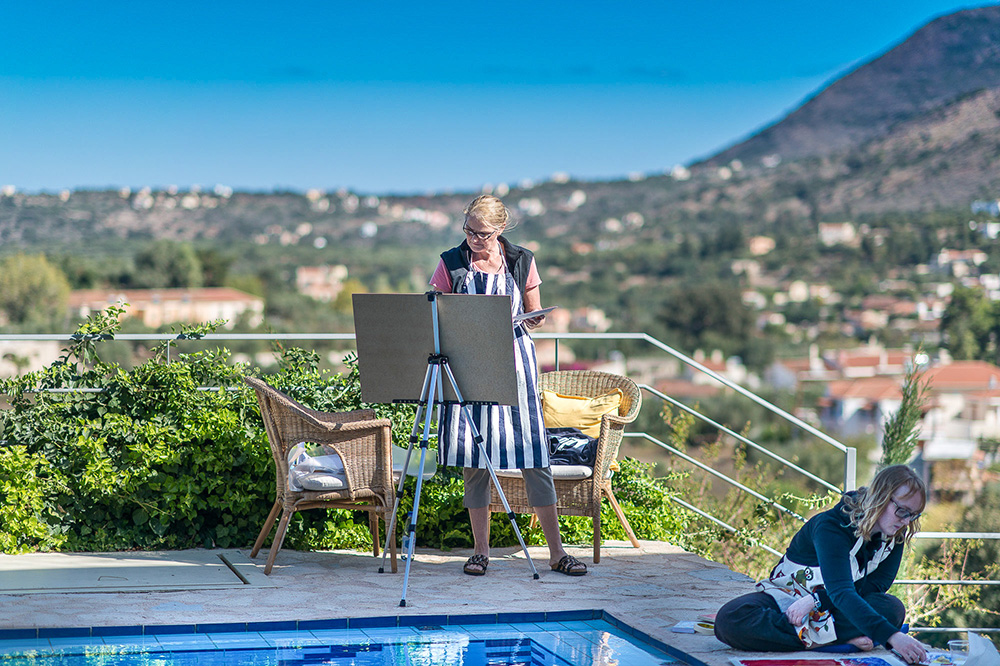 Artful Retreats will hold two four-day retreats in Bleverde, Crete in 2018: May 22-25 and October 27 to November 1. Prices start from around €860. Visit www.artfulretreats.com for more information.
Skyros Centre, Skyros
Back in 1977, more than half a century before 'transformative travel' became a buzzword at dinner parties, former political journalist Yannis Andricopoulos and psychotherapist Dina Glouberman bid farewell to London's Golders Green and moved to the remote Sporadic island of Skyros where they presciently converted an old derelict stone school house into an "holistic" centre known as the Skyros Centre. It would become Europe's first alternative holiday hub for independently-minded travellers. These days, the island of Skyros retains its wonderfully distinct Greek character, while the creative retreat still wins rave reviews from travel scribes from all around the world, thanks to its mind-expanding itineraries and chilled locale.  Running from early June to late September, the programmes go well beyond just yoga to also include theatre performances, writing and music workshops, dance, art, photography, massage lessons, mindfulness and more. You can stay either at the Skyros Centre's main building on Atsitsa Bay, in the beach huts situated in the verdant garden, or in the picturesque hilltop village of Skyros itself where you can lose yourself (and find yourself) within pretty cobbled lanes.
Prices start from around €745 a week and include daily (optional) yoga classes, one three-hour creative course per day for five days, breakfast and lunch and twin-shared accommodation in the village or by the sea. For more information, visit www.skyros.com
Euphoria Retreat, Mystras
This summer, embrace the ancient Greek concept of "εὐφορία" (a blissful and well-balanced life) at a novel new holistic spa destination due to open its doors on the outskirts of medieval Mystras, about one hour from Kalamata.
How energy flows within our bodies and how our bodies are influenced by the cosmos is the central pillar of the upscale Euphoria experience. Pitched perfectly for this era of deeper travel, Euphoria Retreat promises a transformative encounter through a melodic marriage of ancient Greek and Chinese philosophies and treatments, devised to help you lead a happier, healthier and more balanced existence.
The spa will offer personalised healing programmes built around the fundamental elements of Water, Wood, Fire, Earth and Metal, while also being rooted in modern medicine and science. Sign up for a signature seven-day "Emotional and Physical Transformation" programme comprising luxury spa and massage treatments, healing practices, wellness coaching and fitness activities focused on inducing sustained harmony. Dine during your stay on nutritionally-elevated cuisine served in the panoramic Gaia restaurant. The backdrop is glorious – all mountains, sweeping valleys and citrus groves – while the aesthetics appear ravishing too. Elegant curves of domes and arches blend within a soothing palette of yellows and golds, in a seductively modern re-boot of classical Byzantine colours and iconography.
Prices start at about €530 per night for a double room with full-board and daily entrance to all scheduled activities and spa facilities. Visit www.euphoriaretreat.com for more information.
Kalikalos Holistic Network, Pelion
Live, work, share and play with people you've just met on an authentic community holiday adventure at one of Kalikalos Holistic Network's three centres on verdant Mount Pelion, in mainland Greece.
Kalikalos is an alternative holiday centre billed as offering hands-on learning about the holistic lifestyle, from May through to September. Here, "community" is the key to a more peaceful existence of partnership, and sustainability, according to founder Jock Millenson, an American psychologist who spent time in California, studied herbal medicine, joined an eco-village in northern Scotland (the Findhorn community on which Kalikalos is based), and has also worked at the Skyros Centre, another alternative holiday destination (see above). All of the activities at Kalikalos are built around healing – of self, society and the planet – along with interpersonal communication, creativity, sustainable economics and self-inquiry.
Community holidays are not for everyone. Independent types, late risers and those who don't like following rules (such as no talking on the veranda after 11pm when Ashram mode kicks in or being woken by a bell daily at 8:30am for breakfast) mightn't gel with the concept. But you can dip in as much or as little as you like. Some prefer to merely contribute the required seven hours a week of community chores (things like helping with the dishes and cooking rota or pitching in to help tend the vegetable patch) without attending any of the scheduled events such as the morning sharing circles, movie nights or tai chi.
Our pick of the three centres is the sanctuary-like Alexandros campus. It's nestled in a luxuriant olive grove with panoramic views, near splendid Plaka Beach and with access to some superb hiking paths.
Specific week-long programmes at Alexandros during the 2018 season include intuitive dance, radical honesty, creative writing and spring walking holidays and range in price from about €310-700. For more information, visit www.kalikalos.com
Azul Yoga and Pilates Retreat, Santorini
Spectacular Santorini gives us a stark reminder of Nature's strength. This famous Cycladic island's sultry black volcanic beaches and awesome crescent of multi-coloured cliffs jutting into the sky from a sea-drowned caldera are legacy of the most violent eruption in recorded history.  Draw on these powerful elements of fire and water to rejuvenate your body and soul on a week-long retreat combining Vinyasa & Yin Yoga, Pilates & Meditation. Azul Yoga and Pilates Retreat runs a highly-regarded programme that pledges to return you to yourself and leave you restored and cleansed in this epic locale that imprints its mysterious energy on all who visit. You'll stay in cheerful bungalow-style lodgings surrounded by fig trees in the sunset capital of Oia and enjoy healthy organic meals (mostly vegetarian) sourced from the retreat's garden while you embark on their fun and challenging programme. With no previous experience required, your teachers this year will be Rachel Blunt, a former Youth and Community 'Street Worker' who now uses her skills "to support and guide people to explore their full potential through yoga" and Jo Dombernowsky, an advanced Pilates instructor and Ayurveda practitioner known for her fun and wise approach. You can also enjoy massages at the retreat.
Azul Yoga and Pilates Retreat will host two eight-day programmes in Santorini in 2018: May 26-June 2 and June 2-June 9. The cost of the course is €1075 per person for a shared room and €1325 for a private room (triples and quads are also available). Breakfasts and 7 organic vegetarian or seafood based evening meals are included.  Visit www.azulfit.com for more information.
---