Brushes with colour
Tunisian Ambassador Lassaad M'hirsi explains why art offers an escape, even from the strict confines of protocol-driven diplomacy.
Ambassador Lassaad M'hirsi discovered painting on the benches of the university, in 1985, while he took courses in Art History. It was then that his quest for art began through books, exhibitions and visits to museums. Several artists influenced him, notably Spanish and African painters. In Madrid, he became a regular at the "Prado" museum. In Paris, he is fond of the Louvre museum.
In 1998, encouraged and initiated by a Tunisian artist who lives in Spain Mr. Hedi Aboukris, he began to experiment in oil paintings representing landscapes of his native country and of Spain, then later, of Senegal. This immersion in several different cultures and civilizations enriched not only his knowledge of the local history and literature, but also of his perception of the world and art , as reflected in his painting.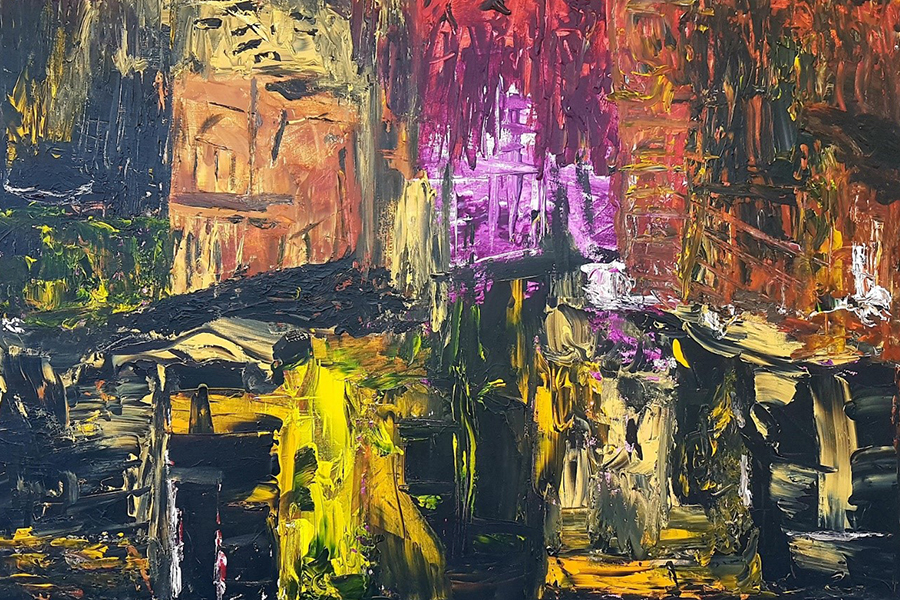 Lassaad M'hirsi chose abstraction with its multiple facets to follow his own vision. His painting are a striking harmony of colours, shapes and textures that evoke powerful emotions and feelings. On his canvas, he portrays everything that surrounds him and everything he sees, in this case his intense diplomatic life, which provides him with unforgettable images of the society he meets, the daily concerns facing a world in turmoil, where wars, massacres, economic crises, poverty, environmental destruction are unravelling at an unprecedented pace. All these themes are expressed personally in his paintings.
Lassaad M'hirsi believes that "painting is the only means of escape, it allows us to live in another dimension, a beyond of which we usually ignore the existence. This is what I discover every day in front of a blank canvas, I am in constant search and my inspiration comes from daily experience. "
"I claim absolute freedom, without restrictions, contrary to the constraints of my status as Ambassador of Tunisia in Athens." The Ambassador notes that during the Ben Ali dictatorship, it was unthinkable to paint while acting as a diplomat. After 2011 and the fall of the regime, democracy took its rights and art settled there allowing our painter to exhibit in public for the first time at Filothei's Municpal Pinacothèque. His exhibition is a tribute to Greece, a land that has much in common with his native Tunisia.
Born in Tunis in 1959, married and father of two daughters, Tunisian Ambassador to Athens and Tirana, Lassaad M'hirsi has resided abroad for many years. He has lived in Spain and France during his post-graduate studies, where he obtained a diploma in Medieval Studies at the University of Madrid, a master's degree in Spanish in Tunis and a State Doctorate in Comparative Literature at Sorbonne. He wrote a book in 2012, entitled: "Tunisia-Spain from Carthage to the present day" published by Dar Sader editions in Beirut. He has also lived for several years in Lebanon and Senegal, in the course of his professional life.
---