Brand Greece Goes Global
Greece's cultural heritage is hot property. In fact, if Brand Greece could be distilled and traded on the stock market right now, it would be in a bull market. Enter Katerina Frentzou, journalist and founder of Branding Heritage, a timely cultural alliance between some of the country's finest and most high-profile creative ambassadors. From purveyors of ancient Greek olive oil produced on the bedrock of ancient Mycenae; to jewellery and footwear artisans breathing exquisite new life into millennia-old creations; and famous fashion labels who are reviving traditional Greek crafts; Katerina Frentzou tells Insider how Branding Heritage unites for the first time over 30 Greek companies with the common goal of fuelling Greece's economic recovery – and its "assertive re-branding" abroad.
Why do you think that Greek Culture is so "hot" right now on the world stage?
Greek culture was never really out of fashion. The greatness of ancient Greek Art has been a fundamental inspiration for artists and top global fashion designers continuously during the past decades: from Mariano Fortuny and his famous Delphos dress to Madeleine Vionnet and Madame Grès who led this trend in the past century by artfully capturing in their designs the draping (folds) of ancient Greek garments, up until today with the recent Gucci collection dedicated to the Greek god Dionysus or the impressive Chanel collection entitled 'The Modernity of Antiquity', a tribute to Ancient Greece by Karl Lagerfeld.
As for contemporary Greek designers, they are increasingly capitalising on this valuable heritage to their own advantage. During a difficult period for this country, they are re-introducing the Ancient Greek civilisation to an international audience and transforming history into creativity. As an example, we have Ancient Greek Sandals, a 100% Greek Brand, transporting the ancient myth of the Greek god Hermes and his winged sandals across 50 countries, with famous fans such as Michelle Obama. Other highly-successful Greek designers who are honouring their heritage include Sophia Kokosalaki and her incredible Grecian style and Mary Katranzou with her recent Minoan Collection.
Was there one "light bulb" moment when you decided that you simply had to launch Branding Heritage?
Branding Heritage was born from my journalistic impulse to highlight the upcoming trends related to my country's rich culture. The 'Grecian chic' movement is not only a fashion trend, but also strongly connected with Greek history and culture, something that I couldn't fully showcase through just one article.
For that reason, I wanted to create a platform, a Cultural Organisation, which would serve as a community and point of reference, where every brand that honours Ancient Greek heritage could be represented, join forces and contribute to the one common goal: to highlight that ancient Greek culture is not just about the past; it still continues to inspire and influence contemporary fashion and design worldwide.
What is the main message of Branding Heritage that you would like to see take root outside of Greece?
That Modern Greek creativity is as productive and imaginative as ever and can claim its rightful place in the global market.
ΒΗ supports brands like Zeus + Dione, Faye Chatzi and LOOMHandmade who are reviving ancient Greek techniques and crafts by creating products of cultural and economic value.
BΗ has also established an Advisory Board, a network of scientists, including archaeologists, political scientists, sociologists and journalists, who are sharing their knowledge on the timeless value and influence of Greek culture. Through this joint effort between public and private sectors, we hope to emphasise that Greece is not just a country adversely affected by the financial crisis, but rather a modern nation with rich history and dynamic potential, whose artists and entrepreneurs manage to evolve and create despite their challenges.
This weekend, Branding Heritage will announce its arrival with a Minoan Culture gala in Crete, in conjunction with the Archaeological Museum of Heraklion, the British School of Athens and Region of Crete – and to be attended by HRH Prince Charles. What are the other highlights?
Branding Heritage, prompted by the 2018 European Year of Cultural Heritage, decided to dedicate this year to the first European Civilisation, the Minoan civilisation, which flourished between 3.000 B.C. and 1.200 B.C., mainly in Central and Eastern Crete. Even today, the majestic palaces of Knossos, Phaestus, Malia and many others reflect the splendour of the Minoan civilisation through masterpieces of architecture, pottery, jewellery and painting.
Acknowledging that Minoan symbols continue to inspire contemporary designers, BH will stage a cultural event entitled Contemporary Minoans at the Heraklion Archaeological Museum in Crete – one of the world's most prestigious and visited museums – and the Region of Crete. The event underlines the influence of Minoan civilisation on modern fashion and jewellery, and will host influential Greek designers who created original contemporary Minoan pieces (exclusively for the purposes of BH and exhibited at the Museum), that breathed life into the great Minoan finds.
During the event, the internationally-renowned Cretan-born designer Sophia Kokosalaki will be honoured for her contribution to the promotion of Greek heritage; while another highly-engaging creative event will be Cooking like Minoans – organised by Branding Heritage and the British School at Athens (BSA) – and devoted to reviving the Minoan Gastronomy.
How can building awareness about Greece's cultural heritage help accelerate this country's financial recovery?
Greece's unique cultural heritage with its archaeological sites and museums has always been a fundamental pillar of the Greek economy and a great asset for Greece as a world-famous tourist destination. As such, it's vital to capitalise on the opportunities that our past offers and embrace them to build on the future.
During this difficult time for Greece, artists can turn to cultural entrepreneurship – which now plays an important role in global design, fashion and gastronomy – to create new opportunities and solutions.
Culture and its related activities are now one of the most promising growth sectors internationally.
 How easy was it to recruit so many leading brands to the cause?
Through my longstanding career as a journalist, and the personal contacts I've established with a number of brand creators in the field, I was able to win the confidence of these companies, especially those of international calibre. They promptly accepted the invitation to unite under the expanding umbrella community of Branding Heritage and their participation and contribution is essential for the advancement of our goals.
You have met and interviewed many of the brands that you are championing. Is there one key attitude or philosophy that most of them have in common when it comes to achieving success internationally?
What all brands who are part of the Branding Heritage community have in common is their high aesthetic values and their inspiration from the Greek heritage. They are all creators with vision, grasping that the past and history of their country can be a catalyst for their creative future.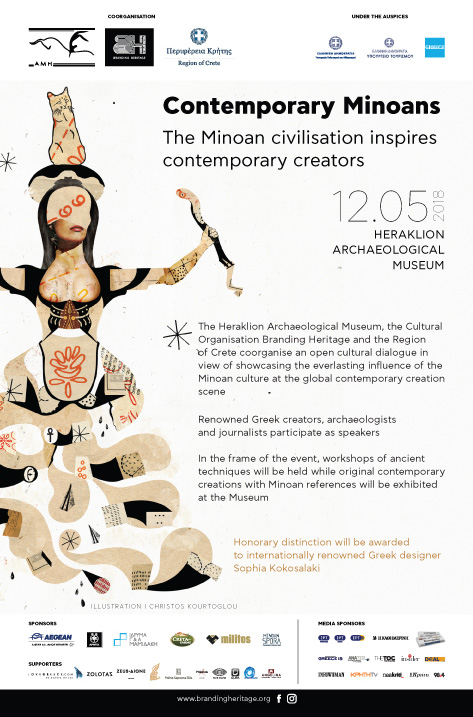 Would you say that we are witnessing a new spirit of collaboration within the Greek fashion industry and other creative industries?
It seems that the economic crisis has had some spill-over benefits as well. It has contributed to an advancement of some of the values and practices of Greek entrepreneurs in the cultural and creative industries, prompting them to collaborate more closely, unite and be more flexible and outgoing.
The Contemporary Minoans event is vivid proof of that. We are really proud that for the first time we united various cultural and creative industries for a single cause: to prove that collaboration across fashion, gastronomy, cultural heritage and cultural tourism bears rich fruit.

---