Athens x Figaro: A Two Day Conference at the Academy of Athens (and you can join!)
The Figaro media group in partnership with the City of Athens celebrates France's enduring love affair with Athens with a two-day conference on May 27 and May 28 at the Academy of Athens.
Les Journees Atheniennes
, co-organised by
Athens Insider
, will be the first in a series of annual conferences to be hosted in Athens by Figaro.
Figaro has extensively covered Athens through its platform of magazines and newspapers – both its ancient history and its modern transformations. A special 160-page magazine published especially for the occasion, Athènes Eternelle will be a symbol of the expanding partnership and interest in investment in Athens by Figaro's audience. The significance of the event is highlighted with the presence of the Editor-in-Chief of the Figaro, Alexis Brézet and a roster of prominent speakers. Founded in 1826, the Figaro is one of the most respected newspapers in the world and an intrinsic part of French political, economic and cultural life.
Athens Mayor Kostas Bakoyannis will host a reception to welcome conference delegates, speakers and special guests on May 25. The two-day conference Les Journées Athéniennes (The Athenian Days) will feature an impressive panel at the prestigious 19th century Academy of Athens. Speakers include Jean-Luc Martinez, former Director of the Louvre; film-maker and adventurer Sylvain Tesson, award-winning writer and philhellene Andrea Marcolongo, European MP and philosopher Francois-Xavier Bellamy, among others.
Some of the highlights include:
A play on Lord Byron by the notable writer Sylvain Tesson at the landmark open-air cinema Cine Thissio on Friday, May 27 at 7.00 pm;
An open-air performance of Sophocles' Antigone in the beating heart of ancient Athens, the Pnyx on Saturday, May 28 at 7.30 pm;
The conference has been made possible with the  support of the City of Athens and the Greek National Tourism Organisation and is co-organized by Athens Insider.
The conference will be held in French with simultaneous translations in English and Greek.
Seating is limited so hurry now to register for the conference. Please visit https://boutique.lefigaro.fr/produit/134172-les-journees-atheniennes-du-figaro-histoire-pour-les-atheniens or contact info@insider-magazine.gr.
The conference package at 249 euros includes: The 2 day conference, lunch at Black Duck Garden and at Vassilenas on Friday and Saturday respectively, and the two performances at Cine Thissio and Pnyx.
Places for the theatre shows can be booked by sending an email to info@insider-magazine.gr to secure your place or directly on Figaro's website. La Liberté ou la Mort at Ciné Thissio on May 27 https://boutique.lefigaro.fr/produit/134211-byron-la-liberte-a-mort-de-sylvain-tesson and for Sophocles' Antigone show at the Pnyx on May 28 https://boutique.lefigaro.fr/produit/134210-antigone-de-sophocle-mise-en-scene-philippe-brunet can be booked separately for 30 euros per person or 50 euros per couple, payable here or at the venue.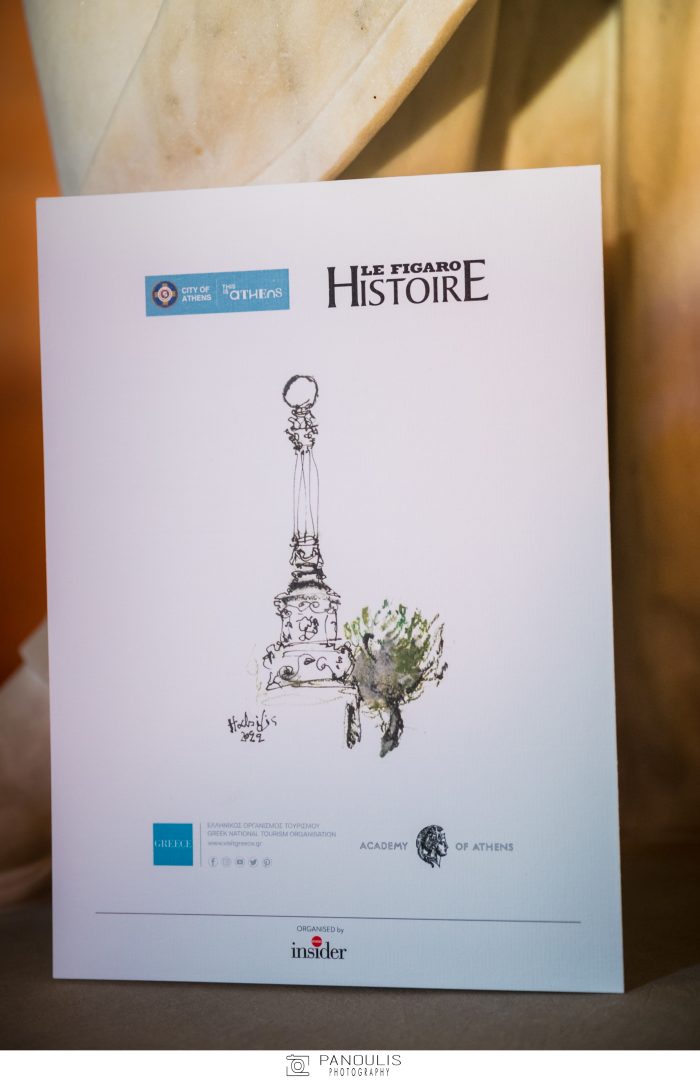 Places are on a strictly first-come-first-serve basis. 
Meet the speakers
Alexis Brezet: Editor-in-Chief of Le Figaro, Brezet is well known to fans of political debates on television and radio.
John Tulard: A member of the Academy of Moral and Political Sciences, Tulard has taught history at the Sorbonne and Sciences Po. His eloquence and his sense of historical analysis have made his courses sought after by students. Considered the great master on Napoleon, he is the author of more than fifty historical works. Tulard chairs the scientific committee of Figaro Histoire.
Sylvain Tesson: An adventurer who has explored peaks on foot, on horseback and by bicycle, from Iceland to the Himalayas, from the steppes of Central Asia to Siberia and Afghanistan. Author of numerous travelogues, essays, and short stories, Tesson received the prestigious Goncourt prize in 2009 for Une vie à coucher dehors, and in 2011 the Médicis essay prize for Dans les forêts de Sibérie. In 2018, France Inter listeners travelled with him to Greece thanks to his series Un été avec Homère, published by Les Équateurs. In December 2021, he paid tribute to Lord Byron, who died in Missolonghi, with his play Byron, la liberté à mort (Byron, Freedom to the Death), which he performed at the Théâtre de Poche with William Mesguich, in the role of Lord Byron.
Andrea Marcolongo is an award-winning Italian essayist, writer and fierce advocate of Ancient Greek. Marcolongo became known for her book La lingua geniale (The Ingenious Language – nine epic reasons to love Greek), which advocates reasons for learning Ancient Greek. It became a bestseller and has been translated into several languages.
Jean Luc Martinez: Archaeologist and art historian, former director of the French School of Athens, Martinez headed the department of Greek, Etruscan and Roman Antiquities at the Louvre, before becoming the museum's president and CEO, until 2021. He is now ambassador for international cooperation in the field of heritage, and honorary president of the Louvre.
Francois-Xavier Bellamy: Bellamy is a professor of philosophy who was elected Member of the European Parliament in 2019. In 2013, he created "Les Soirées de la philo", a cycle of bimonthly conferences, held at the Hébertot Theater in Paris, and broadcast in around twenty cities in France.
Philippe Brunet: Hellenist, professor at the University of Rouen, Brunet recreates a repertoire of plays by ancient poets and playwrights with his troupe Demodocos, chanted in the ancient style, with songs, dances, masks.
---