Athens & Epidaurus Festival 2020 highlights
This year's Athens Festival will be an unusual experience. Katerina Evangelatos, the new Artistic Director of the Athens Festival describes it as Fragments, as it represents only a few cultural events compared to the rich repertoire that had originally been planned. Here is a brief compilation of the Festival's highlights this year.
The 2020 edition of the Festival will kick off in an unconventional way,  with NEON collaborating on a daring visual and curatorial project that highlights connections between performing and visual arts, while also painting the iconic Odeon of Herodes Atticus in an entirely different, unexpected light for spectators.
"For all of us here at the Festival, the forced cancellation of dozens of wonderful shows and collaborations with major figures of the Arts was truly painful. We had scheduled over 70 events, inviting creative teams from 14 countries, and collaborating with approximately 1,400 artists; events that were to be held in a variety of outdoor and indoor venues. In this newly finalised, special version of our programme, we are announcing 17 Greek productions of Music, Theatre and Opera, featuring 300 artists whose work will be presented exclusively at the open-air Epidaurus theatres and the Odeon of Herodes Atticus. With that in mind, the Athens & Epidaurus Festival 2020 will bear the subtitle, Fragments."
Katerina Evangelatos
Odeon of Herodes Atticus
City Project 2020, A Collaboration of Neon with Athens & Epidaurus Festival, 5 June – 3 July
Dionisis Kavallieratos
Disoriented Dance / Misled Planet
Visual installation
Curator Polina Kosmadaki, Art Historian & Curator for the Benaki Museum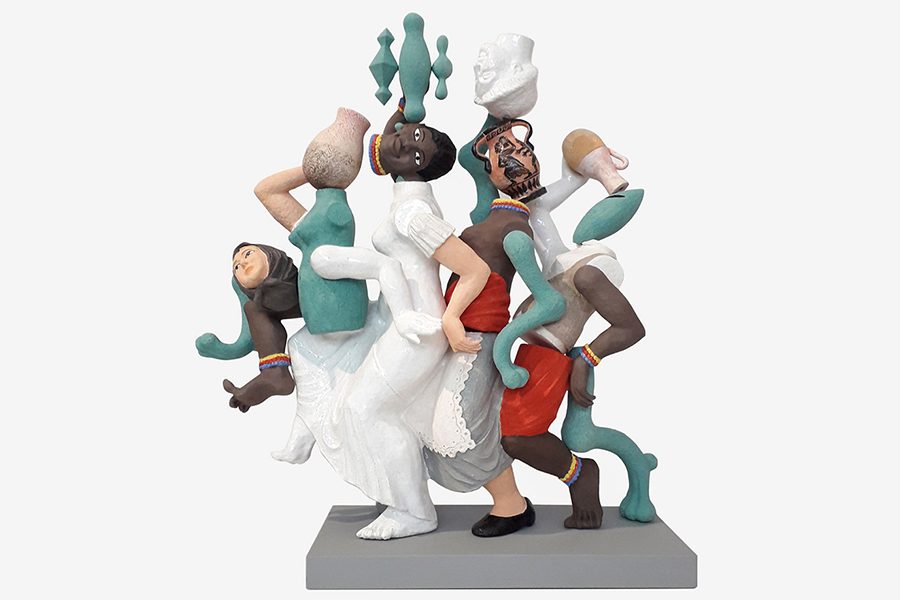 Dionisis Kavallieratos' commissioned work Disoriented Dance / Misled Planet will come alive at the Odeon of Herodes Atticus, curated by art historian and Benaki Museum curator Polina Kosmadaki. An in situ installation, the work consists of a circular dance of about forty sculptures unfolding on the orchestra pit of the Odeon, bringing together aspects of different eras and civilisations, from prehistory to antiquity to modern art to theatre to pop culture and folk art, referencing the tropes, rituals and kinesiology of ancient drama. According to the curator: "Drawing on the religious, physical and socio-political connotations of circular dance – a ritual and motif that can be traced back to the prehistoric age – Kavallieratos addresses the meaning of community, comradeship, friendship, laughter, gesture and physical expression".
A powerfully original dialogue between the Roman monument and the artist's dancing figures that capitalises on the fraught tension of contrasts, offering us a unique experience laden with memories of beloved Festival performances.
Opening hours Tuesday-Sunday 17:00-20:30.
Free admission.
Up to 20 persons at a time will be admitted to the exhibition, in compliance with the directives of the Ministry of Health.
Booking is required.
More information here
---
A Tribute to Thanos Mikroutsikos
Set Up the Spotlight, 15 & 16 July / 21:00

Music and songs originally written for theatre
Last year we bid farewell to Thanos Mikroutsikos, a major composer who defined the Greek music scene and revolutionised the musical landscape of the country through his various institutional roles, serving as Minister of Culture (1994-1996), founder and Director of the International Patras Festival and Artistic Director of the Athens & Epidaurus Festival (1998-1999). Apart from his deep impact on Greek society, thanks to his widely covered songs and unconventional personality, Thanos Mikroutsikos also left his mark on theatre, having scored music for over 90 performances, many of which were productions of ancient drama originally presented at the Ancient Theatre of Epidaurus. This year's programme opens with a tribute concert dedicated to Mikroutsikos' music written for theatre (1972-2019), specially commissioned by the Festival, an evening that carries a special symbolic weight and significance for us. An emotional musical journey through songs, choral parts, compositions for musicals and revues, all of which were beloved by audiences and went on to enjoy a life beyond the theatre stage; music originally written for theatre, for plays by Brecht, Lope de Vega, Euripides and Aristophanes, together with poems by Ritsos, Cavafy and Kavvadias set to music.
Singers Christos Thivaios, Foivos Delivorias, Kostas Thomaidis and Rita Antonopoulou will perform under the baton of Thymios Papadopoulos, whom Thanos Mikroutsikos used to call "my alter ego". In between the musical notes, actress Renia Louizidou will recite texts authored by Odysseas Ioannou.
---
18 JULY / 21:00
ERT National Symphony Orchestra – George Petrou
Beethoven Gala
Works by Beethoven
Piano Concerto No. 4 in G major, Op. 58
Soloist Alexandra Papastefanou
Concerto aria, Ah! Perfido, Op. 65
Soloist Myrtò Papatanasiu soprano
Symphony No. 1, in C major, Op. 21
Celebrating the 250th anniversary since Ludwig van Beethoven's birth, the ERT National Symphony Orchestra presents a gala dedicated to the music of the legendary German composer.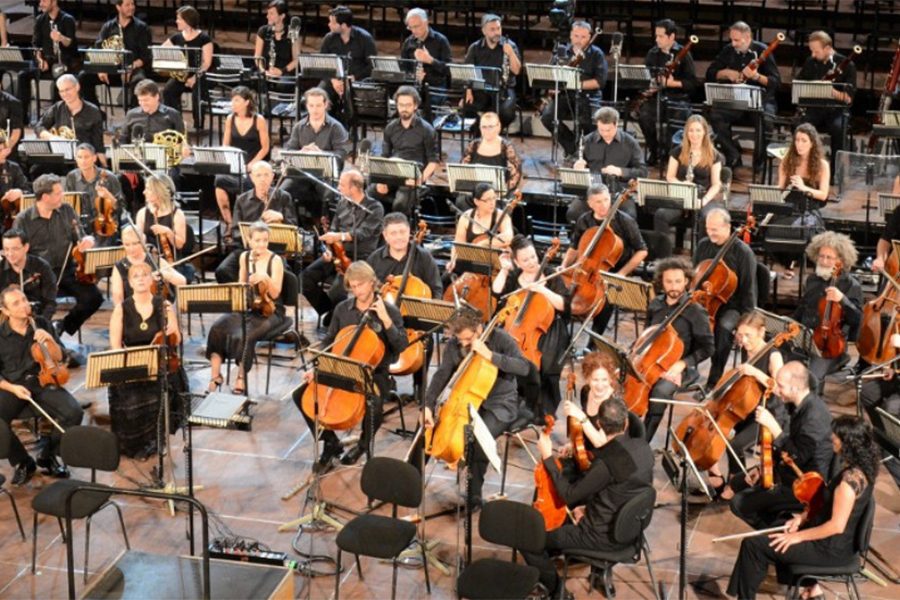 Beethoven is arguably the most celebrated and world-famous composer in the history of music. His music left a deep impact, uniting nations across the globe through his timeless, universal, almost archetypal melodies. Rebellious and pioneering, he redefined musical forms and passionately spearheaded the advent of Romanticism.
The ERT National Symphony Orchestra will present Beethoven's brilliant and uplifting Symphony No. 1, the great composer's sole aria concerto, featuring the internationally acclaimed soprano Myrtò Papatanasiu, as well as the divine Piano Concerto No. 4, performed by acclaimed Greek pianist Alexandra Papastefanou.
Conducted by world-renowned, multi-award-winning conductor George Petrou, in his debut as new music director of the ERT National Symphony Orchestra.
Conductor George Petrou
---
Album Relese Concert Monika
Something is Blooming at Herodion, 20 & 21 July/ 21:00

The Odeon of Herodes Atticus will don the colours of a lovely Greek garden for this unique album release concert. Monika will premiere her new Greek-language album; an album she has been working on for more than ten years, taking care of it as if it were her own little garden. The fruit of this collective effort is now set to 'bloom' at the heart of the Odeon before a live audience.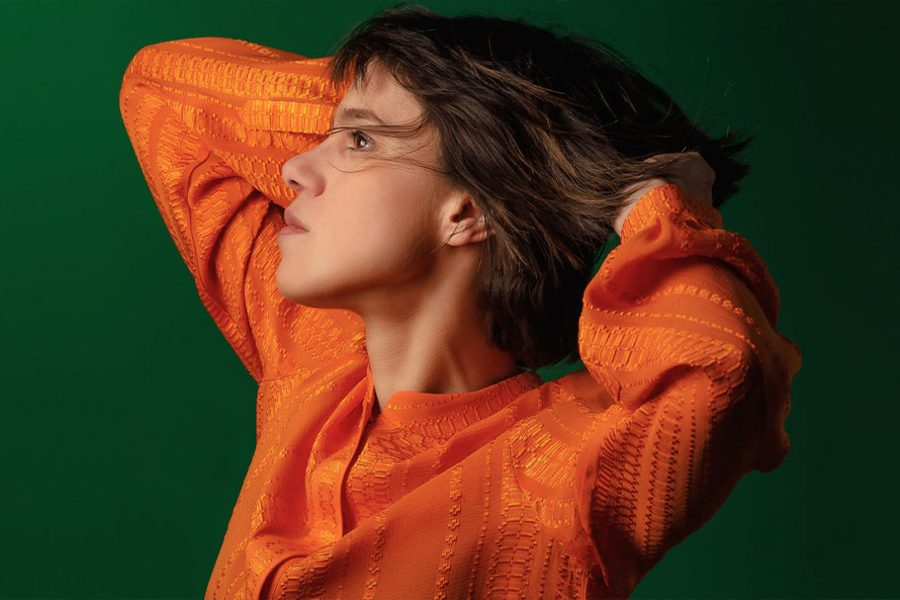 In the popular singer-songwriter's own words: "There's nothing better than feeling the memories of music you have loved in the past stirring inside you when you hear something fresh and brand-new". Joined by her orchestra and a youth chorus, and using traditional instruments such as mandolin and harp, Monika will offer us a magical experience, taking us on a journey back in time and all the way to the present. The concert will include both old hits and new, unreleased songs, plus many surprises. Something is blooming at Herodion indeed…
---
23 JULY / 21:00
Thessaloniki State Symphony Orchestra – Zoi Tsokanou – Simos Papanas
Works by Bartók and Vivaldi, featuring TSSO's famed string instruments
 The Thessaloniki State Symphony Orchestra and its famed string instruments are featured in this year's Athens & Epidaurus Festival, presenting two remarkable works.
Rich in contrasts, Béla Bartók's Divertimento for String Orchestra will kick off the evening programme, combining neoclassical style with avant-garde modernism, and highlighting the dialogue of string instruments with imaginative expression, dynamic juxtapositions and surprising shifts in rhythm that have been established since the time of the concerti grossi.
Antonio Vivaldi's timeless masterpiece The Four Seasons will dominate the second part of the evening. This work comprises the first four out of twelve concertos composed by Vivaldi for violin, string orchestra and continuo. The so-called "red priest" was inspired to compose one separate concerto for every season of the year. He also composed an equivalent sonnet for each concerto's sheet music. The elegant and brilliant end result is hailed as one of the best-known works in the history of music. Vivaldi highlights the beauty of violin as few composers have managed to do, having been a major violin teacher and a violin virtuoso himself. Simos Papanas, concertmaster of the Thessaloniki State Symphony Orchestra, will perform as soloist.
 Supported by the Museum of Byzantine Culture Thessaloniki
---
26 & 28 JULY / 21:00
GREEK NATIONAL OPERA
Two Opera Galas
Faithful to its annual date with the Athens Festival and adjusting to this year's unusual circumstances, the Greek National Opera presents two opera galas at the Odeon of Herodes Atticus.
26 JULY
Arias and duets from Verdi, Giordano, Mascagni and Puccini operas
In the first gala, on Sunday 26 July, internationally acclaimed soloists such as Riccardo Massi and Dimitri Platanias will perform famous arias and duets from operas by Verdi (Rigoletto, Il trovatore, Un ballo in maschera, La forza del destino), Giordano (Andrea Chénier), Mascagni (Cavalleria rusticana) and Puccini (Turandot). The Orchestra of the Greek National Opera will be conducted by renowned Italian conductor Pier Giorgio Morandi.
Italian tenor Riccardo Massi, one of the most exciting performers of the Italian spinto repertoire, rose to international fame early on in his career, thanks to his formidable portrayals of iconic roles in Verdi and Puccini operas.
Along with his appearances in Greece, Dimitri Platanias, the celebrated Greek baritone of the Greek National Opera, has won over the most prestigious opera houses and opera festivals in Europe, has worked with leading conductors and acclaimed directors, and has shared the stage with world-renowned singers.
Performers Riccardo Massi tenor, Dimitri Platanias baritone and more to be announced • Greek National Opera Orchestra • Conductor Pier Giorgio Morandi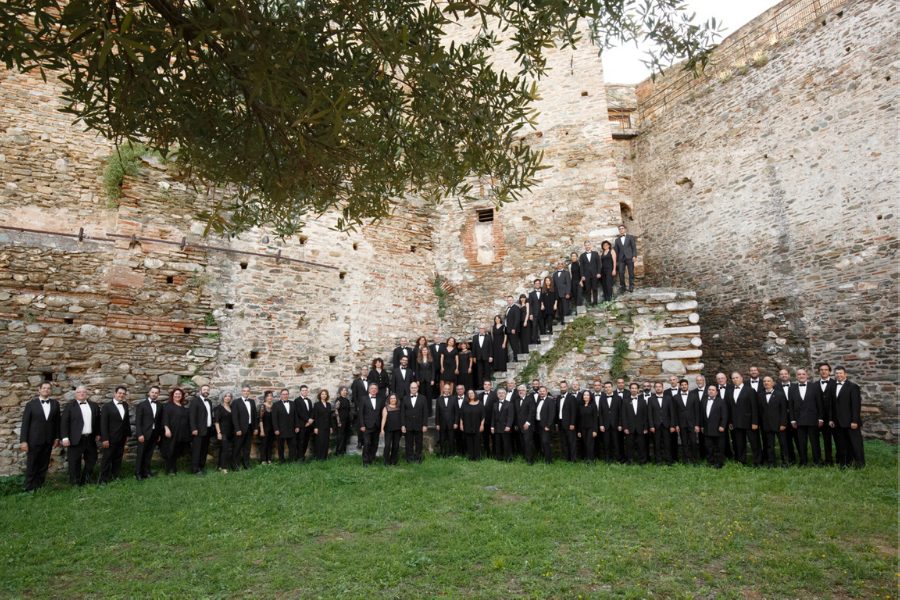 28 JULY
Arias and duets from Verdi, Ponchielli, Giordano, Leoncavallo and Puccini operas
 In ther second Greek National Opera gala at the Odeon, on Tuesday 28 July, audiences will have the opportunity to enjoy three internationally acclaimed opera stars, Celia Costea, Giorgio Berrugi and Ambrogio Maestri, who will perform famous arias and duets from operas by Verdi (Luisa Miller, Il trovatore, Un ballo in Maschera), Ponchielli (La Gioconda), Giordano (Andrea Chénier), Leoncavallo (Pagliacci) and Puccini (Tosca). The Orchestra of the Greek National Opera will be conducted by renowned Italian conductor Pier Giorgio Morandi.
The lauded star of the Greek National Opera Celia Costea has been distinguished in numerous international singing competitions and has had a brilliant career, performing in some of the world's greatest theatres and concert halls. Her performances in iconic roles of Verdi and Puccini operas stand out for their sensitivity.
Ambrogio Maestri, one of the most in-demand baritones of our times, made a sensation with his 2001 debut at La Scala in Milan, along with Mutti and Strehler. Maestri has now conquered the world of opera, receiving enthusiastic reviews by the most prestigious media across the globe.
---
30 & 31 JULY / 21:00
MUSIC
ALBUM RELEASE CONCERT
Giannis Aggelakas – Nikos Veliotis
Wolves in Wonderland
A spellbinding summer evening at the Roman Odeon, featuring dreamy, subtle performances by two beloved artists. Much like wolves, singer Giannis Aggelakas and cellist Nikos Veliotis will 'prey' on songs they have held dear from their early adolescence to the present day, delivering a loving, minimal, psychedelic performance. In their latest album, performed for Greek audiences live at the Odeon for the first time, the duo revisits landmark Greek songs of the last several decades, from Hadjidakis to Tsitsanis to Theodorakis to Xarchakos to Akis Panou to Lost Bodies to Thanos Anestopoulos and Pavlos Pavlidis.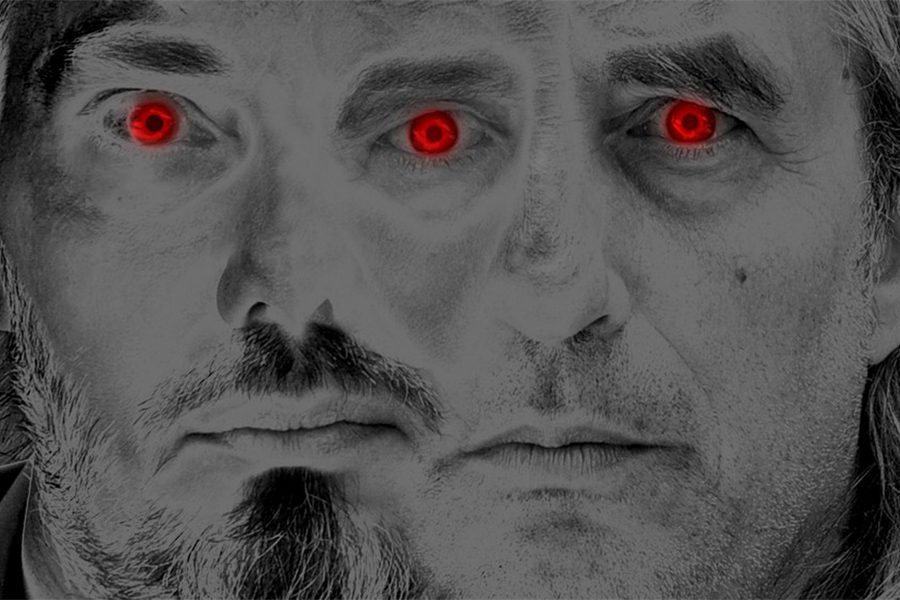 Sound design Giorgos Tachtsidis, Mimis Konstantinidis • Lighting design Nikos Kechagias • Musicians Giannis Aggelakas vocals, Nikos Veliotis cello, Fotis Siotas viola, Sofia Efkleidou cello, Ilias Baglanis keyboards, Lamprini Grigoriadou vocals • Production Novel Vox 
4 & 5 AUGUST / 21:00
OPERA PREMIERE
Armonia Atenea – The Friends of Music Orchestra – George Petrou – Marianna Calbari
Il ritorno d'Ulisse in patria by Claudio Monteverdi
Armonia Atenea – The Friends of Music Orchestra returns to the Athens Festival with a new production of Claudio Monteverdi's operatic masterpiece Il ritorno d'Ulisse in patria.
Prolific and versatile, the beloved Armonia Atenea – The Friends of Music Orchestra conjures a mesmerising soundscape, drawing on the unique sounds of early Baroque musical instruments, under the baton of George Petrou, one of the most internationally acclaimed Greek conductors. The opera will be directed by Marianna Calbari, the accomplished theatre director and artistic director of the Greek Art Theatre Karolos Koun. Featuring eleven renowned Greek soloists, led by baritone Tassis Christoyiannopoulos and mezzo-soprano Mary-Ellen Nesi, both of whom have received accolades for their performances in leading roles at great theatres around the world.
In Italian, with Greek surtitles
8 AUGUST / 21:00
Athens State Orchestra – Stefanos Tsialis, Beethoven 250 Years
Works by Beethoven and Shostakovich
 Even though this year's unexpectedly disruptive pandemic stalled all worldwide celebrations for the 250 years since Beethoven's birth, the Athens State Orchestra, under the baton of its artistic director, distinguished conductor Stefanos Tsialis, will emphatically remind us of this major anniversary, presenting two masterworks of the great German classical composer.
The short but very dynamic Overture of the ballet The Creature of Prometheus (1801) with its ancient Greek themes, will open the evening programme, vividly portraying the titular, mythical Titan as an agent of knowledge and enlightenment for the human race. Symphony No. 7 (1812), an "apotheosis of dance" as aptly called by Wagner, expresses a triumphal affirmation of life, through ideal musical means, in a timeless, topical and universal manner. In between the two Beethoven works, the flourishing, exceptionally talented pianist Alexia Mouza will perform Shostakovich's electrifying Piano Concerto No. 1, in which a biting, often teasing modernist sensibility is masterfully combined with a genuine, touching sentimentalism.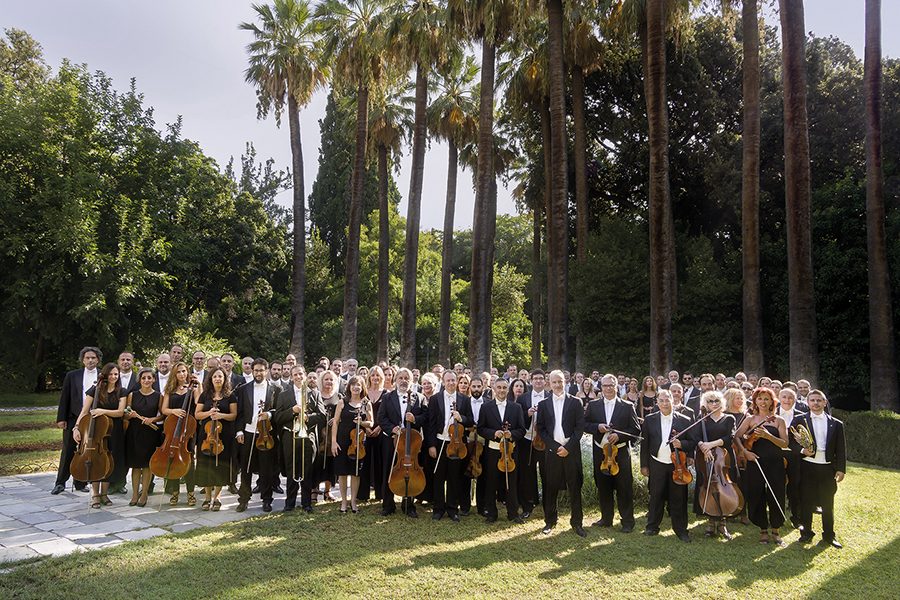 Ludwig van Beethoven (1770 – 1827)
The Creatures of Prometheus Op. 43
Dmitri Shostakovich (1906 – 1975)
Concerto in C minor for Piano, Trumpet, and String Orchestra, Op. 35
Ludwig van Beethoven
Symphony No. 7 in A major, Op. 92
Conductor Stefanos Tsialis • Soloists Alexia Mouza piano Giannis Karabetsos trumpet
ANCIENT THEATRE OF EPIDAURUS
Greek and English surtitles in all performances
---
 24 – 26 JULY / 21:00
PREMIERE
National Theatre of Greece – Dimitris Lignadis
The Persians by Aeschylus
The Persians (472 BC) is both the oldest extant ancient drama and a historical document about the most significant armed conflict during the second Persian invasion of Greece: the Battle of Salamis. Aeschylus' tragedy focuses on one of the most pivotal battles in human history, in which the dramatist personally fought.
Without boasts and exultation, respectful of the grief of the defeated side, Aeschylus celebrates individual freedom, juxtaposing democratic ideals with despotism and blind allegiance to power. Those who are guided by prudence emerge victorious, whereas those who are guided by arrogance, cross the line and offend gods and humans with their vanity end up being punished by justice.
31 JULY & 1-2 AUGUST / 21:00
PREMIERE
National Theatre of Greece – Odysseas Papaspiliopoulos
Lysistrata by Aristophanes
Popular actor Odysseas Papaspiliopoulos makes his first directorial venture at the Ancient Theatre of Epidaurus, staging a comedy by Aristophanes. Lysistrata was written in 411 BC, at a time when the Athenian city-state was at a critical point, in the midst of the Peloponnesian War. Following the disastrous Sicilian Expedition, Alcibiades has defected to Sparta. From their post in Decelea, the Spartans launch a fierce attack against the Athenians. Within the walled city, the situation is equally grim: the politically volatile situation has weakened the Assembly and the oligarchs are starting to make their presence known.
Originally presented at the Lenaia festival in 411 BC, Lysistrata sees Aristophanes placing women in the public eye, confronting them with the possibility of taking political action for all matters related to both their household and their city – a theme he will revisit in Ecclesiazusae.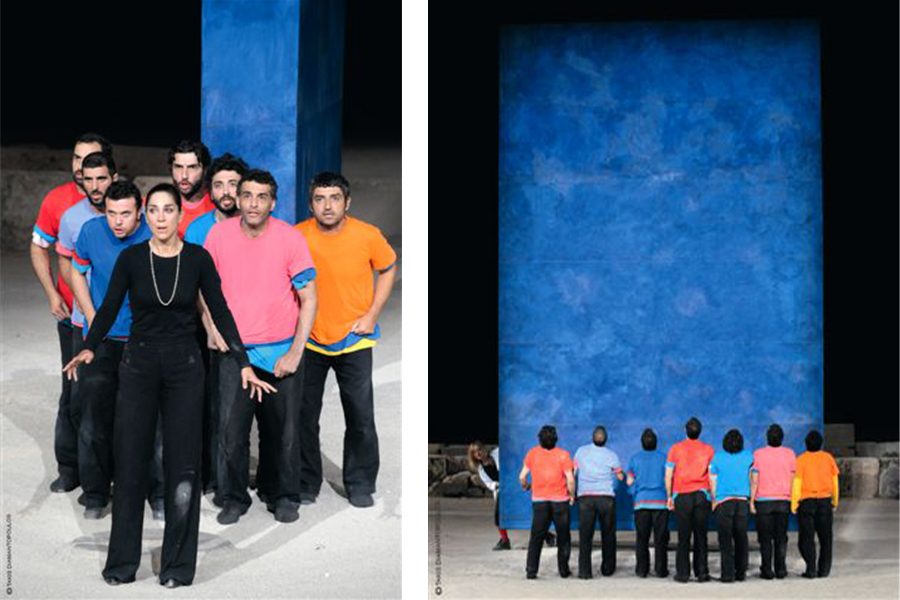 Lysistrata, whose name means 'army disbander', is no doubt capable of creating her own utopia. Aristophanes' comedy is a wink at politicians, offering a rather unorthodox solution.
Translated by Sotiris Kakisis • Directed by Odysseas Papaspiliopoulos • Set design  Olga Brouma • Costume design Angelos Mentis • Music Katerina Polemi • Movement Tasos Karachalios • Lighting design Nikos Vlasopoulos • Musical coaching Melina Paionidou • Assistant to the director Anastasia Stylianidi • Cast (in alphabetical order) Paris Alexandropoulos, Vangelis Daousis, Daphne David, Stefania Goulioti, Stelios Iakovidis, Giannis Kotsifas, Nefeli Maistrali, Giorgos Matziaris, Elpida Nikolaou, Agoritsa Oikonomou, Odysseas Papaspiliopoulos, Nikos Psarras, Vicky Stavropoulou, Vicky Volioti
7 – 9 AUGUST / 21:00
PREMIERE
National Theatre of Northern Greece – Giannis Rigas
The Birds by Aristophanes
Fed up with the political, social and financial corruption of the city, Pesthetaerus and Euelpides seek Tereus, formerly a human and currently transformed into a hoopoe, in order to learn from him and from the other high-flying and perhaps knowledgeable birds whether there is a peaceful place where they could settle. Together they intend to found a new republic, somewhere between heaven and earth, that will hold dominion over both humans and gods, and where birds will have their rightful place.
Aristophanes' beloved, ageless comedy is presented in a National Theatre of Northern Greece production, directed by Giannis Rigas, translated by K. H. Myris and featuring aa stellar cast. Taxiarchis Chanos and Christos Stergioglou portray the main characters, joined by a large cast of actors and dancers.
LITTLE THEATRE OF ANCIENT EPIDAURUS
____________________________________
 17 & 18 JULY / 21:30
MUSIC
Alkinoos Ioannidis
Live Looping
Jumping off cliffs and crossing steep paths while fleeing her pursuers, Frankojannou, the tragic heroine of Alexandros Papadiamantis' novella The Murderess, has been etched in the memory of readers for the past 120 years. The character is now restored to her natural habitat, a country landscape, coming alive through Alkinoos Ioannidis' music. The musician's voice, an instrument in itself, is accompanied by several musical instruments, which Ioannidis performs, records and plays back in real time, using the technique of live looping.
The popular singer-songwriter conjures a sonic world within which the atmospheric universe of Papadiamantis' novella unfolds. In the first part of the performance, the last two chapters of the masterful novella are set to music, opening a dialogue between three soloists at the crossroads of literature, music, narrative and theatre, a crossover of Papadiamantis' world and modern technology. In the second part, new arrangements of popular Ioannidis songs will be presented through live looping.
24 & 25 JULY / 21:30
MUSIC
Mihalis Kalkanis Group
featuring Haig Yazdjian and Jannis Anastasakis
 Contrabassist Mihalis Kalkanis stands out among the new generation of Greek jazz musicians. As well as participating in acclaimed bands, Kalkanis, who comes from a family with a rich musical tradition, is a risk-taking creative artist and composer, successfully experimenting with music and delivering us surprising compositions. Kalkanis fuses electronic music with traditional songs of his grandmother's generation, doing field recordings in religious ceremonies of immigrants, and delivering a fusion of sounds in his album World Echoes in Athens.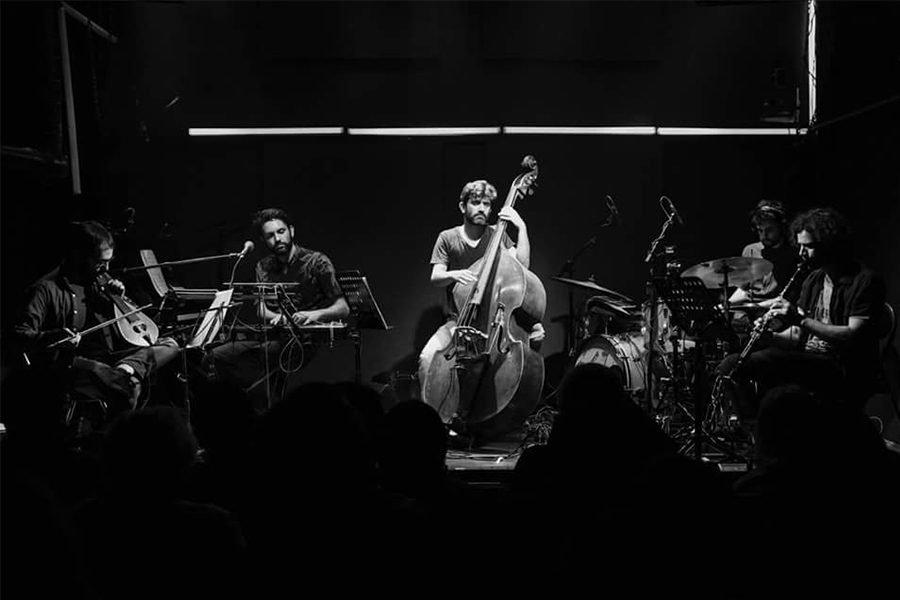 In this concert at the Little Theatre of Ancient Epidaurus, Kalkanis once again attempts to do something unique. Collaborating with Syria-born, Armenian oud virtuoso Haig Yazdjian and avant-garde master of electric guitar Jannis Anastasakis, Kalkanis has created a soundscape where jazz, ambient, traditional, world music, psychedelia, noise, melodies and electronic are woven together to give birth to something altogether fresh.
31 JULY & 1 AUGUST / 21:30
OPERA / PERFORMANCE
PREMIERE
Rafi Music Theatre Company – Nova Melancholia – Michalis Siganidis
Il diluvio universale by Michelangelo Falvetti
How does one sing about one's desires and fears? To what extent are humans natural and to what extent are they spiritual? How does living with animals affect us? How much does it liberate us?
Rafi, one of the most dynamic Greek music theatre companies, returns to the Athens & Epidaurus Festival, this time at the Little Theatre of Ancient Epidaurus, with Michelangelo Falvetti's elegant Baroque oratorio Il diluvio universale (The Great Flood). Presented in Greece for the very first time, the oratorio of this provocative Sicilian priest caused a sensation when it was originally performed. Inspired by the Biblical story of the Great Flood, its protagonists are natural elements such as water, fire and air rather than Biblical figures.
The directorial duo of Nova Melancholia evokes the sense of a true tempest on stage. Audiences will be carried away by a seductive blend of period instruments, oriental maqam and animal sounds, with virtuosos Michalis Siganidis and Harris Lambrakis improvising and sweeping us off our feet as if they were medieval troubadours.
Composer Michelangelo Falvetti  • Libretto Vincenzo Giattini
With Greek and English surtitles
The performance will also be presented at the Dodoni Festival
7 & 8 AUGUST / 21:30
OPERA / PERFORMANCE
PREMIERE
Myrsini Margariti – Maria Papapetropoulou – Maria Panourgia
"J'ai des yeux à la place des oreilles" ("I Have Eyes in Place of Ears")
La voix humaine by Francis Poulenc
Based on Jean Cocteau's monologue of the same title
"I've lived on you for fifty years,/ I spend my day waiting for you./ I think you're dead when you are late,/ I die when I think of you as dead,/ I am revived when you come back,/ and then, when you are finally here,/ I die lest you leave…"
One of the most heartrending works ever composed about the end of romantic love and the despair of being left, Francis Poulenc's one-act opera, based on Cocteau's La voix humaine (The Human Voice), will be presented for the first time at the Little Theatre of Ancient Epidaurus, in a bold directorial concept by Maria Panourgia. Five dancers/actors, each shut up inside his or her own telephone box, round up a cast led by soprano Myrsini Margariti, as fellow travellers throughout the heroine's anguish and dreams. The set design will reflect the heroine's emotional rollercoaster to the sounds of Maria Papapetropoulou's piano.
Greek surtitles (trans. Marios Ploritis) courtesy of Megaron – Athens Concert Hall
La voix humaine / Music: Francis Poulenc / Text: Jean Cocteau © Ed. Durand
With Greek and English surtitles
14 & 15 AUGUST / 21:30
MUSIC
Savina Yannatou – Primavera en Salonico  featuring Lamia Bedioui
Watersong
 "Of his bones are coral made / Those are pearls that were his eyes": Savina Yannatou and Primavera en Salonico are inspired by Ariel's song in Shakespeare's The Tempest to create Watersong, a musical performance featuring songs about water and desert, life and death, fertility, magic, desire, and purification. The artists are joined by Tunisian singer Lamia Bedioui, whose distinctive voice will transport the Little Theatre of Ancient Epidaurus to the realm of the desert.
The Arabic language and the Bedouin dialect will cross paths with Mediterranean languages. Oud, ney, violin, accordion, percussion and contrabass are the instruments accompanying the vocals, combining traditional influences with free improvisation. Traditional and Renaissance songs from several countries are mixed together, spinning tales about water and its power, about the life that water can both give and take away. Songs about rain, the sea, rivers, tears, drops; water on the body; the body immersed into the water; ultimately, our body.
---