Alekos Fassianos Estate and Carwan Gallery present first retrospective of the late artist's design works
Carwan Gallery, the pioneering global collectible design gallery, now based in Piraeus, has been consistently wowing us with bespoke works and very limited editions by furniture, lighting and product designers. It now takes us into the whimsical world of the late artist Alekos Fassianos.  The exhibition that opens on November 24 in collaboration with the Alekos Fassianos Estate, is the first ever exhibition of the late artist's design works featuring a selection of functional design objects created throughout his life, which will then be reproduced in small, certified editions, shining a light on a lesser known aspect of the artist's legacy.
Carwan Gallery and the Alekos Fassianos Estate collaborate on the the first ever retrospective dedicated to a lesser known aspect of the legendary artist's legacy, namely his functional design objects.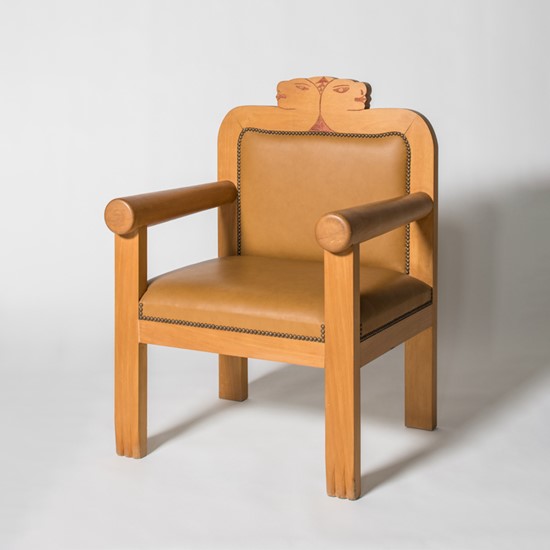 The design language of Alekos Fassianos is characterised by simplicity and an imaginative, elevating mood, with his furniture reflecting his wider philosophy about human life: the artist believed that we should never rest on our laurels, and always seize the day to make the most of the life ahead of us. All his furniture is therefore designed for practicality rather than comfort and with the idea to keep its users actively engaged in body and spirit. At the same time, they are designed with a deep love for the human body, with smooth, rounded edges and using natural leather and materials that are friendly to the skin. Each object was designed by hand to be unique, reflecting Fassianos's resentment for all mass-produced things.
Made by the artist himself in collaboration with master artisans, the more than 100 incredible objects that he created for his family reflect the artist's passion for beauty and detail. The exhibition presents a selection of seating, tables, lighting, painted ceramics, and other functional objects as museum artefacts, which will be reproduced for the first time in 2023. Carwan Gallery will replicate new, small editions of most of Fassianos's design works, with the certification and collaboration of the Alekos Fassianos Estate — following the drawings and prototypes from the artist's archive.
To enquire about the collection and editions please contact Adele Ferruzzi: adele@carwangallery.com
When: From Wednesday to Saturday from 12:00pm to 8:00pm, from November 24 to January 14, 2023
Where: CARWAN GALLERY, Polidefkous 39, 18545, Piraeus. info@carwangallery.com +30 2104114536
---