Eclipse: The 7th Athens Biennale
In a world of change and constant evolution, there are always new opportunities to explore the fluidity of the spaces in and around you. Take a moment to delve deeper into your own reality and immerse yourself in art that investigates those issues head-on by visiting the 7th Athens Biennale running until November 28.
What: For its 7th year running, The Onassis Foundation teams up with the Athens Biennale once again to continue a tradition of bringing an exciting and lively culture of contemporary art to Greece's capital city. Over the two-month period of the exhibit, the Biennale will present the works of more than 80 artists around the world, and there is sure to be no lack of variety and talent present at the 7th Athens Biennale ECLIPSE.
Curated by Omsk Social Club and Larry Ossei-Mensah, under the artistic direction of Poka-Yio, AB7: ECLIPSE re-inhabits the former Department Store Fokas, the former Santaroza Courthouse in Justice Square and Schliemann-Mela Hall, aspiring to create a moment of connection and cross-cultural conversation that will lead to a transformative experience.
ECLIPSE features artists based in North and South America, the Caribbean, Africa, and Europe, many of whom will be exhibiting in Greece for the first time.
The exhibition title highlights the obscured perspective of reality caused by the constant state of flux we are experiencing in our society now. ECLIPSE engages the social, political and spiritual changes of today's global construct and in Athens itself, as a rising metropolis located at the intersection of Europe, Asia and Africa both physically and historically. An eclipse is a phenomenon of filtering and shrouding as well as a cosmic event. The experience of the eclipse functions as a catalyst for reprocessing an unresolved past that can inform an unspoken present and ultimately shape our future. Thus, Athens serves as the appropriate vantage point for contemplating the nuances of time and space. Furthermore, examining the question: Is the west in decline or in a moment of significant transformation?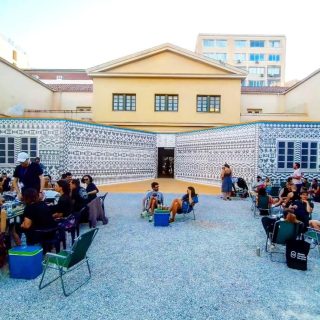 ECLIPSE seeks to assess the implications of identity, history, and cultural complexity. The 7th Athens Biennale offers an arena to interrogate many of the ideas, queries, concerns, and desires that are frequently not platformed within a Biennial format. In an effort to activate a dynamic cross-cultural discourse, AB7 will highlight the works of artists from the African Diaspora in addition to other artistic voices that have historically been pushed to the periphery. This engagement will be articulated through the use of a "Black Lens" as one of the frameworks. This approach seeks to engage the varying perspectives and artistic practices percolating within the African diaspora. This dialogue will be situated alongside a complimentary framework of artistic interventions that use dynamic manifestations to compose unique practical narratives. Their aim is to strategically address the viewers imagination of potential parallel worlds and futures. Composing a set of spaces that platform ideas such as radical care, interspecies friendship and sonic viewing strategies, ECLIPSE presents a translocal chapter of contemporary thought on how to co-exist within a world differently.
Defying the prevalent politics of historical narratives, ECLIPSE proposes to challenge oppressive mechanisms and outdated idealism. By deploying various immersive techniques such as real game play, radical gossip, persuasive realities, "emotional hypnosis", bodying, synthesis, and visualization, ECLIPSE activates narrative fabrication and orchestrates an experiential shift in art viewing opening an alternative future for contemplation.
When: September 24 to November 28

Wednesday – Friday: 1 pm – 9 pm

Saturday – Sunday: 11 pm – 9 pm

Where:

Former Department Store Fokas, 41 Stadiou Str.

Former Santaroza Court, 48 Stadiou Str.

Justice Square, Arsaki & Panepistimiou Str.

Schliemann-Mela Hall, 46 Panepistimiou Str.

Onassis Stegi, 107-109 Syngrou Ave. (September 24 to October 24)

+30 698 37 38 235
---