6 Outdoor Exercise Options to get you Beach Ready!
Take advantage of spring's perfect conditions to start down a rejuvenating new wellness path. To get the (fitness) ball rolling, we propose some of Athens' most inspiring open-air options for working up a sweat … No excuses!
YOGA AT THE SNFCC PARK
Yoga helps coordinate physical movement and mental processes through gentle practice involving breathing, asana postures, and relaxation. Participants gain peace of mind, self-control and concentration, and develop positive thinking. To attend, wear comfortable clothing and take your own yoga mat as well as a small blanket to cover up during relaxation.
Hours: Mondays and Fridays at 18.00-19.30 pm, Tuesdays and Thursdays at 08.00-09.30 am.  Location: Great Lawn. Book your spot now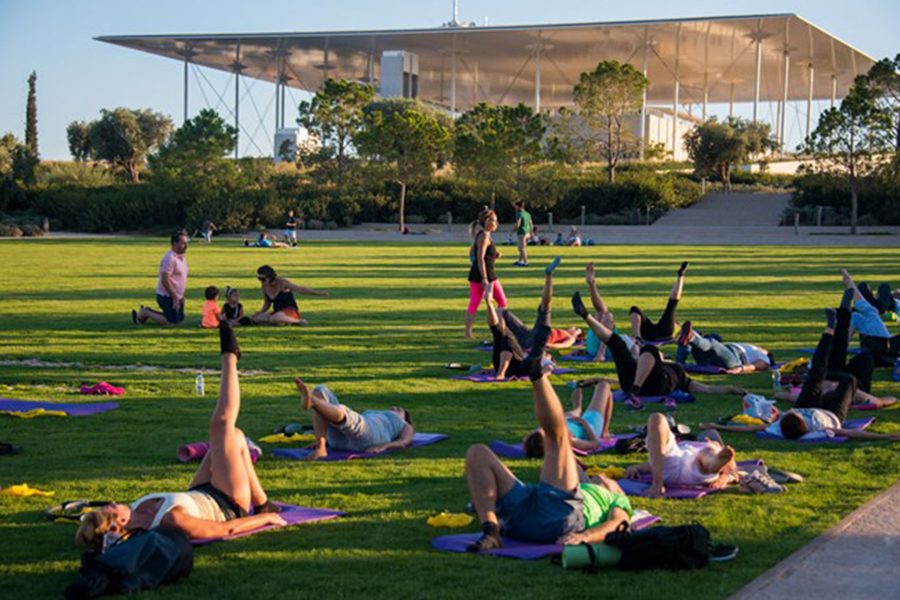 MAT PILATES FOR BEGINNERS
Improve your flexibility, strength, posture, elasticity and balance at energizing outdoor Pilates sessions suitable for men and women of all ages and levels. Practice takes place on a mat, using props, such as rings, resistance bands and balls. Like yoga, Pilates also helps to improve mood, reduce fatigue symptoms and eliminate stress. To attend, take your own mat.
Hours: Mondays at 07.30-08.45, Wednesdays at 07.45-09.00, Thursdays and Tuesday at 18.00-19.00, Fridays at 08.45-10.00 Location: Great Lawn.  Book your spot now
SWIM
There's nothing like an early morning swim under blue skies to put the spring into the rest of your day. Especially when surrounded by open sea and luxury boats. The 50x25m outdoor ANOG pool on the Glyfada seafront has long been a favourite for lovers of aqua-exercise. Swimming laps not only burns calories, but also provides a full-body workout and improves both cardiovascular fitness and muscular strength – with no impact shock to your body. (Why do you think so many injured athletes go to the pool!). For beginners, see if you can work towards swimming for 30 minutes continuously. The ANOG pool is open to the public six-days of the week (except Sunday), year-round (except August). As with most public aquatic facilities in Greece, you'll need to present an up-to-date health letter from a cardiologist and dermatologist (or your GP).
Hours: Monday-Friday from 13:00 pm-14:30pm and Saturday from 11.00am-1.00pm. Phone +30.210.894.4913-14 or visit their Website for more information.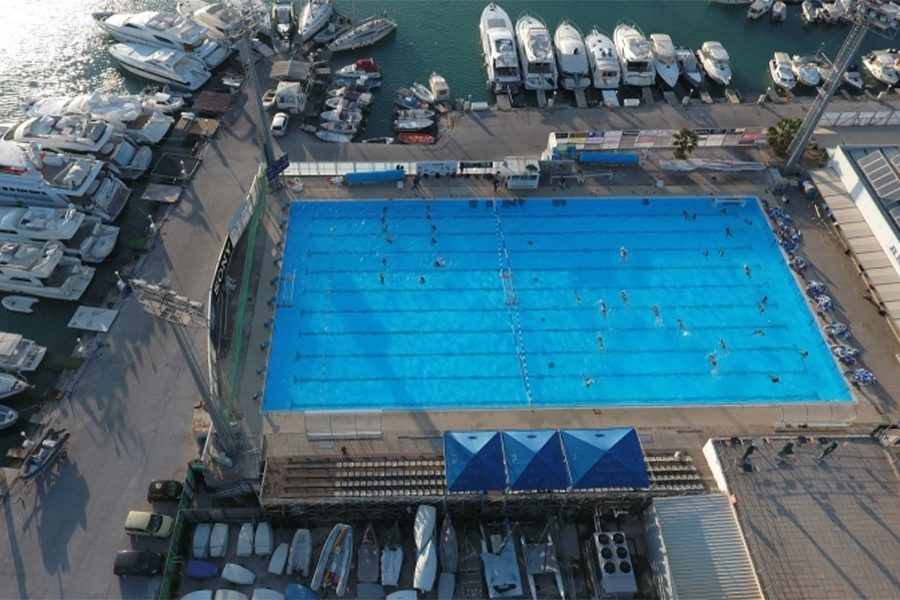 OUTDOOR DIY GYMS
Brightly-coloured metal formations have become a welcome addition to Athens' urban landscape. Outdoor exercise stations have sprouted in municipalities across the city, revitalizing many previously rundown parks and civic spaces. You can now find outdoor gyms everywhere from seaside promenades to next door to children's play parks and cemeteries! In fact, there are so many places in Greece now where you can benefit from a spontaneous or planned free workout, that there's even a website dedicated to them: Website
It helps if you're a self-motivated type and at times, you might have to give the hairy eyeball to the teens who love larking around on the equipment, but these outdoor stations are great for mobilizing those who don't feel comfortable in the fishbowl environment of an image-conscious workout class.
STREET WORKOUT
If it's motivation you lack, the dynamic duo behind Street Workout, Aggeliki and Tonia, have created a lively community of open-air exercise lovers, who participate in regular outdoor workouts run by qualified trainers who'll keep you on your toes and stop you from getting bored with your routine (they also do life-coaching along with a whole raft of more tailored physical activities, motivational tournaments and games). Website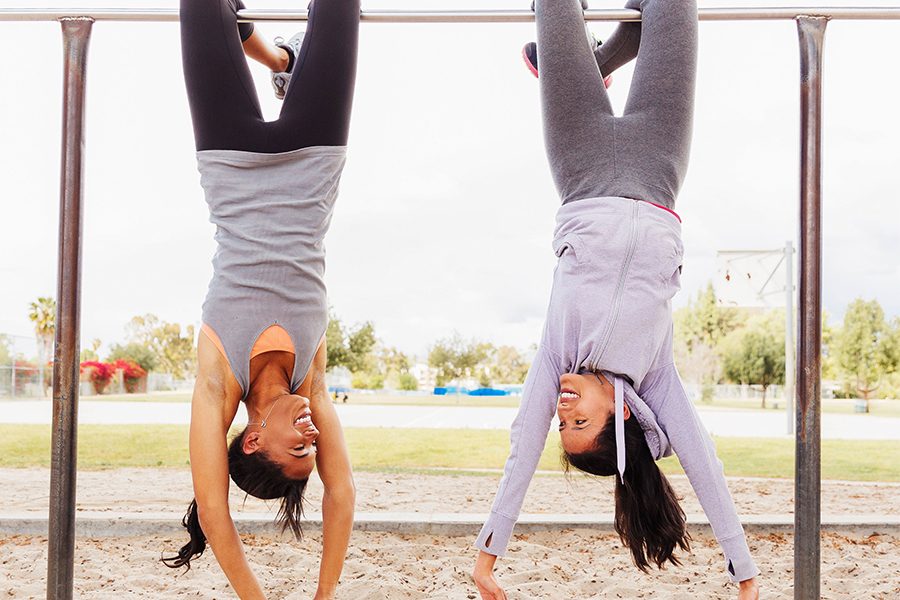 CYCLING
Getting your pedal power on while enjoying a beautiful view and a breeze in your hair is an exhilarating way to get fit and atone for those summer excesses.Athens offers some superb coastal routes for cyclists. One of the most popular is the 13.km ride from the Peace and Friendship (SEF) Stadium in Pireaus out to bustling Glyfada on the Athens Riviera. You can park your car at Karaiskaki Stadium Parking or catch the train to SEF Stadium (Ilektrikos – green line) and if you don't feel up to the return journey, you can always catch a tram back from Glyfada.For less experienced cyclists, start in Glyfada, and continue your two-wheeled journey by the sea, heading for Kavouri, Vouliagmeni or Varkiza. You'll be spoilt for choice for lovely seafront cafes and restaurants to break up your ride.Want more of a challenge? Catch a tram with your bike to Floisvos marina and cycle the 37km along the seafront from Floisvos to beautiful Eden beach in Anavyssos – another great spot to reward yourself with a swim and coffee.
Don't own a bike? Join one of the brilliant organized bike tours in Athens put on by private operators such as www.solebike.eu . Or make use of the expanding bike rental scheme, Athens Easy Bike, which operates in downtown Athens from Technopolis in Gazi and also has new stations in Glyfada, Voula and Vouliagmeni, with more in the pipeline. The usage of the bicycles costs one euro per hour. The above prices include VAT
To find out more, visit the Website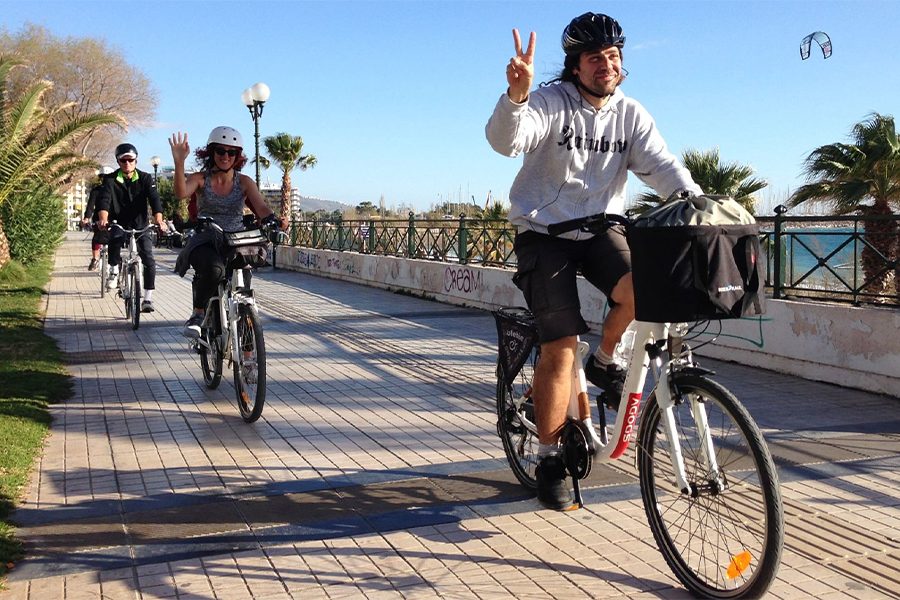 ---