3 Warming Greek Recipes for Winter
Through exquisite recipes and photographs of her beloved Greece, Australian-born Greek Ruth Bardis shares her family's stories and the regional specialties of their cuisine in her award-winning book "Hellenic Kanella: Memories Made in a Greek Kitchen". Insider brings you three of her favourite winter warming dishes from her stylish and heartfelt collection.
Peloponnese Red Eggs 
Strapatsada Peloponisou
Στραπατσάδα Πελοποννήσου
Gluten-Free
Makes: 2 servings
Time: 20 minutes
This is beyond question one of my childhood picks for that quick, healthy snack. We rarely ate fast food, so Mum would do her best to make vegetables taste amazing—and it worked! My sister and I would grate fresh summer tomatoes, and Mum would then finish the dish. It's oozy from the eggs, it's juicy from the tomatoes, it's tasty from the caramelized onions, it's quick, and it's super healthy! Get yourself a loaf of bread (or a gluten-free alternative) and get ready to dip into this dish of comfort. I remember that as children we would fight over the last portion so that we could wipe the serving dish clean with our bread. Traditionally, there is no onion added (but I choose to differ), and in regions like Kephalonia, the eggs are always scrambled, not left whole. This is great for a meze, breakfast, lunch, or even a light snack when tomatoes are in season. Serve this recipe cold or at room temperature.
Ingredients
¼ cup olive oil
½ onion, diced
¼ teaspoon mild paprika
3 large, very ripe tomatoes, grated
2 eggs
1 teaspoon dried oregano
Salt, to taste
Black pepper, to taste
Method
In a medium pan, heat the olive oil and sauté the onion until it is soft and caramelized. Add the paprika, salt, and grated tomatoes. Allow the mixture to simmer, uncovered, for 10 minutes. When the liquid has evaporated by half, crack 1 egg at a time, dropping it into the pan. Allow the whites to cook (do not overcook them, as you want a runny yolk). Sprinkle the oregano and some cracked pepper on the yolks. Take the pan off the heat, and drizzle a little olive oil over the dish just before serving. This is best served with the pan in the middle of your table so that everyone can serve themselves. Be sure to serve it with crusty bread and feta cheese on the side.
For scrambled eggs, beat the 2 eggs in a small bowl and pour them into the pan. With a wooden spoon, mix the eggs throughout the tomato mixture. Cook the eggs until they are well done.
Squid with Orzo              
Giouvetsi Kalamaraki
Γιουβέτσι καλαμαράκι
Makes: 6–8 servings
Time: 1 hour, 30 minutes
Giouvetsi is a hearty, slow-cooked aromatic stew that is generally made with red meat and cooked in clay pots. The stew is braised for hours, and orzo pasta (kritharaki) is added during the last half hour of cooking. The pasta cooks and takes on the beautiful flavors of the spices in the stew. To complete the dish, a generous sprinkling of Greek mizithra cheese is added. My recipe uses the same technique and spices but substitutes squid for the red meat. Credit for this recipe goes to my fisherman father-in-law.
Ingredients
½ cup olive oil
2 garlic cloves, minced
1 small onion, chopped
750 g (26.5 oz./1.6 lb.) squid, cut into bite-size pieces
2 cups red wine
500 g (16.9 fl oz. / 1.1 lb) tomato puree
1 tablespoon tomato paste
1 teaspoon cinnamon
Salt, to taste
1 teaspoon black pepper
1½ cups orzo pasta
Method
Preheat the oven to 210°C (410°F).
In a saucepan, sauté the onion and garlic in olive oil until they are soft. Add the squid and the wine. Cook the mixture, uncovered, for about 15 minutes or until the squid has softened and changed color slightly.
Pour the squid mixture into a baking dish. Add the tomato puree, tomato paste, cinnamon, salt, pepper, orzo, and 4 cups of boiled water to the dish, mixing everything together.
Bake the squid for around 50 minutes or until the water has nearly evaporated and the orzo pasta is fully cooked through. You may need to add a little more boiled water if it seems to be drying out during the cooking.
Serve hot with mizithra* cheese.
*Mizithra cheese available at international delicatessens.
Cinnamon Chicken with Lemon Potatoes            
Kotopoulo Giahni
Κοτόπουλο γιαχνί
Gluten-Free
Makes: 4–6 servings
Time: 1 hour, 30 minutes
This is a dish that gets my senses buzzing and brings back the joyful emotions of a special time.
Sitting at our kitchen table alongside my grandmother Angeliki, I shuffle my chair closer to the table, being careful not to trip over her walking stick that is lying between both chairs. She takes a deep breath and says to my mum, "Toula, it's ready. Let's eat!"
Amazingly, she is spot-on. She learned to cook by sense and smell. The eyeballing technique and the use of the senses is such an art form in cooking. I also inhale deeply through my nostrils as I create a particular sense in my brain, trying to work out the trick my grandmother uses. The aroma is delightful but also puzzling. I try to determine what the distinct smell is. There is a sharp lemon smell but also the aroma of cinnamon.
The pot is brought before us, and we dig into this tasteful peasant dish. Grandmother is speechless but murmuring sounds of satisfaction. I imagine that her thoughts are taking her back to her village in Greece, where her large family, living through wars and famine, cooked this recipe over coals. This dish, carrying emotions from one generation to the next, is best served warm.
Ingredients
½ cup olive oil
1 onion, diced
1 kg (35.2 oz. /2.2 lb.) small chicken drumsticks
1 tablespoon salt
1 teaspoon black pepper
1 tablespoon dried oregano
2 large lemons, juiced
4 large potatoes, each cut into 8 pieces
1½ teaspoons cinnamon powder
Light olive oil for frying
Method
In a wide sauté pan that has a lid, sauté the onion in the olive oil until it is soft and translucent. Add the chicken and cook until it is well browned. Add the salt, pepper, oregano, and lemon juice. Pour boiled water into the pan to cover the chicken. Taste the water mixture. It must be well salted and have a strong lemon bite. If it doesn't, add another lemon and more salt. Cook the chicken over low heat, uncovered, until the juice is reduced to a little more than half.
While the chicken cooks, fill another pan to the halfway point with light olive oil (never fill a pan more than halfway). Heat the oil and fry the potatoes. To ensure the oil is hot enough, place 1 potato into the oil, and when it sizzles, the oil is ready. Do not cook the potatoes right through; 3 to 4 minutes before they are fully cooked, drain them and place them straight into the chicken mixture. Let them cook together with the chicken for about 3 minutes. Turn off the heat, sprinkle the cinnamon powder on top, and put a lid on the pan. Allow the potatoes to soak up all the juices for about 10 minutes, and then serve the dish.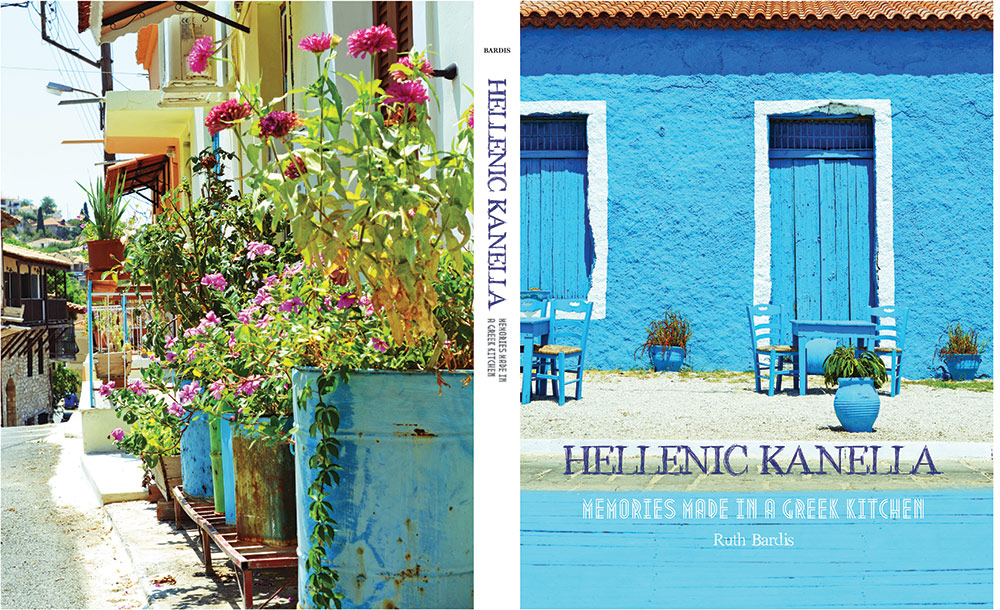 "Hellenic Kanella: Memories Made in a Greek Kitchen" by Ruth Bardis is available from Amazon (£47.95)
---