111 Places in Athens You Shouldn't Miss: An Offbeat Guide to the Big Olive
By Diana Farr Louis
What do a shop that sells 20 types of olives, an underground river, an Ottoman gate, a Roman loo, and a virtual reality lab have in common? They all lie within ten minutes of Monastiraki Square and are among the places featured in this new guide to Athens. Along with other eclectic sights and sites, they form part of a jigsaw puzzle-portrait of the city that couldn't be more different than the standard mix of antiquities, museums and Trip Advisor 'musts'.
When I first heard about the 111 Places series, published by Emons in Cologne, Germany, I was astonished not to find Athens among their selected cities – which included, two years ago, Munich, Rome, Istanbul and . . . Liverpool. But perhaps this delay has come at just the right time because, suddenly, Athens is on the tourist map again. For years, foreigners would simply bypass the Greek capital and fly direct to their Aegean or Ionian islands or transit from the airport to Piraeus, with perhaps a day set aside to view the Acropolis.
This October, Kathimerini reported that 5.5 million foreign visitors are expected in the city alone and in the past few months The New York Times has devoted not one but two articles to the unexpected delights of Athens. In a major piece that ran on June 18, under the title Athens, Rising, the subtext reads, "The city has endured crisis and chaos, and yet is now emerging from the wreckage as one of Europe's most vibrant and significant cultural capitals."
And this is exactly what we found when the three of us got together to draw up our list of proposed places for the Athens guide.
As soon as I learned of the series, I knew this had to be my next project. But I knew I could only do it with the help of two special journalist/writer friends, Alexia Amvrazi and Diane Shugart, who being younger than me and from different backgrounds would have ideas very different to mine. Imagine, though, our surprise when we discovered that we had never heard of, much less visited, many of the places the other two were proposing. And we each thought we had an insider's knowledge and familiarity with the city we all love.
Our mandate was to devise as varied a list as possible, from ancient to contemporary, with no single category dominating. Apart from one stipulation – no bookshops, because those omitted would complain – the publisher encouraged us to be as dark as possible and to focus on the story behind the places rather than the aesthetics. Feeling that crisis-ridden Athens was dark enough, we chose to emphasize the quirky aspects of our beloved home, though we did include sinister spots like the Gestapo headquarters, the Junta museum, the Grigoropoulos 'shrine', a haunted sanatarium on Parnitha, an escape tunnel under Lycabettus and other sites with a less than rosy history.
We ventured into Exarchia, feeling quite safe in its shops and market; discovered hammams, healing gemstones, spas and the therapeutic benefits of worry beads; explored the back lanes of Psyrri and Kerameikos with their street art masterpieces; and then rambled through botanical gardens and even found a waterlily nursery near the Marathon museum.
We did not limit ourselves to the center but included such places as an organic farm in Halandri, a salt cave in Glyfada, Uncle George (the Averoff battleship) at Faliro, and the Vorres art collection in Paiania. But many of the shops, cafés, streets and eateries w  e chose are all within walking distance of Syntagma, in plain view but largely overlooked even by native Athenians.
Indeed, Emons insists that their guides are aimed primarily at locals, not just foreigners on city breaks or holidays. Of course, because it is not in Greek, our audience has to be English-speaking. Yet there are so many of us, not just transplanted New Yorkers like me but true Athenians, born and bred, who will find that this is a book that will expand their own notion of what this city is about.
Athens is a work in progress, constantly changing, rising from the problems caused by the worst peace-time depression a country has gone through in modern history. It's true there are still homeless, poverty-stricken refugees, addicts and anarchists, but Athens has so much more to offer than what you might believe if you only see it on your TV screen.
We discovered during our research that the city we thought we knew is even more exciting than we initially believed. And vibrant, creative, fun, open, and positive, reinventing itself, despite the hardships that are still being imposed on us by creditors and by our own governments. If this pace continues, we'll be writing a sequel in no time.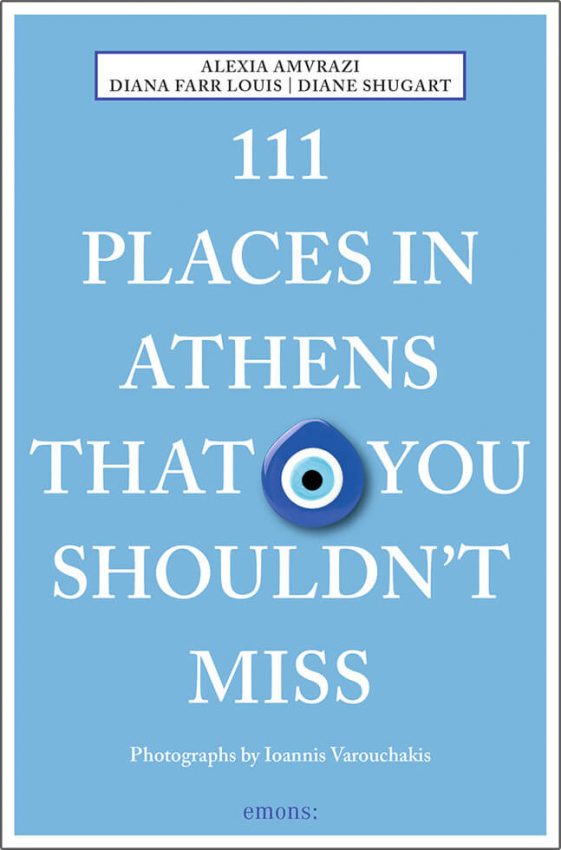 111 Places In Athens That You Shouldn't Miss by Alexia Amvrazi, Diana Farr Louis and Diane Shugart, with full-page photos by Yiannis Varouhakis, is available at most bookshops in Athens and online at to Lexikopoleio or Amazon.
On Tuesday, November 13th, at 7 pm. To Lexikopoleio will be hosting the first presentation of 111 Places in Athens You Shouldn't Miss. The authors will be present and the book will be introduced by Nikos Vatopoulos, journalist with the Kathimerini, whose own articles about unknown Athens shouldn't be missed either.
Lexikopoleio, Stasinou 13, Pangrati, close to Plateia Proskopon, Tel: 2107231201, Website, Facebook Page
---