Why Greek real estate is more attractive than ever
Georg Petras, the CEO of Engel and Völkers Greece, defines his approach to business as the two countries that have shaped him.  As a Greek businessman who grew up in Germany, his German pragmatism and his Greek resilience have stood him in good stead in negotiating the complex world of real estate development. In conversation with Sudha Nair-Iliades.
When I meet Georg Petras for our interview at his office on the 10th floor at Athens' tallest building, it is a beautifully sunny day and the Mayor of Athens has just announced a host of ambitious urbanization projects designed to make Athens a greener, more humane city, open to pedestrians and cyclists. From his vantage point that commands a drone-like view of Athens, the cities polykatoikias glinting like sugar cubes in the horizon, he pre-empts my first post-quarantine question to declare that 'there has never been a better time to invest in Greek real estate.' Indeed, the Mayor's announcement had been preceded by the international press feting Greece for its exemplary record in dealing with the pandemic. Major infrastructure projects, including the multi-billion-dollar Hellenikon development had been finally green-lighted a few months ago. All factors corroborating Mr Petras' firm conviction that the true potential of Greek real estate is still largely untapped and underestimated.
An extremely engaging conversation followed where we touched upon everything from the resurgence of the real estate market, the extra-curricular lessons at the Greek community school in Germany where he mastered his mother tongue, his teenage son's sporting prowess in football, and his best-selling book, Let's go Hellas. Mr Petras' unique 'insider-outsider' view of understanding Greece's complexities is what prompted him to invest in Engel & Völkers' license for his native Rhodes, in the midst of Greece's economic crisis in 2010, and to finally make the big move from Stuttgart to Athens, last summer, as the CEO of Engel & Völkers Greece.
We are living through strange times. In the post-Covid era, will there be less interest in Greek real estate investment?
Generally speaking, more people will invest in real estate.  Greece's exemplary handling of the crisis has created a positive image in international media and the wave of real estate investors will come. Greece is now perceived as not only a beautiful country with a good climate but also as a safe destination with a serious government. I believe we have amazing opportunities in real estate in Greece, otherwise, we would not have launched Engel and Völkers here at so much expense.
Does Greece represent a unique investment opportunity for you?
The company did not come to Greece by chance. We saw that the interest in Greece for secondary homes was rising along with commercial and business properties. The first to come are those who know the property market well, the funds that buy commercial properties: hotels, offices, etc. and usually after two years the residential boom begins. The "prime properties" of Athens' commercial real estate have already been sold!
Where is the interest in Greek real estate coming from? Which markets?
We notice a change in the global market. Buyers originating from Asian countries do not show the same willingness as in the past, especially for the Golden Visa scheme. Regarding the European market, we cannot predict what the effects will be on the real estate market, as the sales for the secondary home market has not yet begun. At the end of the Covid crisis, there will be an upward trend with dynamics that will be able to stimulate the market. Especially with regards to the secondary home market, if Greece continues on its current positive trend, we will be able to overcome the crisis faster than Italy and Spain, which are our main competitors, and we will see an upward trend in the holiday home market in the Greek islands. The main buyers are the Germans, the French, the Belgians. The British have had problems with Brexit for the last 2-3 years and they have been less active.
What impact does tourism have on real estate?
The more tourists that come to Greece, the more they will be interested in buying a property. And for me, they are the best and most interesting tourists, the ones who buy a house. They invest their money here, pay taxes, pay notaries, brokers, lawyers, and come here three times a year, and go out, eat and consume. These are the good tourists. As Engel and Völkers, we go where our customers or potential customers go. Residential Real Estate has to do with tourism, so let's go where tourists have decided to go on holiday, to Rhodes, to Mykonos, to Crete, for example.
How do Greek destinations compare with other European destinations in a real estate portfolio?
Let's talk specifically about Athens. It is something we experienced again in 2012, when we opened a corresponding office in Barcelona. In Spain, too, they had a serious financial crisis, not to the same extent as Greece. But when we opened in Barcelona in 2012, everyone was telling us we were crazy and today, we are number one in the market! We will do exactly the same in Athens. It still needs time to reach the levels of 2007, and I believe we can, because now we are more organized than then, both in Real Estate legislation, and with respect to tourism. In 2010, we had 15 million tourists, last year, we were at 35 million.
You mentioned Mallorca. How do the Greek islands compare with it?
If Mykonos is Ibiza, Mallorca is Crete and Rhodes. Unfortunately, we do not have the infrastructure that Mallorca has. Mallorca's airport is bigger than Athens' airport. They have 26 golf courses on the island. All over Greece, we have 9. It's 20 years ahead. Engel and Völkers alone has 16 offices just on Mallorca. But I think we can get to a very good point in comparison to Mallorca. We are 30 to 35% below the prices in Spain or Italy. We are competitive.
And the Athens Riviera?
The Athenian Riviera I would really like to compare with Cannes or St. Tropez. I think we could easily be at their level, if we had the right infrastructure. I think it's really a destination that has been underestimated abroad. There is no capital in Europe that takes you within 10 minutes from the center to the sea, and within an hour, to an island. This is nowhere to be found and it is our greatest asset, the ace we hold.
How does Engel & Völkers distinguish itself from other real estate agencies?
Engel & Völkers is a multinational company founded in 1977 and last year the turnover reached 780 million. It has over 800 offices worldwide and 17 Metropolitan Market Centres.
Our plan is to have 70 staff and 300 freelancer real estate consultants in three years in Greece. We have started a large investment plan in Greece, bringing in funds only from abroad, which will continue for years to come. We are a Greek company Made in Germany. We already operate two shops in Rhodes and we plan to extend our shop strategy in key points areas in Athens and in the Greek Islands.
What extra services does Engel & Völkers offer?
Firstly, we don't just sell the most expensive, luxury properties, but we sell the best properties in every area we operate in. We carry out a proper estimate of the property price. We do not take a property to upload it on the website and hope that it gets sold by chance. If we estimate one million and the seller wants two, the answer is simply no. We can't spend money unnecessarily on online marketing, print, showcases across Europe, because we get paid when we sell the property, so we have the courage to say that unfortunately, the property is worth a million, not two.
Our service is 800 offices worldwide. In other words, we can put the luxury villa in Mykonos in our shop window in Beverly Hills. Thanks to our global network, we will find the right buyers for the right property, this is the concept of the company.
Engel & Völkers is rated as one of the top real estate brands in the world and that says a lot.

We came to Greece because our customers asked us to. We listened to the questions about Greece worldwide. Our customer, wherever he is, has the same service, all over the world. This is very important to us. An agent who starts at Engel & Völkers, goes through our training academy. We still have work to do to get to the standards that I'd like, but we are on a very good path.
What features must a property have to be included in the Engel & Völkers portfolio?
There are no specific features and it has to do with each area. We offer the best property in every area and the premium service.  You can have a property in an area with a low objective value like Koukaki, but you have the same service as a million-dollar villa in Mykonos. Our buyers have a lot of trust in us. Our buyer knows that our philosophy is not to show him twenty properties, we are here to show the three or four best, we just need to know our customer.
Which areas of Athens have been drawing interest from investors?
The centre of Athens around the Acropolis is the first choice. Areas like Pangrati or Gazi are drawing interest as are Kolonaki and the Athenian Riviera.
What about the glut of Airbnb properties in the city centre?
Young people can no longer rent a house because everything is very expensive, because of the magic word Airbnb. Today's Airbnb will be the properties to be sold in 3 to 5 years. We will have many new properties in the prime areas of Athens and Greece available in the market.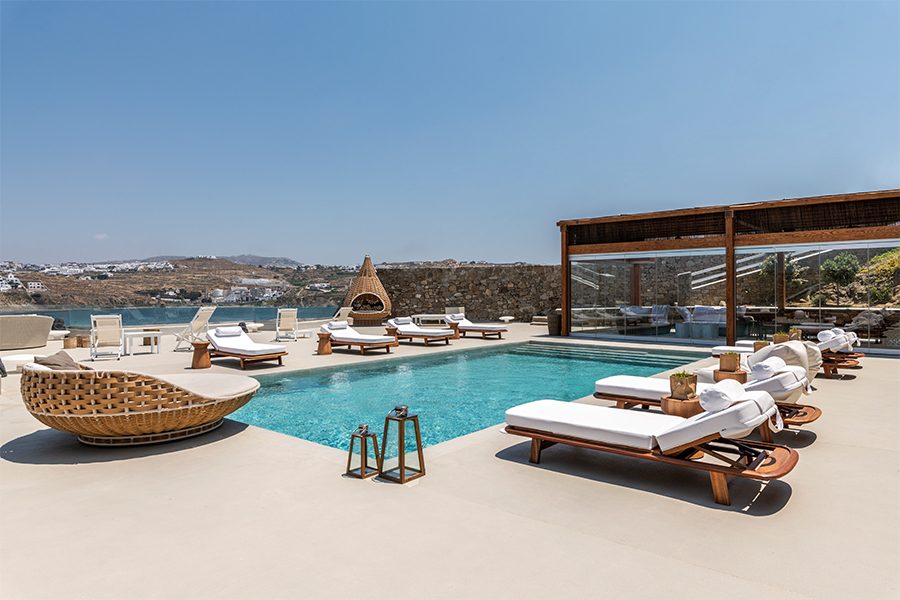 Its almost 5 years since the referendum and near-Grexit, when Greek-German relations were at an all-time low. How do you explain the ups and downs of this period through your book?
In 2015, when the banks closed, I was in Rhodes. I had to travel to Mallorca for an event organized by Christian Völkers, the founder of our company. I went to book my airline tickets with my Greek card, and I couldn't. What sort of a Europe is this, I thought, that I can travel as a German, but not as a Greek. The idea for the book came from Spiegel journalist Anja Steinbuch, who had come to Rhodes to do a report. We wrote the book together to shake off misconceptions on either side. It was widely read, in both German and English, and it did really well.
Let's go Hellas epitomizes my innate optimism. When in 2010 clouds of gloom and despair gathered over Greece and the talk was of bankruptcy and Grexit, I wrote my personal, political, entrepreneurial and economic account of events here including tips for a possible real estate purchase!  But the biggest take-away from the book is to truly understand what makes Greece tick. Everything is possible here!
Let's go Hellas is available for sale on amazon.com
---