What to do in Athens this February
Athens is constantly in flux, stuck in a Tug of War between the past and present. This week let yourself be transported back to the ancient Chinese Qing Dynasty or dive into the future of technology with Ryoji Ikeda – maybe finding yourself somewhere in between.
Saturday Brights
WHAT: For those looking for a nightlife experience that is different from your average bar, be sure to check out Saturday Brights Imrpov Comedy Show, performed entirely in English. The shows are put on every second Saturday of the month and entry is donation based. Bring a date, a group of friends, or come alone to share in the spontaneous world of improv where anything can happen.
WHEN: February 23 at 10:30pm – Midnight
WHERE: ImproVIBE
Lepeniotou 8. Psirri, Athens, 10554, Tel: +302104311984
Yannis Moralis: Master Teacher Exhibition
WHAT: Multifaceted in his talents and boundless in his creativity, the late Greek artist Yannis Moralis' work elevated him to be one of the most celebrated figures in the 20th century. Not only did his art have an impact, but his liberal teaching style has inspired many great artists. This expansive exhibition at the Benaki Museum will explore the works of his students, showcasing how they have not simply followed in his artistic footsteps, but have become independent artists. Witness their artistic growth as their student works are juxtaposed against their mature works.
WHEN: February 13 – May 5 2019
WRERE: Benaki Museum
Pireos 138 Athina 118 54s, Tel. +30 210.367.1000, Website
Orchestra of the Age of Enlightenment & Magdalena Kožená: Love & Duty
WHAT: The SNFCC is proud to host The Orchestra of the Age of Enlightenment (OAE), a musical ensemble unlike no other, to perform songs of the heart showcasing mezzo soprano Magdalena Kožená, under the guidance of conductor Giovanni Antonini. Formed in 1986, the self-governing ensemble has become the UK's top period instrument ensemble, a resident orchestra of the Southbank Centre in London and associate orchestra at Glyndebourne Festival Opera.
Kožená will lead the orchestra in taking the audience on an emotional rollercoaster through the compositions of Mozart and Gluck. From songs of romance, to bittersweet melodies, all culminating in Mozart's dramatic, emotive Symphony no. 40 – Athens is in for quite the show.
WHEN: Monday, February 11 at 20.30
WHERE: Greek National Opera, Stavros Niarchos Foundation Cultural Centre
364 Syngrou Avenue, Kallithea 176 74, Tel: +30.216.0891.000
Imperial Apartments of Qianlong Exhibition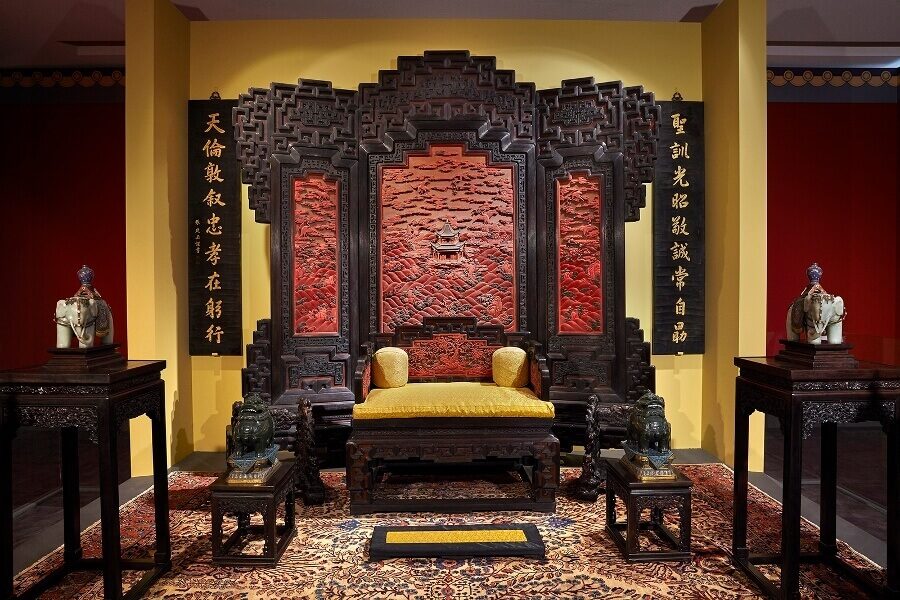 WHAT: History enthusiasts will swoon at this incredible opportunity to view over 154 historical artifacts from the Qianlong Emperor, the sixth emperor of the Qing dynasty in China. The Acropolis Museum hosts the display that usually resides in the Forbidden City in Beijing and details the complex and pivotal history of the Emperor's political and cultural contributions to China over his six decades of rule (1736-1795). Clothing, trinkets and furniture illustrate a long and vibrant life from the very highest of positions in Chinese and world history.
WHEN: Until February 14
WHERE: Acropolis Museum
15 Dionysiou Areopagitou Street, 117 42, Tel: +30.210.900.0900
Data.flux [12XGA version]
WHAT: Internationally acclaimed digital artist, Ryoji Ikeda, will be exhibiting his newest installation at the Onassis Cultural Centre. This exhibit aims to challenge the limits of human perception and digital technology. Visitors are thrown into the ever-changing world of data through pulses of light and sounds, allowing for both a sensory and thought provoking experience.
WHEN: Until February 17
WHERE: Onassis Cultural Centre
107 Syngrou Avenue, 117 45 Metro: Syngrou Fix, Tel : +30.210.900.5800
Ice Skating at the SNFCC
WHAT: The Stavros Niarchos Foundation Cultural Centre welcomes the public to come join in the winter spirit at their ice rink in the Market Square. Skaters are welcomed to come enjoy the ice for 40 minutes at a time surrounded by beautifully lit up trees. Entrance to the Ice Skating Rink is free with a mandatory electronic pre-registration that can be found online on the Centre's website. Be sure to check out everything else the square has to offer.
WHEN: Until February 24
WHERE: Stavros Niarchos Foundation Cultural Centre
364 Syngrou Avenue, Kallithea 176 74, Tel: +30.216.0891.000
Crete: Emerging Cities
WHAT: The island of Crete is the largest Greek island as well as an immense vessel of ancient history and culture. The Museum of Cycladic Art offers an intriguing exhibit complete with artifacts brought from the island itself, some freshly excavated, and tracks the rise and fall of three major cities: Aptera, Eleutherna, and Knossos. Museum director Professor Nikos Stampolidis says, "This exhibition is about cities that no longer exist, erased from memory, save perhaps for their name, which persists, often corrupted."
WHEN: Until April 30
WHERE: Museum of Cycladic Art
Neophytou Douka 4, 106 74 Athens, Vasilissis Sofias & Herodotou 1, Tel +30 210.722.8321-3, Website
Mappemonde: George Lappas
WHAT: Citronne Gallery inaugurates its new space in Athens with an exhibition dedicated to George Lappas, Mappemonde. Housed in a landmark 1960's building on Kolonaki's bustling Patriarchou Ioakeim street, the gallery's inaugural exhibition revisits George Lappas' stunning presentation of Mappemonde at the Sao Paulo Biennale. One of the most significant works of Greek post-war sculpture, George Lappas' Mappemonde traces the map of the world as a sculptural narrative and draws on experiences from his own life.
WHEN: Until May 1, 2019
WHERE: Gallery Citronne
Bubble Jam
WHAT: Teenagers are always being told to stay off their cellphones, but this interactive installation forces teens to do the opposite. Made for teenagers 12+, "Bubble Jam" creates a digital stage where participants are asked to think about their place and interactions on the World Wide Web. What are the implications of being so connected to one another and yet hidden behind our screens? What are the dangers of being a youth thrown into the invisible digital cloud? What does this upcoming generation have to offer us both in the digital world and real life?
WHEN: Until April 21
WHERE: Onassis Cultural Centre
107 Syngrou Avenue, 117 45 Metro: Syngrou Fix, Tel : +30.210.900.5800
George Zongolopoulos: The Vision of Public Sculpture
WHAT: An exhibition exclusively dedicated to public sculptures, installed in Greece and other countries, by this iconic artist.
As part of this exhibition, eight sculptures will go on display in outdoor areas in the Agora and the Rear Agora.
Twelve more sculptures – four of them for the first time – will go on display at the 4th-floor atrium of the National Library of Greece, supplemented by maquettes, constructions, drawings, videos, photos and interactive exhibits that place these sculptures in the context of the public sites where they have been installed.
The panel from Zongolopoulos' studio, the maquette of the Monument of Zalongo and the surrounding area, and an umbrella from the life-size Umbrellas sculpture will also go on public display for the first time.
WHEN: Until May 5
WHERE: Greek National Opera, Stavros Niarchos Foundation Cultural Centre
364 Syngrou Avenue, Kallithea 176 74, Tel: +30.216.0891.000
Gandini Juggling: Smashed
WHAT: The art of the circus and theater come together to present you with 80 apples, 9 performers, 4 crockery, and 1 tea party you will never forget. Smashed explores the relationships of seven men and two women during a quaint afternoon tea through traditional juggling and contemporary theatrical circus, complete with the accompaniment of popular melodies to set the stage. Inspired by choreographer Pina Bausch, director Sean Gandini and Kati Ylä-Hokkala have borrowed elements of her original works and combined them with the intricate art of juggling. Smashed subtly pokes at our social conventions, sparking conversation about etiquette, dress and body language.
WHEN: Monday, March 4 at 20.30
Admission: €10
WHERE: Greek National Opera, Stavros Niarchos Foundation Cultural Centre
364 Syngrou Avenue, Kallithea 176 74, Tel: +30.216.0891.000
Iggy Pop and James and Shame
Release Athens 2019
Release Athens 2019 is excited to present one of the greatest names in all of rock'n'roll, the one and only Iggy Pop! Iggy Pop will be in Athens on Saturday, June 8, at Water Plaza, to prove that he is worthy of his grand legacy and a staple performer in today's rock'n'roll scene. He brings an unmatchable amount of energy and excitement to the stage during his live show that includes all the great moments of his enormous career. You cannot miss this performance from someone whose impact was so huge and legendary that it completely changed the music industry on a global scale!
WHEN: June 8
WHERE: Plateia Nerou, Paleo Faliro
---