What to do in Athens this Christmas
The SNFCC Ice Rink is Back!
WHAT: For the third year in a row, the floating Ice Rink picks up the tempo in the SNFCC Christmas World, with skaters gliding in a festive mood, their skates throwing up fire! This year located at the start of the Canal, in front of the Visitors Center, the Ice Rink will offer all fans of the most Christmassy sport the opportunity to enjoy a fantastic "inside view" of the majestic Dancing Fountains and the illuminated Canal.
WHEN: From November 30 till February 2 |from 10.00 p.m to 22.00 a.m
WHERE: SNFCC
Syggrou Ave 364 Kallithea 176 74| Website

Meet Market Christmas Edition at the Athens Conservatoire
WHAT: Indulge in some quality festive browsing at the Meet Market's annual Christmas extravaganza with 99 stands of creations and innovations from local designers, artists, producers and collectors, plus yuletide festivities, non-stop djs sets, the chance to shop for your loved ones, wrap yourself in plenty of warm, fuzzy feelings – the kind you get from seeing familiar faces and drinking a little too much gluhwein. Alongside the Meet Market, there will also be dozens of free parallel interactive activities for both kids and grownups.
WHEN: Saturday 14 & Sunday 15 and Saturday 21 & Sunday 22, December, 2019
11:00 – 23:00 each day
WHERE: The Meet Market at the Athens Conservatoire
Leof. Vasileios Georgiou B' 17-19 & Rigillis| Website
Christmas Factory
WHAT: Athens' biggest and most magical Christmas theme park spreads festive joy to young and old for the fifth year running. Kids can meet Santa, explore his sweet factory, or whiz around in his sleigh on the "Tornado" roller coaster. Christmas Factory also features imaginative games, creative performances, toy workshops, special guests – and a Christmas bazaar.
WHEN: From November 5 Until January 5
WHERE: Christmas Factory
Gazi Technolopolis|Kerameikos|Peiraios 100| Tel: 210.898.1739| Website

30 November: The festive lights are on
WHAT: Come enjoy the most brilliant Christmas experience, witnessing SNFCC's different areas transform one after the other into a place of magic, bathed in light and filled with music and dance! Thousands of Christmas lights twinkle on trees along the Canal; the lavishly decorated tall Christmas trees at the Agora are revealed in all their glory, and the light installations in the Stavros Niarchos Park playfully interact with visitors. The Ice Rink once again comes alive as the first skaters glide on fresh ice to the sounds of the GNO Children's Choir. Christmas tunes also inspire the Canal's Dancing Fountains to take part in the dancing mood in their own, spectacular way. The celebration culminates with the time-honored party at the Agora – this year we hit the ground dancing with the SOUL queen Idra Kayne and her ultimate Christmas live concert that sets the festive tone.
WHEN: November 30 |6 pm
WHERE: Stavros Niarchos Foundation Cultural Center
Syggrou Avenue 364, 17674 Kallithea|(+30) 216 8091000| Website
Awog 2019 Christmas Bazaar
WHAT: Join us at one of the oldest Christmas Bazaars in Athens! Enjoy a day full of lots of fun, shopping, photos with Santa, children activities, delicious baked goods and wonderful prizes at the Grand Lottery! Proceeds will be donated to our Community Services!
WHEN: December 8| 11 a.m till 5 p.m
WHERE: Athens War Museum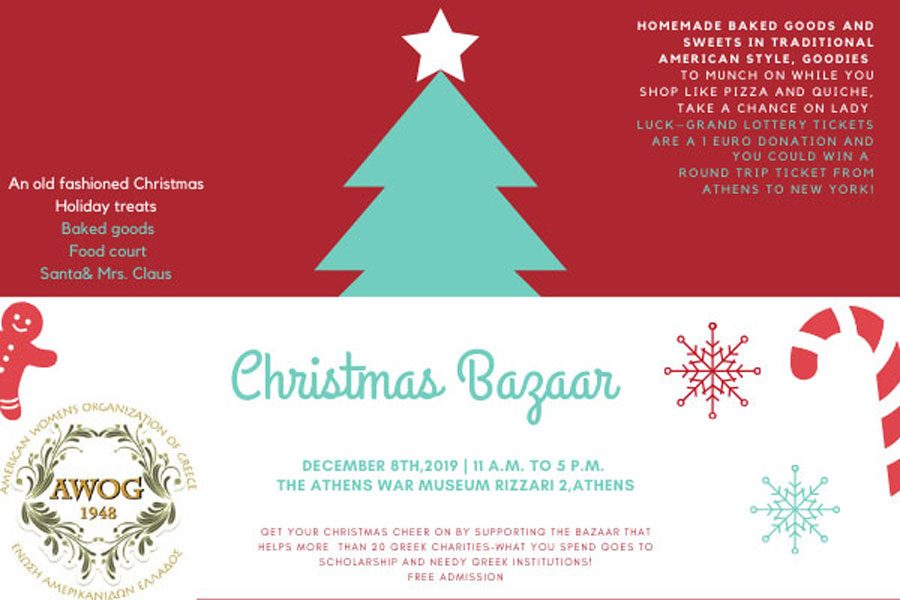 Nine cats Christmas Bazaar
WHAT: It's the most wonderful time of the year! Join us to celebrate with us a day of fun, while doing some holiday bargain shopping, sharing smiles and cat-stories with the family of Nine Lives! Let's say goodbye to 2019 by helping cats in need. Discover small treasures amongst new and nearly-new goodies, and taste a delicious selection of home-baked cakes as well as scrumptious savouries by the excellent La Chocolatiere caterers. Also, grab the chance to get your hands on the new 2020 Nine Lives calendars! A perfect Christmas gift for any cat lover. You will also find limited edition catnip Christmas toys as well as other seasonal goodies!All bazaar proceeds directly benefit stray cats in Athens through food & vet care.
Please, if you have items to donate, contact us prior to the bazaar, as alas we cannot accept any items on the day of the bazaar itself.
Donations of cat food, however, are welcomed with open paws!
WHEN: December 1st
WHERE: Arcadia Centre
Empedokelous 26 | Pangrati 11636

SNF Run: 2020 First Run
WHAT: For the fourth New Year's Eve in a row, the Stavros Niarchos Foundation (SNF) invites you to dress to the nines—or whatever size you take in running shoes—and take part in the SNF RUN: 2020 FIRST RUN, setting the pace for the coming year! The invitation is open to all, and the route covers a distance of just 4 kilometers around the festively bedecked SNFCC. Afterwards a big party will be awaiting runners at the SNFCC Agora. By participating in this year's SNF RUN, runners are supporting the work of small non-profit organizations doing great work to look out for vulnerable children. This year's partner nonprofits are Spring Children, Angels of Joy, and the "Good Shepherd" Minors Protection Association of Piraeus. The amount donated through the symbolic participation fee will be tripled through an additional contribution from SNF
WHEN: December 31 2019| At 00:00
WHERE: SNFCC
Syggrou Avenue 364, 17674 Kallithea|(+30) 216 8091000| Website
Christmas Theater
WHAT: The most wonderful time of the year will be brought to life with twinkling lights, music, and color in the largest and most majestic theater in Athens. These spectacular performances will transport you to great cities each with their own style of celebrating the holidays. The performances shine and spread the festive spirit with a joy that will leave you smiling well past New Year's.
WHEN: Until January
WHERE: Christmas Theater
Tel: +30 211.770.1700 |Veikou Ave 137 | Website 
---