The Pastry Bible for Pros
A comprehensive primer aimed at professionals that guides us through the world of baked goods and other desserts, from time-honored classics to fanciful creations by star pastry chef Spyros Pediaditakis.  Notebook: Pastries for Restaurants  is an authoritative, friendly bake-shop bible contains fascinating mini-lessons on food science, illuminating bits of baking history, and time-saving tips. It may not transform amateur bakers into expert pastry chefs overnight, but if the images are anything to go by, we'd settle for just staring at these beauties.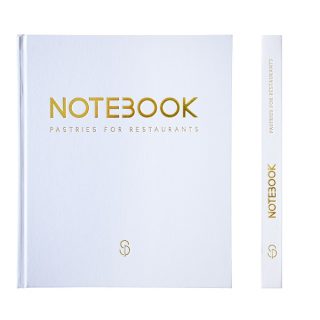 Sweet tooth or not, we all know that not all desserts are created equal. We loved Spyros Pediaditakis' delicate creations at the 2-Star Michelin Restaurant Spondi, where he was awarded the title of Best Pastry Chef by the FnL Awards and named Pastry Chef of the Year by Gault & Millau Hellas. He went on to present beautifully crafted pastries at Ourse in Glyfada. It was while working at Ourse that the chef began working on his first book.
Notebook: Pastries for Restaurants is a book aimed at professionals. Intended to be a reference book, Pediaditakis' book comprises 38 recipes divided into sub-recipes and containing detailed explications of technique. The chef presents his reader with sundry delights, such as pineapple caramelized in burnt butter, a honey parfait with camomile ice cream, and a sweet and savoury chocolate mousse. Pediaditakis' principal tenet is that desserts can be artistic, technically accomplished, as well as a joy to eat. Whether you have culinary aspirations or not, this book is as yummy as its decadent desserts, and in our opinion, a perfect gift for the festive season!
Notebook: Pastries for Restaurants is available at spyrospediaditakis.com or librairiegourmande.fr
---