Save The Date: Athens Festival round-up
If ever you need evidence of the relation between artistic creativity and political engagement, look no further. With Brexit looming and as Europe craves for its lost identity, the Athens Festival serves as a prism to view the diversity and complexity of the world, provoking a dialogue between art and social reality. A round-up of the most thought-provoking highlights this June from Robert Wilson, described as America's vanguard theatre artist, interpreting Oedipus at Epidaurus to Yo-Yo Ma performing under the stars at Herod Atticus.
MUSIC, DANCE AND VISUAL ARTS:
Love Story
WHEN: 30 May – 30 June
WHERE: Peiraios 260
What kind of stories move us? This seven-channel video-installation by the South African artist Candice Breitz interrogates the mechanisms of identification and empathy. Breitz calls out attention to the firsthand accounts of anonymous refugees, persons who typically remain nameless and faceless, juxtaposing them to the universal allure of celebrities. In the first space of the installation, Julianne Moore and Alec Baldwin, re-enacting excerpts from the interviews of six refugees. The fast-paced montage strips the intimate testimonies of their depth, complexity and nuances, turning them into a facile, mainstream product meant for popular consumption. In the second space, viewers can watch the original, uncut interview footage of refugees and migrants, including the shocking story of 23-year-old Sarah Mardini from Syria.
Jethro Tull
WHEN: 15/06/2019 at 21:00
WHERE: Odeon of Herodes Atticus
Following their first, historic gig at the Odeon of Herodes Atticus back in 2003, Jethro Tull returns to the hallowed grounds of the Odeon to celebrate its 50 years into the music business together with their Greek fans. Guided by the music genius known as Ian Anderson, Jethro Tull have influenced generation after generation of rockers with their long and fruitful career. With their diverse style encompassing blues, hard rock, progressive, art rock, elaborate arrangements and Anderson's masterful flute-playing, the eccentric British band from Luton is justly considered one of the greatest rock bands of all time.
Wiener Symphoniker – Leonidas Kavakos
WHEN: 22/06/2019 at 21:00
WHERE: Odeon of Herodes Atticus
The Wiener Symphoniker (Vienna Symphony Orchestra) joins forces with the acclaimed violinist and conductor Leonidas Kavakos on the stage of the Odeon of Herodes Atticus. The Wiener Symphoniker is one of the leading orchestras in the world. Founded in 1900, the Orchestra has collaborated with legendary musicians, including Richard Strauss, Wilhelm Furtwängler, Herbert von Karajan, Leonard Bernstein, Georges Prêtre, and Vladimir Fedosejev.
Leonidas Kavakos made his concert debut at the Odeon of Herodes Atticus in 1984, along with the ERT National Symphony Orchestra. Within the next few years, he went on to win numerous international awards which firmly established him among the top soloists in the world.
Yo-Yo Ma
WHEN: 30/06/2019
WHERE: Odeon of Herodes Atticus
.Widely considered the greatest cellist in the world, Yo-Yo Ma has received more than 18 Grammy Awards, and accolades including the Polar Music Prize (2012) and the United States National Medal of the Arts (2001). Throughout his career, he has joined partners from around the world and across disciplines to stretch the boundaries of genre and tradition, exploring how culture connects us. Last year, Yo-Yo began a new journey, setting out to perform Johann Sebastian Bach's six suites for solo cello in one sitting in 36 locations around the world, iconic venues that — like the Odeon — encompass our cultural heritage, our current creativity, and the challenges of peace and understanding that will shape our future.
Orchestre Philharmonique du Luxembourg – Yuja Wang – Gustavo Gimeno
WHEN: 17/06/2019 at 21:00
WHERE: Odeon of Herodes Atticus
The Orchestre Philharmonique du Luxembourg was founded in 1933 and currently consists of 98 musicians from over 20 countries. Having won numerous awards over the years, the Orchestra remains a major cultural institution in Luxembourg, giving concerts all over Europe, Asia, and the Americas, while also being active in educational projects aimed to children and youths, as well as performing at schools and hospitals.
The acclaimed pianist Yuja Wang has been appointed artist in residence at the Orchestre Philharmonique du Luxembourg for the season 2018-2019. Wang rose to fame in 2007, when she replaced Martha Argerich at the Boston Symphony Orchestra and went on to captivate audiences with her virtuosity and her riveting performing style.
Omar Rajeh – Maqamat – #minaret
WHEN: 25/06 until 26/06/2019 at 21:00
WHERE: Peiraios 260 (H)
Is it possible for an entire city to die, along with its values, history and culture? For a thousand years, the minaret of the Great Mosque in Aleppo rose over the largest city in Syria. Today, only ruins stand in its place. #minaret, a performance by the Lebanese choreographer Omar Rajeh, one of the most acclaimed dance artists in the Middle East, is an act of resistance against the destruction of one of the oldest cities on Earth, combining contemporary dance with visual arts and the musical tradition of Aleppo. Rajeh draws on the memories of the destruction of his home city, Beirut, seeking the thread connecting contemporary Aleppo with the ruined cities of the past.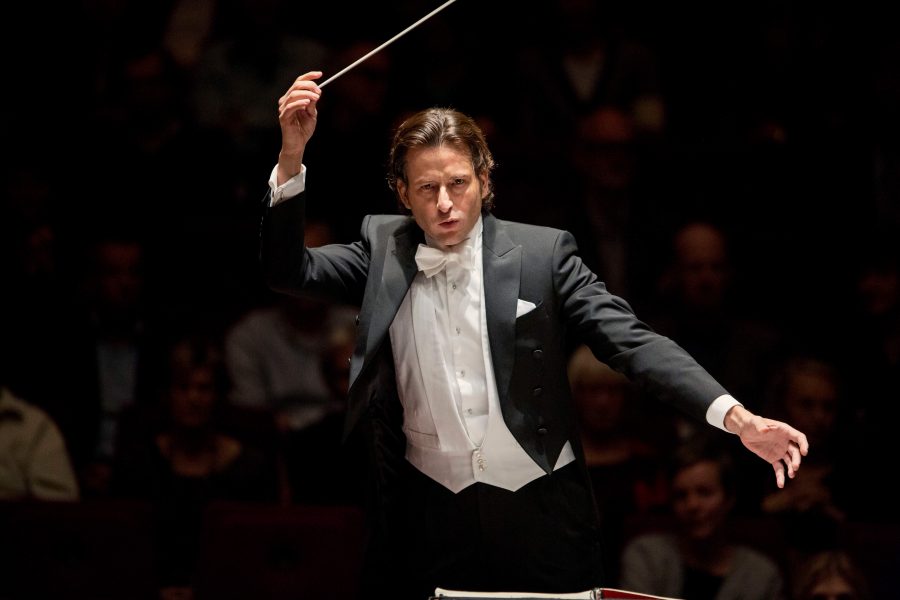 THEATRE:
Angélica Liddell – Genesis 6, 6-7
WHEN: 30/05 until 31/05/2019 at 21:00
WHERE: Peiraios 260 (H)
Angélica Liddell, the enfant terrible of Spanish theatre, a genre-defying artist, returns to the Athens Festival five years after her performance All the Sky Above the Earth (The Wendy Syndrome). Here, Liddell blends poetry and theatre, weaving together the myth of Medea with the Old Testament. The title refers to the first book of the Old Testament and more specifically in that moment when God regrets creating humankind and decides to destroy all life on the planet: "And the Lord said, I will destroy man whom I have created from the face of the earth; both man, and beast, and the creeping thing, and the fowls of the air; for it repenteth me that I have made them."
Robert Wilson – Oedipus
WHEN: 21/06 until 22/06/2019 at 21:00
WHERE: Ancient Theatre of Epidaurus
The iconic story of Oedipus comes alive in Robert Wilson's series of breathtaking tableaux vivants. The internationally acclaimed director follows Oedipus' story in chronological order, without strictly adapting Sophocles' Oedipus Rex, from the moment of his birth and his abandonment as an infant to the moment of his self-inflicted blinding, following the horrific revelations: from the first light of birth to the last light he sees before it all goes black. Two 'witnesses,' a man and a woman, spin his tale, the life and times of Oedipus, speaking across the centuries.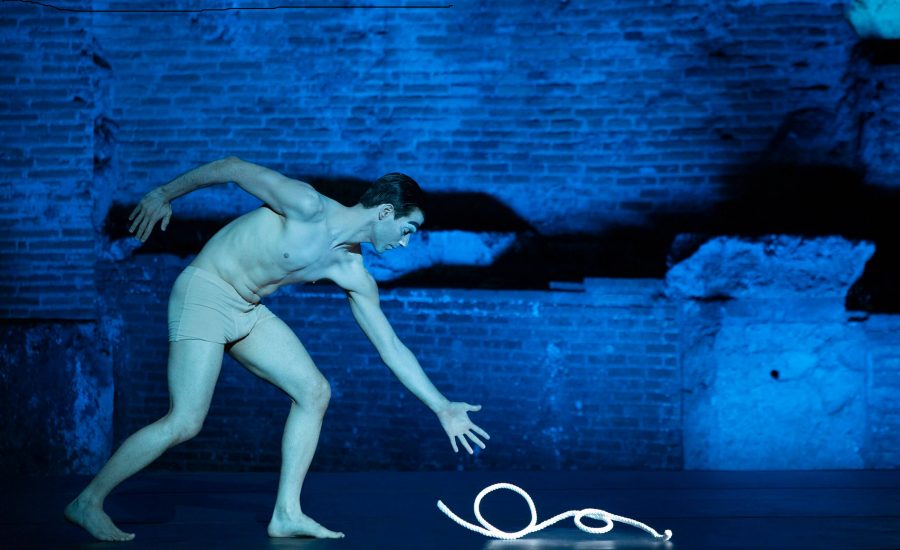 Robert Wilson – Mikhail Baryshnikov – Letter to a Man
WHEN: 10/07 until 13/07/2017 at 21:00
WHERE: Onassis Cultural Centre
Celebrated artists Robert Wilson and Mikhail Baryshnikov join forces to step inside the shattered mind of one of the greatest dancers in history, Vaslav Nijinsky. Based on the iconic dancer's diaries, which chronicles his descent into madness, this solo piece tackles the artist's tormented sexuality and spirituality, as well as his tempestuous relationship with Sergei Diaghilev, to whom the letter of the title is addressed. Hal Willner's collage-like score brings together audio excerpts of the diaries with songs by Tom Waits, Arvo Pärt, Henry Mancini, and Soviet futurist composer Alexander Mosolov. Long fascinated by Nijinsky's diaries, Baryshnikov sashays and staggers through Wilson's landscape as he performs an exceptional, moving testimony of the last lucid moments in a man's life.
Mapa Teatro – Los Incontados
WHEN: 11/06 until 12/06/2019 at 21:00
WHERE: Peiraios 260 (H)
The Colombian theatre company Mapa Teatro, world-renowned for their use of diverse media and influences return for this year's edition. Los Incontados is a triptych painting a picture of contemporary Colombian life. Three microcosms located somewhere between fantasy and reality; three set pieces, nestling one behind the other; three distinct spaces jointly creating a chilling allegory about violence in Colombia during the second half of the 20th century. A strange feast, revealing the fragile balance between celebrations of violence, a trademark of contemporary Colombian history, unfolds in each of these spaces.
Thom Luz – Girl from the Fog Machine Factory
WHEN: 23/06 until 24/06/2019 at 21:00
WHERE: Peiraios 260 (D)
A modern fairytale with a magical finale that was chosen by the 56th Theatertreffen – Berliner Festspiele as one of the 10 remarkable productions of the year. The new performance of Swiss artist Thom Luz, whose atmospheric productions are noted for their music and breathtaking imagery, tackles the most elusive aspects of human experience by clinging to that most ephemeral of materials: artificial fog. Is there any place for poetry in a world increasingly regulated by the laws of the market? In an attempt to save his factory from extinction, the owner and his staff begin to experiment, creating waterfalls made of fog, foggy replicas of famous artworks by Rodin, Giacometti and Böcklin.
Caroline Guiela Nguyen – SAIGON
WHEN: 28/06 until 29/06/2019 at 21:00
WHERE: Peiraios 260 (D)
A restaurant, stuck in a liminal space/time continuum, somewhere between 1990s Paris and 1950s Saigon, with Vietnamese pop music and French chansons playing in the background. The characters, of French, Vietnamese of French-Vietnamese descent, much like the actors portraying them, share landscapes, faces, songs and a language which, for some of them, survives only in their memories. They meet for dinner, drink, dance, sing, fall in love, and celebrate life. Caroline Guiela Nguyen, herself the daughter of a Vietnamese refugee in France, presents a heartbreaking, deeply moving, polyphonic story, whose male and female voices bear the traumas of history. SAIGON is a wounded land always someone missing, always someone to mourn.
Comédie-Française – Ivo van Hove – Electra / Orestes
WHEN: 26/07 until 27/07/2019 at 21:00
WHERE: Ancient Theatre of Epidaurus
Ivon van Hove once again joins forces with the company of Comédie-Française, delivering another impressive gallery of characters, focusing on the House Atreides. This second collaboration of Comédie-Française with one of the internationally acclaimed masters of theatre was the perfect opportunity for Éric Ruf and Vangelis Theodoropoulos to bring together these two great institutions of European theatre in a collaborative project.
In this case, the director brings together two Euripides plays telling the story of Electra and Orestes and more specifically how the two siblings reunite and make a pact to take revenge against their mother, Clytemnestra, and her lover, Aegisthus. This performance also marks the first time that Euripides' Electra will be performed by Comédie-Française.
---