Remembering Major Sofia Vembo, the 'Songstress of Victory'
Her haunting bass voice and rousing lyrics of hope and inspiration were wartime anthems for Greek troops. On the anniversary of her death, Insider celebrates the courageous chanteuse Sofia Vembo, who defied German orders to entertain young Greek soldiers – often undercover – and remains a national treasure for generations of Greeks; still bewitched by her patriotic and satirical songs.
Legendary Greek singer Sofia Vembo, whose touching ballads helped sustain the spirits of Greek troops during WWII, was probably the first woman to be awarded the title of Major in the Greek Army for her service to the nation. Her blend of patriotic and satirical songs inspired young Greek soldiers and she travelled at great risk to entertain them – disguised as a nun to perform in Turkey defying German orders, in Italy during the Greco-Italian war, in Egypt and beyond.  She died 42 years ago, on March 11, leaving behind a rich repertoire of 'archontorebetiko' songs.
Perhaps Sofia Vembo's empathy for soldiers and veterans could be traced back to her birthplace Gallipoli, the site of one of the deadliest wars in history that cost 500,000 casualties – killed, wounded, missing and sick – shared about equally between both sides. Born on February 10, 1910 in Gallipoli, Eastern Thrace, Sofia Vembo (her real name was Efi Bembou), went on to become one of Greece's most recognisable voices during the interwar years. Her bass voice and lyrics that evoked hope and inspiration were wartime anthems for Greek troops. She had a brief but influential acting career playing lead roles in Prosfygopoula in 1938 and in the classic Stella in 1955 and Stournara 288 in 1959 where she plays a famous singer, abandoned by her fans, eking out a living as a piano teacher.
Sofia's family had migrated to central Greece following the Asia Minor catastrophe in 1922 and she worked long hours, working alongside her parents at a tobacco factory. She was accidentally discovered as she sang at a patisserie in Thessaloniki. Three years later, in 1933, shed moved to Athens where she was sought out by wealthy entrepreneur Fotis Samartzis, owner of the popular Kentrikon theatre to participate in the revue Parrot 1933.
Soon a recording contract followed with Parlophone. She'd been rejected by Columbia Records for 'having too bass a voice.' Her Min zitas filia (Don't ask for kisses) was such a runaway hit that Columbia Records' representative in Greece, Mr. Vitalis came back, tail between his legs, to sign her on a lucrative, long-term contract. Her 78rpm disc (recorded under the Columbia label) S'agapo validated their decision, smashing all previous record sales. Concerts abroad followed:  she travelled to Egypt to entertain the Greek diaspora in Alexandria at the majestic Grand Theanon theatre; to the legendary Maxim in Istanbul and to StClaire in Cyprus.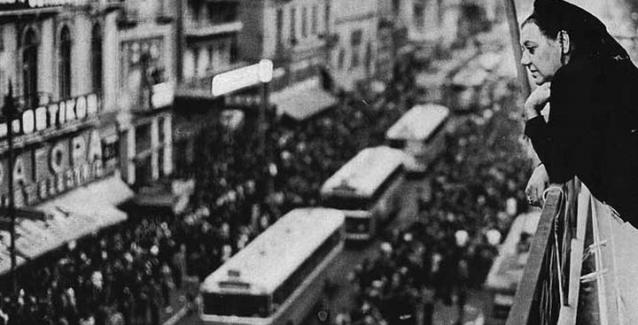 When Greece enters into a war with Italy with Metaxa's famed 'Oxi' in 1940, it was Vembo's voice that rallied Greek troops on Greek National Radio (ERT). She travelled extensively, undercover at times, and soon earned the moniker "Songstress of Victory." Sofia became a major inspiration to Greek soldiers at the battlefront with her performances of patriotic and satirical songs. She generously donated 2,000 gold pounds from her personal fortune to the Hellenic Navy. Even the German invasion that followed in April 1941, didn't deter Sofia from travelling to the Middle East, to perform for the Greek troops in exile.
Perhaps her most well-known anthem was Paidia tis Ellados Paidia, which virtually became a national hymn that struck a chord with young soldiers and gave hope to their families. It is one of the most significant and monumental songs of the 40s and the Second World War for Greece, a song referring to the children of Greece, the soldiers who were fighting on the mountains against the invaders, trying to defend their country.
Her role in the war and her efforts during the Axis occupation earned her the rank of Major in the Greek Army, perhaps the first woman to be bestowed the title.
Shortly after WWII and Greece's visceral Civil War, Vembo acquired a theatre in Metaxourgeio, in 1949, where the icionic open-air cinema Ermis used to be. Theatro Vembo still stands, at the same address on Karolos street after all these years and is an established cultural institution in the Athenian creative scene.
After a long and tumultuous relationship with her songwriter and lyricist, Mimi Traiforos, she finally married him in 1957. Her frail health meant fewer performances in the '70s but her defiant spirit came through during the Polytechneion student rebellion under the oppressive junta regime. Her home soon turned into a sanctuary for students fleeing the military police. Such was the respect she commanded among uniformed troops, the army did not dare question her motives.
Sofia died on March 11, 1978 following a fatal stroke. The throngs at her funeral were a testament to how deeply this lady, who survived war and poverty to become a rallying voice for the brave and wounded, was adored by a grateful nation.
---