New luxury for a new era
Few hotels can claim to be destinations in their own right. Fewer still are so iconic as to have become bywords for luxury and hospitality. But by exuberantly layering old and new, international and local – and imbuing it with as much character and craftsmanship as the sprawling 30-acre complex can possibly hold – Four Seasons Astir Palace lives up to the loftiest of expectations. General Manager Sam Ioannidis walks us through the creation of the first Four Seasons experience in Greece.
It is one of the most eagerly anticipated hotel launches worldwide – with good reason. For sheer romanticism and location, Four Seasons Astir Palace sets a high standard: it is moored like an ocean liner on a pine-clad peninsula, sandy beaches nestled below its terracotta cliffs, in a painterly palette of lush green and a roaming spectrum of blues. Add to that the glam quotient of being the favoured stomping ground for the glitterati – from Jackie O, Frank Sinatra and the Beatles to Lady Gaga, as well as being the last stop for President Obama on his legacy tour – and it's clear how the Astir earned its reputation as the 'salon' of Athenian society who rubbed shoulders with guests from the worlds of film, music, art, literature, politics and sports in its storied lobby. Just weeks shy of Four Seasons Astir Palace's grand opening on March 29, General Manager Sam Ioannidis takes us on a stroll around the complex.
The animated energy is palpable. "Four Seasons is creating a new luxury experience for a new era, bringing a legendary product back to life," enthuses Ioannidis.
Our stroll of the grounds is one he does often. "I walk the property frequently, just to get a feel, and watch how a guest would enter, how would they leave, and the experiences in between," he says. "The views, sights, sounds constantly at any given time of the day, it's quite magical."
Renaissance as Four Seasons Astir Palace
What Four Seasons Astir Palace has tried to achieve is quite remarkable. The design brief was to respectfully rewrite the relationship between an iconic property and a modern hotel, combining design and an interplay of colours and materials, without losing its soul. A tall order, but AETER, the architectural practice that has undertaken the whole study of the Astir redevelopment project, have done an extraordinary job. The aesthetic reflects the design elements of the '60s yet draws on Athens' contemporary, uncompromising spirit to create a space that is as inspiring as it is welcoming. Designers at Meyer Davis, Martin Brudnizki and K Studio take no prisoners here. Regulars will be reunited with their Astir memories; Four Seasons 'groupies' will find the elevated levels of service that the brand has built its reputation on – and almost everyone will leave with a better understanding of what makes this property truly legendary.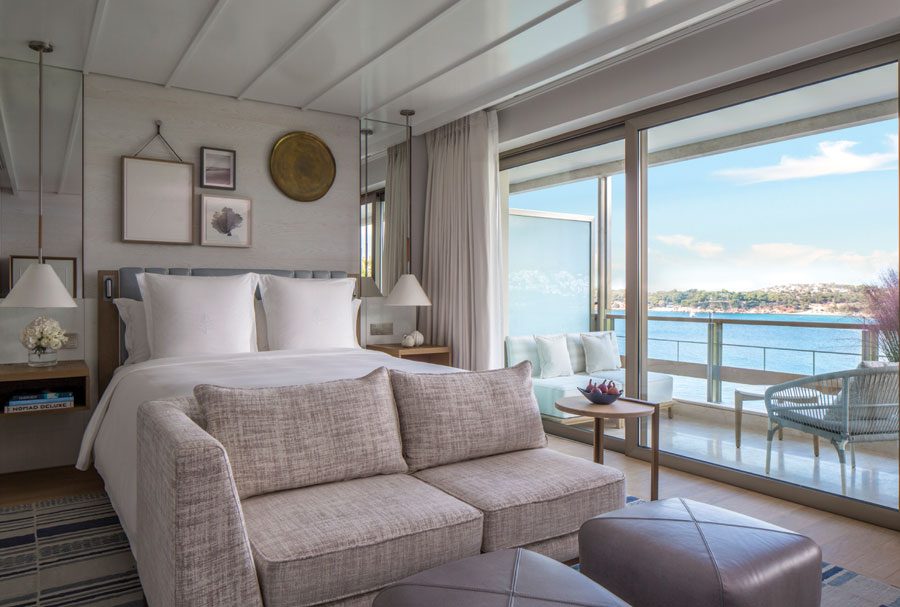 The Four Seasons Astir Palace complex features two hotels, the "sophisticated" Arion and "boho-chic" Nafsika, as Ioannidis describes them, which count 303 rooms and 42 suites between them. There is also a collection of 61 seaside bungalows whose style combines "the appeal of a bygone age with a few contemporary touches".
The designers focus on subtlety and simplicity to create a resort imbued with discreet luxury, simplified use of space and more intimate areas which do not interfere with the hotel's convivial atmosphere. Wherever possible, they've used large bay windows and magnificent glass ceilings (as in the light-filled spa), to meld in the interior and exterior and take advantage of the spectacular views of the Saronic Gulf.
The whole property has been enhanced with more light, more character, more Greek elements and an extraordinarily airy elegance.
Art matters
The impressive artworks that will embellish the Four Seasons Astir Palace were selected using the same principles of blending modern design with respect for the hotel's heritage. Over 2,000 pieces of art have been carefully curated, through which the hotel hopes to enhance the feel of the property and elevate the guest experience by offering more than just a building with rooms and beds.
As Ioannidis puts it: "Guests seeking meaningful experiences that connect them to communities and engage them with ideas will find that the art collection at the hotel offers an aesthetic experience that exceeds the emotional and physical expectations of their journey."
The collection includes thought-provoking sculptures by the famed Sir Anthony Gormley gracing the outdoor spaces, but largely features the works of talented Greek artists.
Sustainable luxury
The underlying philosophy at Four Seasons Astir Palace is that of sustainable luxury and it comes through in every aspect of the hotel's operations. As we follow a path threading between the pines, Ioannidis explains that sustainable tourism is about incorporating the local community, protecting the cultural heritage of a place and recycling by using natural resources intelligently. To that end, he says, Four Seasons Astir Palace hopes to set a benchmark in the hospitality industry by incorporating the resort's locally-grown herbs into the food and spa experiences, planting over 6,000 additional trees and indigenous plants on the peninsula, using solar power systems for hot water heating and implementing a near-zero level of plastic use.
"There are things that the guests will feel and see," he says, "such as the reduction in disposable plastic, and there are things that they may not see, such as the way that we save on electricity and water.
These are the sort of touches that make Greeks proud of what we are doing here and create a strong sense of place for the world traveller. So, we are using a lot of the elements of Greece, and specifically of Vouliagmeni, to bring that character."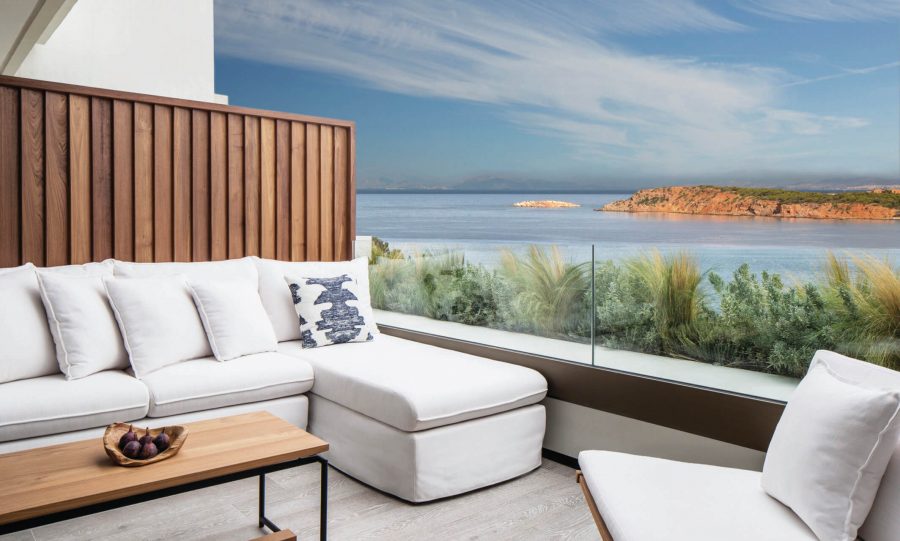 Additionally, on the subject of supporting the local community, Ioannidis stresses that Four Seasons Astir Palace employs mainly local Greek staff, while working with local farmers, producers and small businesses whenever possible.
Thus, the resort will not only breathe new life into a legacy but enrich the community. "We have visionary owners, AGC, who have invested a great deal on this asset and the peninsula to help us build something very beautiful," he says. "We have the opportunity to be quite innovative and set a new standard within the community. Greece is known for its filotimo and its hospitality, and we want to add to this."
Wellness sanctuary
Our shady path bursts out onto a shrub-studded cliff with the Saronic Gulf extending before us in an iridescent haze. As we breathe in a tantalising medley of salt-sprayed herbal aromas, Ioannidis mentions how these very elements, curative seawater and healing herbs, are incorporated into the treatments at Four Seasons Astir Palace's wellness centre.
"We are using indigenous herbs to create some of our local scents and we have some really unique products that are non-invasive medical treatments," he says. Lavender, aloe vera, mint and sage are among the plants used in treatments inspired by centuries-old beauty and bathing rituals.
As befits its wave-caressed position on the peninsula, most of the nurturing and soothing treatments at the spa and wellness centre incorporate the healing power of water. Expect to soak in H2O goodness in the spa's Fountain House, a hydrotherapy zone that includes a 25-metre indoor pool, aroma steam grotto, chill showers, sauna and hammam facilities that provide the highest level of 'Sanus Per Aquam', health through water experiences.
Guests who wish to enjoy a spa experience in communion with nature can do so at an external cabana on the hotel's private beach. Carefully conceived to reach a heightened level of pampering, its signature treatments, the 'Iremia Stillness Recovery Ritual' is 120 minutes of sheer bliss and the 90-minute 'Epanorthosi Green Caviar Repair' facial is designed to quench the eternal quest for everlasting youth!
"We've hand-picked each and every therapist," says Ioannidis. "Our original and innovative programme is an ideal blend of ancestral Hippocratic knowledge and cutting-edge technology to create bespoke, integrative treatments."
Food and flavours
Local produce is not only on the menu at the spa but also at all of the Four Seasons Astir Palace's varied dining venues.
"We have eight very distinctive, authentic restaurants and lounges that tie together land and sea to create a true dining destination in the city," says Ioannidis.
Delight in just-caught fish cooked to perfection; enjoy the unrivalled flavour of freshly picked home-grown vegetables and herbs from the resort's kitchen garden; hesitate between a succulent osso bucco or a delicately flavoured ceviche. The emphasis is on skillful and artistic dishes by chefs who are passionate about their craft.
From Mercato, serving inspired Italian cuisine, to Pelagos, for bounties from the Aegean; Taverna 37 for delicacies anchored in Greece's rich culinary tradition; Helios serving authentic Latin American flavours; Avra and Astron all-day lounge terraces; and even the Aristotelis Cigar Lounge, pairing fine cigars with rare cognacs, it's a tastebud-tingling array.
Located within the grounds of Four Seasons Astir Palace is the famed Matsuhisa with its unrivalled Japanese-Peruvian cuisine that has brought the quiet power of Japanese culture and the charm of fusion philosophy to the gastronomic map of Athens.
There's a restaurant here for all occasions, whether languorous Sunday brunch or a celebratory meal, a romantic dinner or business lunch, and the dining experience is enriched by intuitive lighting and details of discreet luxury. Conviviality, hospitality and sharing, as important Greek traits, are hallmarks of the Four Seasons Astir Palace dining experience. "We want to be the 'living room' of Athens," smiles Ioannidis. "We've infused the property with the vibrant urban culture of Athens to draw our fellow Athenians to come for a cup of coffee, enjoy diverse and exciting dining options and experience Four Seasons hospitality."
Luxury shopping
Of course, no luxury experience is complete without shopping. From fine gems and timepieces, designer swimwear and haute couture, an art gallery that showcases contemporary talent and a museum store that shines a light on Greek heritage and craftsmanship, the retail environment at Four Seasons Astir Palace is designed to inspire and allure discerning shoppers while creating an authentic emotional connection with Greece.
Bespoke services, unique experiences
From its privileged waterfront position, Four Seasons Astir Palace guests are perfectly situated to enjoy a plethora of water sports, from diving and snorkelling to sailing.  "We are very blessed to be on the peninsula: The famous Astir Beach is right next to us," enthuses Ioannidis. "And our owners have invested a lot into the entire development, so guests who want to moor their beautiful yachts can avail of the full-service Astir Marina we are attached to."
Guests who prefer to stay on terra firma can hone their serve at US-certified tennis courts, team up for a game of football or work on their layups at the basketball court. Or sign up for cookery masterclasses with world-class Greek and international guest chefs. Meanwhile, special kids' amenities keep young guests imaginatively entertained so their parents can truly relax.
If you can tear yourself away from the peninsula and its limitless attractions, the hotel teams create bespoke trips designed to foster Greek customs.
Visit a vineyard, stomp grapes, take part in local wine-degustations and let tough-to-pronounce Greek grape varieties roll off your tongue like a true connoisseur. Immerse in local culture on overland day trips or half-day boat trips to nearby islands; take in the city's landmark sites such as the majestic Parthenon; experience Athens' vibrant night life and learn to shake a leg (do throw carnations; don't break plates!) at DJ-themed bouzouki nights.
As Ioannidis says, "The whole community is a great destination for Greeks and visitors alike to enjoy, and for the world traveller to cherish singular experiences."
Many resorts have a wide array of activities to sample; others have extraordinary architecture; others, delicious dining options; and still others a sublime setting. As well as combining all of the above, what Ioannidis believes makes Four Seasons Astir Palace stand out even further is the people working there, and their level of commitment.
"Four Seasons is known as an employer of choice globally and that is because of how we treat and evolve with our employees," he says. "At the end of the day, our staff are the ones dealing with our guests and those experiences are the magical moments where we create craft and character."
"Especially here in Greece," he continues, "we are known for 'philoxenia' and 'filotimo'. And we really want that level of authenticity. It's about being friendly and authentic. As General Manager, I want our team to be passionate, proud of where they are from, and able to speak confidently and authentically about this very unique destination."
---