It is always a matter of light
A more fitting site for an explorer of the human form and its relation to space would be hard to find. Sophia Hiniadou-Cambanis speaks to Sir Antony Gormley, as he repopulates the sacred island of Delos with iron 'bodyforms', restoring a human presence and creating a journey of potential encounters.
I observe him carefully. Constellations of words and phrases take shape underneath the perfect straw hat, pulled tight over his head. He is one of the most renowned sculptors in the world. An ingenious creator. A thinker. He stands in awe of the greatness of Aegean nature and history, and talks humbly of his sculptures. He feels grateful and privileged to be here. He talks about art. He talks about time. He talks about life.
"Culture is an art of time. My art has no intrinsic value until you see it. It's just a whisper in order to make you look more carefully at this splendor. It's a stimulus. Here you can feel the relationship between the mystical and economical and reth ink of the possibility to take back the agora."
Sight, a unique art installation with 29 works by the famous British artist Sir Antony Gormley is the fruit of the collaboration between the Ephorate of Antiquities of Cyclades and NEON Organization on the archaeological site and the Museum of Delos Island. A case of collaboration between the private and public sector that sets an example to be followed. Discovering Delos again through contemporary art and through the eyes of an inspired artist is breathtaking.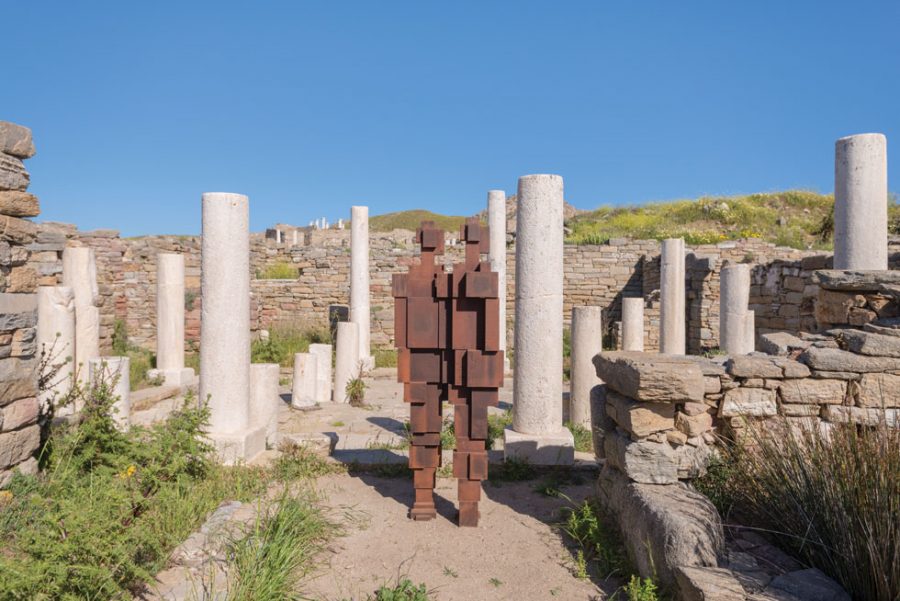 Gormley's anthropomorphic iron figures and totems are assimilated into the archeological site without imposing their presence. Iron is chosen wisely as the core material of the planet and the basis for the industrial revolution. A beautiful interaction between the artist, the visitor and the environment. A spiritual art work shown on the sacred isle of Delos, this uninhabited granite rock of great geological and archeological significance. This extraordinary cosmopolitan Hellenistic town in the middle of the Cyclades is a place where no artist has set foot for a thousand years.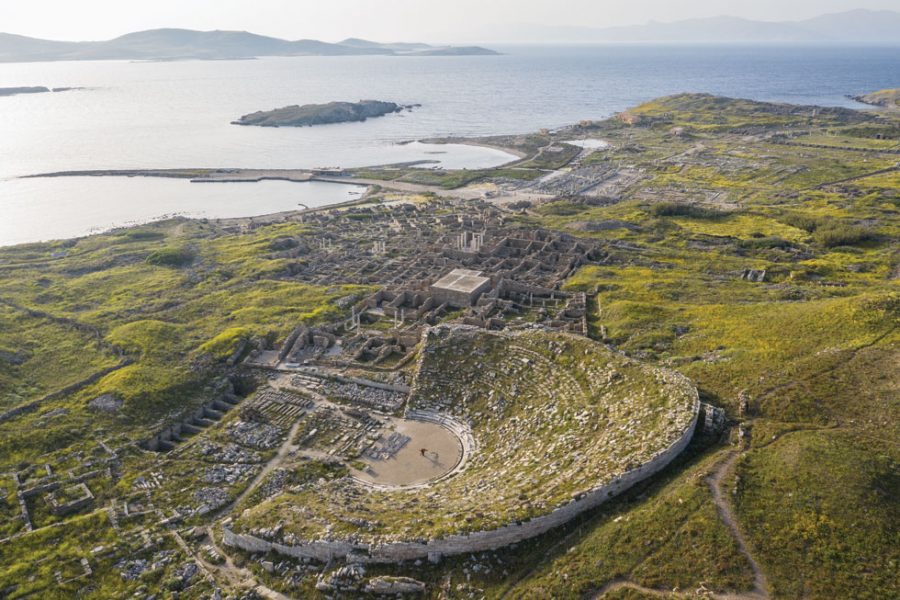 While climbing up to the highest point of mount Kynthos, we are gazing at the dancing light over the nearby islands. Strolling back down, I take in the outstanding beauty of spring flowerbeds among the holy ruins. At dusk, looking at the magnificent temples and the altars, the theatre and the stadium, the merging classical and contemporary art, I reconsider my world. Contemplation, serenity, hopefulness, light.
Antony Gormley is right. Art is a whisper of history, heard above the noise of time. A tool to mark space and time, to connect with our collective memory and to rethink the future.
---