Hydra, a muse for wordsmiths
A fertile setting for writers in need of inspiration, Hydra's bohemian artistic community in the '60s provided fodder for the literary wizards who'd adopted the island as their muse.  From George Johnston's barely-disguised biographies to Henry Miller's transcendental ramblings, Daniel Klein's epicurean musings and Charmian Clift's poetic writing, all beautifully brought together in Polly Samson's latest literary offering, Hydra plays protagonist and muse.
The Colossus of Maroussi, Henry Miller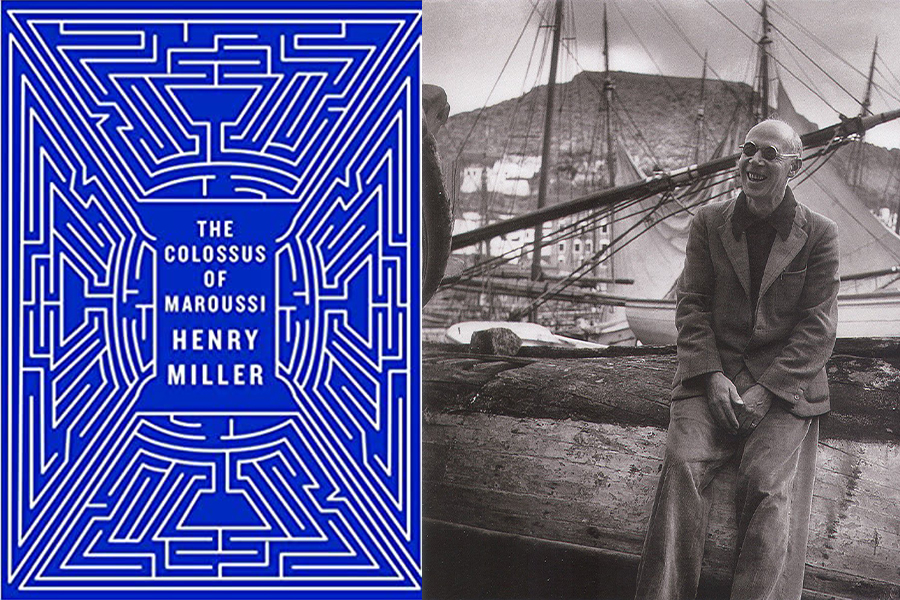 Miller's Colossus of Maroussi is an impressionist travelogue, first published in 1941 by Colt Press of San Francisco. In 1939 Henry Miller travelled to Greece from Paris, where he had been living at the time, at the invitation of Lawrence Durrell, who lived in Corfu. During his 9-month stay, he traveled across Corfu, Athens, Poros, Hydra, Spetses, Epidaurus, Mycenae, Crete and Delphi. The Colossus defies the linear style of a travel narrative. The description of cities, archaeological sites and landscapes is interrupted by taverna scenes and by Miller's rambling and ranting about western civilization, the press, technological advancement and revolution.
Through Durrell, he met and befriended some of the most emblematic representatives of the group of poets, artists and intellectuals that became known as the Generation of the '30s. It is in Athens, a city "still in the throes of birth", against the "light and splendor of the Attic landscape", that Miller makes the acquaintance of intellectual George Katsimbalis, the 1963 Nobel Prize winner George Seferis and of painter Nikos Hadjikyriakos-Ghikas. The war was on, but forgotten in the company of those men. The trips and the evenings shared among them in tavernas, between intellectual conversations, fine food and lots of retsina, render The Colossus a book on friendship.
"The light of Greece opened my eyes, penetrated my pores, expanded my whole being." Miller attributes to his friends and their work many characteristics that he considers quintessentially Greek. Katsimbalis, the "Colossus" of the title, is passionate, a bon vivant with a strong sense of the tragic. As he talks "unhurried, unruffled, inexhaustible and inextinguishable", he grows out of his human proportions, becoming a Colossus. Ghikas is a "seeker after light and truth". Seferis is, according to Miller, the man who has caught and embedded in his work "the spirit of eternality which is everywhere in Greece". Seferis' passion for his country is, for Miller, a special and thrilling peculiarity of the intellectual Greek who has lived abroad.
His idealizing the Greek character and landscape and his tendency towards myth-making may at times seem over the top and naïf. Soon though the reader realizes that it is more of an internal landscape that Miller so emotionally describes and that his journey is one of rebirth.
---
A Theatre for Dreamers, Polly Samson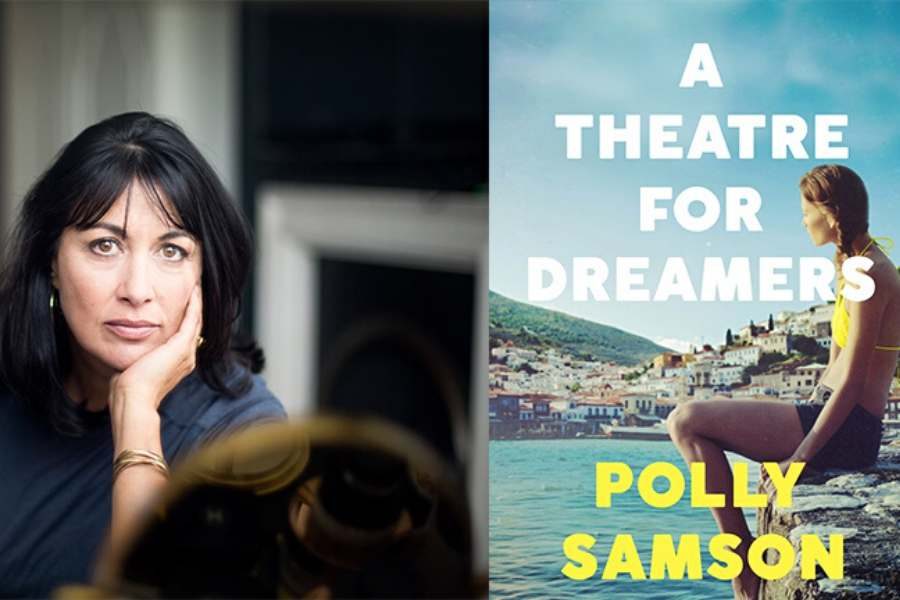 A brilliant read, full of humour and spontaneity, Polly Samson's skilled writing offers a fascinating, often voyeuristic account of the sexual jealousy, alcoholism, and bohemian lifestyle that pervaded the creative set in 1960's Hydra. Recounted through Erica, the daughter of Australia's tragic literary couple, writers George Johnston and Charmian Clift, the book dives into their fraught lives, into that of their friend Leonard Cohen and his muse Marianne, when they were all struggling to make it, typewriter-to-cheque, on a sun-drenched isle. Henry Miller declared Hydra aesthetically "perfect"; this was where the charmed trio of painters Nikos Ghika and John Craxton, with writer Patrick ('Paddy') Leigh Fermor spent their drunken summers. They all find their way into Polly Samson's A Theatre for Dreamers, their lives and wives often intertwined in a bohemian ballad.
---
Hydra and the Bananas of Leonard Cohen, Roger Green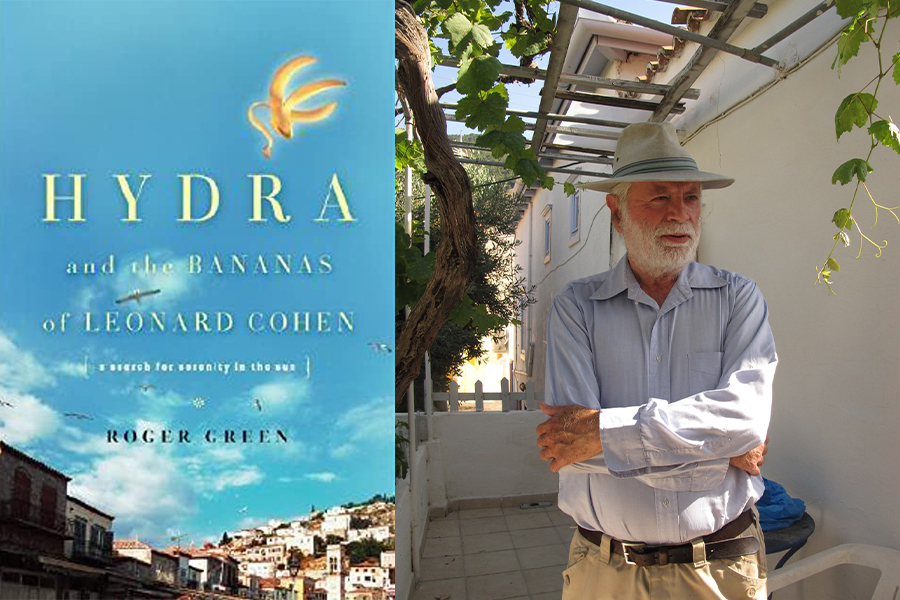 On an idyllic Greek island, the garden of sixties icon Leonard Cohen inspires a poet to question and ultimately celebrate the meaning of his own life. English poet Roger Green left the safety of God, country, and whiskey to immerse himself in an austere and sober life on the Greek Island of Hydra. But when Green discovered that his terrace overlooked the garden of sixties balladeer Leonard Cohen, he became obsessed with Cohen's songs, wives, and banana tree. Hydra starts with a poem the author wrote and recited for his fifty-seventh birthday (borrowing the meter of Cohen's "Suzanne," and ripe with references to the song), with Cohen's ex-partner Suzanne, who may or may not be the subject of Cohen's song, in the audience. By turns playful and philosophic, Green's unconventional memoir tells the story of his journey down the rabbit hole of obsession, as he confronts the meaning of poetry, history, and his own life. Beginning as a poetic meditation upon Leonard Cohen's bananas, Green's bardic pilgrimage takes the reader on various twists and turns until, at last, the poet accepts the joy of accepting his fate.
---
Travels with Epicurus: A Journey to a Greek Island in Search of a Fulfilled Life, Daniel Klein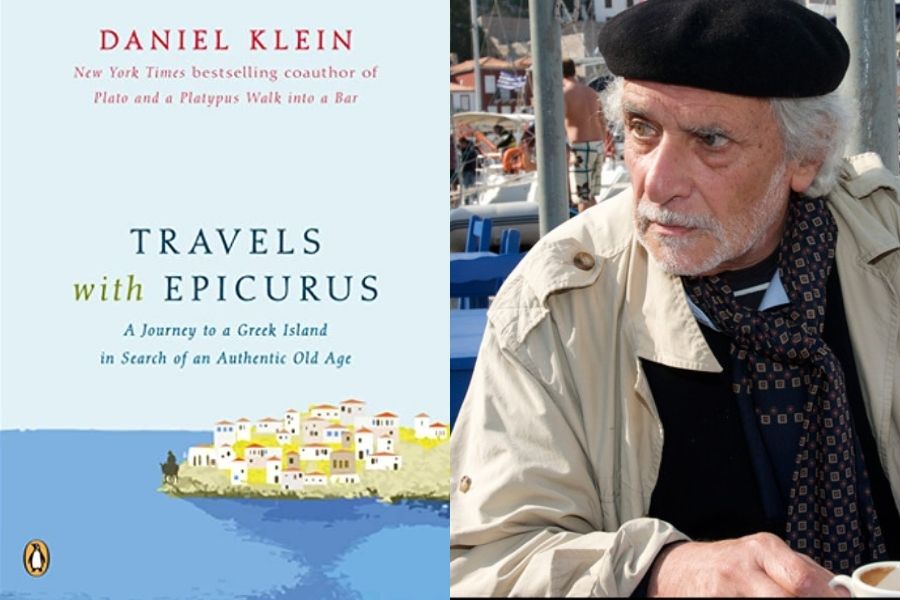 "It was not a birthday epiphany or a shocking glimpse in the mirror that set the wheels of this personal journey turning: it was something far more prosaic – a visit to my dentist". After being advised by his dentist to get tooth implants, Daniel Klein decides to stick with his dentures and instead use the money to make a trip to the Greek island Hydra and discover the secrets of aging happily. Drawing on the inspiring lives of his Greek friends and philosophers ranging from Epicurus to Sartre, Klein uncovers the simple pleasures that are available late in life, as well as the refined pleasures that only a mature mind can fully appreciate. Strongly recommended reading: a travel book, a witty and accessible meditation, and an optimistic guide to living well, "Travels with Epicurus" is a delightful jaunt to the Aegean and through the terrain of old age that only a free spirit like Klein could lead.
Epicurus wisely said, "Not what we have, but what we enjoy, constitutes our abundance".
---
Peel me a Lotus, Charmian Clift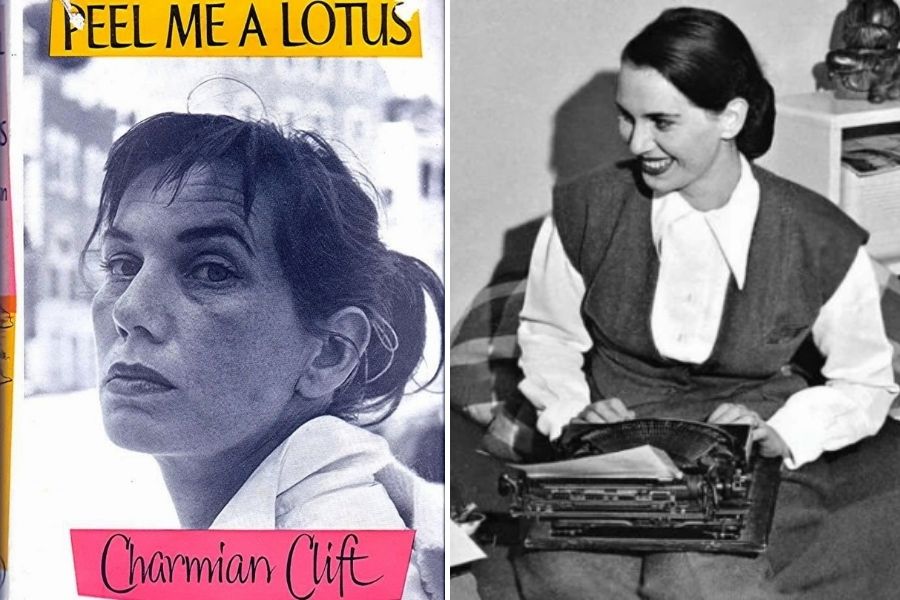 Australian writer Clift certainly felt she had found the good life on Hydra in the 1950's despite the lack of money and amenities. She luxuriated in the outdoors and a life that required physical effort – then, as now, no cars or bikes were permitted on the island. She and George Johnston were at the centre of a group of well-read and creative expatriates – some of whom, like Canadian poet Leonard Cohen, and Australian artist Sidney Nolan, were beginning to make international reputations. Hydra gave her the impetus to explore the travel writing mode to tell her story and she delivered a strong visual picture of the way of life as well as the challenges of being a wife, mother and writer in that environment. We see in Peel Me a Lotus many of the enduring conceits of travel writing: the flight from home, a penchant for risky behaviour, and anxieties about distant friends and family. Clift is self-consciously literary – reflective, descriptive, poetic, with a novelist's sense of restraint and form.
Clift continually fascinated by the tension between "terror and desire" whether she was giving birth or swimming in a dangerous pool at night below a cave on Hydra: Sometimes, for a mad moment, when my hand slips on the ladder and the iron rungs suddenly leap above my head and the weeds pour down, or I feel myself being hurled forwards towards those jagged, streaming rocks, the smell rises as though my mouth was stuffed with oozy sponges, and I am filled with something that is terror and desire both… to ride on with the wild horses to the waiting cliff, or to curl up small, close against the scaly rocks, to curl up small and let the wild horses ride over me.
---
Clean Straw For Nothing, George Johnston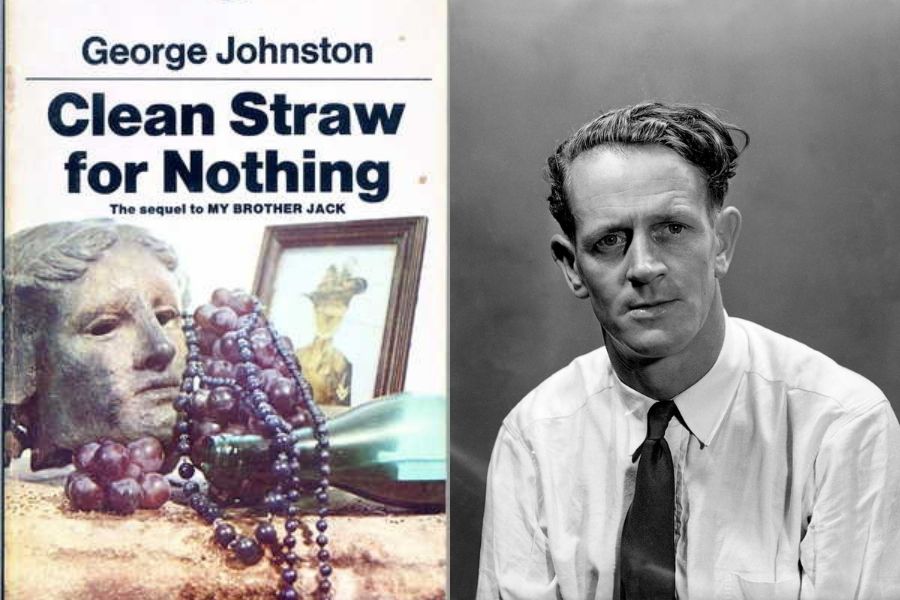 In real life, George  Johnston abandoned a conventional career in Australia in journalism and moved to a Greek island which was a magnet at the time for artists and writers. The novel tells the story of a journalist (David Meredith) who relocates to a Greek island, but fails to find the answers he seeks after even 13 years. Meredith's relationship with his second wife, Cressida, closely parallels Johnston's second marriage to Charmian Clift and their life on Hydra. Like My Brother Jack, Clean Straw for Nothing also earned Johnston the coveted Miles Franklin award, the highest literary honour in Australia. The novels chart the progress of schoolboy David from dreary first world war Melbourne suburbia, through his rise as a dashing newspaper reporter and war correspondent and his extramarital affair with the beautiful young Cressida. Their mutual disenchantment with post-second world war Australia traces Johnston and Clift's escape, first to London and on to the Greek island of Hydra where, as the mainstays of expatriate aestheticism, they raised children, wrote diligently, and drank with equal vigour while entwining themselves in the social and marital intrigues of the foreign bohemian community. Clift, an exceptional novelist in her own right, wrote a popular column for the Sydney Morning Herald. She'd been deeply anxious about Johnston's ("unflinching" but cruel) depiction of Cressida's marital betrayal of Meredith on the island.
On the eve of Clean Straw for Nothing's publication, Clift overdosed on barbiatuates in Sydney. In a posthumously-published essay, My Husband George, Clift wrote: "I do believe that novelists must be free to write what they like, in any way they liked to write it, and after all who but myself had urged and nagged him into it?"
---
A Sea Change by Elisabeth Jane Howard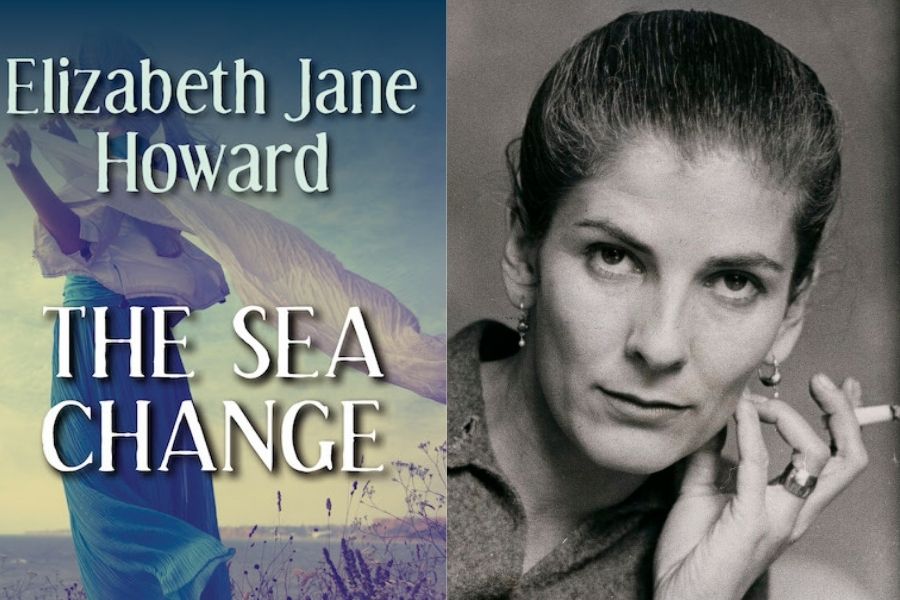 Narrated by four main characters, The Sea Change moves from London to New York to Athens and, finally, to the Greek island of Hydra. The bestselling author of the Cazalet Chronicles Elisabeth Jane Howard, (a brilliant writer who, for the better part, had to put her own literary ambitions on hold to play second-fiddleto that of her husband Kingsley Amis' budding career) delivers a novel about learning to move beyond the past without giving up our memories, and how we can change and grow.
A young Englishwoman, akin to a Jane Austen heroine, transforms the lives of a couple who has suffered a tragic loss in this story of love and redemption. Fourteen years after her death, the ghost of their baby daughter, Sarah, haunts world-famous playwright Emmanuel Joyce and his fragile, embittered wife, Lillian. They have each learned to cope in their own way: Emmanuel seduces his secretaries and Lillian keeps photos of her lost child on the dressing table of every hotel they visit. They're always on the move as they travel from city to city accompanied by Emmanuel's orphaned, hero-worshipping manager, Jimmy. But now a minor crisis looms: Emmanuel's latest secretary has taken a near-lethal dose of drugs on the eve of the Joyces' departure for New York to cast his new play. They need to hire a replacement immediately. Enter stage right: Alberta Young. A clergyman's daughter from Dorset, Alberta arrives for the interview clutching a copy of Middlemarch. She is unlike anyone Emmanuel, Lillian, or Jimmy has ever known. And little by little, she will transform all their lives.
---
The Water and the Wine by Tamar Hodes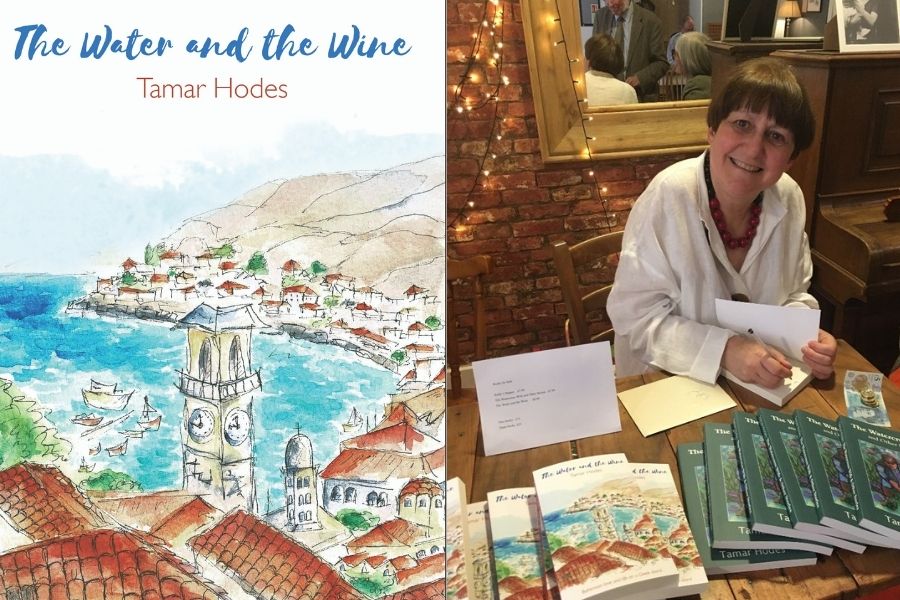 The story of Leonard Cohen and Marianne Ihlen on Hydra, Greece. It is the 1960s and a group of young writers and artists gather on the Greek island of Hydra. Leonard Cohen is at the start of his career and in love with Marianne, who is also muse to her ex-husband, Axel. Australian authors George Johnston and Charmian Clift write, drink and fight. It is a hedonistic time of love, sex and new ideas. As the island hums with excitement, Jack and Frieda Silver join the community, hoping to mend their broken marriage. However, Greece is overtaken by a military junta and the artistic idyll is threatened. In this fictionalised account, Israeli-born Tamar Hodes, who spent her early years in Hydra, explores creativity and the price that we pay for our dreams. Excerpts from the opening paragraph of the book:
Like its artistic inhabitants, Hydra was creative. It painted the earth with purple orchids, wrote itself into the history books and even made its own music. This included the hum of chatter in the air; the clink of coffee cups in the harbour café, and the light bells on the donkeys as they ambled slowly along the cobbles, bubbling in the sun. Cocks crowed their rough chorus and the single-belled chapel at the Monastery of the Virgin's Assumption added its tinny percussion on the hour.
---
---