How to make the most of your walk in the National Gardens
Thanks to Queen Amalia's green thumbs and royal landscapist Friedrich Schmidt's obsession with all things exotic, the National Gardens are a treasure trove for tree whisperers and nature lovers, but not only. The National Gardens regularly hosts outdoor workouts, yoga lessons, virtual art exhibitions and herb tours for the botanically-inclined. Here's how to max your time in Athens' canopied oasis.
Get to know your Trees and herbs: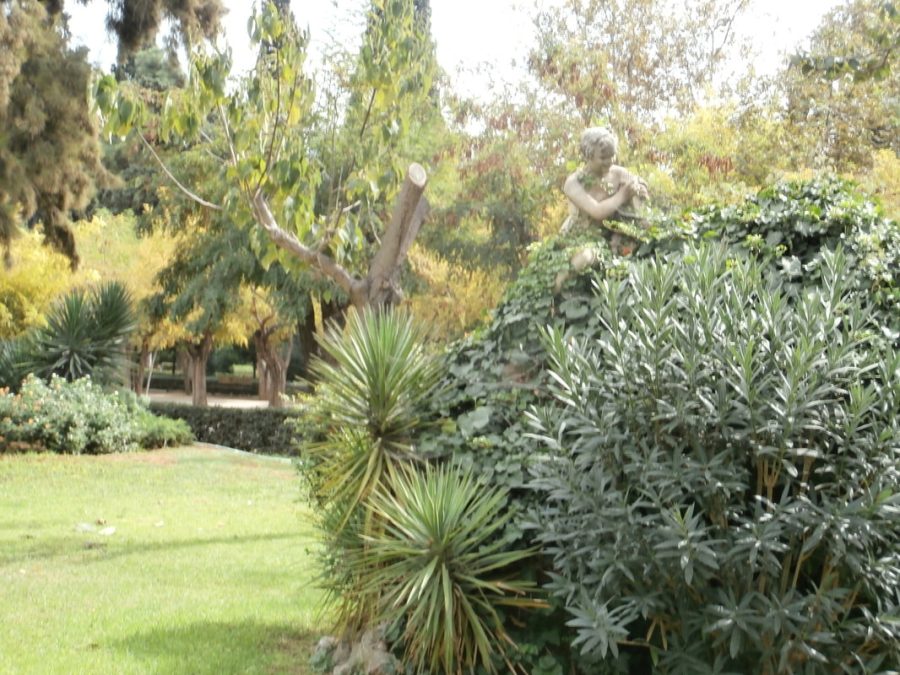 Do not walk past exquisite species of aromatic herbs and century-old trees without learning a bit more about their provenance and medicinal properties. To guide you through it is The Greek Herbalist who regularly conducts tours at her favourite stomping grounds.
https://www.thegreekherbalist.com/experiences/myths-medicine-plant-walk-national-garden-athens
Get a Workout: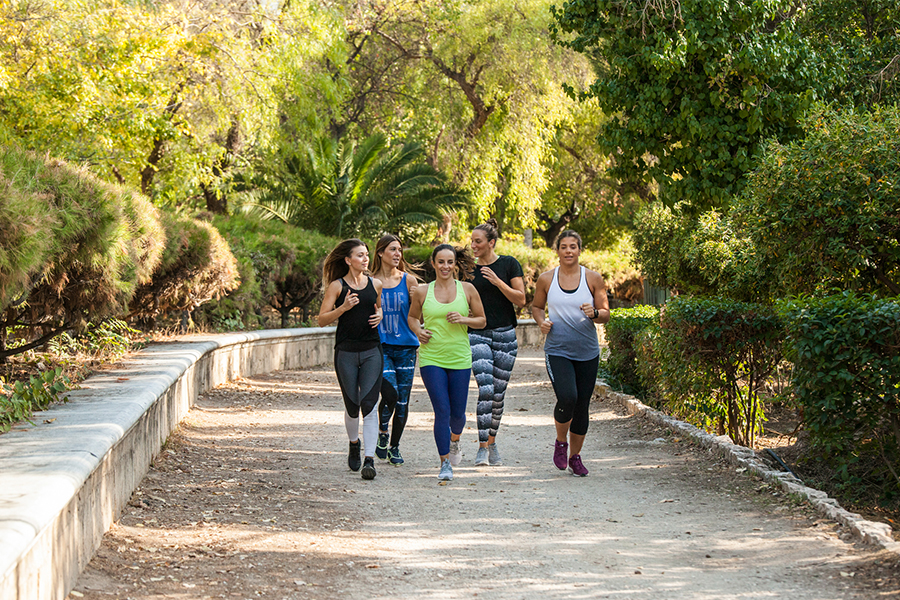 If it's motivation you lack, the dynamic duo behind Street Workout, Aggeliki and Tonia, have created a lively community of open-air exercise lovers, who participate in regular outdoor workouts run by qualified trainers. They'll keep you on your toes and stop you from getting bored with your routine (they also offer life-coaching along with a whole raft of more tailored physical activities, motivational tournaments and games).
For €10, you can join in one of their 60-minute small-group workouts at the Fokianos Sports Park, on Leoforos Vasilissis Olgas, (opposite the Panathenaic Stadium), which is equipped with facilities such as weightlifting racks, TRX handles, push-up bars, dip stations, medicine balls, BOSU, heavy ropes, a Pilates studio (Reformer, Wunda chair) in a peaceful setting surrounded by trees and greenery.
Find out more at streetworkoutathens.gr or call +30.693.7130974 and +30.697.240.2562
Take in some Invisible Art:


Combine the temperate weather this autumn with a stroll in The National Gardens while taking in a bold, new exhibition that will alter your reality and perception of art. Seeing the Invisible is an international augmented reality (AR) exhibition, currently on at ten botanical gardens across the world. All you need to do to feast your eyes on works by the likes of Sigalit Landau, Ai Weiwei, El Anatsui and more and the specially commissioned artwork New Life by Loukia Alavanou, is to download an app!
Seeing the Invisible is an augmented reality contemporary art exhibition initiated in 2021 by the Jerusalem Botanical Gardens in partnership with Outset Contemporary Art Fund, with the support of the Jerusalem Foundation. The first exhibition of its kind to be developed in collaboration with botanical gardens around the world, it features new works by more than a dozen international artists including Ai Wei Wei, Ori Gersht, Mohammed Kazem, Sigalit Landau, Sarah Meyohas, and Jakob Kudsk Steensen—including several artists' first works in AR. Co-curated by Hadas Maor and Tal Michael Haring, the exhibition's themes centre around our relationship with nature and explore the boundaries and connections between art, technology, and nature. The AR nature of the exhibition allows for immersive works that engage with the natural landscape beyond the boundaries of what is possible with physical artworks.
How to experience the exhibition:
All you need to do is download the special app here and aim your camera to discover the hidden artworks. Post it on the 'gram, pose, play. Follow the clues via GPS  to stroll across the park and catch sight of  all the artworks. Seeing the Invisible app is accessible on both iPhone and Android.
Please note:
Download the App prior to setting off.
Please come with your phone battery fully charged.
Consider bringing earphones as most artworks have an audio aspect.
For more information, please visit the Seeing the Invisible website.
Where: At the National Gardens, Athens
When: October 2022 – September 2023. Visiting Hours: During garden's opening hours
Salute the Sun and Breathe: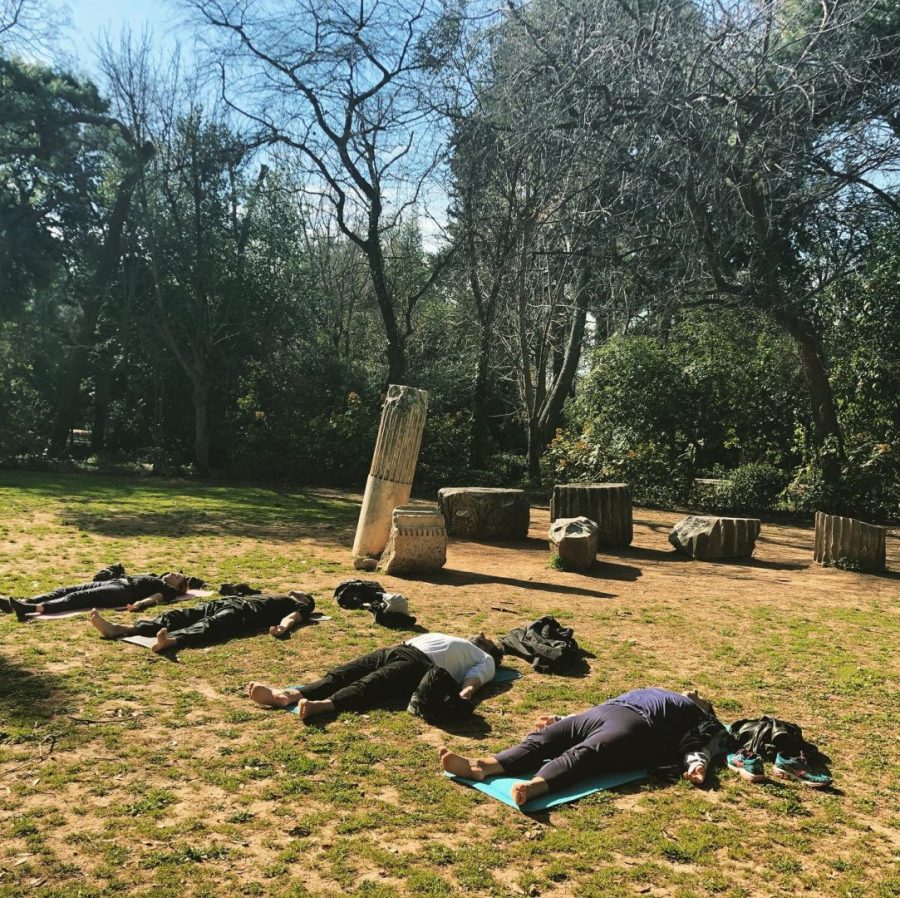 Why not take in the extraordinary setting of the National Gardens for a Hatha yoga session. Downward dogs and sun salutations under wizened trees somehow have a better ring to it than being cloistered in a sterile gym. Meditate on the many blessings of being an Athenian with somayoga.gr
If all else fails, caffeinate: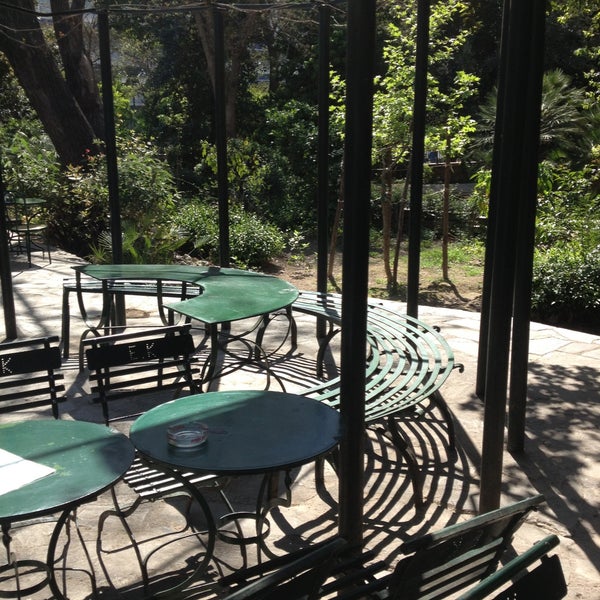 If you're not a fitness freak or an overt nature lover, but coffee is your thing, surely the canopied café at the National Gardens is your choice getaway to get your morning cuppa before heading off to work. A very conveniently located ATM shares space with the café.
Tel: 210. 7232820
---