High Priestess of Pleats
Her sculptural forms feel like moving pieces of fine art. She painstakingly twists and contorts silk into new forms and shapes that make for stunning showmanship and thought-provoking personal self-expression. Daphne Valente's sculpted works of wearable art are as timeless in their sophistication as the designer herself. Visit the priestess of pleats at her new store at Kornarou 6, that opened this October.
It was Spanish designer Mariano Fortuny's Delphos gown, inspired by Greek antiquity, with its flowing, masterful folds resembling columns, that set Daphne Valente onto her pleated fashion destiny.
In her 35-year career, her sculptural fabrics, inspired by the timeless beauty of Ancient Greek statues, have attired many an elegant Athenian and her trademark pleated scarves, adorned many a graceful neck. Daphne's meticulousness in design is evident even in her space-agey packaging. Her scarves are rolled into what can only be described as a 'hi-tech Grecian column' and come complete with a guide in the myriad ways you can wear the scarf – proving both the versatility and the pliability of pleated fabric.
Minimal and very feminine, her 'unhinged'pieces with soft, straight-hanging lines look effortless and statuesque, combining elegance with simplicity and function. Her line of fashion jewellery – an area she ventured into only recently, evoke that same sense of timeless sophistication.
You've been one of the pioneers in Greek fashion, what drew you to fashion in the first place?
My aunt had an atelier in Kolonaki in the 50's and she used to collaborate with Guy Laroche, then a young designer in Paris. He'd send her patterns of his collection and they would make clothes for Athens' elite ladies. There was a lot of activity at the atelier, with ladies trying out new dresses, buying clothes. I remember sitting on Queen Frederika's lap, in between her fittings. So, I grew up in this ambience of an atelier. I was also artistically inclined – I was very good with my hands, making and sculpting things. So, when I had to decide, first I thought I was going to study theatre design and costumes but then I decided to go for fashion.'
And you studied at London's very prestigious Central Saint Martin's?
Yes, but before that I went to FIT, Fashion Institute of Technology, in New York.  But that was just an excuse for me to party at Studio 54! I had no idea how prestigious Saint Martin's was, at the time.  I guess I got accepted because I spoke my way through – my portfolio was non-existent. I was in the same year as John Galliano, and it was very exciting times and graduated in '83; my degree collection, based on printed Trompe l' oeil (Optical illusions) dresses, was considered very original and was bought by Browns. Then I made the big mistake of quitting London to move back to Greece, which was very conservative then.  I had all these crazy ideas and I felt completely lost. So, for many years, everybody would say 'oh the new talent' but I could see no money coming into my bank account.
How did you hone your creative style?
I found my creative style quite early. I went to see Mariano Fortuny's exhibition at a museum in Brighton. Here was a designer who at a time when ladies were dressed in corsets, liberated the body by designing Grecian inspired dresses of pleated silk. When I entered this museum, I had no clue as to who he was and it was like a revelation for me,.  I started looking for ways to pleat my first skirt, my first dress and so on.
Now pleats are all the rage…
Yes! It upsets me because I want to be different and by the way, I've been designing pleats way before Issey Miyake. I'm upset being referred to as the 'Greek Miyake' because I was doing pleats in '87 and he started in '94. Plus, we have a completely different approach to pleating and how we cover the body, I do sculpture and Issey Miyake, who's a brilliant designer, does geometry. Let's say, what I do, is the feminine side of pleating.'
What is your design philosophy?
My philosophy: less is more. I make minimalistic clothes that manage to steal the show in their simplicity, not because they are adorned or because they have lots of things on them. And that's what makes them appealing and trendy.
Describe your creative process.
I've been designing for almost 35 years. So, every season, I go through the same process. I go through hell saying the well of ideas has dried up. And then when I have the first idea, the cascade starts, it's a rush of creative energy. But every season starts in agony…
How did you move from clothes to jewellery?
I approach my fun, colourful collection of jewellery embracing the art of Trompe l'oeil. It's a three-dimensional process. I cut and combine cascading paper or sculpt designs in silver or gold foil. I often wear my paper or foil jewellery until I've tweaked it the way I want. My jewellery is more tongue-in cheek, more statement pieces.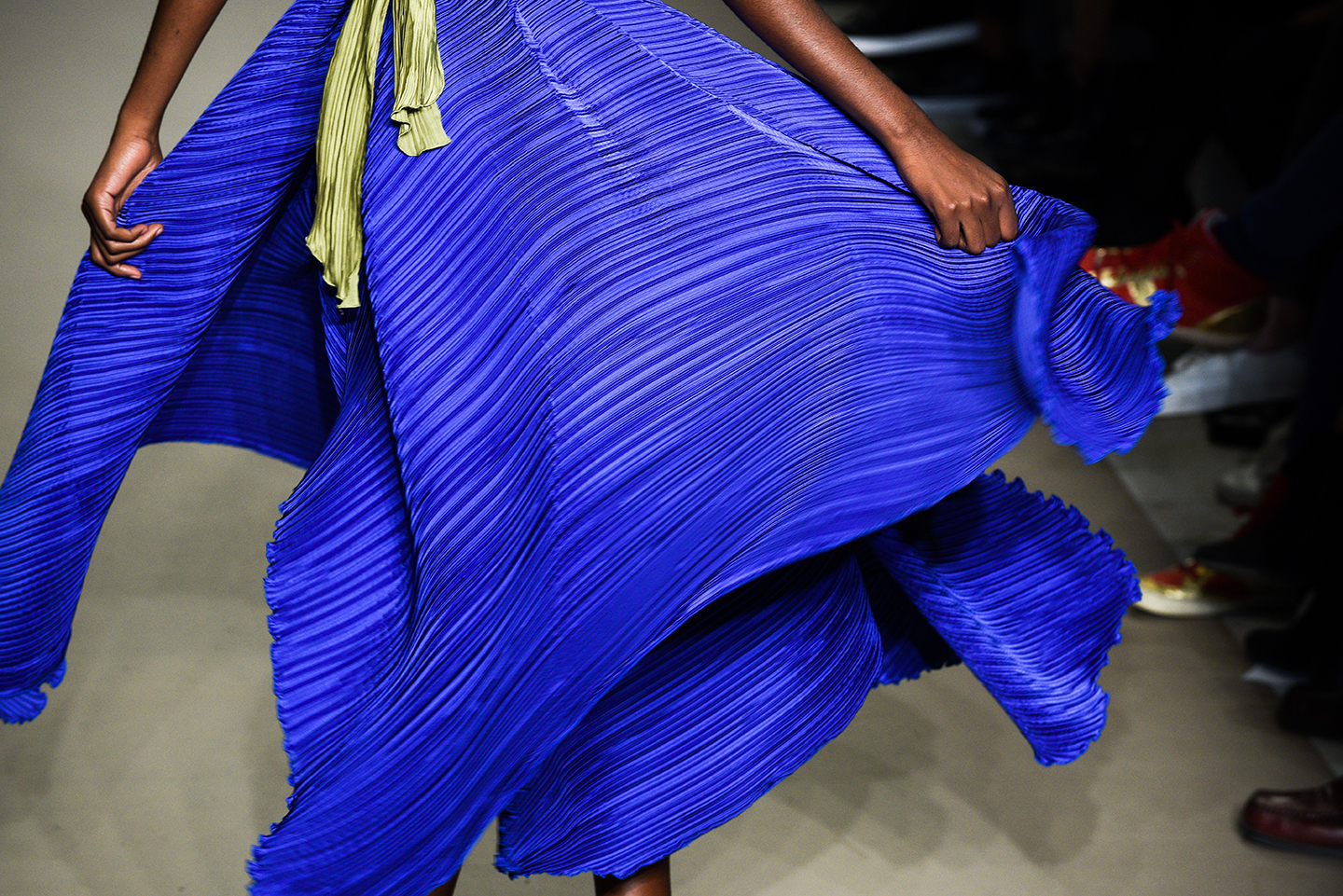 You've used your fashion shows and your reputation as a platform to draw awareness to animal rights abuse. Fashion with a conscience?''
Well, since the beginning of my professional career, I've never used leather or fur on any of my designs because I believe there are so many alternatives to keep warm, what's the point of breeding poor animals just to kill them for a coat. I find it appalling that its taken this long and so many fur coats for some of the fashion houses to finally speak up against fur. I hope I'm going to be proven wrong, but I'm sure, in a couple of years, they are going to say 'we've changed our minds, now fur is back in fashion.' Fashion is very frivolous in that sense. But I've loved and lived with animals all my life, so I can't accept the idea of killing animals for vanity.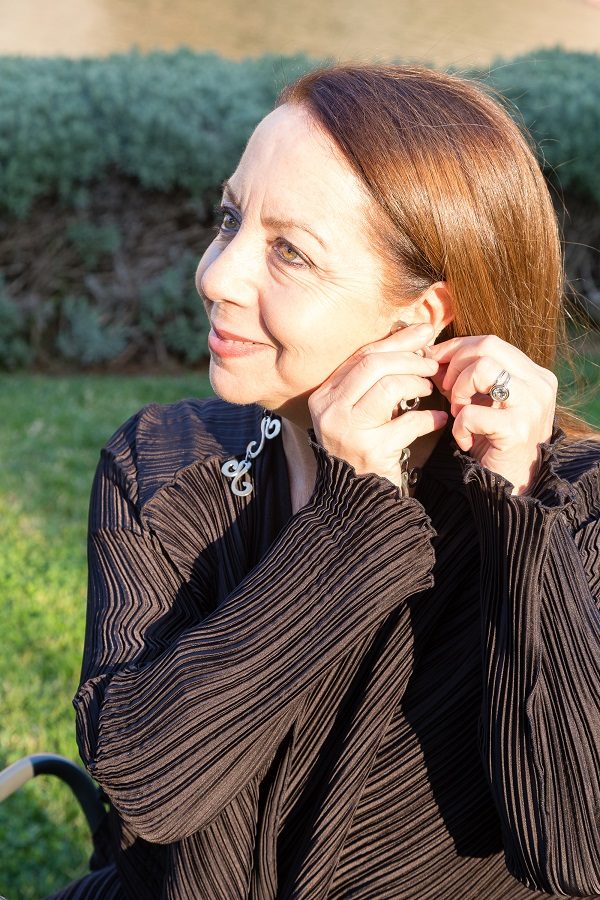 Your fashion show for SS19, 'Making Waves' highlighted marine pollution.
What is the sea now? It's a mess, it's a sea of plastic bags. Fashion has a powerful voice and I believe that it has to pass on a positive message and shake things up by creating awareness of. So, before the show, I collaborated with GreenPeace and we showed a short video of the state of our oceans. My collection had to do about the movement of the sea and the waves forming the sleeves. It was a very floaty collection and at the finale, the last model came out wearing something that looked from the distance like an haute couture wedding gown but when she approached the people, they realized it was made out of plastic bags, plastic straws, plates, cutlery – all the garbage you find at the beach and you could sense they were shocked. Then the model dramatically turns, faces the audience, rips her plastic dress apart and underneath, a very pure, simple, clean cut dress, printed with a calm beautiful sea emerges. It was to show that you can get rid of the garbage and regain the beauty of the sea.
What do you make of the Greek fashion scene today?
It is a pleasant surprise. I find a lot of new designers with very focused products who draw their inspiration from their Greek roots. That is something I was screaming about from the beginning of my career – that our roots empower us. When I said it, they thought I was naïve.  So I'm very happy to see this evolution in Greek fashion. Greek fashion didn't have identity before, now its creating a strong personality and I think it's very pleasant for foreign tourists who are looking for Greek design to discover that distinctive Greek touch.
Karl Lagerfeld, who recently passed away, said that elegance is an attitude. Would you concur?
I just discovered that I share my birthday with Karl Lagerfeld and Elsa Schiaparelli! But to come back to your question, elegance might now be considered old-fashioned, but I physically hurt when I see the trend towards ugliness.
How would you describe a typical DV customer?
My customer is an intellectual. She is a thinking woman. With a career. She loves to steal the show in her elegant simplicity. I have customers who are so attached to my collections, who love the sculptural aspect, the fluidity of the fabric and they're very comfortable and playful too!
Daphne Valente's collections are sold at her new store in Syntagma at Kornarou 6, 10563 Athens. Tel: 213 0465138

Her collections can also be found on her e-shop, in Greece, Cyprus and Lebanon in exclusive boutiques and resorts, while her accessories are sold at the art shops of the Stavros Niarchos Foundation, at the Benaki Museum Shop and at the Lalaounis Jewellery Museum.

---