Greek Wines: To Assyrtiko and Beyond
Athens Insider's wine connoisseur Tom Hall continues in his quest to explore less-known Greek grape varieties and culls three wines that should take you beyond your 'assyrtiko' comfort zone.
I understand of course that the pursuit of novelty is a fool's quest. Apart from anything else newness is no guarantee of quality and often the opposite. That said there is something horizon-widening about discovering something previously unknown. Novelty, however, is highly subjective. I have a friend who is constantly aghast at my lack of cultural references. His horror when it turns out I haven't seen a much-loved film of his fills me with shame, a feeling which isn't lessened when it turns out that there is only one copy of said film which is kept under lock and key and only screened once a year during the blood moon. I, on the other hand, was inordinately proud to have recently pointed a friend in the direction of a work by the little-known auteurs at Walt Disney Animation Studios (Big Hero 6, by the way, totally unmissable and readily available). See, subjective.
So even as a keen consumer of wine, until a few years ago assyrtiko was a bit of a new thing for me. It wouldn't have been an obvious choice for me on an English list and I couldn't have told you about any producers, let alone my favourites. Having spent 18 months mostly in Greece now I feel a loving familiarity with assyrtiko that is similar to my relationship with chardonnays from Burgundy (here's looking at you Estate Argyros, Cuvee Monsignori).
They are among my most loved wines and if I don't know anything else on a list (and don't feel like asking), usually a fairly safe bet. But they don't feel like an adventure and I wanted to find out more, particularly about other Greek white wines, so I turned to the passionate experts at Linou Soumpasis & Sia, tucked away on a side street in Psiri by a basket shop and a rope shop. The food is exceptional, meticulously sourced, respectful of tradition and adventurous at the same time: from a familiar plate of perfectly cooked horta served with a quenelle of whipped "roquefort" to the cod fillet wrapped in caul fat and roasted till the fat melts into a layer of umami lacquer. What follows are three of the wines that Ioanna and Demetre recommended over my last couple of trips and what I was lucky enough to eat them with.
2021, Lyrarakis, Psarades, Plyto with steamed clams

Anyone with an eye for interesting, organic Greek wine will immediately recognise the range of single vineyard wines from Lyrarakis, a Cretan winery founded in the 60s. The distinctive labels highlight the vineyard in almost geological terms (well they remind me of barely remembered geography lessons anyway). The family have made it their business to protect and celebrate indigenous grape varieties and this is no exception, with the family claiming to have saved the plyto grape from extinction. This much garlanded wine is utterly delicious, clean but aromatic. It promises more sweetness on the nose than it delivers but the minerality on the palate is a pleasure rather than leaving you feeling cheated. It paired perfectly with the sweet and saline steamed clams.
2020, Sarris, V for Vostilidi, Kefalonia with shrimps and greens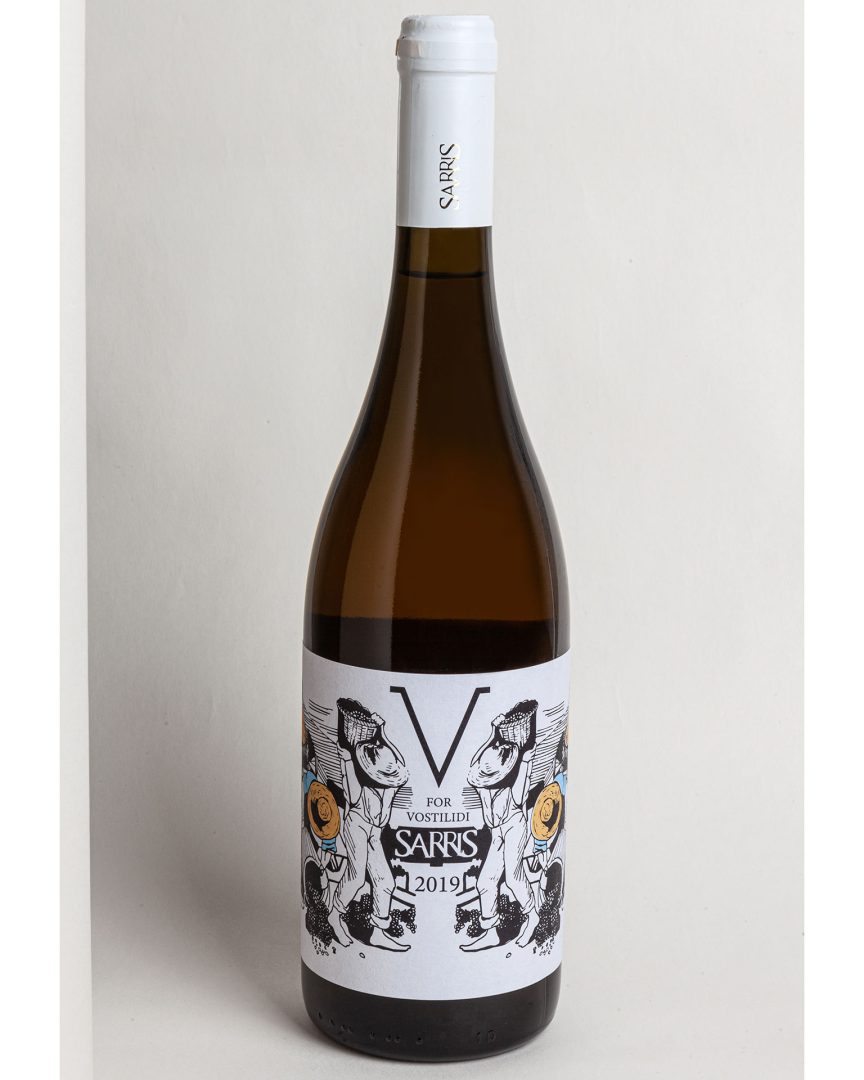 Another new variety to me which is primarily associated with Kefalonia. This wine was a revelation. According to Demetre it has spent 11 months in the barrel and the rich, golden colour was evidence of this. If, as Galileo said, wine is sunlight held together by water then this is an Autumn sunset caught in the ocean. My lunching companion Dimitri said it reminded him of village cellars and it became clear from the nostalgic smile on his face that this was a very good thing indeed. Apricot, vanilla, marmalade and more, it demanded a second bottle. We drank (the first bottle at least) with a deceptively simple dish of shrimp and greens, greens which looked like samphire to my English eyes. The complexity and richness of the wine paired perfectly with the sweet, salty snap of the fried shrimp and the herbal, vegetal notes brought out the seaside grassiness of the steamed greens.
Rosé de Xinomavro by Thymiopoulos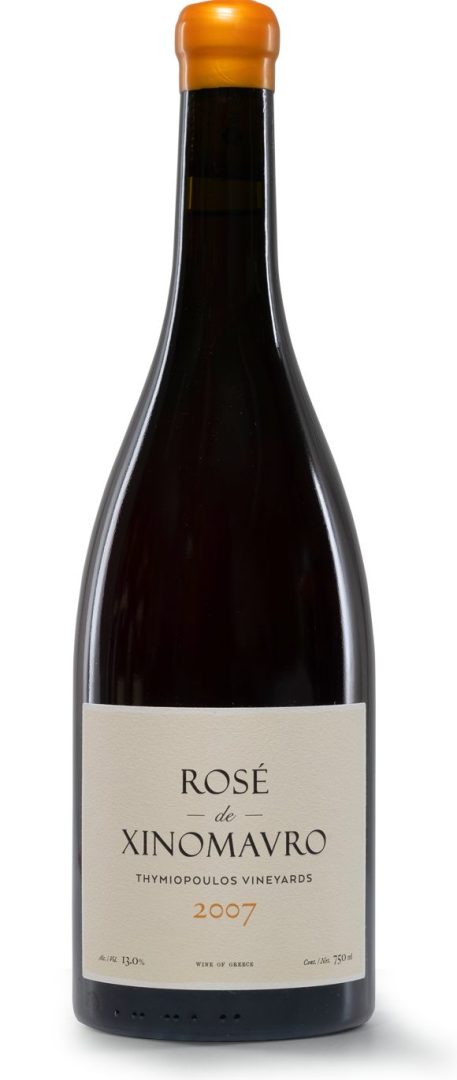 Lastly, and in order to demonstrate that rules are there to be broken, a wine by one of Greece's better-known producers made from one of the country's most loved grapes. xinomavro is my favourite red Greek grape and the Earth and Sky by Thymiopoulos is one of my favourite expressions of it. I'm in good company here as most of his production is exported to France. Konstantinos Lazarakis in The Wines of Greece describes xinomavro as an "erratic diva" which makes me love it even more and At LS and Dia you can dance with the diva in red, rose or even as a blanc de noir (the delicious Popolka which I also recommend). The Rosé de Xinomavro from Thymiopoulus is complex and layered, with aromas and tastes from strawberry jam to sun dried tomato all wafting into view. We drank it with a fresh salad of artichokes from Tinos with garden peas. The artichokes had been touched by the flame which added complexity to the dish which was otherwise fresh and springy.
Linou Soumpasis & Sia is located at Kalamida 9 and Malanthiu 2, Psyrri. Call +(30) 210. 322 0300 to book a table or online through their instagram page 
---