Glam it up in Glyfada's Kiprou Street
Southsider Amanda Dardanis heads down Kiprou Street in Glyfada – and finds a jazzy "feel good" precinct that's a little bit SoHo  … a little bit L.A. Luxe!
If there's one thing you can count on about Glyfada – that shiny happy hub of the Athenian Riviera – it's that nothing ever stands still for long.
New favourites emerge. Old ones quietly disappear (often overnight). Glyfada – along with its "frenemy" in the north, Kifissia – is where hot new flavours and trends are rolled-out first; to be road-tested on the Athenian consumerati.
In recent years, two things have kept that carousel spinning ever faster: The Big Squeeze, of course. And a braver, more international attitude with regards to new start-ups.
In Metaxa High Street – Glyfada's main retail artery and home to Zara, H&M, et al – it can all be rather soulless and predictable admittedly.  You really have to venture into the leafy side-streets surrounding it to tap into the true evolutionary spirit of this cosmopolitan coastal capital.
Few streets have morphed more noticeably of late than jazzy Kiprou.
These days, this extended thoroughfare, running parallel to Metaxa, and neatly dissected by Esperidon Square, possesses an energetic, upbeat patina that's pitched somewhere between SoHo Village, Little Italy – and L.A. Luxe. Witness the posher pavements, the authentic Italian trattorias and the slew of fashionable good-time cocktail bars such as Mikro, Pere Ubu and 57. The wave of edgy boutiques, beauty bars, French delis, and creative concept stores. Not to mention the giant potted palms trussed up year-round with fairy lights.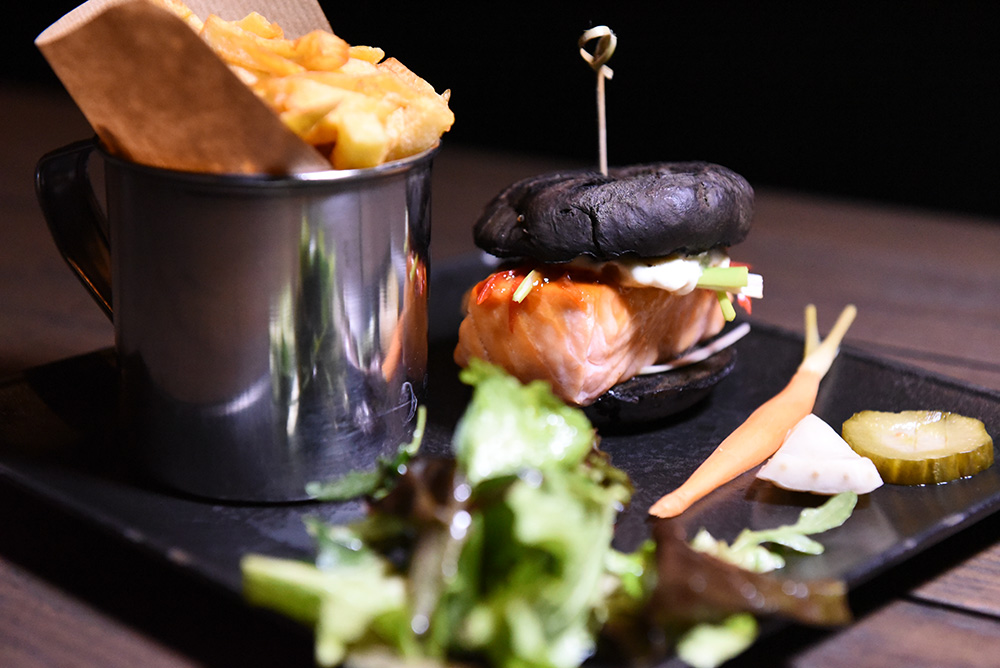 Foodwise, you can dine on Japanese street food, contemporary Mediterranean grill-house fare, gourmet hotdogs, or cholesterol-busting Mexican. Or head to an old-school neighbourhood superstar like Peccati di Gola, tucked away in the less flashy residential quarter. For years, this Piedmont-inspired trattoria has been quietly serving up rip-roaring dishes (like chicken with Gorgonzola, figs and orange-scented Chianti sauce), to those in the know.
And as consumers begin turning away from mass production, Kiprou with its complementary mix of characterful fashion and concept boutiques, has become fashionable.
'Kiprou has become trendy,' says Christine Fernandez Tsitos, of Lillie Rosalie, one of the first concept stores in the precinct. 'When we first came here 2 years ago, it was a risk. But people are now turning away from mass production.'
Walk into Lillie Rosalie (at number 61) at just the right time of afternoon, and Christine might just crack open a bottle of wine to share with you – or brew a pot of coffee – while she busies herself making the covetable beaded trinkets she sells in-store. It's all part of the friendly village vibe that the Kiprou set are keen to foster, she says.
'The shops and restaurants in Kiprou all complement each other so well – and people walking down the street can feel the good energy in the air.'
Adds Faye of Boutique 55:
'Kiprou for me is an "open mall",' she says. 'Over the last 2 years, it's really come along. You can find everything here now.'
'Even the pharmacies here are more like boutiques!' she laughs.
Kiprou's Greatest Hits:
Eat
Little Italy
The Old:
Pecatti di Gola
Tucked away behind two enormous pines about 5 blocks from the main Kiprou Strip is this humble Italian treasure, championed by locals, that feels like the real deal. When you walk in, you instantly smell and feel Italy. It's as if you're dining in some authentic suburban trattoria on the outskirts of Rome. Regulars rave about the carpaccio and herb pizza and the fresh pasta rolls stuffed with salsiccia (sausage), ricotta and pumpkin sauce. Opens for early dinner from 6pm (lunch is served only on weekends).
Kiprou 50, +30 210.898.1511
… And the New:
Cucina Italiana a Mano
Mano moved into Kiprou 10 months ago, replacing long-timer Antonios, and has made itself right at home. There's something very appealing about the fit-out (zingy raspberry and charcoal mixed up with monastic concrete, high ceilings, outsized circular tables, and warmer Italian tones), that will make you feel right at home too. The waiters are super-friendly and the simple Italian fare is consistently good. We're big fans of the inventive salads (all around €14): Fennel, walnuts, orange, quinoa and flavoured yoghurt. Mozarella, pecorino , gorgonzola, zucchini, mint and speck. The white pizza with truffle and caramelized onion rocks too. Elegant and hospitable, Mano makes a relaxing antidote to the usually-heaving Pere Ubu scene next door.
Kiprou 74, +30 210.898.0334
Kazoku Sushi
The affordable Japanese street food invasion of Athens continues with stylish newcomer Kazoku – and that's just fine by us. Tucked away inside the Laura Ashley arcade, Kazoku (it means "family" in Japanese), offers the full flotilla of standard sushi bar fixtures that Greeks have acquired a taste for, in a sleek black and bamboo space. Prices are as pocket-friendly as we now expect (an 18-piece combo platter comes in at €19.50). There are some dastardly desserts (banana tempura; fried apple rolls) that will undo all your good work. Opens daily at 12.30pm.
Kiprou 59, +30 210.894.4549
Drink
Pere Ubu Bar
Rolling with the times, this former fine-dining establishment has split in half to re-invent itself as the (presumably) more recession-proof proposition of Night and Day Dining. Pere is now a Gourmet Burger Bar/Restaurant (Night), while Ubu next door offers "Pure Food" (healthy breakfasts, brunches and the like) during the day. The thumping nightly party scene at Pere  -and we do mean thumping! – has made it the new People-Watching HQ of Kiprou (it used to be Ego Mio opposite). It's also one of the few bars where you'll see Greeks letting their hair down and dancing it up (alongside the foreign wives crowd who've adopted Pere). The service can be a bit off-hand. But the festive mood usually makes up for it.  They make a mean passion fruit mojito too.
Kiprou 74, +30 210.894.1450 (Pere); +30 211.215.8737 (Ubu)
Amigos
If you happen to be strolling past the old κολυμβητηριο of an evening and hear what sounds like the soundtrack of downtown Rio during Carnival erupting from the restaurant opposite… chances are it's a Thursday night. Thursday night Live Salsa Night at Amigos is a merry riot that must be experienced at least once.  The fun kicks off around 10pm when Amigos' Latin American dancers hold a salsa masterclass (grab yourself a frozen cuervo margarita or two for some Dutch courage before it's your turn to get whisked around the tiles!). The electric atmosphere is further charged up by the glam Cuban and Latino contingent who've turned this long-running weekly event into one of the hottest tickets in town. Booking is essential.
Shop
Boutique 55
Slinky urban leisure wear with a "mix and match" philosophy that elevates upcoming Greek designers, and international brands like Hale Bob, Love & Lemons. Boutique 55 also carries a selection of "Glamazon" shoes (from the likes of Stelios Koundounaris) that would do Carrie Bradshaw proud.
Kiprou 55, (There's also a Boutique 52 at Kiprou 52), +30 213.0277.7997, www.boutique52.gr
Lillie Rosalie
Our favourite Kiprou go-to for that "something special" gift. Moroccan-born owner Christine Fernandez Tsitos has created a charmed ethnic-inspired oasis of whimsical one-off kaftans, beautiful beaded jewellery, ravishing handbags and trinkets for the home. It's all housed in a welcoming, white-washed salon where even the sofas and footstools you're invited to relax on are for sale. Her exquisitely-edited collection is ethically sourced from places like Bangladesh, Egypt, Holland, Greece, Denmark and India. Not exactly Zara price-tags (the hand-made Greek handbags range between €120-180), but you'll be taking home a friend for life.
Kiprou 61, +30 210.898.5624
Zerteo
Jewellery to fall seriously in lust with. Just like Rita Ora did. The pop star recently appeared on the cover of Harpers Bazaar proudly sporting her own Zerteo evil eye "mati" bracelet. Zerteo is the creation of Athenian brothers Zerar and Teo whose sleek and trendy designs have amassed an urban sophisticate fan-base of all ages. Their signature "mati" cuffs can range anywhere from about €80-2000. Branches have since appeared in Mykonos and Kifissia. So you know it's a "thing".
Zilly
Beloved of celebrities, Zilly occupies pole position among the slew of architecturally-designed, mood-lit, high-end boutiques that colonise this stretch of Kiprou. With a label-stable including Denim x (Alexander Wang), Marc by Marc Jacobs, Alice & Olivia, Isabel Marant, DV and Helmut Lang, this is statement dressing at its loudest.
Kiprou 51, +30 210.898.3700.
Your Kiprou Address Book
Insider also recommends:
Dining
Lemoni Grill House, Kiprou 65, +30 210.894.4514.
Bella Vesta, Kiprou 11, +30 210.898.2880.
Aperitivo Pizza Bar, Kiprou 70, +30 210.894.0377, www.aperitivopizza.gr
Cafe/Coctails
Mikro – Kiss the Future, Kiprou 13, +30 210.894.7169.
Paul (patisserie), Kiprou 70, +30 210.894.7169.
57 – All Day Resto Bar, Kiprou 57, +30 210.894.2949.
Shop
Pinko, Kiprou 51, +30 210.898.3030.
Soho Soho ,  Kiprou 70, +30 210.894.3498, www.sohosoho.gr
180 Degrees by Maria Prastakou, Kiprou 61, +30 210.894.4445.
Attitudes, Kiprou 61, +30 210.898.0067.
Angels, Kiprou 76, +30 210.898.0609.
Ensayar, Kiprou 55 (mens), +30 210.894.3043,  www.ensayar.gr
Perla Pura (made-to-measure men shoes and accessories), Kiprou 55, +30 210.963.2316, www.perlamoda.gr
Beauty
---