Dimitrios Antonitsis: The Maverick of Hydra's artistic movement
Curator and artist Dimitrios Antonitsis has always been an experimenter: from photography to ceramics to aluminum sculptures, he has been the creative force behind the Hydra Schools Projects, an international platform for the visual arts supporting emerging artists. Held annually since 2000, the Hydra School Project showcases the work of up-and-coming, Greek as well as international artists alongside those already well established. He recently curated the Brice Marden exhibition at the Museum of Cycladic Art, and his compelling photographs that explore the many faces of gender in the '90s  are currently on display at the Cycladic Café until May 8.
About you:
What do you do?
I am a mechanical engineer morphed into visual artist and curator. I used to love photography (especially the dark room years), now I am into sculpture. All sizes from tiny to huge. Every summer I curate an exhibition with Greek and international artists at my art platform, the Hydra School Projects: my best excuse to spend 3 months on Hydra with my dogs and artist friends. During the past 24 years, approximately 300 artists have exhibited; some of them for the first time in Greece.
About art:
Your exhibition at the Cycladic Café is a series of compelling photographs you shot in the '90s. In «Family Matters» you explore sexual hybridity through photographs of transvestites with their families. How provocative was it for conservative Athens when you first showed these images, and how has Greek society and its reception towards non-binary art changed since?
It was quite provocative and  gender-bending. Only a certain sophisticated group of people were able to get it. Most of 90's audience thought of my images as sad and depressing. Nobody thought that it could be  a breath of a fresh air: an active resistance in structures against gender expression. This body of work is not only my own approach in identity matters but also a timestamp in context of how easily our freedom of expression can clash with social normatives. Especially, with the one we call family.
I am especially happy that Family Matters have found their home in great collections. One of them at the National Museum for Contemporary Art, Athens.
Whether in your role as founder and curator of the Hydra Schools Projects or as an artist, you have consistently pushed the boundaries of art. Do you think that artists need to take on the role of 'provocateurs' who ask uncomfortable questions and break down prejudices?
Visual artists don't have to take on any role. Actors do.
I agree that  visual artists should try to push the boundaries of the mediums and create work which is significant. When I look at art I want "realness", a truthful experience. I want to be lured in, seduced and maybe enlightened.
What role do you see for artists/ curators in an increasingly polarized world?
We exist in a world full of empty, fleeting visual information. Art is the only thing that can counteract this flooding.
What can we expect in this year's edition of the Hydra School Projects?
Lessons Learnt is the title. Once again you will discover compelling works by young talented perfectionists most of them challenged by human nature and all its complexities. Limits on time, the environment but also creative struggle and self doubt are few topics the artists will explore. After all, the creative practice is really an infinite journey with no endpoint.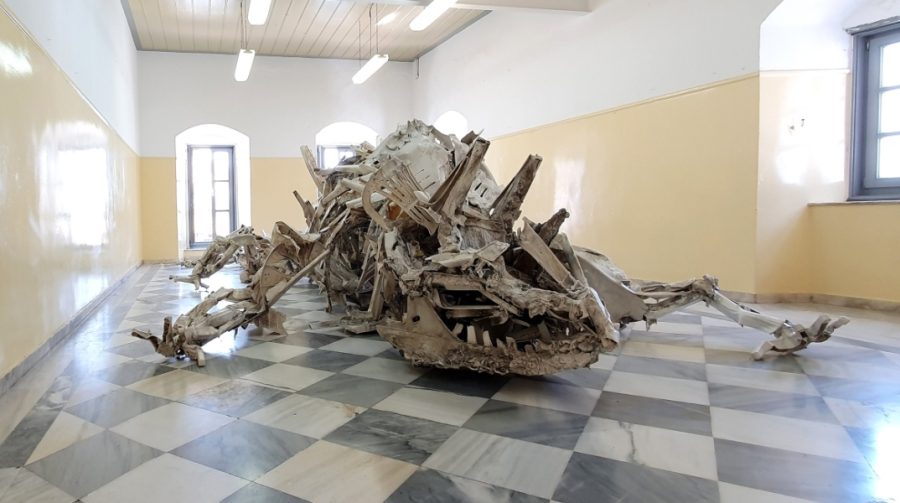 About Athens:
Your favourite thing about Athens. And your worst thing about Athens.
Sunset on Lycabettus. Early morning traffic.
Athens is…
Captivating and confusing at the same time.
What has surprised you about Athens as a city?
Theaters and restaurants. It is incredible how many little theaters exist with fresh, relevant and diverse programs. Most of them privately owned. And how many interesting restaurants are sprouting every season pushing the culinary boundaries of Greek cuisine!
Altogether Athens is the perfect city to slow down, to help you feel and chill.
What changes (especially in the past ten years) have particularly moved you?
The most remarkable change is in the quality of air. I also find moving the fact that there are much less stray animals in Athens. The ones still out in the streets are being fed. It is wonderful to see Athenians paying attention to the adespota, as we call them. There are still some trouble areas like Aspropyrgos and Liosia, but I know there are some serious animal welfare societies which are trying to help.
Your favourite picks:
A perfect evening out would be:
Making new friends and witty conversations.
Perhaps trying out new restaurants with homemade cuisine (I have a soft spot for Oikeion and Filion)
Your ideal Sunday afternoon:
A walk with my dogs at Marathon Lake
City's best kept secret?
Little publishing houses and book stores: one of my favorites is Hyper Hypo
Dimitrios Antonitsis, Family Matters!, 1998
Photographic installation, C-print
Collection EMST (National Museum of Contemporary Art) is currently on display at the Café at the Museum of Cycladic Art until May 8, 2023 
About the exhibition: Dimitrios Antonitsis is among the pioneer Greek artists whose practice embarked, from early on, on camp, gender and identity issues. He has been involved with the examination of sexuality issues in conjunction with the self-determination of the "other" and with one's own stand in society, touching upon ambiguous matters and their extreme versions, capturing images of social groups which are still marginalized. This particular imagery emerged in the end of 1980s, when Antonitsis took his early steps in the art scene of New York, at a time when cinema was at the core of his artistic pursuits.
At that time, gender and identity issues were clearly placed at the epicenter of a battlefield. So, he started observing life behind "trenches", in settings where normality was deconstructed and where the grey zone, as this was defined by marginalized groups, proved to be clearly political. His protagonists are everyday heroes who constructed their own sexuality and most of the times their own body, too. They immersed in the waters of transvestite and drag culture, expressing attitudes and utterances beyond any imagination. Looking at the artistic production of that period, he noticed that each one of the individuals captured was challenged to break through a standardized inclusion, making their own transcendence. Besides, that is the reason why he felt this affinity towards them. It was these photos that served as the starting point of his artistic path.
Notions such as corporeality, disguise, convergence of the familiar with the unfamiliar, ambiguity, and originality still resonate with his work. Since 2010 he has moved towards sculpture, using his sculptural work as a sharp metaphor of western principles such as overachievement, social power and luxurious consumption.
Dimitrios studied Mechanical Engineering at the ETH in Zurich and at Rensselaer Polytechnic Institute in New York (Master of Science) and  specialized in High Speed Microscopic Photography. He has been awarded for his short film, 'Past Glories, Present Despondencies', in collaboration with the Robert de Niro film studio. His artworks have been widely exhibited in 15 solo and 35 group shows both in Greece and abroad. His work has been published in a monography, 'Showhungry' (Koan Publications) and in a camp photonovella, Agathon or Panic in Weimar (futura). His artwork is included in various collections: National Museum for Contemporary Art, Athens -Macedonian Museum for Contemporary Art, Thessaloniki – DESTE Foundation, Athens – Fondazione per la Fotografia – Turin – Benedikt Taschen Collection – Cologne.
---