Athens Insider's Definitive 2022 Guide to Christmas Bazaars
Athens Insider draws up a list of all the Christmas bazaars in Athens that celebrate the city's cosmopolitan character. Shop for gifts for loved ones and feel the warm, fuzzy spirit of Christmas while supporting the local creative community.
Here is Athens Insider's round up of Christmas bazaars in Athens in 2022. If you do know of other bazaars that have not been included, please send us an email to info@insider-magazine.gr. The list will be updated throughout the festive period.
Scandinavian Christmas Bazaar

WHAT: For mulled wine, Scandi-handicrafts, sweets, chocolates, Christmas decorations, and the closest you can get to Santa's Lapland in Athens, head to the Svenska Kyrkan
WHEN: Until Sunday November 27, from 2pm to 7pm, Saturdays from 11am to 3pm and on Sunday from 2pm to 5pm
WHERE: Sotiros 7, Plaka
Weihnachtsbasar at Deutsche Schule Athen!
WHAT: One of the most sought-after bazaars in the city, the German School's annual Christmas bazaar lets you stock on Germany's famed Christmas cookies Weihnachtsgebäck and marzipan-laden Christstollen plus so much more. The atmosphere is festive and transports you to a Weihnacht markt in Germany – replete with mulled wine, cinnamon-scented candles, laurels and wreaths, wooden figurines and Christmas decorations.
WHEN: On Saturday November 26, from 10 am to 7 pm.
WHERE: Deutsche Schule Athen (DSA), Dimokritou 6 & Germanikis Scholis Athinon, Marousi 151 23
Friends of the Child International Bazaar Friends of the Child International Bazaar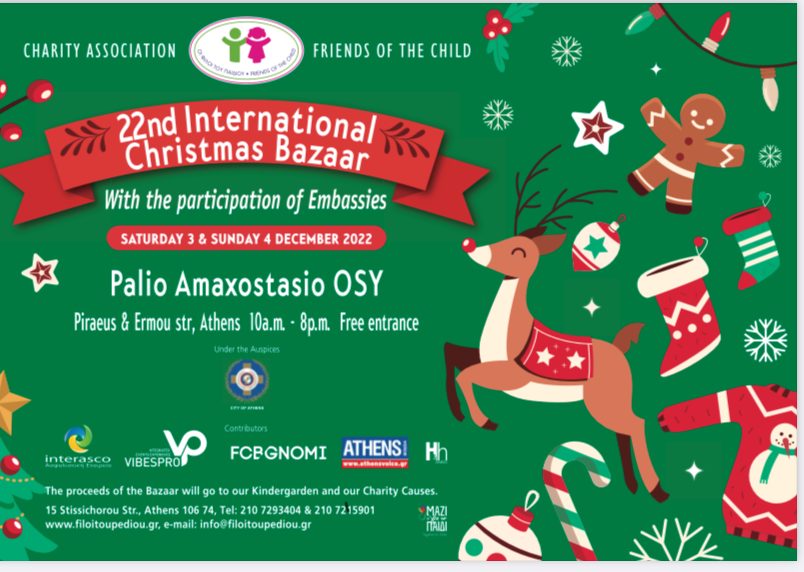 WHAT: Athens' biggest and most magical Christmas bazaar with several embassies participating, spreading festive joy to young and old for the twenty first year running. A global celebration of flavours, music, customs and traditions with 34 embassies participating. Gifts galore. Home-made sweets.
WHEN: December 3 and 4, from 10am to 6 pm
WHERE: Palaio Amaxotasio OSY, Pireos and Ermou streets, Gazi Closest metro station: Kerameikos
Joyeux Noel at the French School!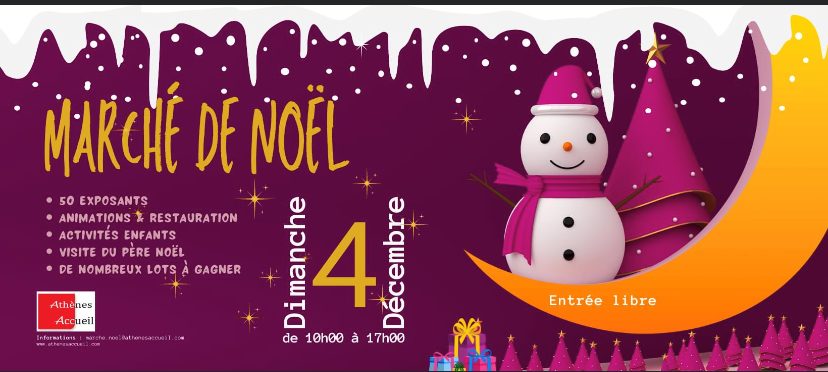 WHAT: Plunge into the spirit of Noel with French Christmas specialties, wines, cheese, toys, decorations and home-baked goodies at the annual Christmas bazaar organised by Athenes Accueil at the French Lycee.
WHEN: December 4 from 10am to 5pm
WHERE: Lycee Franco-Hellenique, Chlois and Trikalon, Agia Paraskevi
Anglican Church Bazaar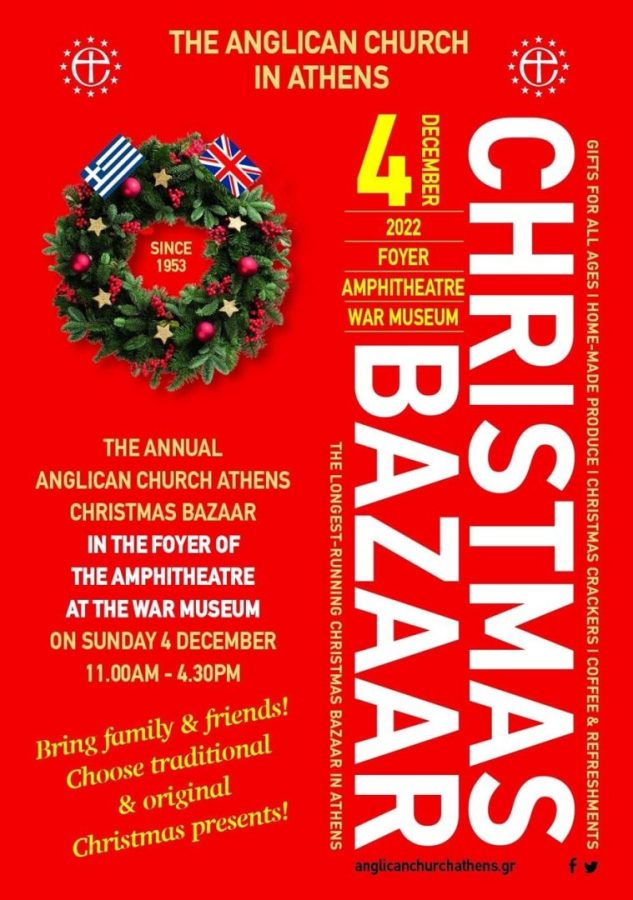 WHAT: Indulge in some quality festive browsing at the longest-running Christmas bazaar in Athens. Stock up on Christmas crackers, gifts, books and the chance to shop for your loved ones and wrap yourself in plenty of warm, fuzzy feelings.
WHEN: Sunday, December 4, 11am to 4.30pm
WHERE: At the foyer of The War Museum, Rizari
Meet Market 2022 Christmas Edition
WHAT: Indulge in some quality festive browsing at the Meet Market's annual Christmas extravaganza spread across 10 days with 150 stands of creations and innovations from local designers, artists, producers and collectors, plus yuletide festivities, non-stop djs sets and the chance to shop for your loved ones. Alongside the Meet Market, there will also be dozens of free parallel interactive activities for both kids and grownups.
WHEN: From December 9 to 18, 2022
On Weekends: noon to 10pm
Weekdays: 6pm to 10pm
WHERE: Palaio Amaxotasio OSY, Pireos and Ermou streets, Gazi Closest metro station: Kerameikos
AWOG 2022 Christmas Bazaar
WHAT: One of the oldest Christmas Bazaars in Athens! Enjoy a day full of lots of fun, shopping, photos with Santa, children activities, delicious baked goods and wonderful prizes at the Grand Lottery! Proceeds will be donated to our Community Services!
WHEN: December 11
WHERE: Hotel Divani Caravel, awog.gr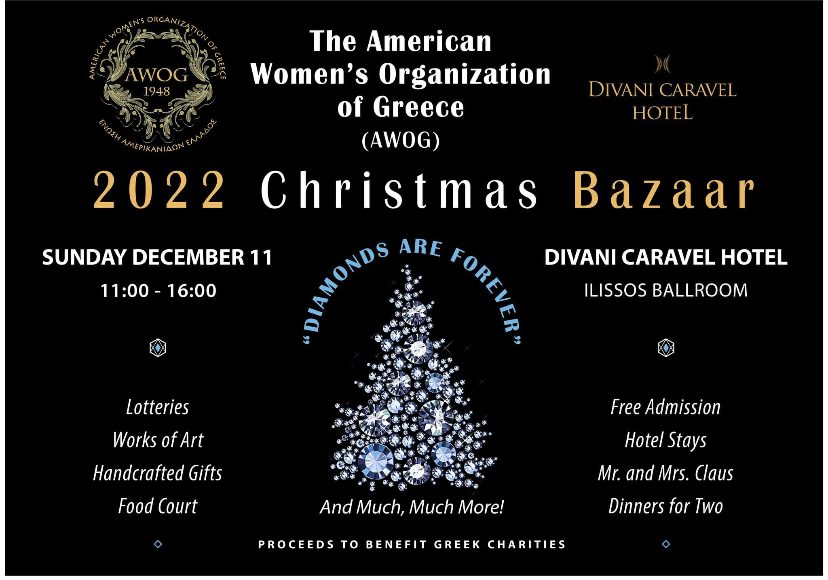 Nine Lives' Santa Paws Christmas Bazaar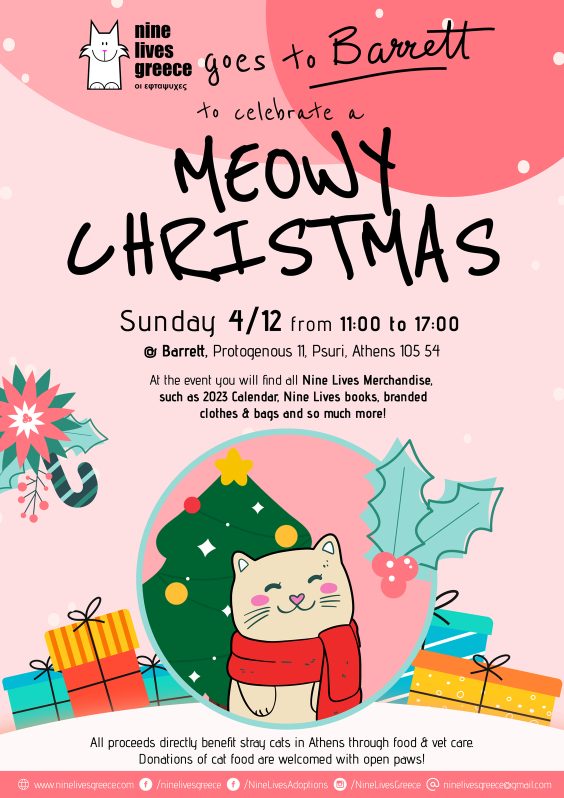 WHAT: Join in a day of fun, while doing some holiday bargain shopping, sharing smiles and swapping cat-stories by helping cats in need. Discover small treasures amongst new and nearly-new goodies, and taste a delicious selection of home-baked cakes as well as scrumptious savouries. Also, grab the chance to get your hands on the new 2022 Nine Lives calendars! A perfect Christmas gift for any cat lover. You will also find limited edition catnip Christmas toys as well as other seasonal goodies!All bazaar proceeds directly benefit stray cats in Athens through food & vet care. Donations of cat food, however, are welcomed with open paws!
WHEN: December 4
WHERE: At Barrett (4th floor), Protogenous 11, Psyrri
---