Athens' coolest ice cream bars for hot summer nights
Looking for some really good ice-cream, Italian-styled gelato, sorbet or soft serve? Many tempting ice-cream parlours are determined to keep you busy this summer.  From long-term favourites to attention-grabbing newcomers with a huge line-up of flavours boasting the provenance of their ingredients, we raise a cone to the Big Chill. Here's the scoop on the most mouth-watering deluxe gelato bars to hit town.
Kokkion
A real and infectious enthusiasm for ice cream prevails in this tiny shop. As colourful as the charming backstreet its on,  lined with bars, skate shops, vintage clothing stores, and record shops, Vassilis Papamattheou's frozen treats, made with raw top-notch ingredients (and a pastry chef's sensibility) are seriously good.
Top Scoops: Do try the traditional kaimaki with buffalo milk and mastic, the ice-cream made with fresh sheep yogurt, the tantalizing bitter chocolate-passion fruit and the delicate, aromatic raw almond and tonka bean ice-cream, but don't miss on the sorbets either. Match your summery outfits to their lemon-verbena or lemon-pineapple-basil sorbets.
Address: Protogenous 2, Psirri, tel.: +306981563511, kokkion.com
Django
Konstantinos Karakatsanis' ice cream parlour was already a favourite on Syros when he decided to introduce his frozen fare to Athenians with a minimal second outlet, all dressed in white. This new arrival in Koukaki is one for the purists: its frozen treats are made in small batches with organic fresh seasonal fruits and local milk. There is nothing artificial in the mix.
Top Scoops: Fruit-lovers will appreciate the refreshing effect of the peach, lemon or melon sorbets, chocoholics are well catered for, but don't leave without trying the really dense, chewy pistachio and the smoked hazelnut ice cream – as scrumptiously nutty as it gets.
Address: Veikou 15, Koukaki, tel.: +030 6937395363, djangogelato.com
Le Greche
A small but perfectly formed ice cream boutique in downtown Athens which fuses Italian expertise with premium Greek raw materials, without artificial additives and margarine or colourings, (and their dreamy concoctions we are told, are at a deliciously low 8% fat!). You will be forewarned by the small queue extending at the door of the formidable reputation Evi Papadopoulou's small gelateria wields. She trained under renowned Italian pastry chef Iginio Massari and her frozen delights and its shows in every scoopful.
Top Scoops: In this evergreen hit on the Athenian ice-cream scene that stays buzzy right up until closing time the smooth-textured Sicilian pistachio, the fabulous figs and mascarpone and the dense Gianduja gelati speak for themselves; the sorbets are also a winning choice. As are the ice-cream sandwiches topped with grilled pistachios; chocolate ice-cream with rum and prunes; ricotta with bergamot and Aperol, and mascarpone with Kalamata figs. You will definitely be back to sample more.
Address: Mitropoleos 16, Syntagma, tel: +30 216.700.6458, Lykourgou 2, Faros Psychico, tel.: +30.213.041.6299 / Leof. Mesogeion 456, Aghia Paraskevi, tel: +30210.010.1617 | legreche.gr
Dickie Dee
This is instagrammers heaven, Dickie Dee with its saccharin pink walls serves a picture-perfect artisanal soft serve ice cream on a one-of-a-kind candy cloud of sugary bliss. In five different flavours –  fior di latte, salted caramel, dark vegan chocolate, salted Sicilian pistachio and cookie dough – they can be topped with an array of seductive choices or with a flamboyant cloud of candyfloss, Dickie Dee also offers an indulgent selection of gelati. Along with vanilla from Madagascar, Toblerone and mocha espresso, and fruity choices such as the fig or melon sorbet, you will find Greek-inspired creations, such as tsoureki (sweet bread), rizogalo (Greece's traditional rice pudding) with cinnamon and honey and rose loukoumi ice-cream, that pay tribute to beloved treats, and brim with nostalgia! Not to be outdone, their freshly baked desserts include Carrot cake, Red Velvet cake, Devil's double chocolate cake and their peanut butter brownies can brag about being made with 100% real organic peanuts.
Top Scoops:
Fior di Latte, Dark vegan chocolate, Rosewater and Sicilian Pistachio. You can enjoy them in a cup, in a cone or even wrapped in cotton candy with toppings galore.
Address: Voulis 23, Syntagma, tel.: +030 210 3238277
The Waffle House
With its prime Athenian Riviera locale, the Waffle House combines a delectable palette of sorbets and ice-cream with impressive Vouliagmeni Bay vistas, to deliver the "complete chill" experience. A lazy Sunday afternoon staple or after-school-treat for South-siders, Waffle House is an ice-cream institution celebrating its 20+ years of making all our frozen fantasies come true.
Indulge in one of the Waffle House's signature piping hot waffles and waffins (somewhere between a mini-waffle and a muffin!) at the same time as your ice-cream splurge.  It'd be rude not to.
Top Scoops:
The Ferrero Rocher, Kinder Bueno, Maltesers and Snickers balls are pure ice-cream porn for choco-philes across the land. Other irresistible new hits include: chocolate with banana cubes; lime with basilicum; and white chocolate with Baileys.
Details:
Address: Leof. Poseidonos 17, Vouliagmeni, tel: +30 210.896.1227 | wafflehouse.com
Oggi Gelato
The Italian maestro gelatiere Carmelo Chiaramida brings its expertise to the Greek capital, promising absolutely no artificial colourings or flavours, just gelato that's churned everyday in Italian fashion. A small artisan cheesemaker in Puglia provides them with fresh ricotta, ricotta di pecora and mascarpone, pistachios come from Bronte, almonds from Avola and the fruit are as fresh as can be.
Top Scoops:  Crema di mascarpone is spiked with a dash of Marsala wine, the tiramisu is velvety and tasty, and Pulcinella ice-cream, made with fresh ricotta cheese, chocolate flakes and orange is a must-try. The handheld delights served here also include pure seasonal fruit sorbets and granitas spiked with just the right dose of alcohol! (try their strawberry sorbet with vodka & mint or the lemon sorbet & tequila).
Address: Voulis 17, Syntagma, tel.: +30 210 3246995, Website
Εpik Gelato
Nestled between a pizzeria and a bar, opposite Mavili Square, with charming retro vibes, Epik Gelato source their ingredients from small artisan producers from all around Greece. There is an other-worldly, sacred quality to their ice creams and with good reason – the milk for their freshly made collection comes from a monastery in southern Corinthia! Try the velvety rich vanilla ice-cream or Greek yogurt ice cream.
Top Scoops:  If you are feeling a bit adventurous, we'd suggest the bitter almond and royal dates gelato, the amygdaloto, inspired by the traditional Cycladic cookie of the same name, with caramelized almonds and fleur d'orange or the rose and lukum gelato made with lukum from Syros. We also suggest the lemon-basil sorbet – for a cleansing fresh aftertaste.
Address: Dorilaiou 2, Mavili Square, tel. +30 210 6464105, Website
Μaraboo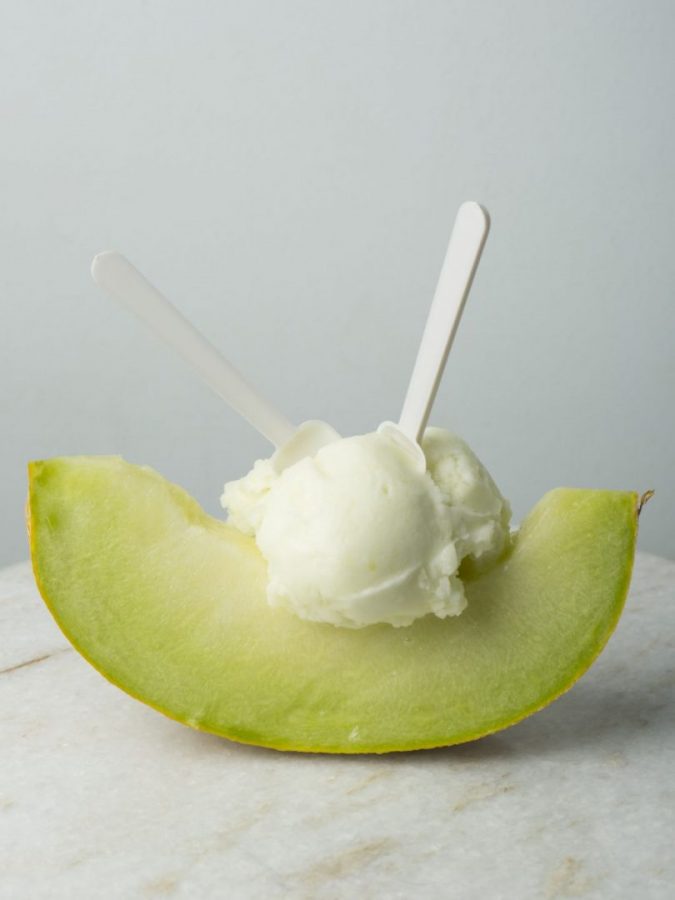 In hipsteria lane, on Archelaou, Vicky and Igors' cool little, ice-cream shop keeps it real. You know they're on to something by the steady stream of regulars that throng to it, even in the winter! The best antidote to lockdown blues, Maraboo has established itself as a neighbourhood gelateria with a conscience – the ingredients are natural, clear of preservatives, artificial colourings and additives. The blackboard at the counter announces staples but also unexpectedly playful flavours that coax you out of your vanilla-chocolate comfort zones.  Sample their stout beer ice-cream or their blue spirulina ice-cream, and you will be proud to have ventured into new flavour territory.
Top Scoops: The best-sellers here are always tinged in childhood nostalgia – so Kaimaki, chocolate, cream-jasmine-vanilla remain the firm favourites, though the fior di latte and salted caramel ice-creams have acquired a steady string of devotees too! Look out for their equally intriguing sorbets. Our hearts melted with each scoop of chunky mango sorbet, but the orange parsley sorbet is a firm second!
Address: Archelaou 17, Pangrati, tel. +302107247037. Website
---