Art Athina x Brown Hotels
Brown Hotels transforms its lobbies into an art gallery with the unique curation of Art Athina and featuring the most exciting contemporary artists in Greece.
From 16 March to 26 April, Brown is collaborating with Art Athina to create a wandering art gallery in an unconventional space. The pop-up exhibition takes over the lobbies of the Brown hotels to showcase the works of leading contemporary artists in alternative environments.
Get a taste of contemporary art at these participating Brown Hotels:
Brown Lighthouse, Marika Kotopouli 3
Βrown Kubic, Agiou Konstantinou 26-28
Dave Red, Veranzerou 25 & Marikas Kotopouli
Βrown Acropol, Peiraios 1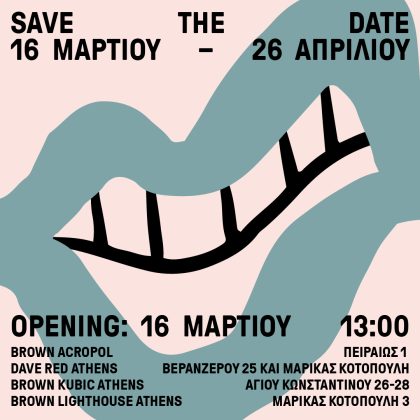 Participating Galleries:
a.antonopoulou.art
Agathi Kartalos
Alibi Gallery
Allouche Benia Gallery
Alma Contemporary Art Gallery
Art Zone 42
Artower Agora
Astrolavos Art Galleries
Athens Art Gallery
CAN Christina Androulidaki gallery
Citronne Gallery
Dio Horia
ekfrasi – yianna grammatopoulou
Eleftheria Tseliou Gallery
Gallery 7
Gallery Art Prisma
GENESIS GALLERY
Kalfayan Galleries
Mihalarias Art
Peritechnon Karteris art gallery
Rebecca Camhi Gallery
Roma Gallery
Skoufa Gallery
Technohoros art gallery
The Breeder
Zoumboulakis Galleries gallery
---