Alficon: A speakeasy dining experience in a time-honoured space
Tucked away in a stunningly beautiful neo-classical house, on the quiet pedestrian Ironda street in Pangrati, Alficon is everything you expect of a restaurant: character, substance, looks and service. Picked by Michelin as a promising new gastronomic destination with a coveted Plate, Alficon is fast emerging as a favourite haunt for exigent gourmands in the city. Sudha Nair-Iliades reviews.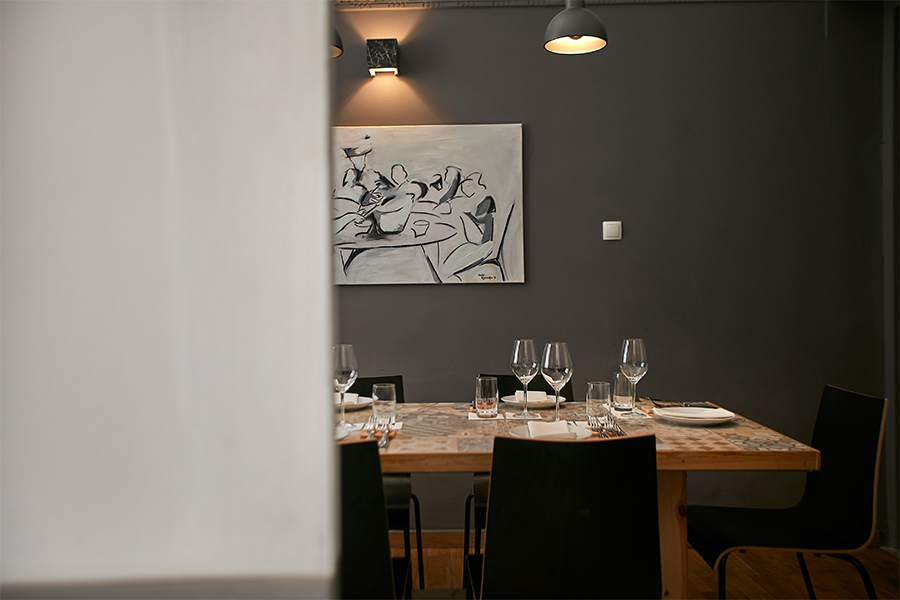 Kerbside appeal with a cuisine to match
Chefs and co-owners Elvi Dimitris Zyba and Nikos Vorgias match the allure of the handsome 1890 building with an enticing menu that is bold and playful. 
Acutely aware that dining today isn't just about food but about the experience, the duo has made sure that the restaurant's interior reflects the period charm of the building. It feels like walking into a home brimming with soul and stories, so hard to replicate in a new space. A lot of the fixtures have been repurposed, the original flooring retained, modern touches grafted into its historic bones. There are two distinct dining areas, both very private. A lively bar, straight out of a '40s noir movie set, takes up the far end of the room.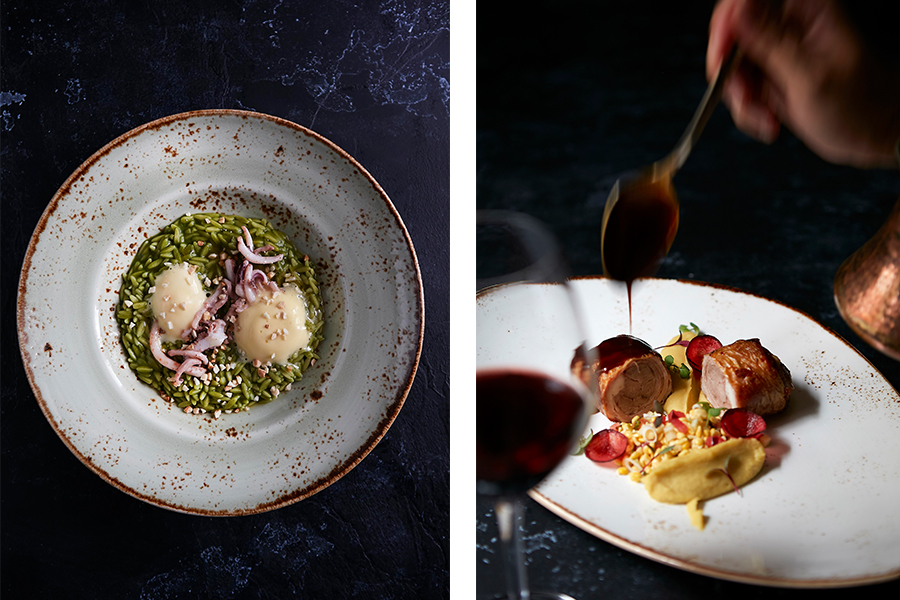 We'd recommend you start with their Bloody Mary with O'Purist (an anagram of Greece's grape distillate tsipouro, O'Purist is created by Greece's top ten bartenders). It has bite and a piquant punch – all the difference between the Real Deal and a fortified vitamin drink! 
With just 10 dishes, this is how all restaurant menus should be! We'd ordered Scallops with walnut and apple, Beef tartare drizzled with truffle oil, Orzo with spinach, squid and citrus and Prawns with cilantro and tomato sauce – all exquisitely balanced. There is a degustation menu for 45 euros, but you'd better starve a day before to really appreciate the full range! The summer menu is likely to change in the next couple of weeks, so make your way there while you can still sit outdoors. 
Alficon describes their restaurant as Speakeasy Gastronomy – it really is! It is one of those finds you're really thrilled about, that seamlessly ties in a modern vibe to a vintage aesthetic, and delivers with flawless service. 
Delivery services are also available from 2 to 11 pm. Open from 8 pm to 1130 pm daily from Tuesday to Sunday. Closed on Mondays. 
Alficon: Ironda 8, Athens, +30.2169005059, info@alficonathens.com
---