A Marathon of Baby Steps
In her 11th floor office of the Basil and Elise Goulandris Foundation in Pangrati, Fleurette Karadontis, shares the 'marathon of baby steps' that have brought her and her colleagues to the realisation of a 25-year vision, the opening of the Foundation's Museum for Contemporary and Modern Art in Athens. On her bookshelves, leather-bound tomes with years embossed in gold on their spine, archive the lives and love of art and family, of her Uncle Basil and Aunt Elise. They tell a story that she shares candidly and passionately, one that's also reflected in the magnificent masterpieces housed in the floors below. In conversation with with Elena Panayides and Sudha Nair-Iliades.
Fleurette Karadontis is at her desk, just a couple of euphoric days after the much-awaited opening of the museum. Orange and green post-its lie strewn in a corner, almost abstractly colour-coordinated to match the imposing Rauschenberg that hangs behind her. Even on a cloudy, autumnal day, the room floods in with that clarity of light that one only finds in Greece – and the Acropolis frames her office view. Her mobile phone rings incessantly – as a mother of two and as President of the Goulandris Foundation's Modern Art Museum, she says it has been a relentless juggling act to follow. Her vision of making the museum 'an open, welcoming space' is something that comes through, as does her steely determination to make the museum not just an esoteric stop on the art-lovers circuit, but 'a playground where future generations of Greeks can grow up under the gaze of the Masters'. The conversation flows freely as she recounts her childhood, the informal dinner-table debates on art, and of sitting on some of the chairs that are now part of the exhibit!Fleurette Karadontis in conversation with Elena Panayides and Sudha Nair-Iliades.
How do you feel now that the museum has taken its final shape and form and is open to the public? Do you believe it will establish Athens on the global art circuit?
We're absolutely thrilled. I think even we didn't quite expect how warmly people would receive it. It's overwhelming for us, because I think we opened at a time when people were hungry for this kind of space. Greece has a very booming contemporary visual arts scene, but it's not easy to start there. You have to start somewhere else in order to get there and I think that Greeks and foreigners have really opened their hearts to the museum and to the fact that it is available to them to be viewed again and again. Here, they can keep coming come back to see a work and something else will catch their eye. Maybe because they're in a different mood, maybe because it's a rainy day, but something else will attract their attention. I think that's what this museum is all about. You're helping people open their hearts and minds to the visual arts.
It sounds like you envision the museum as more of a community centre, with open doors and interactive activities. You grew up with Basil and Elise and walking into their homes, not their museums. Is this what you're trying to replicate here?
Elise and Basil were incredibly private people, they were very discreet and that's how they trained all of us, so we always tried to keep their vision, their way of doing things. Of course, in our time its less easy, because of social media, and everyone voices an opinion, merited or not! At the time Basil and Elise were alive, there wasn't any of that. There were just private people, private lives and what they did was their business. They were almost shy, low-key, warm and hospitable people. They loved talking about their art. They loved hosting dinners and parties and having people over. Their dream, because they loved their country so much, and they could see that there was a very big gap in what was available for people to see, was for the collection to be accessible to people. Some of these works are exceptional, they are not just works of art, in some respects, it's the very quintessence of art. They really wanted people to love them as they did and to be able to see them, to not be intimidated by it.
Traditionally, the visual arts have been a bit of a closed chapter, intimidating. We didn't want the museum to be inaccessible – that is something we're going to work towards throughout our existence.
At the end of the day, the visual arts aren't just about seeing, they're about feeling. A lot of people who see visual arts, think 'I don't like that' or 'It's stupid,' but they don't feel comfortable in expressing it, which sometimes is what the artist intended. You see a work by Kiefer and he wanted to show his disgust for war, the disgust for strife and somebody may see it and say, 'its gross,' when in actual fact, they're feeling exactly what the artist wanted them to feel. Art is not just about intellectually getting it, it's about feeling what the artist wanted you to feel.
What was it like when you walked into Elise and Basil's apartments?
It was very much a home for them, and for us at the time, with some extra nice pictures on the walls. They rotated the paintings quite often, once a year certainly, in all their homes. What was really nice was the fact that they talked about the art. It wasn't just 'the Rauschenberg is there, and the TV is here,' we'd be having breakfast and suddenly one of them would say 'Oh gosh, look at that corner, is that a person looking out of the window?' Everybody would start talking about the painting, it was part of our daily conversation. It was all about living the art, it wasn't 'this is high art, we don't talk about it'.
It was always an experience in their various houses around the world, because each one had its distinct character. So, in Paris, there were all these incredible pieces of furniture, some of which you can see in the decorative arts gallery. Almost all of which has a rich history behind them, but for us they were chairs we sat on!
Even we, as children, were very much encouraged to voice an opinion and sometimes it's a childish opinion 'Uncle Basil, why in the Picasso are her eyes glistening?' It was a constant subject for curiosity for them, for discovery. They just loved it. They used to change the paintings around to see how the light affected each painting. It wasn't just let's put the paintings on the wall, don't touch, these are museum quality paintings. It wasn't like that at all. They were part of their life. It was a home. It was a life.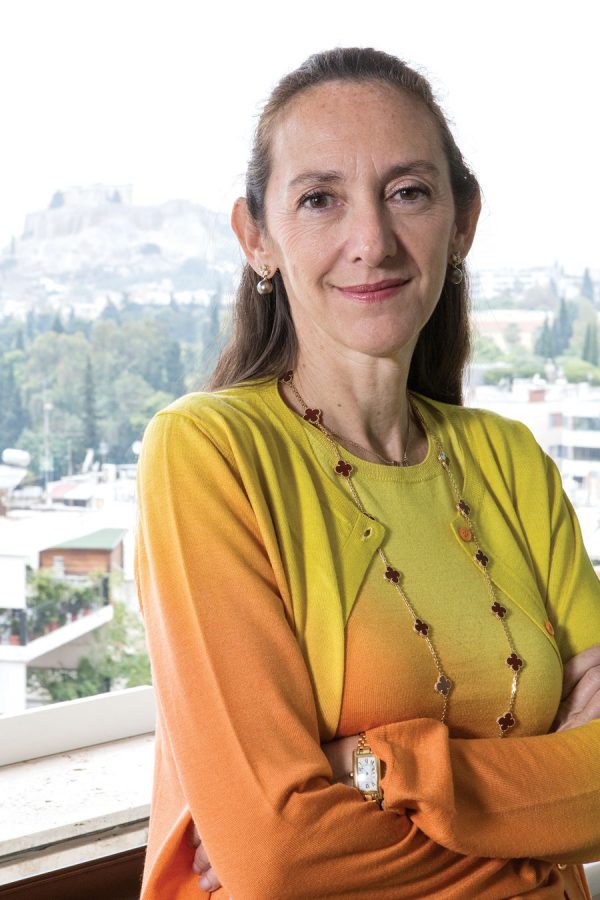 Whit the way you 've exhibited the works, it feels as if you're trying to create a dialogue, a conversation, as the works are facing off with one another. Is that what you wanted to achieve? A dialogue? A trialogue?
Absolutely, because that's how they lived. Every private collection is a glimpse into the collectors themselves, into their psyche, into their hearts, into their brains and their personal taste. They always were very interested in the dialogues between the paintings. If you will, they were curating their art at a time that it wasn't really known yet. It wasn't really done. If you think about it, I was studying in London, in the mid-90s when the whole idea of an exhibition curated by an artist with works by different artists first started.My uncle, Basil Goulandris always asked us children about our opinions on paintings. It didn't matter if we were 7 or 15 years old!
Because it was more authentic, more visceral?
Yes. Sometimes when he wanted us to shut up, he gave us a piece of paper to draw on. But he was interested in our opinion, so we felt we could have an opinion and that was really the start of a journey.
It's probably like choosing amongst your children, but what is your favourite piece in the collection.
For me it's Van Gogh's 'La cueillette des olives'(Olive-picking). I danced a little jig when I found out it's on the cover of our catalogue too. For me, that is my all-time favourite because what you don't see is that the light changes the colours throughout the day. At the time, this was the only one of the three that was painted from real life.
You spoke of the Foundation being a welcoming place, and you've already set up workshops. What are your upcoming plans for education?
We've only been open since October 2, but we've already established a series of workshops for both children and adults.You have to be able to look and feel free to have an opinion. After the New Year, we've got school visits coming up and we've 3D scanned and 3D printed quite a few of our works, so that both children and the visually impaired will be able to touch the art. They'll be able to touch Van Gogh's brushwork. They can touch sculptures and that is wonderful.
All this 'don't touch' doesn't really work, some works were made to be touched and sculptures are all about texture.
For children, we have two workshops on lithography and 3D 'once upon a painting' learning. For teenagers and adults, there are workshops on bookbinding and restoration of frames. The other thing that's started very dynamically is that every Friday night the museum is open until 10pm, and we've already got a whole series of events such as panel discussions dealing with psychology and art and jazz emsembles lined up. Also, there's a fantastic group called 7-11, it is two young people who have set up this programme for over-65s with Alzheimer's, to make connections between themselves and the works without knowing what the works are. They discuss what the works remind them of, how they approach it. We tried it last week for the first time, it sold out in an hour for 2 groups, and by the end of the 2nd group, the entire first floor joined in whether they were in the over-65 group or not. People were clapping and telling their own stories and it was absolutely wonderful. So, we've decided that it's going to be a firm part of the programme. There are also guided tours every Friday from 18:30pm-19:30pm and also private tours.
What do you feel for a visitor, is unmissable and unforgettable? I'd like to feel that it's the atmosphere.
If I were to give one piece of advice to a visitor, it's not to come just once. Art is such a personal thing. Each of us can only really focus on very few paintings or sculptures or any pieces of art that catch the eye. It doesn't necessarily have to be one of the big ones. It can be a work on paper. It can be a piece of furniture. It can be a work by a Greek artist. So, if you don't come again and again you will miss a lot about this collection. We'll be rotating things, there will be paintings travelling to other exhibitions in the near future. Mmy advice would be to come as many times as you like, in order to feel comfortable.
Come for a coffee, bring your children so that they feel the museum is a welcoming space. That is why the museum was inaugurated by children from Pangrati's primary schools. They were the first ones to scan their tickets. For us, it is the most important visitor group of all. They are the future and if they can feel that the museum is a place that they feel comfortable in, that's half the battle won.
So in fact, you've completely reworked the concept of museums as 'esoteric havens' and made this museum an accessible space, for young and old alike.
This is my take on this museum. Use it. We're here for people. We're not here to be shut off. That's why we built the welcoming space outside too, for us it's really nice to see people just sitting, just enjoying it. It's made a massive difference to the neighbourhood, there's a different energy to it, people coming are exploring the side streets and new businesses are opening up. It's bringing a community together. We even have a water fountain outside, for people and for animals as well. The museum will undeniably change the conversation around artandart education, due to the exposure so many children will have. It willcreate a whole different mindset. Funnily enough my colleague, who handled one of the childrens' visits, had a little boy ask three times if the artworks were real.
We wanted to open with our own collection, because the works have been waiting for so long to see the light. When we first saw the paintings on the wall, we were so emotional, everybody was crying.
How can one support the museum and its activities?
We'd encourage you to join our membership programme on our website, goulandris.gr and of course, one can support just by visiting the museum. Visit our gift shop which features custom-made products, by Greek artists and production houses. If you're a member, you don't pay, and you can come in and out. The library is filled with all the founders' personal books and we've got most big catalogue resumes, even the ones that aren't in print anymore. The library isn't open all the time to the public, at the moment you can book by appointment. In the very near future, it will be open to the public for people to consult the works in situ. We also have a lot of after-house events, parties, conferences, performances and temporary exhibitions coming up, the first of which will be in Fall 2020.
In the times we live in, nobody is doing big blockbusters anymore. Conspicuous consumption has not made the transition into the 21st Century, everything is more low-key, and people want to connect more.
Now that the museum has finally opened, after 'a long marathon of baby steps', describe your emotions.
The Museum is a family. It's run like a very close-knit group and those of us who knew Basil and Elise literally were crying. It was elation that the works are finally home and this is what we have been working for, for people to see them. I think the response has been everything they would have wanted and more. It's definitely in our plans to continue all these activities and on Andros too. It has been a marathon of manageable baby steps. Hitting walls and changing directions. The I.M. Pei building that was originally planned for the Kolonaki site would have been tremendous for this country, but it wouldn't have had the warm, homey character that we're striving for here.
---