A Foodie Insider picks her favorite Athenian restaurants for the festive season
Reem Bassatne has the insider's guide on where to eat and be seen this holiday season. From authentic Lebanese fare to Kolonaki institutions and Athens Riviera musts, these are a few of her favourite restaurant flings. 
For the best Lebanese, Libaneziko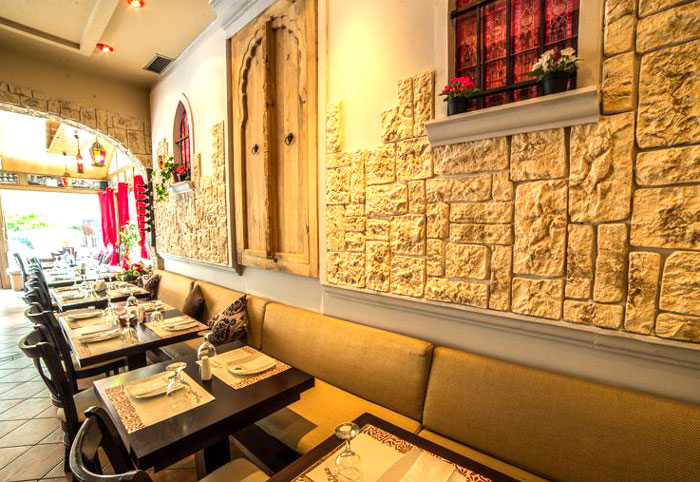 It's a simple restaurant décor with amazing Lebanese food. We have been going for years and we know the owner and chef, Tony. He makes everything himself and if there is any specific dish you want, just call him 3 days before, and he will prepare everything for you. From riz a djej to warak enab – Middle Eastern style grape leaves stuffed with spiced rice and meat and slowly cooked into mouth-watering perfection alongside tender lamb chops in a tangy lemon broth. I grew up on this dish that my grandmother used to make and Tony does it just as good. 
His mixed grill with Shish Taouk and Kefta is amazing. He makes from scratch Makanek (Lebanese sausages) made from lamb or beef with a lot of spices from clove to cinnamon, nutmeg etc. and cooked with pomegranate molasses. Simply delicious. Have that with Tony's homemade arak ( traditional alcoholic beverage we drink in Lebanon with an anise flavoring) and it's a home run! It feels like being at home. Tony and his wife welcome you at the door. 
Insider Tip: To round off your Lebanese experience, there's good shisha too, in all the flavours.
Address: 16 Konstantinoupoleos, Glyfada, Tel:  21 0894 0024
Best Mexican
I tried Mamacita – Taqueria y Cocteleria in downtown Athens (Apollonos 9B) and I was with my best friend who is Mexican, and hands down its not bad at all. Very shabby place on the street but the food is good. The bar area is decorated from images of Dia de Muertos (Day of the dead) but looks pretty cool. The chicken quesadillas were very good as was the guacamole. We tried the mixed fajitas chicken and meat fajitas, which were not bad. The chili con carne burritos were heavy but good with all the Mexican spices. The crispy chicken tacos and the beef tacos were very good.
Insider Tip: Book ahead – especially on Sundays for lunch  – asit can get quickly packed.
Address: 9B Apollonos , Athens, Tel: 21 0321 0240
Beef Bar
For me, this is most probably my favorite place this year at The Four Seasons. A concept brought from Monte Carlo and now in Athens, run by a very good friend of mine, Wafic Idriss, and he's done a fantastic job. You are always bound to bump into someone you know. The staff always welcome you with such politeness and the service is most probably the best I have seen in Athens. The setting is again amazing with views of the Four Seasons bay and the stunning sunsets. Each plate is hand-crafted especially for the Beef Bar with cheeky emojis. The bar is very cool and the bar man concocts some of the finest cocktails in the city. The must-haves here are the spaghetti bolognese, the mini big K, the super kale salad – one of my favorites, the kobe gyros, a spin on the Lebanese sharwarma, the Zaartar pizza is a must (again inspired by Lebanese cuisine), the veal Milanese is amazing as is the Chateaubriand. Have it with the exclusive Café de Paris sauce and the creamy buttery mash potatoes that are simply a party in your mouth. I could go on and on! Dessert is the gelato Mantecato, artisanal gelato with amazing toppings.
Insider Tip: Spare some time before and after your meal to enjoy the bar. The food is divine, but the cocktails, you'll soon discover are equally enticing!
Address: 40 Apollonos Str., Vouliagmeni, Tel: 9670700, Four Seasons Astir Palace Hotel Athens
Ratka
Most probably one of the oldest classic restaurants in Kolonaki and one of my favorites. Hidden in one of Kolonaki's side streets, in Charitos, it's the place to be seen in Kolonaki. You are bound to bump into some kind of celebrity there. The owner is always there and always welcomes you with a big smile. The restaurant itself it small but decorated in a very French and warm atmosphere, although the food is international. Dimitris the manager runs the place super well, his team is outstanding for service and the music is fantastic. You can go for dinner and sit for hours eating and drinking. If you like snails, they have the best in Athens. Delicious in their shell with parsley and garlic and butter. The cacio e pepe spaghetti is delicious as is the crispy duck – one of the best dishes in the place.
Insider Tip: If you're in a tearing hurry, and just want something light, choose a salad with pistachio. 
Address:  30-32 Xaritos, Athens, Tel:  21 0729 0746
Codice Blu
Its one of my favorite Italians in Kolonaki, and the food is simply amazing. Again, you will bump into a lot of people you know but the waiters know you and they are so friendly. Food is fast, hot and great. I love their Codice Blu salad with goats cheese and sundried tomatoes. The gnocchi with tomato sauce is amazing as is the vongole. The pizzas are great. Always make sure what fresh fish they have that day.  It can feed at least three people easily and by the end of the dinner, they very kindly set in front of you a bottle of limoncello, grappa and mastica to clean your palate from a delicious and filling dinner, on the house of course!
Insider Tip: They make an amazing risotto with shrimp and crayfish which is off the menu. Ask your waiter for this.
Address: 32 Loukianou, Athens,  21 0723 0896
Fave Japanese, Matsuhisa 
Matsuhisa Nobu at the Four Seasons Astir. The view is spectacular, food is always exceptional, and the service is good. My fave dishes are cauliflower jalapeno, lobster salad, rock shrimp tempura with the sauces, yellowtail with jalapeno, all the makis – especially the soft shell crab accompanied with a nice hot or cold sake on the side. Black cod is a must. The rib eye steak is yummy with all the sauces. The new bar is super cool, round and all blue lights with a massive candle style fireplace during the winter time. 
Insider Tip: The cocktails here deserve your attention. One of my favorites is the passion fruit martini. Vodka based with passion fruit puree. But be careful. They are lethal! 
Address: 40 Apollonos Str., Vouliagmeni, Tel: 8960510, Four Seasons Astir Palace Hotel Athens
---