125 years of Zolotas' timeless legacy
The symbol of Greek luxury and expert craftsmanship for over a century, the House of Zolotas, with French Marianne Le Clere-Papalexis and son Georges Papalexis at the helm, innovate to retain the allure of their iconic brand. With a legacy that spans over 125 years, the mission at the House of Zolotas has always been the enhancement of Greek cultural heritage, of combining ancient jewellery-making techniques with contemporary visual art to create an artistic language that transcends time.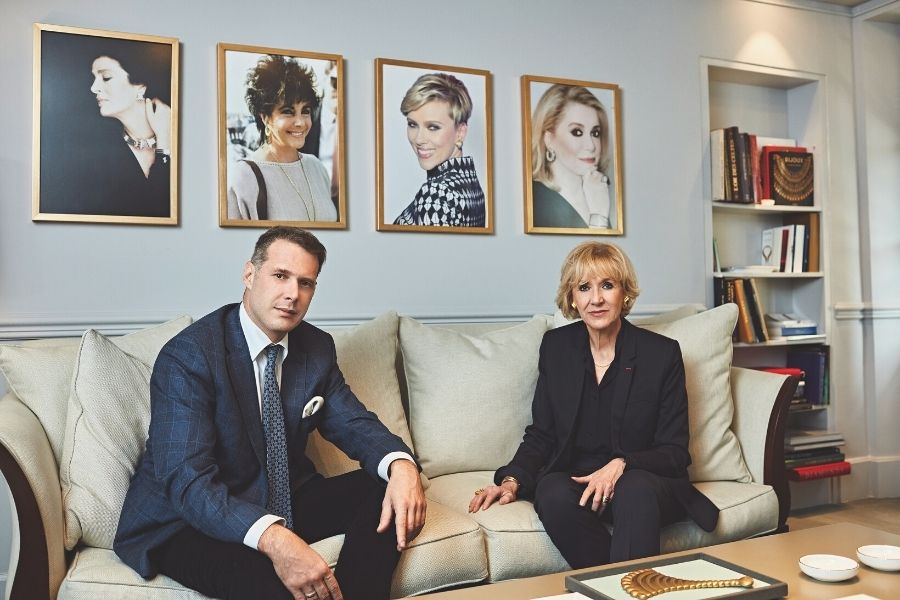 Founded in 1895, a year before the opening of the first Modern Olympics, Zolotas has long been recognized for its meticulous reproductions of ancient and Byzantine jewellery as well as its own designs. Its richly textured 22k yellow gold designs has adorned the graceful limbs of many a celebrity and the crowned heads of royalty. Zolotas' designs, steeped in artistry and expert craftsmanship, has brought to life ancient Greek motifs, fantastic lions, snakes and rams and forms inspired by embroidery and architecture – retaining its quintessentially Greek character and earning the house an enviable reputation. Helmed by Marianne Le Clere-Papalexis and Georges Papalexis, the company has perpetuated the centuries old heritage of jewellery-making at Zolotas.
The house's appeal has endured over the years – its distinctive rings, drop earrings, necklaces and bracelets are still a draw after more than a century. Describing the Zolotas clientele as "individuals always in search of true values within their acquisitions" Marianne Papalexis explains, "They belong to an elite group of people who choose to be and act different. They appreciate the values of our classical spirit, go along with our aesthetic, enjoy our perfection and get excited by our modern cut."
There is an invisible thread that runs through the history of Greece, linking all its periods with the implicit language of aesthetics. Every inch of gold and every little gem that has entered the workshops over Zolotas' 125-year history, takes on a historical and mythological dimension. It is transformed into an everlasting piece of Greek cultural heritage. It becomes a piece of Greece.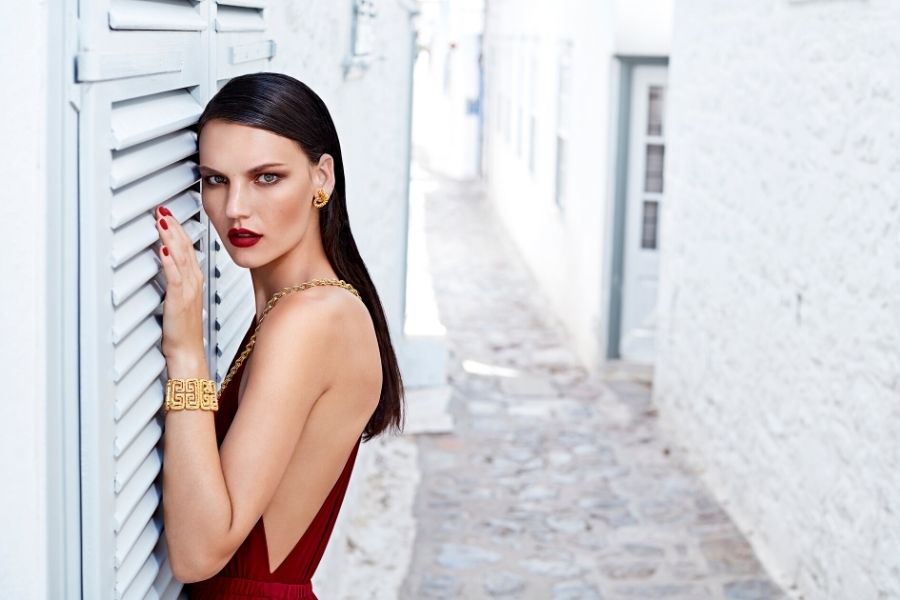 This grand display of the love of Greece and Hellenic culture is what attracted international recognition from celebrities such as Elizabeth Taylor, Grace Kelly, Catherine Deneuve along with the social and political elite, including the Kennedys, firebrand actress-turned-politician Melina Mercouri, actress Irene Papas and shipping magnate Aristotle Onassis, who sought Zolotas' creations for both his loves – Maria Callas and Jackie O! Royalty have been huge fans of Zolotas too – from jewels and tiaras for the Greek Royal family to wear to the coronation of King George V of England 100 years ago, to Queen Noor of Jordan, the jewellery house has maintained its allure by combining the aesthetics of classical Greece with contemporary designs.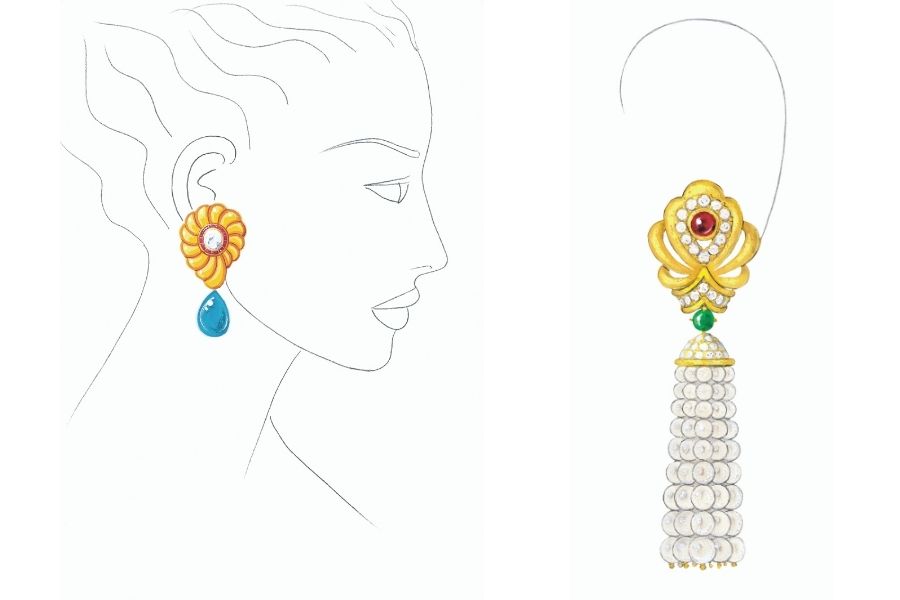 Designers who have created for Zolotas include such renowned artists as Paloma Picasso, Takis, Fassianos and Nisa. For Georges Papalexis, "getting inspired by sculptures and paintings and translating them into jewellery is always a challenge, it is also a journey into someone else's world and the result is immensely satisfying to both parties. The fusion is unique and gives birth to very distinctive jewellery, which we always create in limited series in order to keep its rarity. Some of the pieces are even made just once and are quoted as true art pieces and purchased by collectors". From designing jewellery to creating the torch for the Special Olympics in 2011, Georges Papalexis seeks inspiration from "all kinds of visual elements issued from the Mediterranean civilization such as art, nature and architecture." In keeping with the Zolotas tradition of intricate creations inspired by early Greek designs, Papalexis "likes getting inspired from older or ancient elements and to reintroduce them as jewellery with a modern cut." Marianne Papalexis adds, "At Zolotas, the driving principle has always been to honour Beauty through a combination of precision craftsmanship together with the fabulous memories inherited from classic Greek art and innovations." But the 125-year journey had not always been paved in gold. The company was witness to and suffered the dire consequences of the depression of 1929, the two World Wars, the Greek Civil War, and more recently, the recession in Greece. Marianne Papalexis adds,"The Zolotas house draws its strength from ancient culture and 125 years of history. It is in a period of crisis, that one has to be at one's creative best."
An Iconic Heritage
Journey through the milestones that established Zolotas as an international icon of legendary style, bold artistry and innovative design.
In 1895, an ambitious 21-year-old Efthimios Zolotas lays the first stone of what will soon become the most historic jewellery house in Greece, on Aiolou, at the foothills of the Acropolis. A few stints at Parisian ateliers hones his vision to create a Greek house of jewellery offering masterpieces of European standards.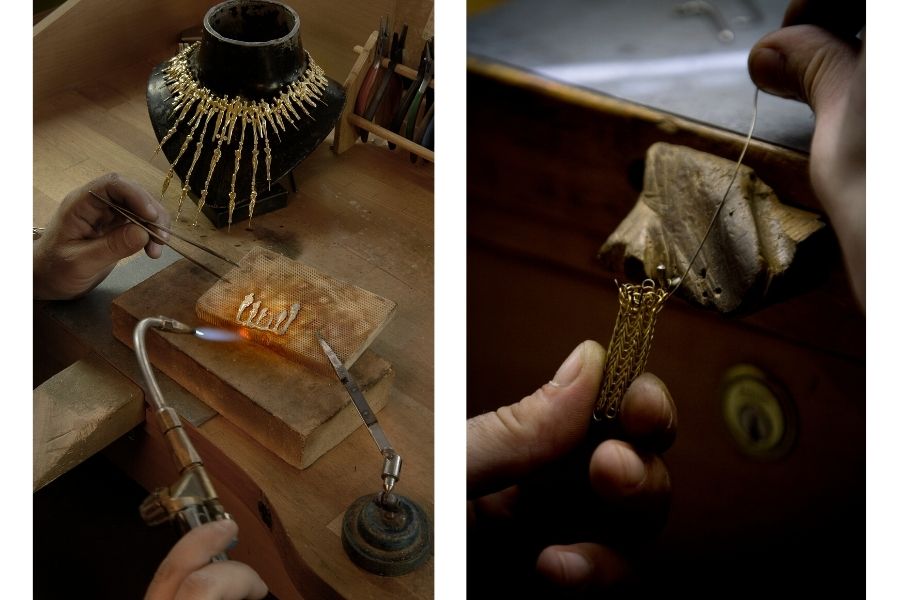 His son, Prof. Xenophon Zolotas is not only a central figure of the country's economic and political life, (he took office as Prime Minister in 1990), he is also a man of rare education, with deep knowledge of Greek literature and high vision for Hellenism. For Xenophon, the art of jewellery has to turn into a mission to promote the Greek spirit around the world. Together with his wife, Kallirhoe (prominent member of the Greek aristocracy of New York), who becomes his muse and the reason for the creation of mythical jewellery, he manages to identify the House with the very glory of Hellenism by establishing exclusive cooperation with the archaeological museums of Greece in the 1960s. All legendary patterns, from the Lions of Mycenae and the Star of Vergina, to gold-trimmed Byzantine mosaics of Ravenna, return to life. Zolotas' gold threads embrace women's wrists, and the winged figures of its jewellery transform them into modern goddesses.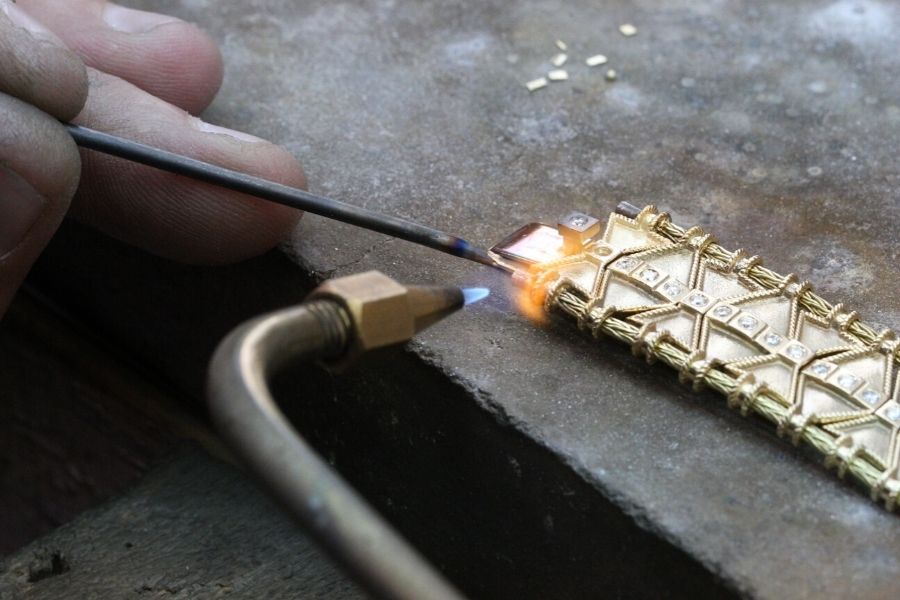 In the early 70s, the already world-known House of Jewellery establishes in Paris. Great artists coming from different horizons are inspired by the philosophy of the new Greek jeweller and rally around his vision. The rising artist Paloma Picasso, daughter of the great Pablo, designs a limited collection of unique necklaces and bracelets in the shape of daisy petals and bracelets with the faces of the moon. Collaborations with artists such as Takis, Alekos Fasianos and sculptor Claude Lalanne all leave an indelible imprint in gold.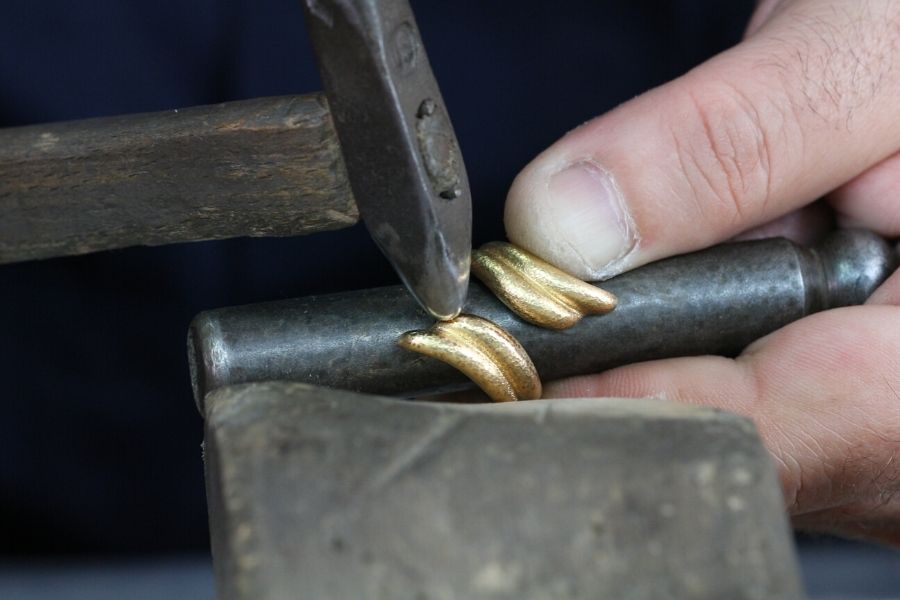 In the late 1970s, New York designer Ronald McNamer, who until recently was designing for Tiffany's, accepted the invitation to design a new collection for the Zolotas House. He travels to Greece and is immediately charmed by the traditional techniques and the unique aesthetic of Greek patterns. Capturing perfectly the vision of the House, he soon becomes its staunchest proponent. Concentrating on the volume and shape, the American designer invents jewellery inspired by architectural motifs, based on characteristics of the basic architectural orders of ancient Greece: the Doric, the Ionian and the Corinthian. The meander and the spiral regain a modern plasticity, adjusting their ancient motifs in brilliant creations in 22k gold, often hand-hammered. McNamer becomes the "soul" of the Zolotas House.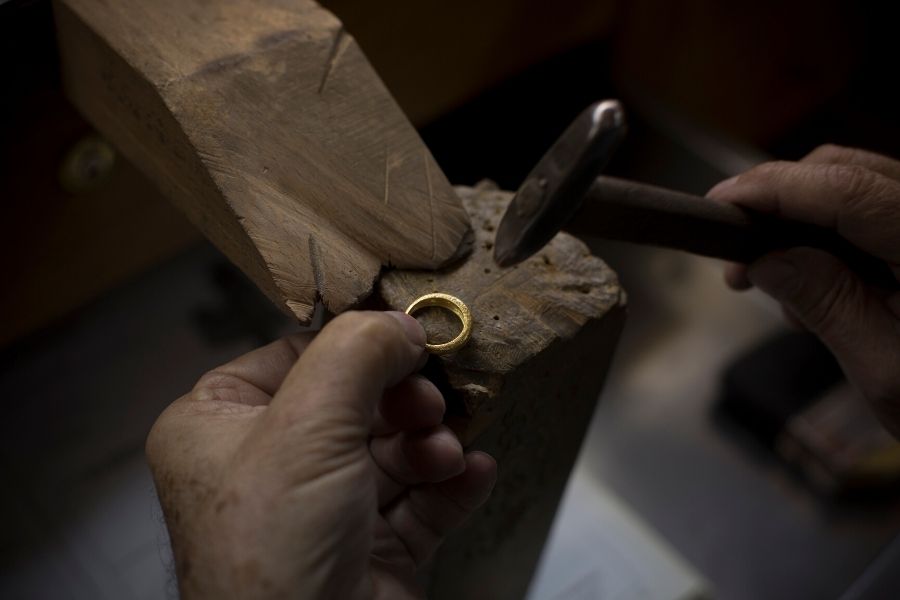 The 21st century brings new challenges. Globalization brings new inspirations and contemporary jewellery brings innovative features. In response to these challenges, Zolotas' goldsmith artists create jewellery introducing new shapes while remaining faithful to the House's tradition. Georges Papalexis joins the House as the new artistic director after specializing in haute joallerie in Paris. Perfectly aware of the brand's stylistic force and its frenetic creativity, he undertakes the task to recreate it respecting its singular identity. He brings back iconic codes, favouring thematic inspiration from Greek architecture and other symbols of Hellenic cultural heritage. Diamond prevails in his new fine jewelry collection Helios in yellow, white, grey, or pink gold, a whole new radiant chapter in the House's creative story. This jewellery collection radiates the unique solar gold of Zolotas and honours the ancient technique of granulation.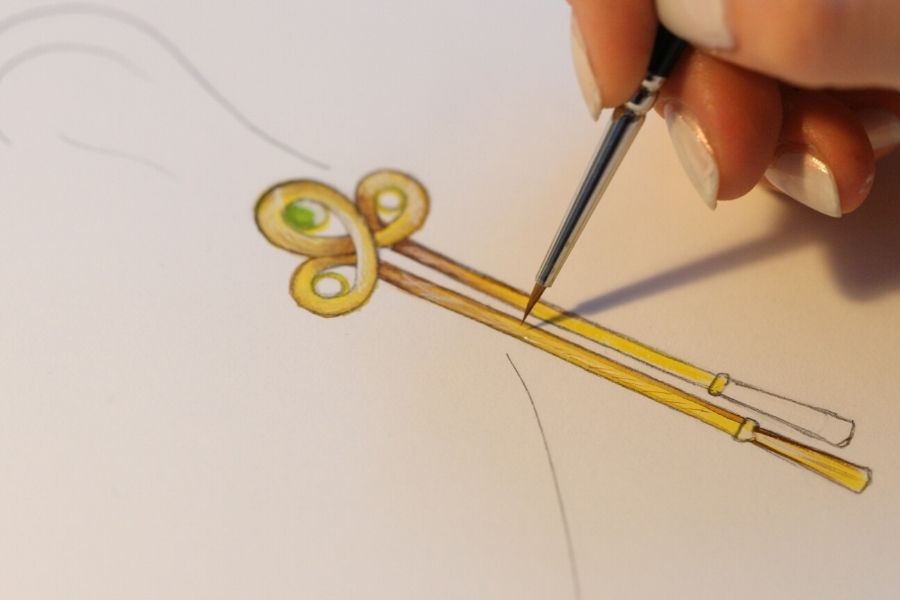 Jewellery is the encounter of matter and time. Made up of the four elements of nature, earth, water, fire and air, and forged in the dimension of the tangible world through high human intellect and technique, jewellery – before being a decorative element – is a magic symbol of perfection and indestructibility. It is a piece of hand shaped nature, a ray of light, that people wear or offer as a present to others. That is why a gift of jewellery always touches people in a very special way: it is an act of transmission of the absolute light.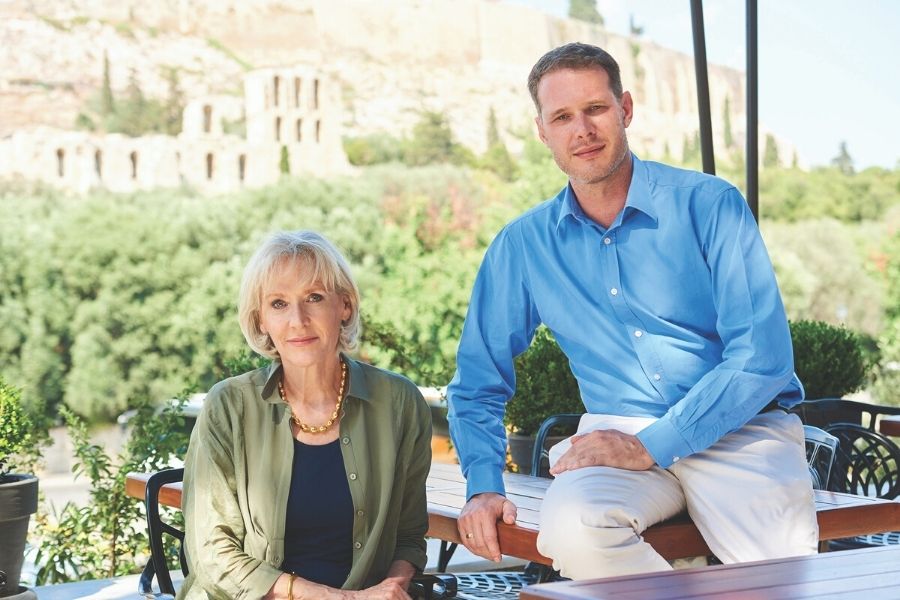 ---
Zolotas, Panepistimiou 10, Athens 3
rue de Miromesnil, 75008 Paris
---