The Deadly Charms of Naxos
When it comes to switching up the carefree trope of the sun-drenched Greek island, mystery writer Jeffrey Siger regularly gets away with murder. In his latest page-turning thriller – A Deadly Twist – Siger has planted the fertile island of Naxos – fabled home of Dionysus – firmly in his cross-hairs. Here, the Manhattan-Mykonos-based scribe reveals why.
Naxos is the greenest and largest island in the Cyclades—four times the size of its neighbour Mykonos (my home island)—and boasts the Cyclades' two largest mountains. It is where Zeus was raised, Ares took refuge, and Dionysius called home.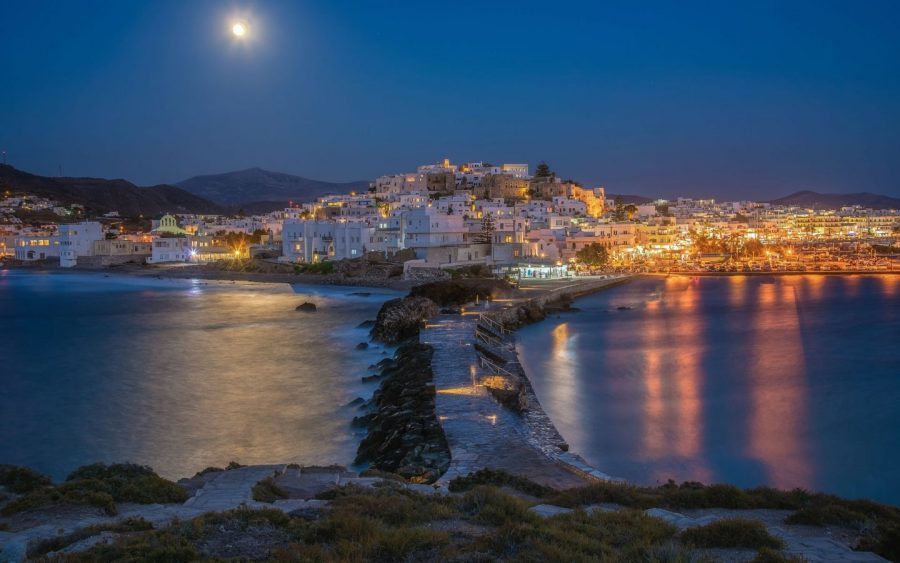 For more recent history buffs, Cycladic life began on Naxos before Minoan Crete and Mycenaean Greece, and flourished as a society through most of antiquity up until the Persians ended its long independent run. Then came the Athenians, the Spartans, and a string of other Greeks, followed by the Romans, Venetians, Turks and a touch of Russians, though the most lasting influence is clearly Venetian. A thirteenth-century Venetian castle still dominates the hilltop overlooking the ancient harbour and capital town of Naxos—called Chora by the locals.
The island is agriculturally blessed–deep into its seventh millennium of cultivation–and since antiquity, famous for its marble and emery mines. Down in its valleys, rows of olive sweep up against fields of copper, emerald, and sage, while stone walls streaked with age hold planted terraces snugly in place against sharply slanted hillsides.  Once up in the mountains, roads turn to twists, switchbacks, and panoramic views of long fertile valleys, slices of a distant deep blue sea, and vast stretches of sandy beaches.
Naxos presents a many-faceted setting for a mystery thriller.  It is filled with scores of villages deeply proud of their individual histories, and a population forced to confront how best to preserve its past in balance with the demands of tourism hungry to capitalize on the beauty of Naxos' landscape and the seductive magic of its ways.
About an hour due south of Mykonos by ferry, I've been there several times on day trips with friends from Mykonos, but August 2018 was Barbara's (Jeff's wife) first visit. I'd offered to take her wherever she'd like on her birthday, and she picked Naxos. Once again she chose wisely, and I benefited simply by going along for the ride.
We met a lot of wonderful folks–some of whom we now feel as if we've known forever–and have returned several times more. I'm not surprised that my enchantment with Naxos and its people led me to write this novel, and it's filled with places and stories we discovered through our friends. It's immersed in Naxos history, adoring of its places, and revealing of its characters and secrets.
May Naxians forgive me for bringing murder to their paradise, but as the line goes, Murder is Everywhere.
Here's a bit about its general story line: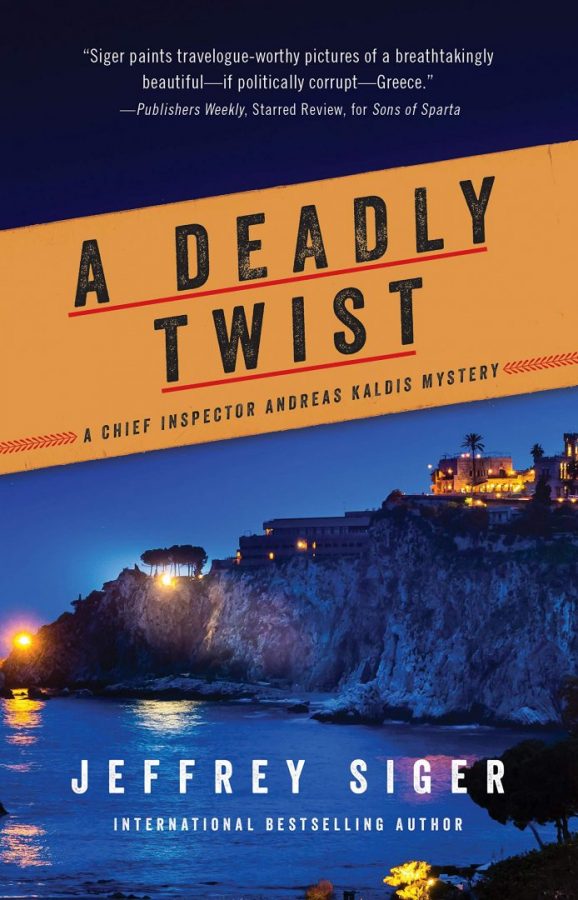 Athens journalist Nikoletta Elia is dispatched by her editor to Naxos to report on the simmering conflict between island advocates for expanded tourism and its passionate preservationists. There, she's approached by a fan who claims to be a successful hacker, taking credit for several suspicious deaths Nikotetta had written about. The hacker claims to have abandoned his evil ways, and wants the world to know that there are people out there like him. Plain, seemingly ordinary folk, paid to do very bad things for calculated purposes without leaving a trace of guilt or motive. She agrees to write the article. Days after the story runs, her editor calls on Chief Inspector Andreas Kaldis to investigate Nikoletta's sudden disappearance, as an unidentified male body is discovered at the base of a cliff outside her hotel. Kaldis sends his deputy, Yianni, and soon leads turn into more dead bodies in this twisting tale of greed, corruption, and murder that puts Kaldis, his family, and members of his team in the path of a ruthless killer who will stop at nothing to keep dark secrets buried—forever.
Jeffrey Siger is an American who lives half-the-year on the Aegean Greek island of Mykonos. A Pittsburgh native and former Wall Street lawyer, he gave up his career as a name partner in his own New York City law firm to write mystery thrillers that tell more than just a fast-paced story. His Left Coast Crime- and-Barry Award-nominated novels are aimed at exploring serious societal issues confronting modern-day Greece and the world at large while touching upon the country's ancient roots. The New York Times Book Review honoured his work by designating Jeff as Greece's thriller novelist of record, the Greek Government's General Secretariat of Media and Communications selected him as one of six authors—and the only American—writing mysteries that serve as a guide to Greece, and Library Journal named his ninth book in the series, "An Aegean April," as one of the best books of 2018.  His latest novel in the Chief Inspector Andreas Kaldis series, The Deadly Twist has just been published by Poisoned Pen Press on 6 April, 2021.
---