A Greek Thanksgiving with Moussaka
Celebrity chef Diane Kochilas, whose TV show My Greek Table, airs on American TV screens again, adapts the most recognizable Greek dish for Thanksgiving – and we're grateful that she's been generous to share it with us!
Greeks are obsessed with moussaka. It's their culinary flag, a patriotic symbol of all that is Greek. This obsession with moussaka is expressed by modern cooks in endless searches for ways not so much to better the original as to change it. This dish is one of my contributions to the moussaka archives. It has become a favorite in late fall, when pumpkins and sweet potatoes are easy to find. Sweet potatoes, while not native to Greece (no potatoes are) have been around for a few hundred years and are cooked in a huge variety of ways throughout the Ionian Islands. Pumpkins have not been around quite as long but Greeks love to use them in savory dishes during the fall. To find some of the artisanal Greek products you'll need to make this, visit my online shop here, where you'll discover a host of lovingly curated Greek ingredients.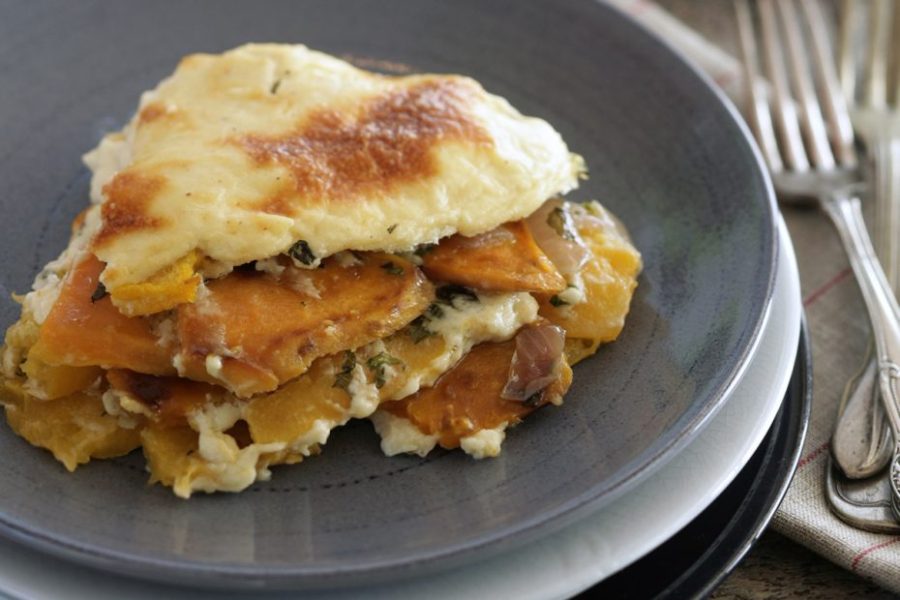 Ingredients
Cheesy Béchamel
4 tbsp unsalted butter
1/4 cup all-purpose/plain flour
4 cups/960ml whole milk at room temperature
2 large eggs lightly beaten
1 cup grated or crumbled Greek feta cheese
1/2 cup grated Parmesan or kefalotyri cheese
Salt and pepper
1/2 tsp grated nutmeg
Vegetables
Olive oil for sautéing
4 large red onions coarsely chopped
Flour for dusting
1 1/2 lb/680g pumpkin peeled, seeded and cut into 1/4-in/0.6-cm slices
1 1/2 lb/680g yellow squash trimmed but not peeled, and cut lengthwise into 1/4-in/0.6-cm slices
1 1/2 lb/680g yams peeled and cut lengthwise 1/4 in/6 mm thick
Salt and pepper
1 cup chopped fresh mint
1/2 cup chopped fresh flat-leaf parsley
Instructions
To make the béchamel: Melt the butter in a large pot over medium heat and add the flour. Pour in the milk slowly, whisking constantly, and continue whisking until the sauce thickens, about 10 to 12 minutes in total. Remove from the heat and pour in the eggs, whisking vigorously. Stir in the cheeses. Season with salt and pepper and stir in the nutmeg. Set aside.
To prepare the vegetables: Heat 2tbsp olive oil in a large, nonstick frying pan over medium heat. Add the onions and cook slowly until soft and lightly caramelized, about 15 to 20 minutes. Remove from the heat.
While the onions are cooking, put the flour in a shallow bowl and heat about 1/4 in 6mm of olive oil in a second large frying pan. Dust the pumpkin slices very lightly with flour, shaking off the excess. Sauté until lightly browned, turning once, and drain on paper towels. Repeat with the yellow squash. Pour off the oil and wipe the frying pan clean. Add a little more oil and sauté the yams, turning, until lightly colored around the edges. Remove and drain on paper towels.
Preheat the oven to 350°F/180°C (gas mark 4). Lightly oil a 12x8x2-in/30.5x20x5-cm baking pan/tin. Layer the yams in the bottom of the pan. Season with salt and pepper and sprinkle with one-third of the mint and a little parsley. Spread a scant layer of caramelized onions on top. Pour about one-third of the béchamel over the onions, patting it down to spread out evenly. Repeat with a layer of pumpkin, salt and pepper, herbs, onions and a little béchamel. Repeat once more with the yellow squash, topping that, too, with salt and pepper, herbs, onions, and the final coating of béchamel. Bake for about 35 to 40 minutes until the béchamel is puffed and golden and the vegetables tender. Remove and let rest for about 10 minutes before serving.
Visit Diane Kochila's website for more yummy recipes.
---