8 Awesome Greek Winter Escapes
Greece may rule the roost in June and July … but it's also got some pretty cool moves up its sleeve in January and February. Here's Insider's top picks for the looming half-term holidays – from active adventures, thrilling archeological odysseys, winery tours, and family fun where you can sleep inside the walls of medieval castle towns.
Heavenly Pillars of Meteora
Meteora, whose name means "suspended in space", is the biggest and most significant family of monasteries in Greece after Mount Athos.  Located in the flat valley to the south of the Pindos mountain range, in the wonderfully diverse region of Thessaly, it's as if these UNESCO-awarded mighty monuments to the power of faith were carved there by the gods themselves.
Follow in the footsteps of the humble monks and hike your way around the incredible sights of Meteora and beyond: including the remarkable pre-historic caves of Theopetra, dating back to 130,000 BC.
Base yourself in Meteora's pretty hub of Kalambaka with its eye-catching Cathedral of the Dormition of the Virgin – or in breathtaking Kastraki, nestled in the enticing shade of Meteora's rocks.
TOP TIP: You could also spend several days on the move instead exploring the string of stunning alpine villages, fairytale forests and lakes that lie within just 1-2 hours of Meteora (places like Metsovo, Elati, Pertouli and Lake Plastiras).
Nafplio: Plaka-on-Sea
Proud and beautiful Nafplio, the capital of Argolis, was also the Greek-nation's first capital, and nowadays is often cited as the Peloponnese's most romantic seaside port town. You'll love its balconies dripping with bougainvillea, majesterial Neo-classical mansions and wealth of intimate tavernas tucked away in charming side-streets.
The perfect ground zero for those looking to explore Argolis, Mycenae and Epidaurus, Nafplio is an Epicurean's delight. Food, music and cultural life abound in Nafplio's roomy Italianate piazzas and in its energetic maze of Venetian-style lanes – lending this gorgeous port town its nickname "Plaka-on-Sea".
TOP TIP: Nafplio is rich in instagram-fodder: in particular, the island fortress of Bourtzi and the once famously impenetrable Palamadi Castle with its 999 step challenge.
Castle Adventure in Monemvasia
Perched 300 metres above the sea – and accessible only on foot through massive battle-scarred gates – the castle town of Monemvasia has a "wow factor" to rival Santorini.
Stay in a beautifully-restored monastery within Monemvasia's ancient walls (several of which date back to the 12th century). Explore the original pedestrianised cobbled streets where merchants and artisans still sell their enchanting wares just as their ancestors did centuries ago. Hike up to hypnotic Byzantine churches with frescoes dating back to the 13th century. Or simply unwind in one of Monemvasia's many splendid cafes or bougainvillea-draped courtyards, overlooking the velvety-blue Mirtoon Sea, far below while you enjoy the hospitality of the town's open-hearted inhabitants.
You'll feel like you've traveled back in time hundreds of years to a whimsical lost world where there are no cars and barely an electricity cable or TV aerial in sight.
TOP TIP: Many of Monemvasia's shop owners will happily offer you a free glass of famous Malvasian honey wine or a delicious almond cookie for you to sample when you enter their store.
Hike in Sifnos
Still got island cravings? Sifnos has one of the Aegean's richest walking terrains in terms of nature and culture. The island's network of trials underwent a serious revamp last year by the 'monopatologists' at Paths of Greece and now number 19 way-marked and professionally-designed routes – all interconnected – and stretching over a total length of 100km, (up from 65km).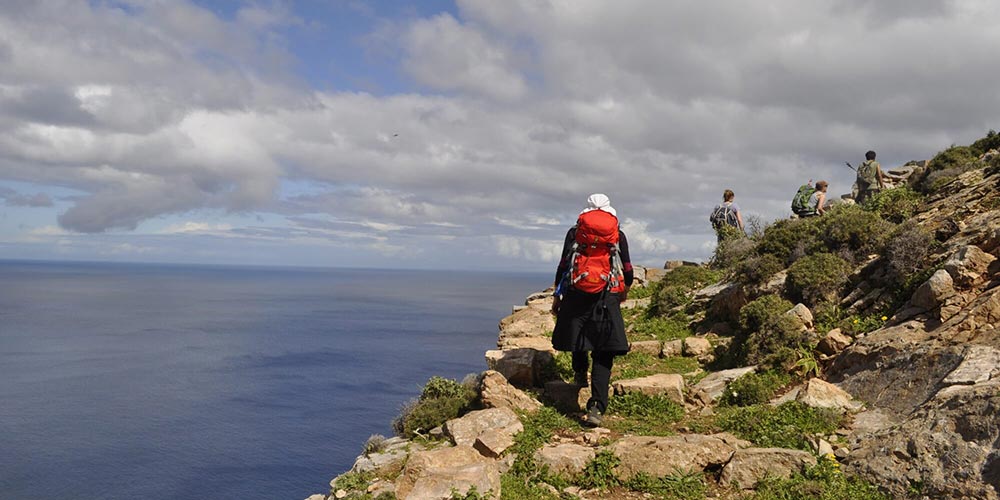 TOP TIP: Hikers can choose from paths ranging from easy to moderate, including child-friendly trails, that take you to archaeological sites, functioning monasteries, hidden beaches and coves, traditional villages, terraced slopes covered in olive trees, Mediterranean maquis and juniper forests.
Active Alpine Wonders in Kalavryta
Few locations can match the beautiful Peloponnesian mountain village of Kalavryta and its surrounding region as a complete, year-round destination. Outside of the ski season, there is still plenty of action to be had on the fir-covered slopes of Mount Helmos such as Hiking, Mountaineering, Paragliding, Rafting and Off-Road Adventures. Meanwhile, Kalavryta's magnificent holy monasteries and the town's haunting history, (the entire village was burned to the ground by the Nazis during World War II), plus its local wonders – such as the other-worldly "Cave of the Lakes" with its mysterious "Palace of the Nymphs" will strike an unforgettable chord.
TOP TIP: Kalyvrita also offers one of Europe's most spectacular scenic train journeys, the 22km  "Odontotos" rack railway (or "tooth train"), which winds its way through the Vouriakos gorge up into the mountains, through tunnels, over waterfalls and rising finally to 750 metres above sea-level!
Nemea: Homer's Vineyard of the Gods
Combine culture and indulgence with an Autumn excursion to Nemea, site of the famed Sanctuary of Zeus (330BC), and where Heracles concluded the first of his 12 Labors by slaying the Nemean Lion.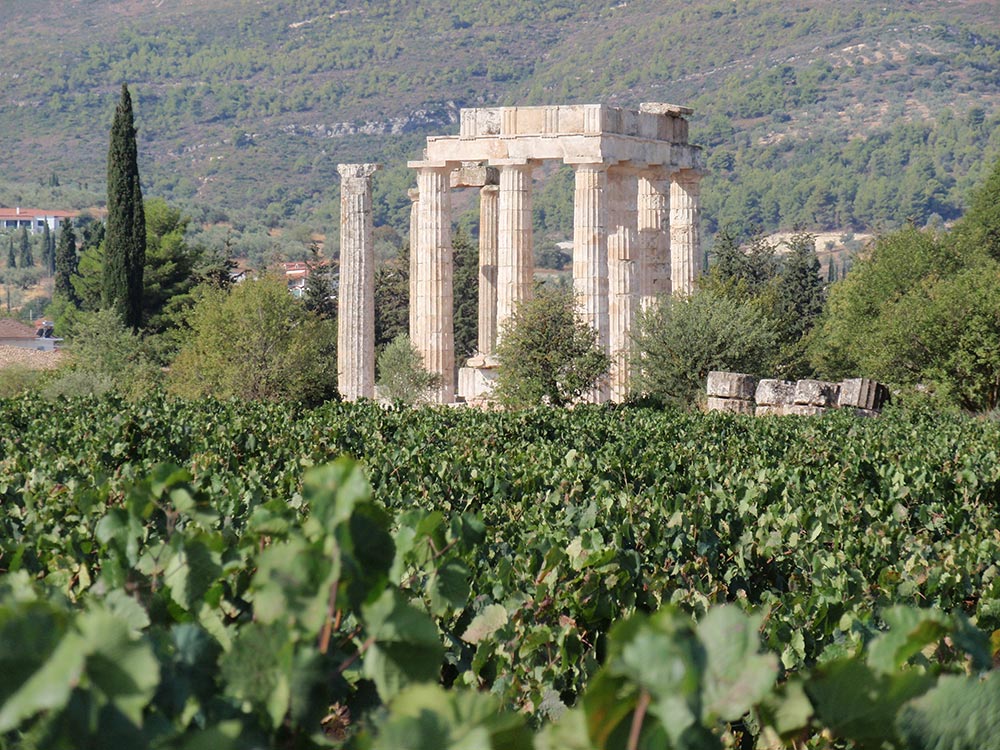 Although it is Olympia that gets all the glory, Nemea too hosted its own revered ancient games every two years and at the ancient landmark, one can marvel at the wonderfully-restored stadium, museum and temple.
Verdant Nemea is also famously noted for its winemaking by Homer who called it Ampeloessa: "full of vines" and today, the region is still one of southern Greece's most important wine producers.
TOP TIP: Visit one of the many elite local wineries open for tasting tours where you can sample Nemea's most prized Agiorghitiko grape, cherished globally for its deep red color and long velvety palate.
Dream of the Gods in Delphi
Nestled on the slopes of Mount Parnassos, overlooking the Gulf of Corinth and a cascading valley of silvery olive and cypress trees, Delphi is a strong contender for one of the most stunning landscapes on earth. (Not even the world's greatest artists – Turner, Poussin, Claude – could capture its essence on canvas, although they certainly tried!)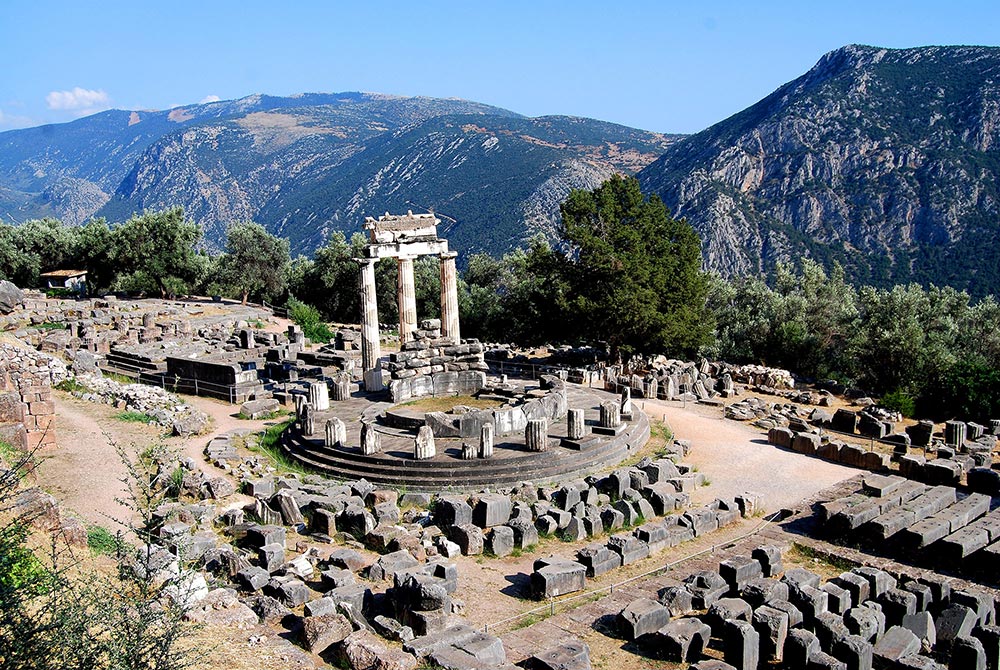 In ancient times, this spiritual marvel, located 180km from Athens, was considered the centre of the known world – the junction where heaven and earth met.
Some go to this famous archeological site to breathe in Delphi's captivating other-worldly beauty. Others to seek guidance and clarity – as the ancient Greeks did – from the legendary Oracle of Delphi where the spirit of Apollo would grant advice on important matters through the medium of a swooning Pythia – or priestess.
TOP TIP: When in town, make sure to also visit the super-stylish alpine resort of Arachova, just 12km down the road from Delphi.
Volos & Pelion: Mountains, Myth and Meze
Volos and Pelion. Two stunning neighbours that complement each other perfectly with their mix of city and country, old and new, energy and serenity.
Lively Volos at the foot of Mount Pelion was the mythic home of Jason and his Argonauts. Today, modern Volos in the Magnesia region, is a thriving university city, humming all-year-round with freedom, character and life. (And what many say is the best meze scene in all of northern Greece!).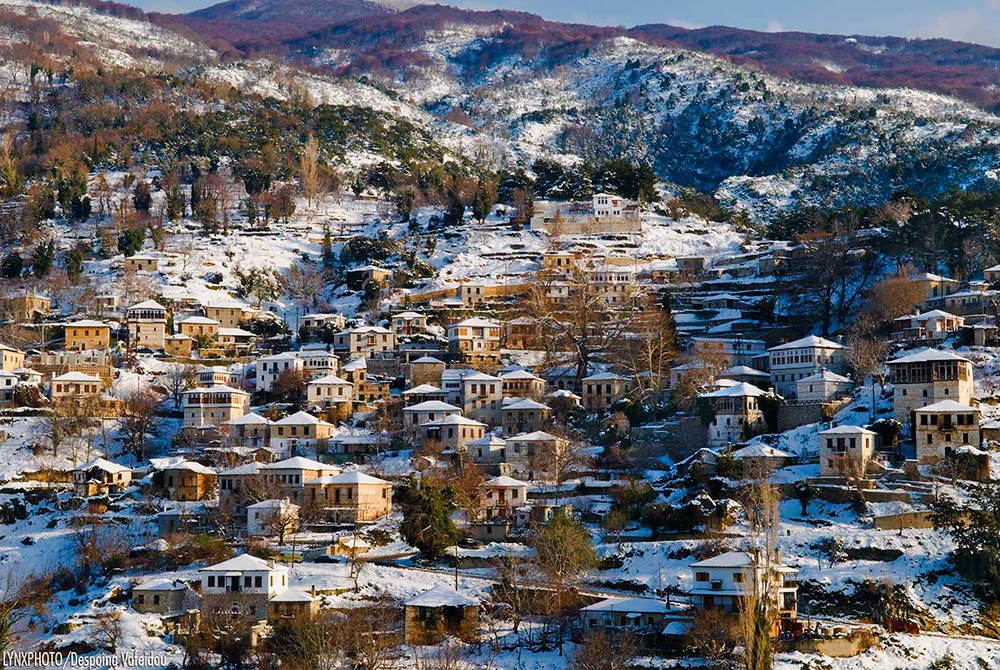 Sample legendary mezedes served all along the seafront amid the fishing boats and yachts. Take part in another Volos culinary ritual at the tsipouradika – friendly little bars on every corner where you'll feast on a dizzying array of  "small-plate surprises" such as cuttlefish with fennel, or spetsofai (sausages with peppers), washed down with ice-cold tsipouro – northern Greece's answer to ouzo. Or take a scenic bike-ride along the 10km network of wonderful seafront bikeways.
A mere hour away, lies exquisite Pelion. Believed to be the birthplace of mythology's mighty centaurs, Pelion was also the site purportedly chosen by the Gods for their revelries and vacations! Mountainous Pelion is an area of almost indescribable beauty that's been likened to the famous Adirondack range of Upstate New York (but without the strip malls and fast-food restaurants!). Enchanting alpine villages hewn of stone and wood appear as if by magic (some located at over 5,000 feet), amid ancient winding pathways, apple orchards and cascading waterfalls and streams. Hike or drive between these breathtaking Pelion Peninsula settlements, such as Ano Gatzea, Agia Triada and Argyreika and Milies, staying in elegant stone guesthouses fitted with fine antiques and fireplaces, while you sample authentic mountain cuisine along the way. Or ride the famous Pelion tourist train that links Volos with fertile West Pelion in an exceptional 25km route, immortalized in the paintings of Giorgio de Chirico.
TOP TIP: Combine both destinations for an unforgettable Town and Country adventure.
---