5 Great Things to Do in Poetic Preveza
Don't just rush off to the islands. From gripping ancient ruins and splendid beaches to arty cafes and Venetian wiles, you'll find plenty worth sticking around for in the gracious port town of Preveza, writes Amanda Dardanis.
I have a theory about Greek towns where the locals get around on bicycles. It's not very Greek, you see. Not yet, anyway.  Volos, Karditsa, Trikala. All keen cycling cities; all great places with a progressive mindset and a communal spirit you can feel in the air. And now Preveza. As soon as I clocked all the people going about their daily business on two-wheels; coasting along the photogenic seafront or down the car-free cobbled lanes of the historic old quarter – I knew it would be my kind of town.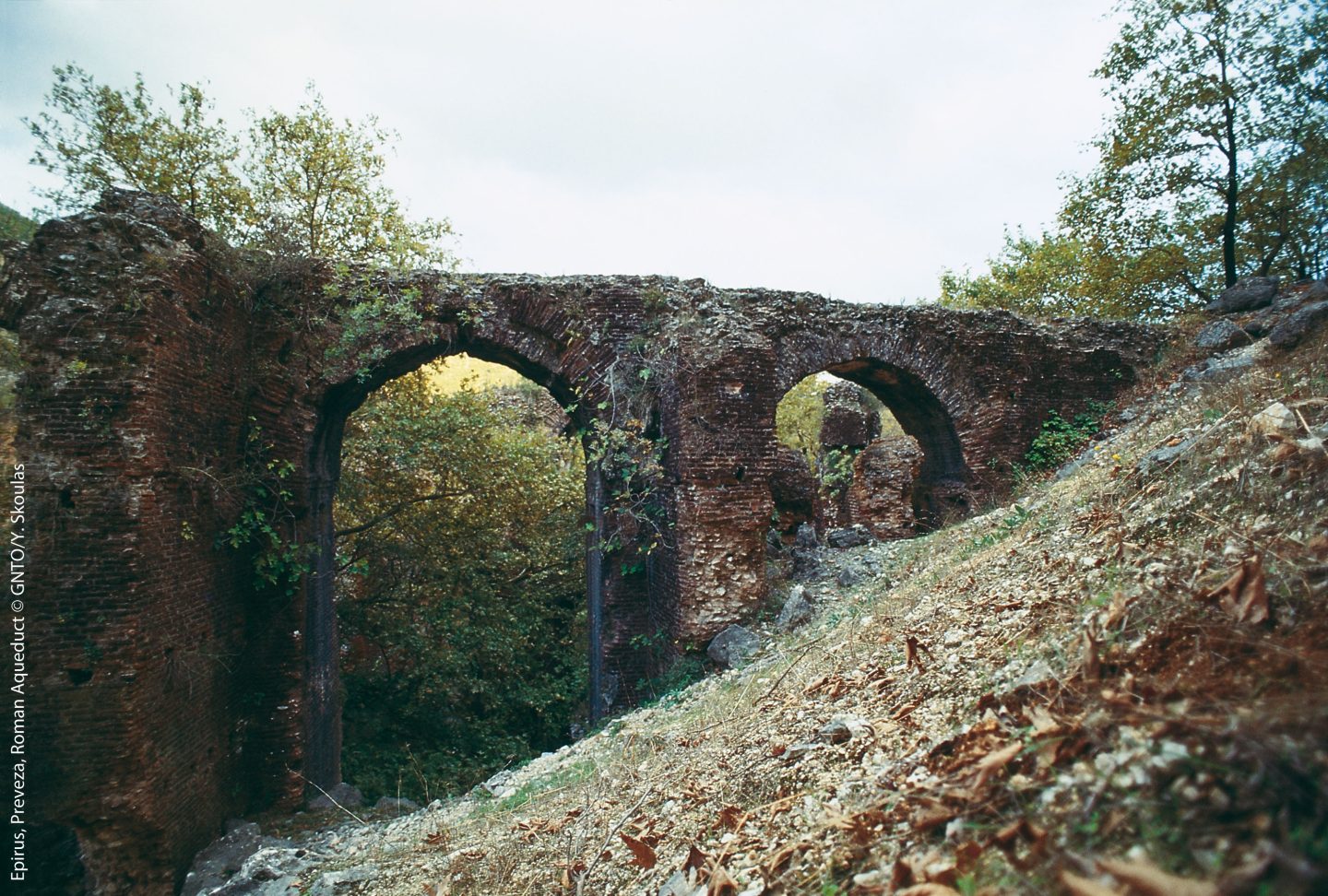 Poised between the Ionian Sea and the Ambracian Gulf, Preveza may be prized as a gateway to popular Lefkada and those other lush Ionians. But to speed off without getting to know this lovely, cosmopolitan port is to miss out on a genteel town with upbeat charms and a poetic legacy. Yiannis Moralis, one of Greece's most fêted painters of the so-called "Thirties Generation", lived here as a child (there's a gallery named after him). Meanwhile, students of poetry still make the pilgrimage to visit the marble bust of the famous melancholic Greek poet Kosta Karyotakis. Karyotakis also resided in Preveza briefly in the late 1920s (albeit during a particularly dark interlude, captured in his poem "Preveza", penned shortly before his suicide).
You can easily spend a cruisy weekend or few days in Preveza, enjoying the superb local seafood; unwinding in an enticing tearoom or ouzerie; or strolling the highly-snappable streets of the old district with its hanging flowerpots, Venetian clock tower, and beguiling mish-mash of small-town boutiques flanked by hip juice bars and artisanal delis (look up: you might spot a cat or two ambling across the terracotta rooftops). Venture just a little further afield, and there are important archeological relics, rich wetlands, and stunning beaches to discover too.
With numerous new direct flights from the UK and Europe, Preveza can't remain off-grid for too much longer. Here are five fantastic experiences not to be missed in this captivating coastal hub:
Feast on sublime seafood fit for a president
When Barack Obama dropped in on Greece as part of his legacy tour in 2016, only the country's finest gastronomy would do. And when it came to one of Obama's favourite foods – shrimp – there was no contest about which ones would wind up on his plate. It had to be the sweet, succulent garides from the Ambracian Gulf. They're frequently hailed as the best in Greece. Find out why at two terrific seafood landmarks in Preveza's old town: Gafa Fish Taverna and the Crazy Prawn (Treli Garida). At the roaringly popular Crazy Prawn, shrimping nets hang from painted beams, vintage photos line the walls, and bouzoukia music percolates in the background as locals and tourists lay waste to heaped platters of masterfully-grilled prawns. They're just as satisfying at nearby Gafa, a hospitable classic in a flowery courtyard setting. Owner Dimitris will escort you into the kitchen to pick out a fish for your main. Our tip? Gafa's less-is-more take on the region's prized petali is hard to beat: a whole grey mullet opened up and salted on the grill and drizzled with olive oil, lemon juice and a punchy oregano sauce. Heaven.
Explore the roving ruins of ancient Nikopolis
On the fringes of Preveza, surrounded by grazing sheep, olive groves and wild mushrooms as big as hubcaps, lies one of Greece's largest ancient cities. If you haven't heard of it, that's because Nikopolis still flies surprisingly below radar. Especially when you consider that this vast archaeological site was built for a victory that changed the course of history. Nikopolis was founded by Octavius Augustus, between the wetlands of Amvrakikos and the Ionian Sea, to mark his victory in the naval battle against Antony and Cleopatra at Aktio in 31 B.C. It was this epoch-making win that paved the way for Octavian to become the first Roman Emperor. Nikopolis (it literally means Victory City) thrived as the administrative and ecclesiastic capital of the Roman province of Old Epirus – they even had their own Games – until the settlement was abandoned when the Bulgarians invaded in the early 10th century. So what's there to see these days? You'll find epic Byzantine walls, the Monument of Augustus (dedicated to Aries, Poseidon and Apollo), a Nymphaeum, a Paleochristian villa, and the Vasilospito – a Roman structure also used in Christian times. If you're lucky, you might also catch an outdoor concert or play at the remarkable 1st century A.D. Roman Odeon with its well-preserved auditorium, theatre and stage.  Explore Nikopolis under your own steam (you'll pay around €8 entry); or feel it come alive on a guided tour (you can track one down easily in town). If you're still hungry for more Roman history, the Archeological Museum in Preveza houses many riveting relics unearthed during excavation.
Linger over ouzo in Seïtan Bazaar
Hitting the pause button to sit down and share a carafe of ouzo with friends is a national religion for Greeks. The best place in Preveza to experience this utterly enjoyable habit for yourself is at Seïtan Bazaar– or Devil's Bazaar. This pedestrianised U-shaped pocket earned its irresistible name because locals used to smear fat on the cobbled lanes for patrolling Ottoman soldiers to slip on, and a Turkish commander reportedly cursed the street when he did just that. With its painted houses, bougainvillea blooms and old-school Greek barber shops, you'll feel like you're on a film set. Centre-stage is ouzerie Saïtan Pazar – one of those magnetic places that few can walk past without being pulled inside. Sit out in the leafy grotto among the whimsical bric-a-brac (think vintage lanterns and Greek worry beads draped from olive branches) and settle in with a few rounds of cloudy ouzo. Go Greek by clinking glasses and toasting each other's good health with stin iyeiá mas. Order some small meze plates to throw in the middle like zucchini fritters, minty meatballs or salty sardines. They'll perfectly offset the sweet anise-flavoured spirit (and soak up the booze!). Be warned: this hotspot often morphs into a pavement party with live DJ sets and bands, especially in summer. It could wind up being a very late night.
Tap Preveza's poetic pulse at a tearoom
On the other hand, whiling away an afternoon at a teahouse over a pot of Darjeeling? Doesn't sound very Greek, does it? But Preveza walks its own path – and you'll find some wonderfully evocative belle époque tearooms in the old quarter that amplify the town's poetic charms. In a quaint leafy square on Theofanous Street is bohemian Botilia sto Pelago art café with an extensive range that includes everything from gunpowder tea from China to iced Rooibos teas (or if you're feeling flirty, they do an excellent Kir Royale). French cinema posters, scarlet walls and mindful quotes from Kant and Coelho add to the beatnik vibe; along with smooth tunes from the likes of Nancy Sinatra and Amy Winehouse. Another groovy choice for a cuppa (or cocktail) is Tserki, on Dardanellion Street, a prime perch for people-watching; try to snare a chair out on the cobblestones. They serve delicious Greek mountain teas and if you're there in winter, don't miss their famous house cocktail with raki, warm tea and chili-pepper. The mood and clientele may be cosmopolitan but the décor is pure nostalgia (especially the adorable tea cups that you'll want to stow away in your handbag!).
Go beach hopping on Preveza's doorstep
Sure, Lefkada and the Ionian islands are tantalizingly close; but you don't have to leave the Preveza region to get your beach fix. Less than ten minutes from town, there's an extensive tree-lined coastline that kicks off at Monolithi and stretches for about 60km up to picture-perfect Parga. In between, you can choose from a buffet of beautiful beaches to suit any mood.  Pick one like Monolithi with family-friendly props like camping grounds, lifeguards and tavernas; it's so long, there's plenty of room for everyone, even in August. Serene jewels like Ammoudia have sandy shores and translucent shallow waters set against an emerald headland. Remote and untamed Ai Sostis is often billed as the fairest in Preveza, thanks to the tiny church wedged between two huge rocks right above the beach (unless you have a 4×4 to conquer the rough dirt road, your best bet is jumping on a water taxi from Parga).  Then there's dreamy Artolithia, at the other end of a sloping country lane dotted with oaks and olive farms, where you can swim around rocky pillars in a blindingly blue bay that's well sheltered from the elements.
---
Stay At
Set in a Tiffany blue neo-classical mansion, elegant Dioni Boutique Hotel makes a perfect base to explore Preveza's charming old quarter. The marble lobby is decked out with characterful collectibles and artworks, while breakfast is served on a rooftop overlooking the Venetian clock tower and port. (CONFIRM PRICES BEFORE PUBLICATION)
This classy crashpad, metres from the harbour, was the former residence of Captain George Potamianos, and built in 1896, the year of the first modern Olympic Games. It was re-booted in 2010 as a stylish guesthouse with 9 rooms – some with sea views – and two alluring stone courtyards, ideal for romantic nightcaps. (CONFIRM PRICES BEFORE PUBLICATION)
---
Eat & Drink
---
See & Do
Archeological Museum of Nikopolos
---